Spoiler alert:  a recurring theme on this blog will be my strongly held belief that there are very few things in the world that wouldn't look better with a little glitter. Case in point, these fantastic Glitter Easter Eggs that I am going to use for future Two Sisters Crafting Easter decoration projects.

How to Make Glitter Easter Eggs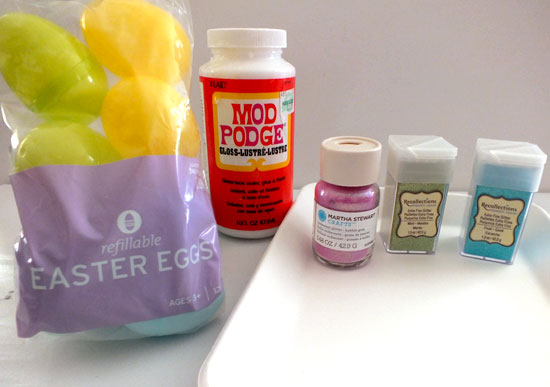 Project Supplies:
Plastic Easter Eggs
Mod Podge
Fine Glitter
Paint brush
Spoon
Martha Stewart Glitter Tray (or a paper bowl)
Creating these beautiful Glitter Easter Eggs was pretty simple actually.  In preparation I got out my very handy Martha Stewart Glitter Trays that my sister gave me as a Christmas present, a paint brush, Mod Podge, a plastic spoon, glitter and a plastic Easter egg in the same color family as the glitter I was using.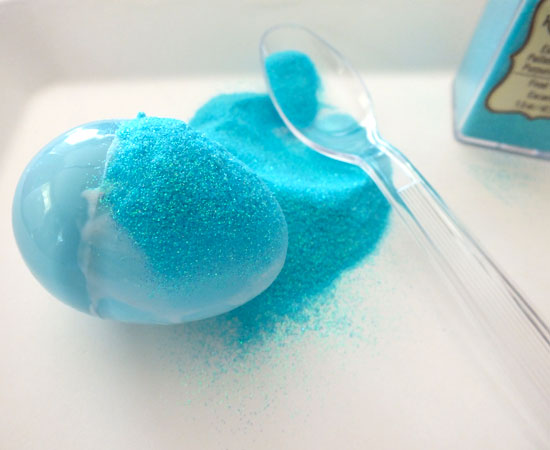 First, I covered one half of the plastic Easter Egg in Mod Podge.  Then, using the plastic spoon, a covered the Mod Podge coated area of the egg with glitter. The glitter that doesn't stick to the Mod Podge will fall right off, ready to be used again.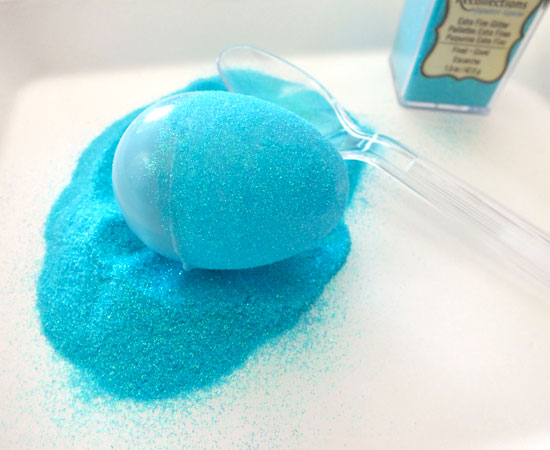 Once the bottom half was completely covered in glitter, I let the egg dry for about 10-15 mintues.
Once the glittered area was dry to the touch, I carefully painted Mod Podge onto the second half of the egg and finished covering the whole thing with glitter.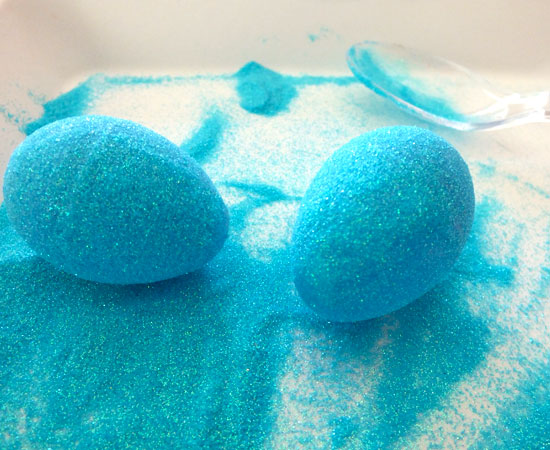 Here are two Glitter Easter Eggs that are covered in glitter but not yet completely dry.
You can see the finished finished light blue eggs in this picture.  Once the Mod Podge has dried, the glitter seems more translucent and sparkly.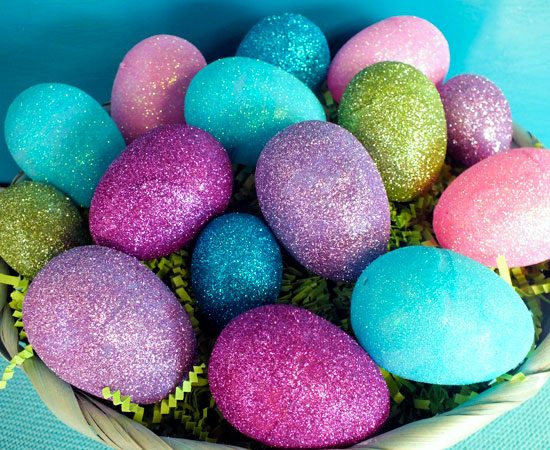 Here are all the colors that I used.  It took me a couple of hours to glitter close to two dozen eggs.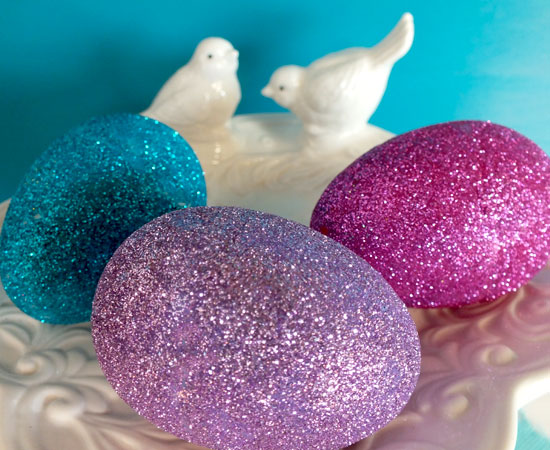 These Glitter Easter Eggs would look fabulous sitting in an Easter Basket as a Easter Brunch table centerpiece. The glitter is delicate and would come off easily in an Easter Egg hunt for example but they are sturdy enough to use in decorations. I saw on Pinterest that you can spray the eggs with hairspray or clear coat but I'm afraid that would take away some of the sparkle.  If you've tried that, let us know what your experiences were in the comments.  In the meantime, we are going to use these Glitter Easter Eggs in a future Easter decoration project so stay tuned for that!

If you want to stay up-to-date on all our Easter Food posts, Follow Two Sisters Crafting on Pinterest!
Follow Two Sisters Crafting's Easter Food Board on Pinterest.