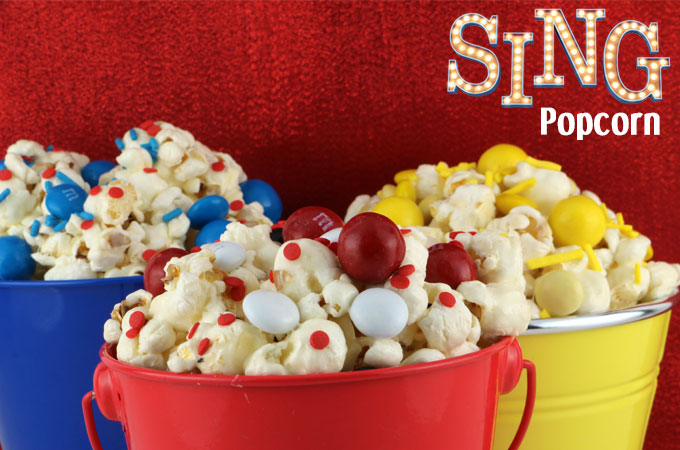 My daughter is starting to get into music. We knew when we saw the previews for the movie Sing she would love it. We weren't wrong. We saw Sing in the theater twice. When Universal Studios asked us to create a post celebrating the DVD release of the movie for the Scholastic Dream! Make! Create! site we knew exactly what to do!  We planned a special Sing family movie night featuring a fun popcorn bar where everyone could decorate their Sing Popcorn to support their favorite singing competition contestant from the movie. Our party was a huge hit at our house and we have all the directions you'll need to have a Sing Movie Night at your house!

How to Make Sing Popcorn for a Family Movie Night Party
You will need:
10 Cups of Popped Popcorn
3 tbsp. Butter (Sweet Cream, Salted)
3 cups Mini Marshmallows
Candy mix-in's for the popcorn (mini cookies, pretzels, chocolate covered candy)
Sprinkles
Lollipop Sticks
Glue Stick
Scissors
White Paper
Construction Paper
Ink Jet Printer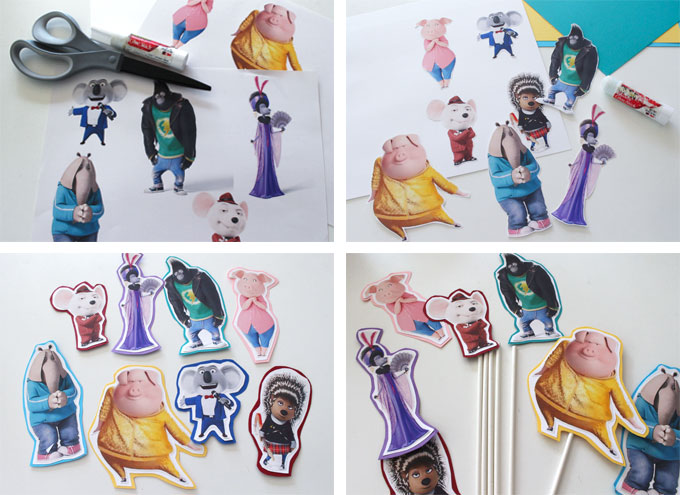 We thought it would be fun if people could root for their favorite character from the movie Sing while we were watching the movie so we made these fun character cutouts that you can stick into your personal bowl of popcorn.  First we printed pictures of the main characters (Buster Moon, Mike, Johnny, Meena, Ash, Gunter, Rosita and Nana Noodleman) on our inkjet printer.  You can find pictures of the characters at the Official Sing Website.  Then we cut the pictures out, used a glue stick to glue the images onto a white piece of paper and cut around the character again. Then we glued that piece of paper onto a colored piece of construction paper and cutout around the character image a final time.  Finally we taped the character cut-out to a lollipop stick.
Here are our Sing character cut-outs ready to stick into a bowl of popcorn!  Everybody got to choose their favorite character!
To make our yummy sweet popcorn for the Popcorn Bar, start with approximately 10 cups of popcorn. Make sure you get out all of the un-popped kernels.  You don't want to bite down on one of those!  We pop our popcorn on the stove (you can find our directions on How to Make Perfect Popcorn here) but you can use air-popped or microwave.  Once you have the popcorn made, salt it liberally.  It is so nice to taste the salty with the sweet marshmallow coating.  Not quite like Kettle Corn but close.
To make the Marshmallow Mixture for the Sing Popcorn, melt 3 tablespoons of butter in a medium sauce pan.  Once the butter is melted, add 3 cups of mini marshmallows. Stir until the marshmallows are melted.  Turn off the heat as soon as the last marshmallow has melted.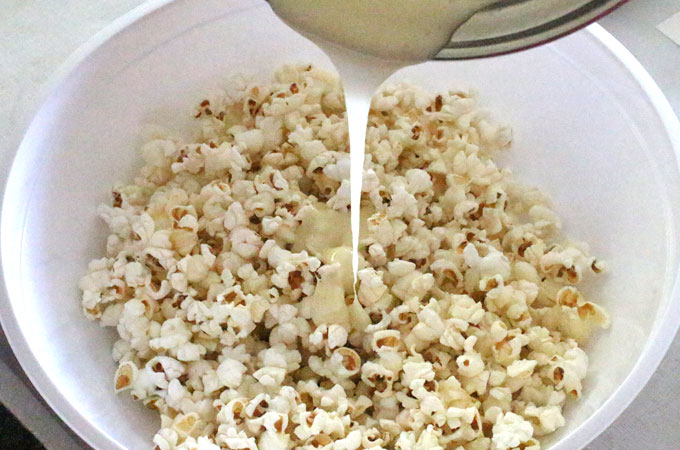 Slowly pour the marshmallow mixture over the salted popcorn. Gently fold the marshmallow mixture in with the popcorn until the popcorn is mostly covered.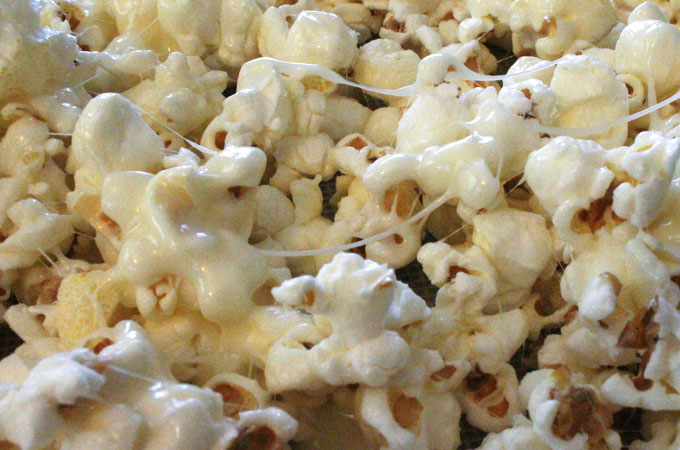 The amount of marshmallow mixture you want to add is really up to your own taste. The more you add, the stickier the popcorn will be so we suggest that you add it a bit at a time, stir the popcorn and give it a taste before you add more.  Leave a little bit of the marshmallow mixture for the next step.
Now pour the popcorn onto a cookie sheet covered with foil or a silpat liner and allow it to cool.

Now the fun part … pick your Popcorn candy mix-ins for your Sing Popcorn Bar.  Let your imagination run wild but here are some ideas: M&M's of all colors, Pretzel M&M's, M&M Minis, Sprinkles, Mini Chips Ahoy cookies, Mini Oreos, Mini Reeses Peanut Butter Cups, Mini Pretzels, Marshmallows. Anything goes.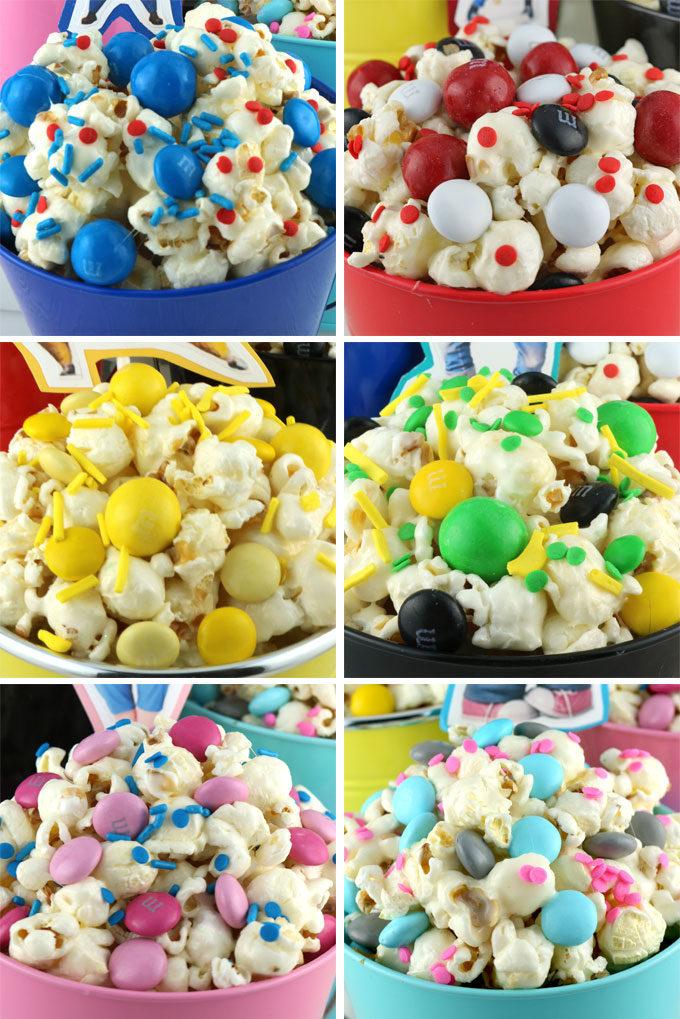 Give everyone a mini personalized bowl of the sweet popcorn and allow them to sprinkle some of the candy mix-in's on the top of their popcorn.  Candy and popcorn together … the perfect treat for movie watching!  Each bowl of popcorn here is meant to represent a character from the movie!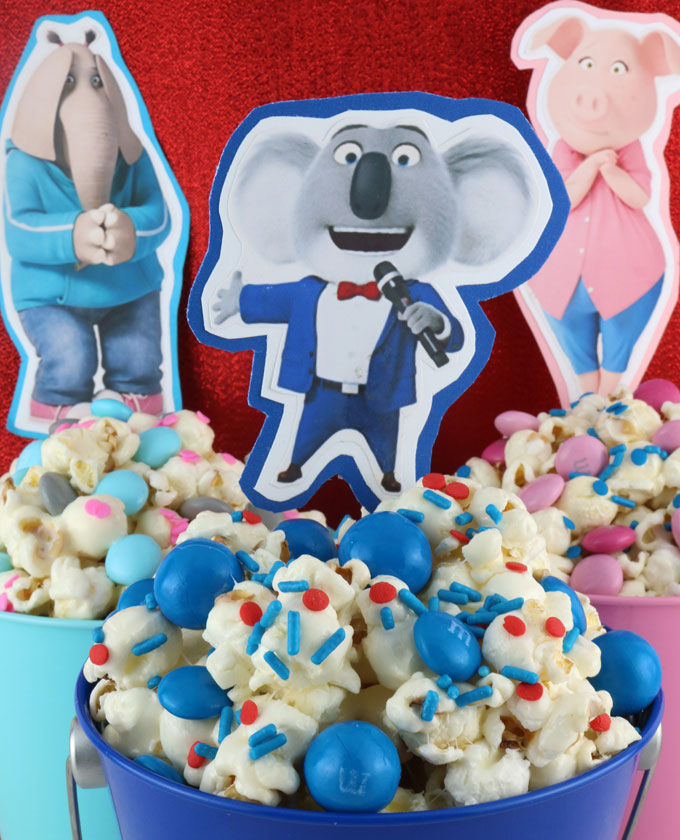 Stick your Sing character cut-out into your bowl of popcorn and you are all ready to "Sing" along  with this fun animated movie musical!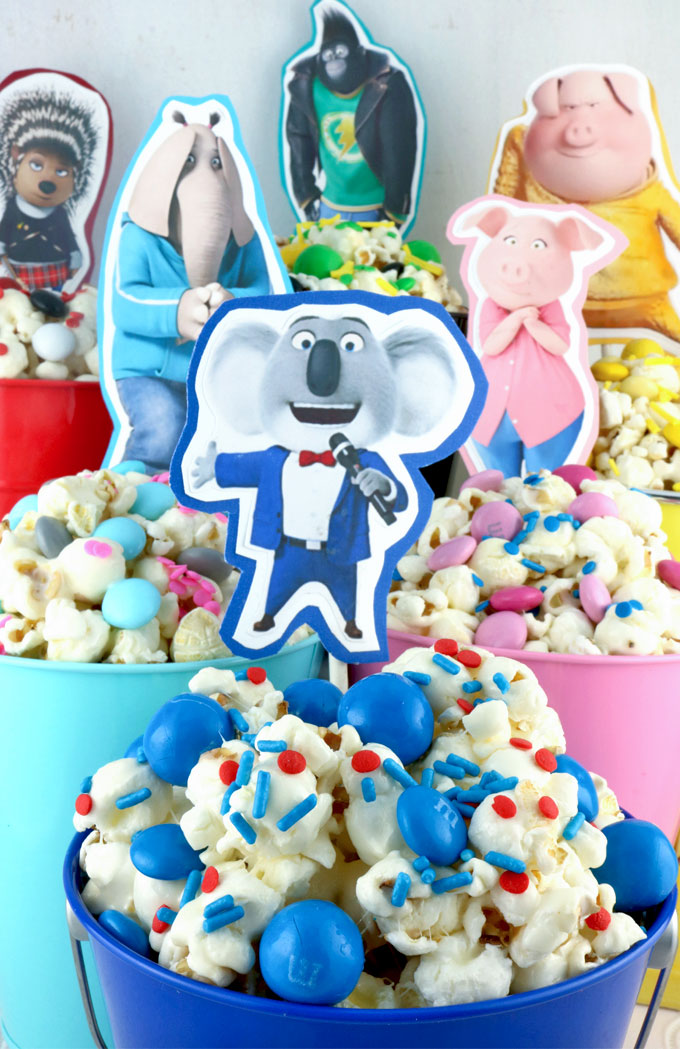 Our Sing Popcorn is a fun and delicious party treat and perfect for a Sing Family Movie Night party!
P.S. Let's stay in touch!  If you liked our Sing Popcorn post, [thrive_2step id='10744′]click here to sign up for our Email Newsletter![/thrive_2step]
Or follow us on Pinterest, Facebook and Instagram!
If you want to stay up-to-date on all our Popcorn posts, Follow Two Sisters Crafting on Pinterest!
Follow Two Sisters Crafting's Mickey Mouse Party Ideas board on Pinterest.
This is a sponsored conversation written by us on behalf of Universal Studios. The opinions and text are all ours.