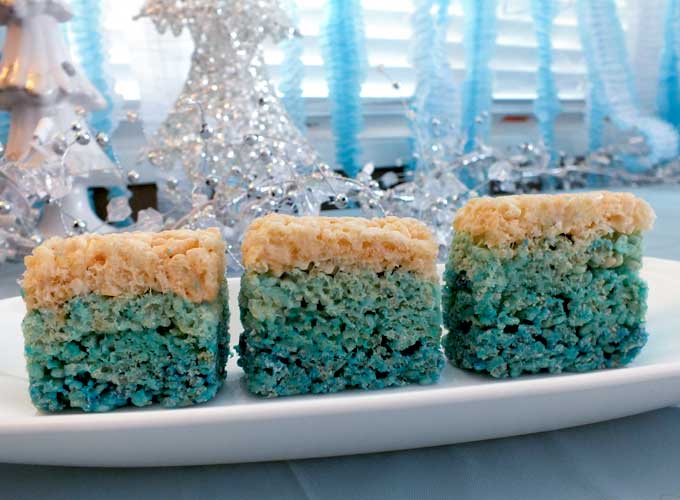 When we were going over what we needed for our Frozen themed dessert table, Nancy and I both agreed we needed Rice Krispie Treats.  We had so much fun making our 4th of July Rice Krispie Flags we knew that we could do something fun that incorporated our Frozen theme.   We were right.  These Ombre Rice Krispie Treats fit in perfectly, were beautiful, matched our Ombre Mini Cakes and as Rice Krispie Treats always do – tasted delicious.

How to Make Ombre Rice Krispie Treats
You will need:
Kellogg's Rice Krispies Cereal
Mini Marshmallows
Butter (We used Salted Sweet Cream Butter)
You will need four batches of Rice Krispie Treats mixture.  We were making these Ombre Rice Krispie Treats for a birthday party so we need to make a a lot of them.  We made four 5-cup batches (5 tbsp. butter, 5 cups mini marshmallows and 5 cups Rice Krispies Cereal) and ended up with about 30 Ombre Rice Krispie Treats.    Check out our The Best Ever Rice Krispie Treats Recipe for detailed pictures and instructions for making Rice Krispie Treats.
The 5-cup batch of Rice Krispie Treat  mixture filled out about 75% of a large cookie sheet.  I pressed the mixture into the cookie sheet until it was evenly dispersed.  I did this for all four batches.  The height of the layer is only about 1/2 of the cookie sheet depth.  We wanted the final Ombre Rice Krispie Treat to be cookie sized so we didn't want the individual colored layers to be too thick.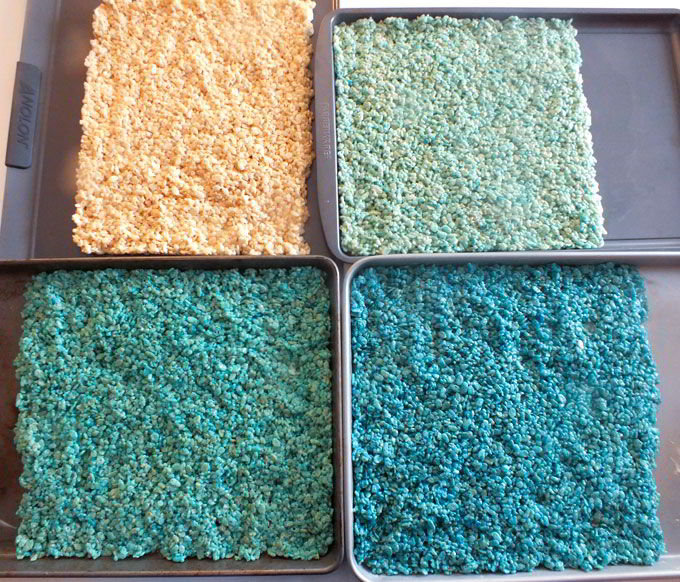 Here are our four colors of Rice Krispie Treats.  We used various amounts of Americolor Sky Blue Food Coloring in the three blue batches to get these different shades.   We added the blue food coloring to the melted butter and marshmallow mixture and then added the Rice Krispies.  If the color wasn't strong enough, we added a few more drops at the end.  However, it is much harder to work the the food coloring into the mixture AFTER you have added the Rice Krispies cereal.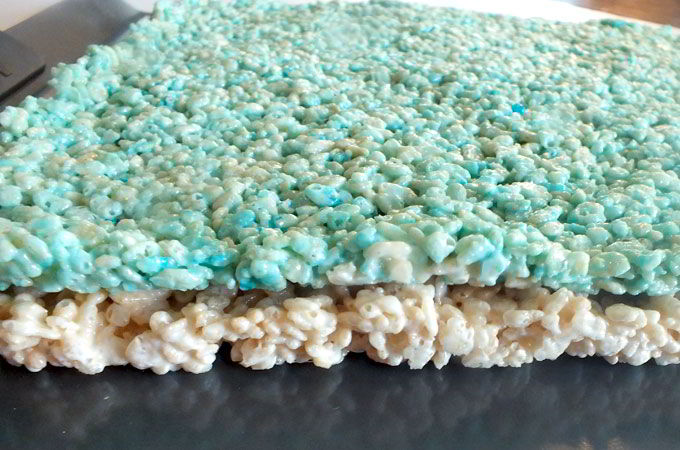 Now we started stacking the colored sheets of Rice Krispie Treats.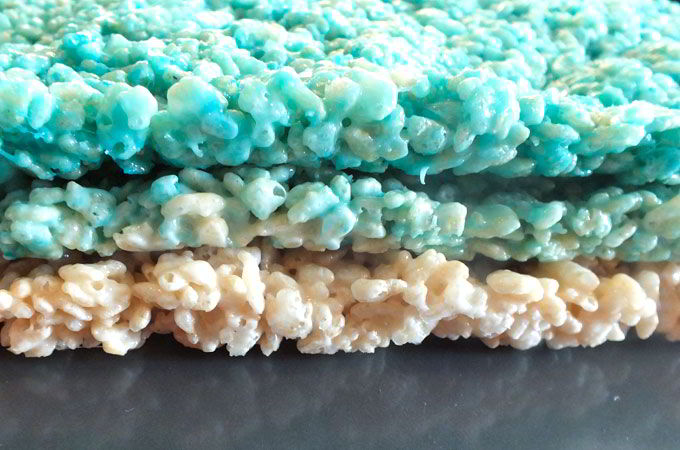 Here are three layers.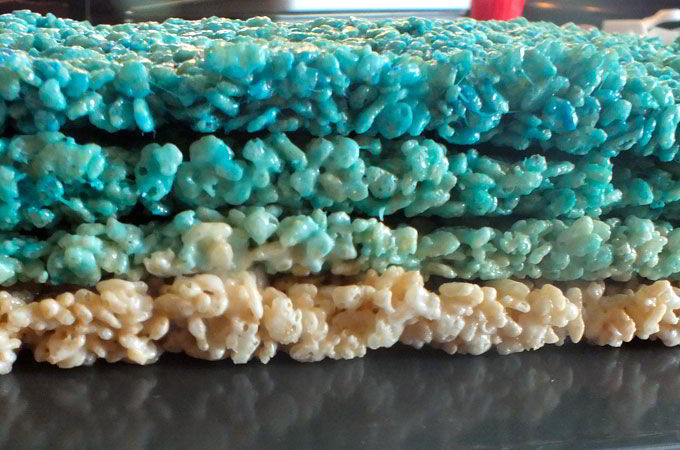 And then four layers.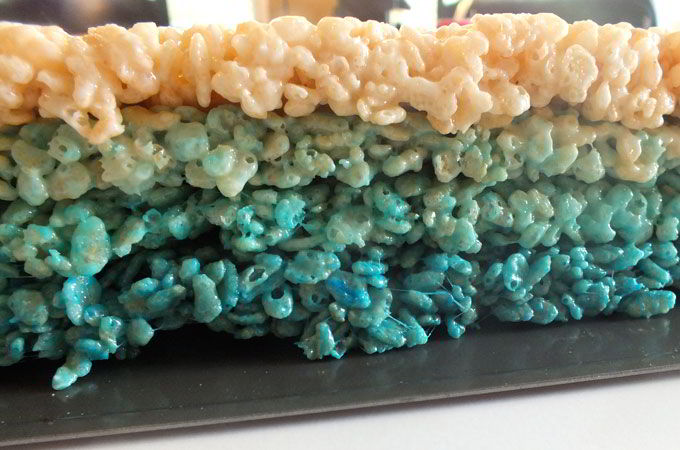 Finally, we flipped over the Rice Krispie Treat layers so that the white layer was on the top.  We started with white down so that the "top" layer would even out and be smooth on the top.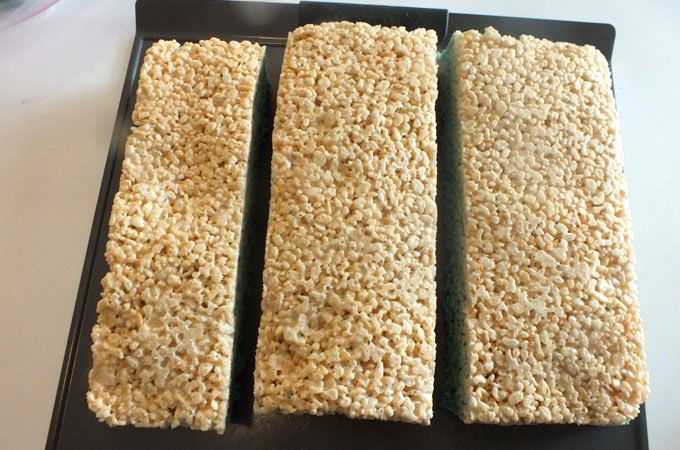 Next we cut our sheets of Ombre Rice Krispie Treats into thirds.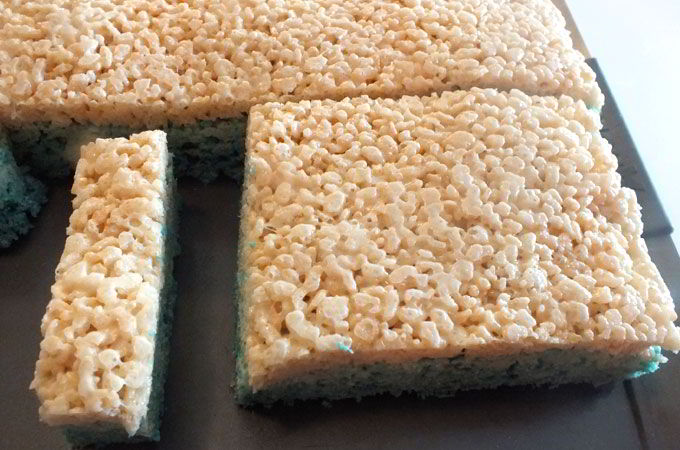 For each of the three sections, we cut individual pieces about 1″ thick.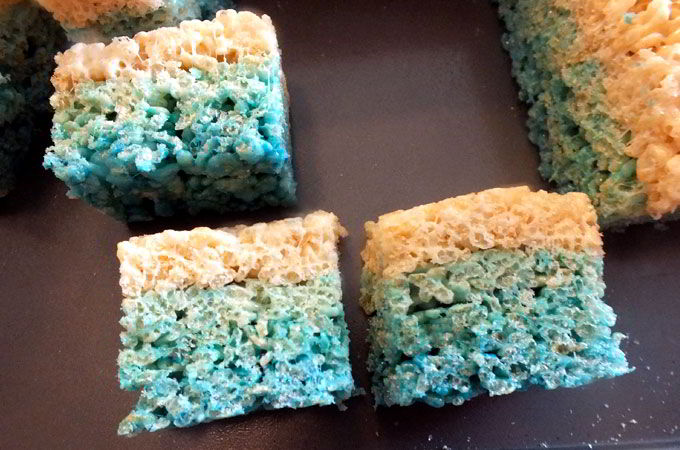 Since our Ombre Rice Krispie Treats were going to be one of many treats on our Frozen Party Dessert Table we cut them into small-ish cookie sized pieces.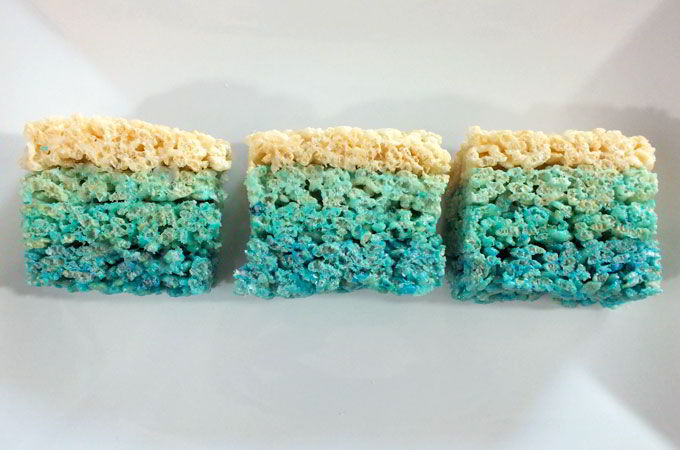 The ombre effect on the Rice Krispie Treats looks so pretty.  These were for our Frozen Birthday Party but I think this would also be super pretty in other color schemes any kind of special occasion.  Or maybe even dark red to white for Christmas! (Must remember to try that!)
We were very happy with how these turned out.  And they were the first thing people grabbed from the Frozen Dessert Table.
Don't forget to visit our Disney Frozen Party Idea post to see all of the other fun things from our Disney Frozen Party!

P.S. Let's stay in touch!  If you liked our Frozen Ombre Rice Krispie Treats post, [thrive_2step id='10744′]click here to sign up for our Email Newsletter![/thrive_2step]
Or follow us on Pinterest, Facebook and Instagram!
**This post contains affiliate links but we only recommend products that we actually used and liked. Thanks for supporting Two Sisters Crafting!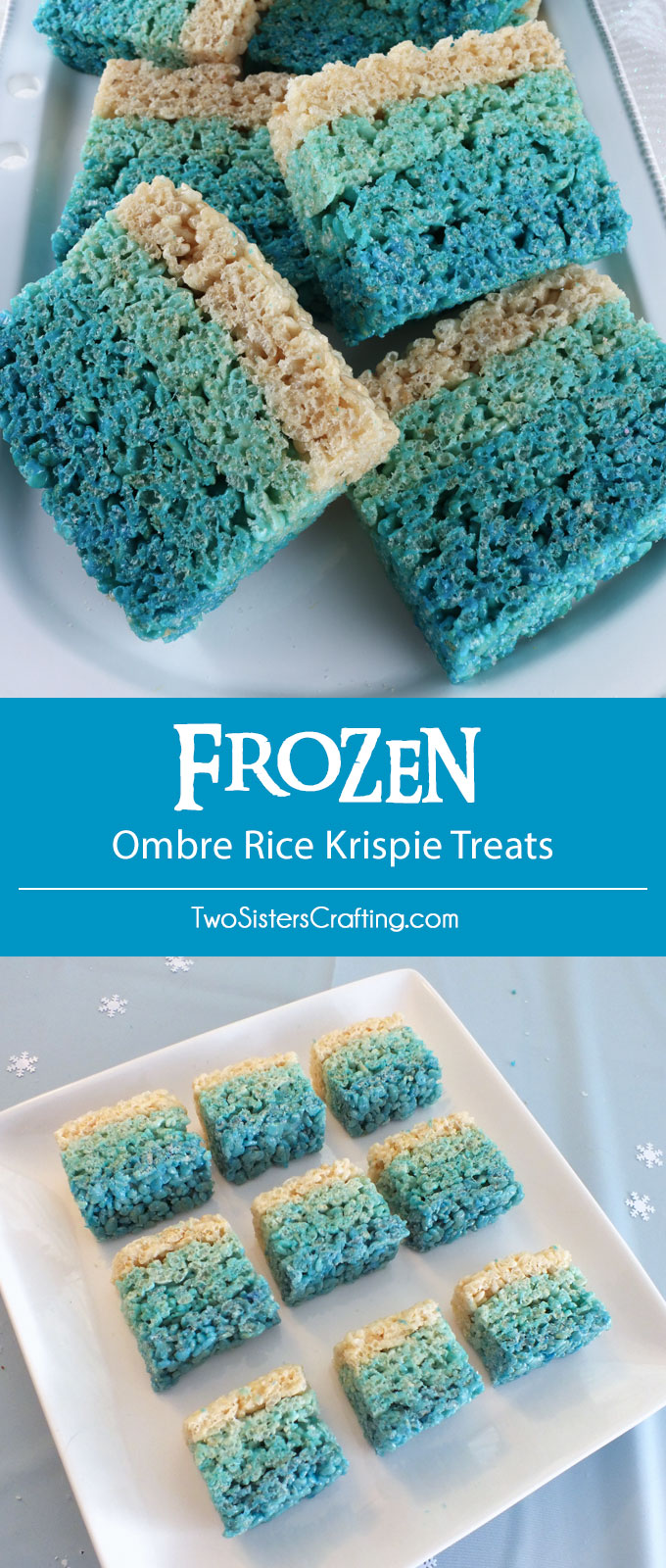 More Fun Disney Frozen Party Ideas …
If you want to stay up-to-date on all our Frozen Party posts, Follow Two Sisters Crafting on Pinterest!
Follow Two Sisters Crafting's board Frozen Party Ideas on Pinterest.