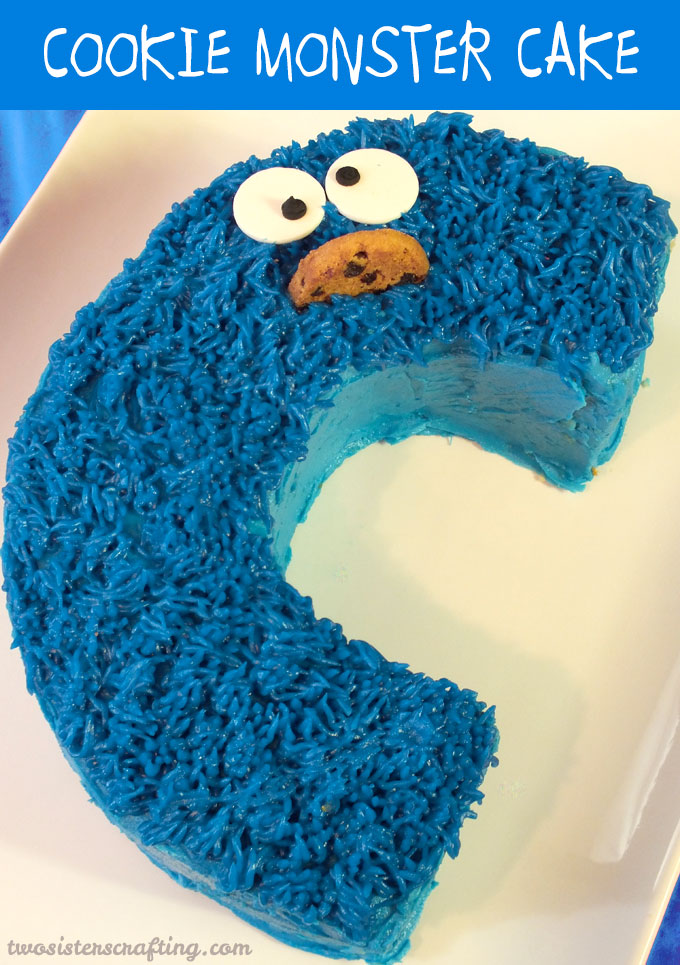 Growing up Cookie Monster was my favorite character.   I had my Cookie Monster stuffed animal on my bed through Jr. High School.  When Nancy and I were working on the cakes I knew we had to devote some extra time to Cookie Monster.  I loved the way he turned out.  In fact, I loved it so much I insisted we do cookies to match.
How to make a Cookie Monster Cake
You will need:
2 Boxes of Cake Mix (and all the ingredients to make the cake batter)
Wilton Frosting Tip #233
Americolor Royal Blue Food Coloring
Wilton Bright White Candy Melts
Mini Chips Ahoy Cookies
Black Icing
We wanted our Cookie Monster Cake to have two layers so we baked the cake in a 13″ x 18″ cookie sheet lined with parchment paper.  To fill the cookie sheet you will need to make up two boxes of cake batter.  Line the cookie sheet with parchment paper and pour the cake batter into the sheet.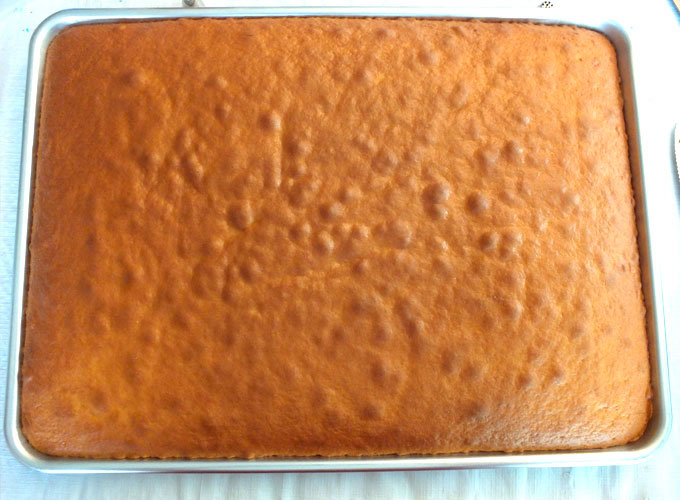 Here is what the cake looked like when it came out of the oven.  We baked it for 18 minutes in a 350 degree oven.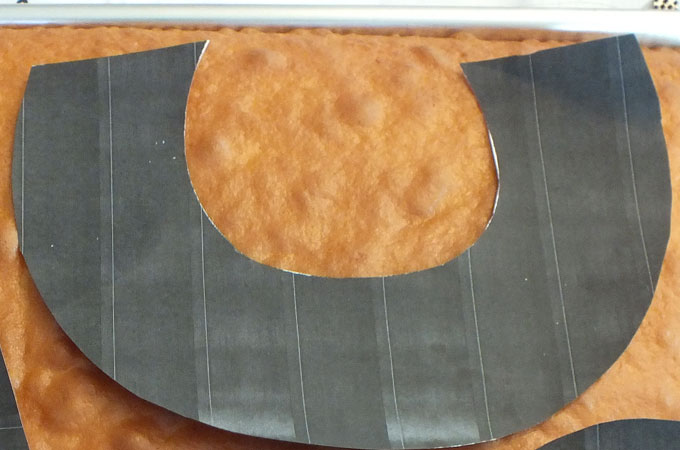 We created our own templates for cutting out C for the Cookie Monster Cake.  In Photoshop, we created an image that would print at 8 inches by 8 inches. We used the same font for our Cookie Monster Cake that we used for our Sesame Street Frosted Sugar Cookies.  The font we used is called Ergoe Black Condensed.  We printed out a C on regular printer paper and cut it out with scissors.  We laid the letter template on the cake while it was still in the cookie sheet and used a knife to cut out the cake.  We cut out two Cs from this one piece of cake.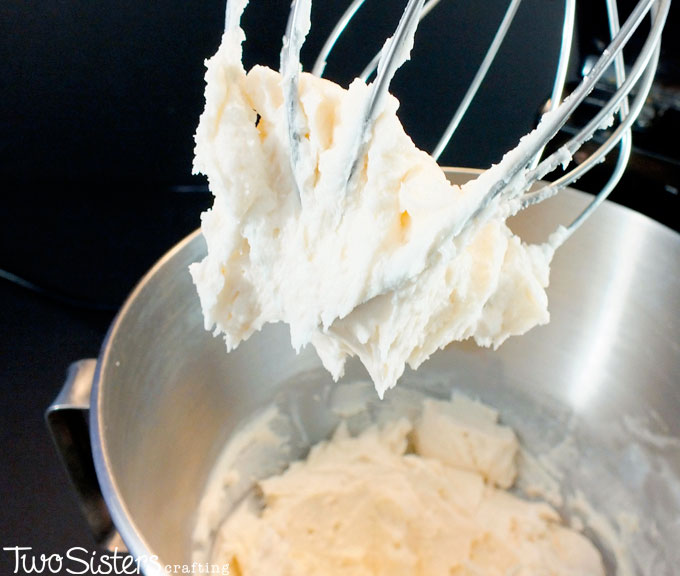 Now you need to make up 1 batch of our Best Buttercream Frosting.  Color the frosting blue using Americolor Royal Blue Food Coloring.  You can get the recipe and detailed instructions for making this amazing buttercream frosting here.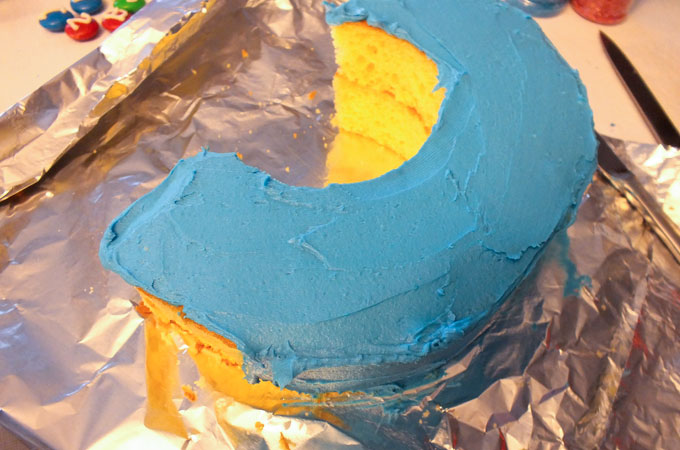 We put a layer of frosting between the two layers of the C and then put the cakes in the freezer for about an hour.  This is an important step and will make frosting the cake so much easier.  Since the sides of the cake are cut edges, they are difficult to frost without getting a lot of crumbs in the frosting. Frosting the sides was so much easier when the cake was frozen.
Here is our frosted "C" for our Cookie Monster Cake.  You don't need a lot of frosting on the top because you are going to add the "frosting fur" here – concentrate on applying the frosting smoothly to the sides of the cake which will not have any fur.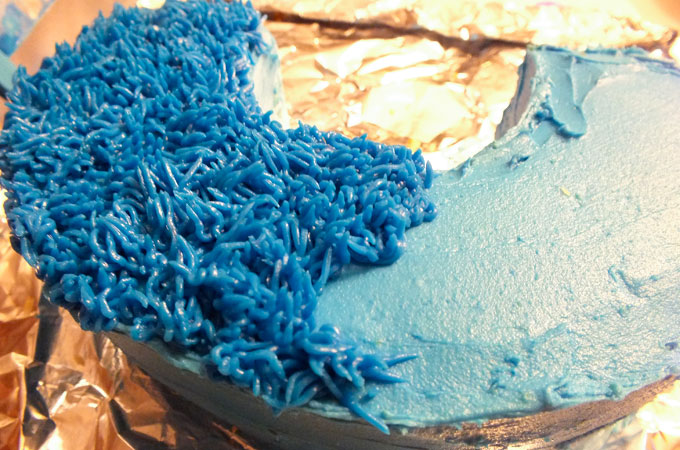 You create the muppet fur by using a pastry bag filled with buttercream frosting and a Wilton Frosting Tip #233. This is the tip you would normally use to make "grass" like texture on a cake.  If you don't have one of these decorating tips, these cakes would also look cute with a smooth layer of frosting on the top.
Cookie Monster's face is very easy to make.  Use White Candy Melts for his eyes and a half of a Mini Chips Ahoy cookie for his mouth.  For Cookie's eyeball – remember to give him his googly offset eyes using black icing!
And we think our Cookie Monster Cake was the star of our Sesame Street Party!

You might also enjoy our post on our other party ideas for a Sesame Street Birthday Party.
If you want to stay up-to-date on all our Sesame Street Party posts, Follow Two Sisters Crafting on Pinterest!
Follow Two Sisters Crafting's Sesame Street Party Ideas board on Pinterest.