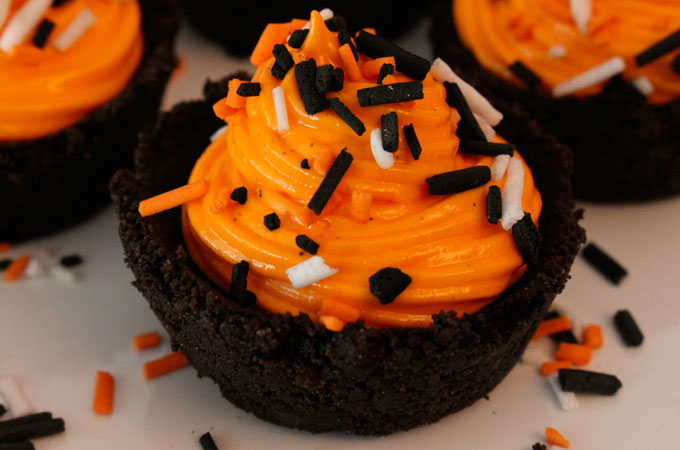 I am going to start by saying these Halloween Oreo Cookie Cups with Marshmallow Cream get two enthusiastic thumbs up from my husband.  He does not believe in gushing.  Most things we do on Two Sisters Crafting, get a solid one thumb up, so when I say two enthusiastic thumbs up, you better believe these Oreo Cookie Cups with Marshmallow Cream are good.  We were looking to make a fun and creepy Halloween treat and these fit the bill.  As a bonus, they are super delicious … just ask my husband.

How to make Oreo Cookie Cups with Marshmallow Cream
You will need:
To make the Oreo Cookie Cup you will need 20 Oreo cookies, a 1/4 cup of butter, a mini muffin pan and a tablespoon measuring spoon.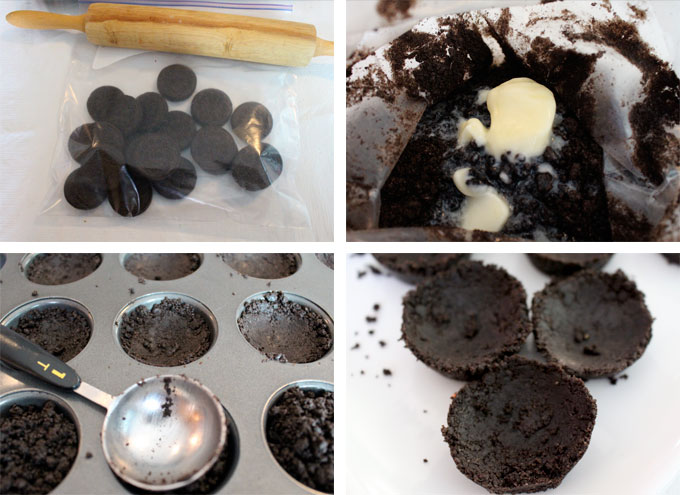 Put 20 Oreo cookies into a Ziploc bag.  It might seem weird but leave the cream filling inside the cookie, it will help the cookie cup stay together.   I used a rolling pin to crush the cookies.  You could use a food processor but I like having a "chunkier" cookie crust.  I feel the food processor grinds it too much and it's a pain to pull the food processor out, set it up, and clean it.  Melt the 1/4 cup of butter and pour it into the Ziploc bag and combine. I used a Tablespoon measuring spoon to fill the mini muffin pan openings with the Oreo cookie crust mixture and then pressed down in the center to form a cookie cup.  Do not bake the cookie cups, refrigerate them until they are firmly set (at least an hour.)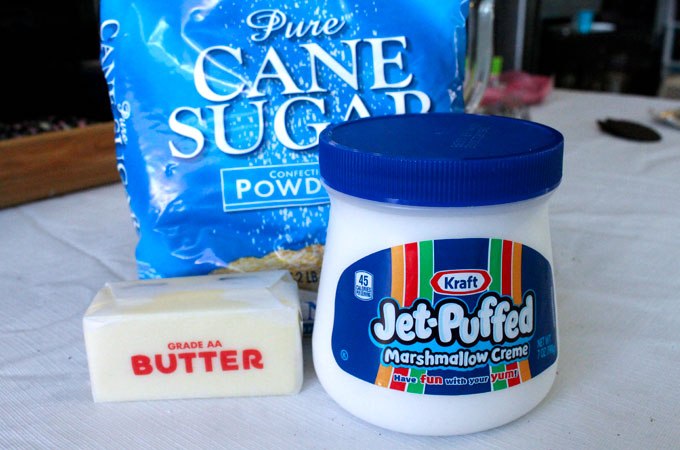 To make the Marshmallow Cream, place 1/2 cup of softened butter, 1 jar of Kraft Marshmallow Cream, 1 and 1/2 cups of powdered sugar and 1 tablespoon of vanilla into a mixing bowl.  Mix on medium-low speed until it is the consistency of frosting.  If the Marshmallow Cream is too runny, add more powdered sugar.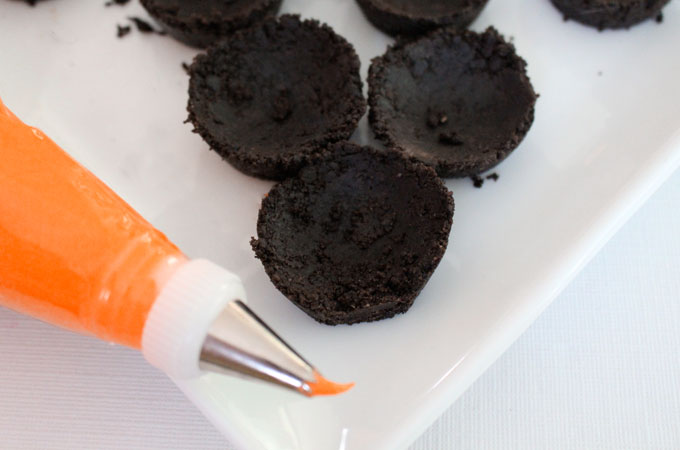 We added orange food coloring to our Marshmallow Cream and loaded it into a pastry bag with a Wilton 2D decorating tip.  Pull the Oreo Cookie Cups out of the refrigerator and you are ready to move onto the assembly process.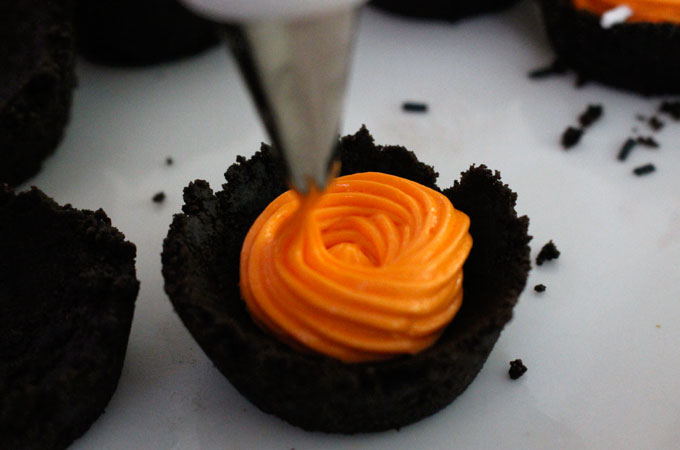 We added a swirl of the pretty orange Marshmallow Cream into the cookie cup.

And finally we topped the Marshmallow Cream with some of our Halloween-themed DIY Sprinkles.  You'll find step by step directions for making your own sprinkles here.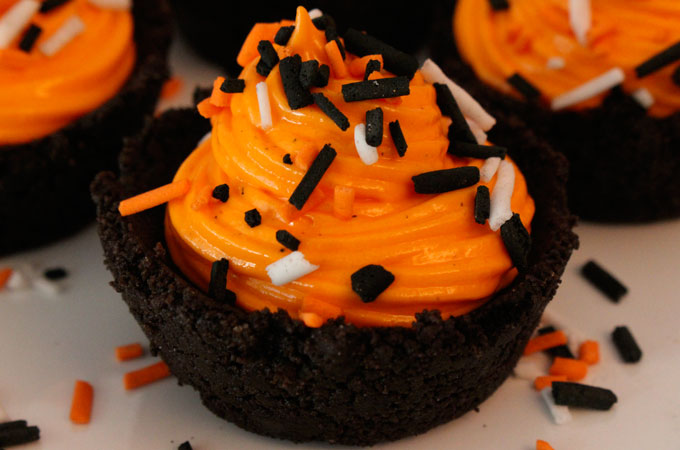 Ohhh … these are so pretty.  The perfect colors for a special bite-sized Halloween treat.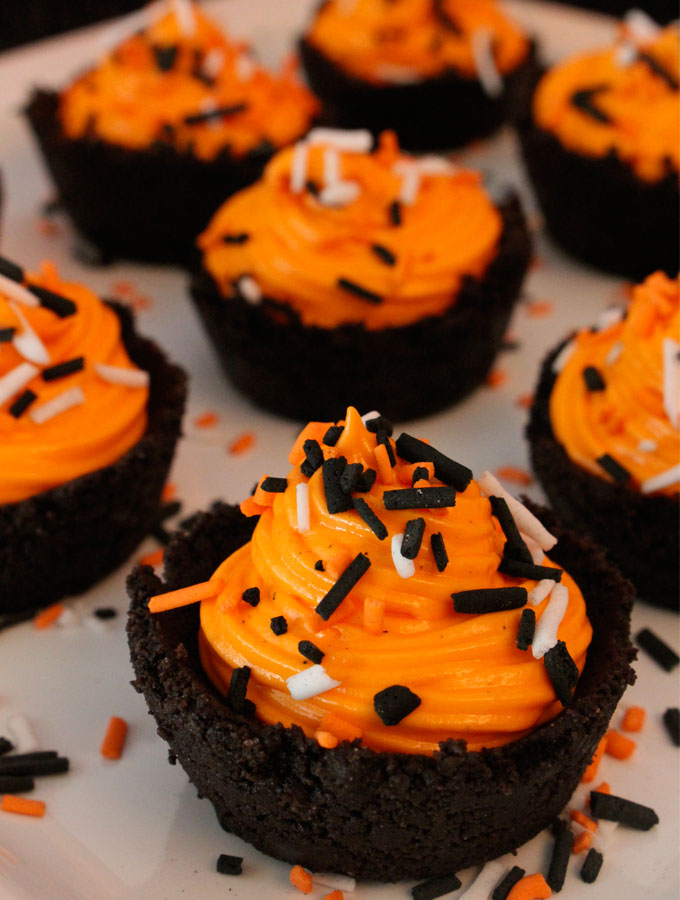 And boy oh boy are these Oreo Cookie Cups with Marshmallow Cream delicious. The Marshmallow Cream blends beautifully with the yummy Oreo Cookie Cup.  Make these this Halloween, you won't be sorry! We promise!!!
P.S. Let's stay in touch!  If you liked our Oreo Cookie Cups with Marshmallow Creme post, [thrive_2step id='10744′]click here to sign up for our Email Newsletter![/thrive_2step]
Or follow us on Pinterest, Facebook and Instagram!
**This post contains affiliate links but we only recommend products that we actually used and liked. Thanks for supporting Two Sisters Crafting!
More Fun Halloween Recipes …
If you want to stay up-to-date on all our Halloween posts, Follow Two Sisters Crafting on Pinterest!
Follow Two Sisters Crafting's Halloween Food board on Pinterest.