We use colored sugar for a lot of our projects. Since the stuff at the crafts stores can get pricey, and since you are limited in color choices, we decided to start making our own. It couldn't be easier. When we saw that you could make your own glitter sprinkles, we knew we had to try it.
How to Make Your Own Sparkling Sugar
You will need:
White Granulated Sugar or Raw Sugar
Food Coloring
Small Plastic Bags
Tin Foil
Cookie Sheet
Sifter
You can make Sparkling Sugar any color you want.  You only need sugar, food coloring and an oven.  In these pictures we used regular granulated white sugar. As you will see later in the post, if you want a more dimensional sparkling sugar, you can use Raw Sugar.
Pour some sugar into a small plastic bag.  You can make as much as you need, this is 1/2 cup sugar.
Add the food coloring to the bag.  Seal the bag and work the food coloring into the sugar.  It will take a combination of shaking and massaging to get the sugar fully colored.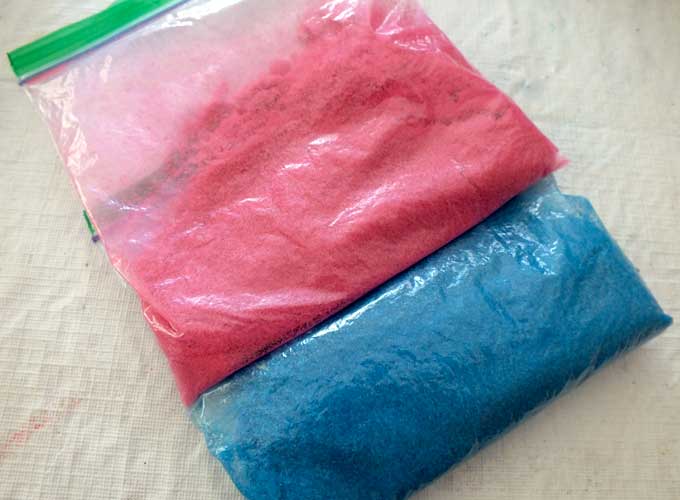 Here is our blue and pink colored sugar.  This colored sugar looks pretty just as it is and could be used in cookie or cake decorating projects at this point. But baking the sugar a tiny bit really adds some sparkle to the sugar and only takes a few minutes more. We highly recommend completing the drying process in the oven.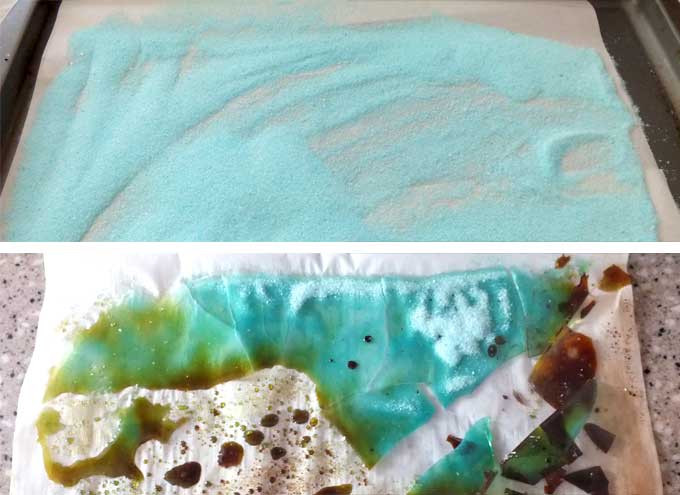 Here is a Two Sisters Crafting tip …. do not bake the colored sugar like we did the first time—spread out in  a thin layer on a cookie sheet.  After only 4 minutes in a 250 degree oven we had the melted mess that you see here in the bottom picture.  Yuck!!! Not very pretty and the smell of burnt sugar is so terrible. Don't do this!!!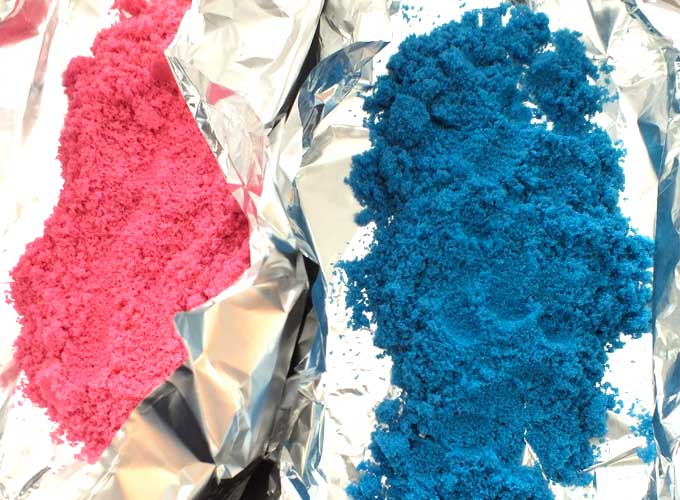 Do this instead.  Create a small trough with a piece of aluminum foil and place it on a cookie sheet.  Pour the colored sugar in a mound in the aluminum foil trough. Place the cookie sheet in a 250 degree oven.  Set the timer for 4 minutes.  Check the sugar.  If it is not melting and you don't smell any burnt sugar, try another 2 minutes.  Check again.  It should be drying out now and have a shiny "sparkly" look.  If it hasn't started melting on the sides, try another minute in the oven.  We ended up baking this sugar for 8 minutes.  But at the end of the process you need to be constantly checking to make sure it hasn't started melting.
Here is the cooled sparkling sugar.  It has been dried and the crystals are very slightly melted which gives it the "sparkling" look. You will need to run it through a sieve before using it.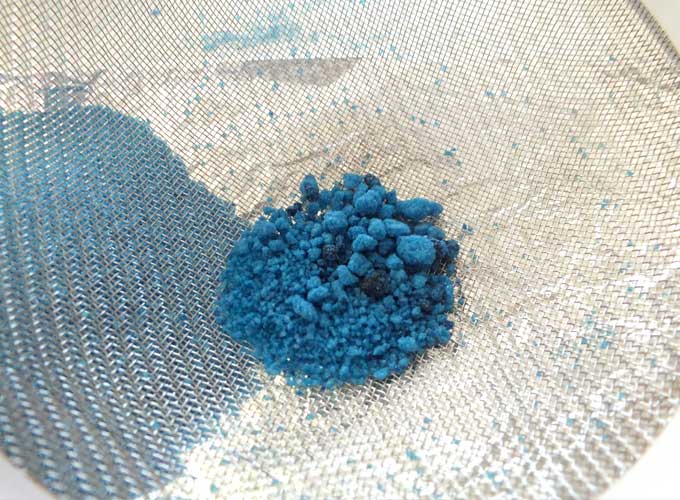 Here is what we sifted out of our finished blue Sparkling Sugar, little tiny pieces of food coloring and melted specks of sugar.
And here is our blue Sparkling Sugar.  So pretty and so sparkly.
If you want a more course sparkling sugar you can use Raw Sugar.  Here is the consistency we got with Raw Cane Sugar.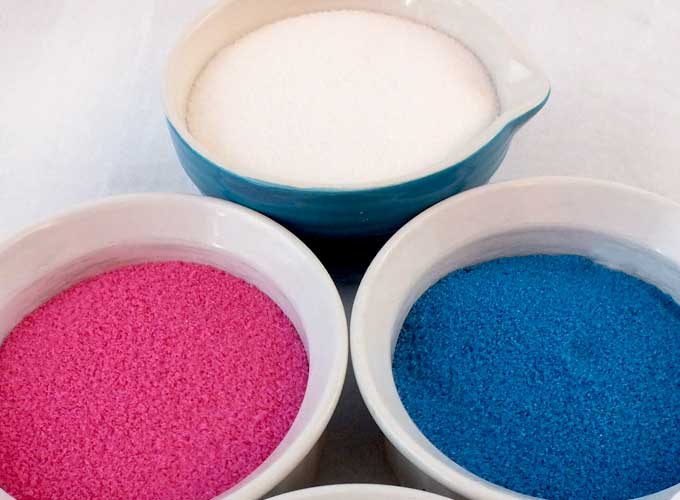 Making homemade sparkling sugar is the easiest process in the world and we will never buy pre-made colored sugar again.  It's so nice to be able to create colored sugars the exact shade that you need instead of settling for the generic colors available at the store.

If you want to stay up-to-date on all our Baking & Decorating posts, Follow Two Sisters Crafting on Pinterest!
Follow Two Sisters Crafting's board Baking & Decorating Tips on Pinterest.