When Allison's preschool teacher appointed me "Cupcake Mom", at first I was flattered and then I was scared.  We had a lot to live up to since the Little Fishy Cupcakes were such a huge hit.  Laurie and I have been brainstorming about what would be fun for the kids for Halloween.  We thought about what we liked to do as kids and what Allison loves to do – go to the pumpkin patch.  (To be fair young Laurie and Nancy would have loved the modern day pumpkin patches too. Bounce houses, pony rides, face painting.  What's not to love?)   We loved the way these Halloween Pumpkin Patch Cupcakes turned out.  They were fun and easy, and the kids in Allison's class are going to love them.

How to Make Halloween Pumpkin Patch Cupcakes
Ingredients:
Cupcakes
Orange M&M's
Green M&M's
Regular Sized Marshmallows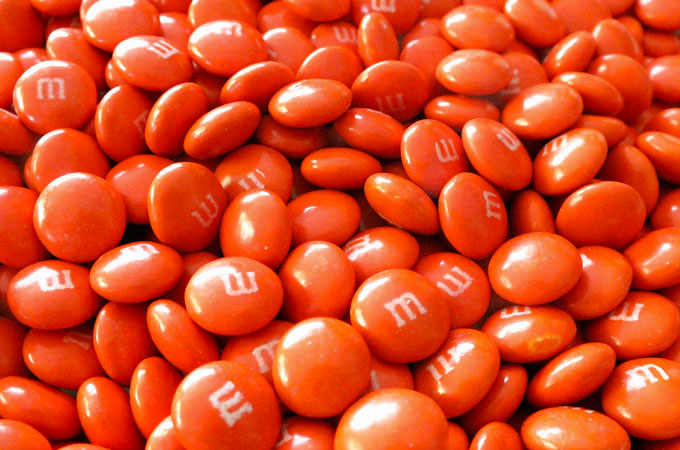 First step, pull out all of the orange M&M's from a large bag of M&M's.  You'll need about 20-25 M&M's for each Halloween Pumpkin Patch Cupcakes.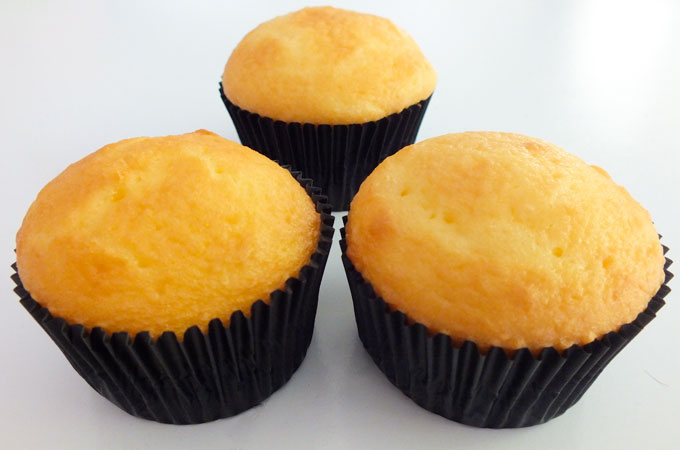 Next you'll need to bake some cupcakes with black cupcake liners.  We used yellow cake mix but these cupcakes would be great with any flavor.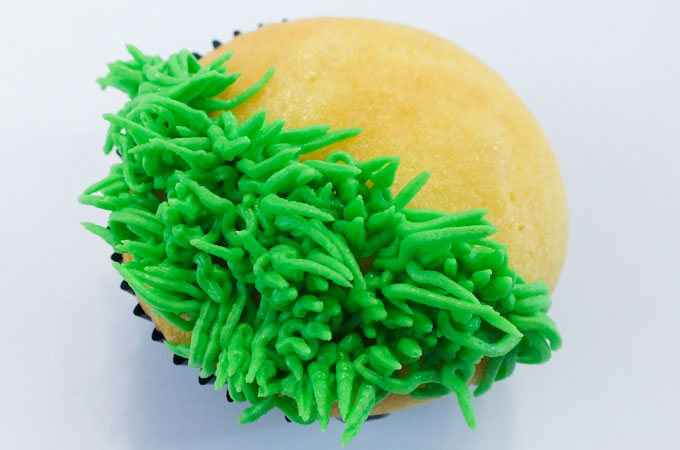 Cover the top of the cupcake in green Buttercream Frosting.  We used a pastry bag and a Wilton Frosting Tip #233 to get this "grass" effect.  But this cupcake would also look great if you just smoothed on some green frosting with a knife.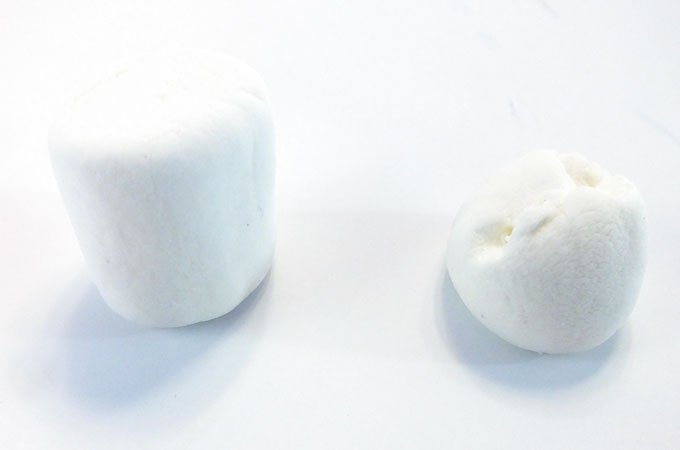 The body of the pumpkin is a regular sized marshmallow.  Using my fingers, we pulled off 1/3 of the marshmallow from the top.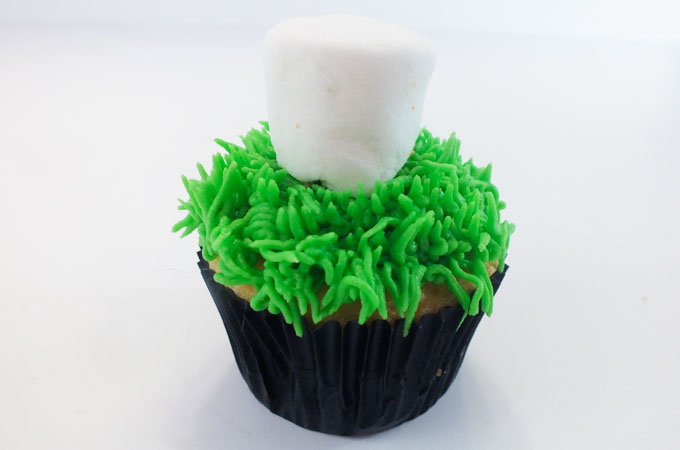 Place the remaining 2/3 marshmallow piece in the center of the cupcake.  Place the torn side down – this will give you that rounded bottom shape for the pumpkin.
Cover the marshmallow with orange frosting.  We used a basic star tip to apply the orange frosting but again you could easily apply the frosting with a knife.  You don't need alot of frosting here – apply just enough to give the M&M's something to stick onto.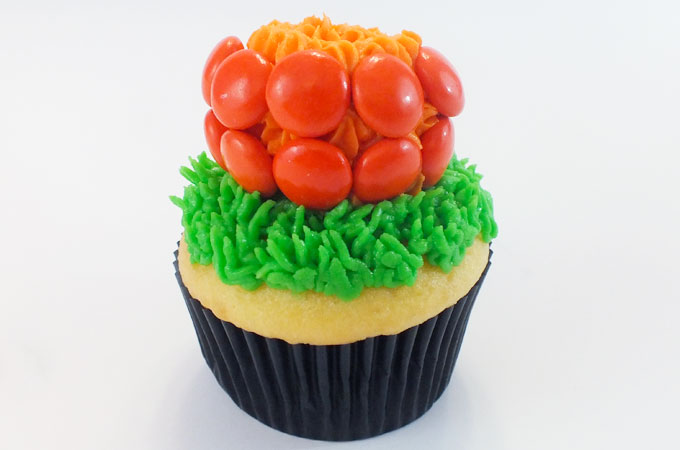 With the "M" side down, start placing the orange M&M's around the Marshmallow.  Start with the first row before moving onto the second row.  As you can see in this picture, you can angle the first row of M&M's to replicate the rounded edge of a bottom of a pumpkin.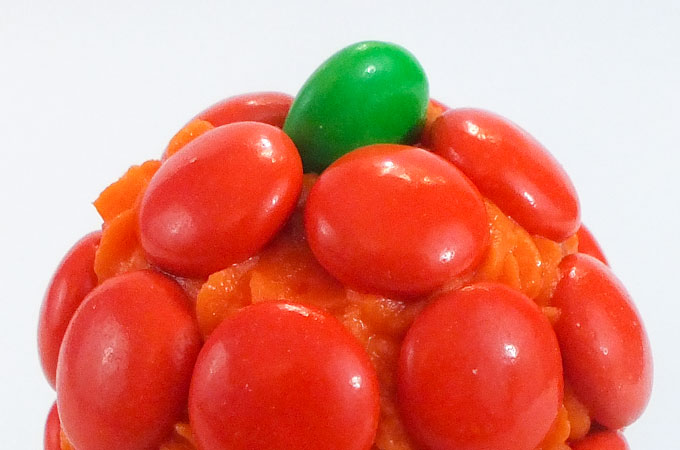 For the top of pumpkin, add five orange M&M's and then a single green M&M to represent the pumpkin stem.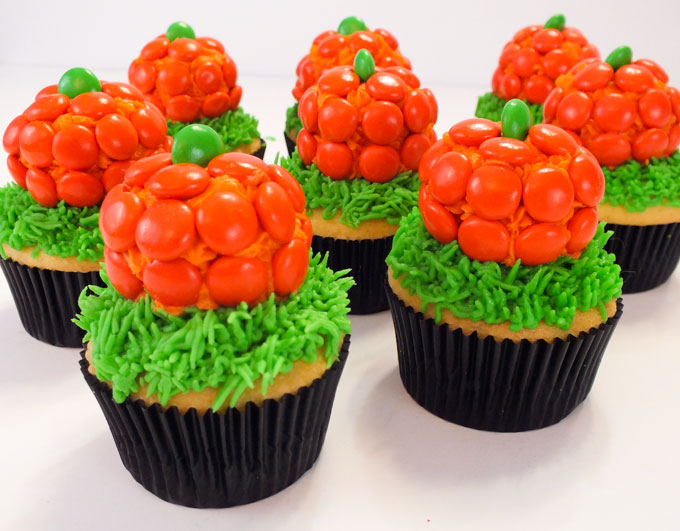 That's all there is to it.  These Halloween Pumpkin Patch Cupcakes are very easy to decorate.  The bright orange M&M's do all the visual work for you!  These Halloween Pumpkin Patch Cupcakes are super adorable, very easy to make and are perfect for a Halloween party or school class Halloween treat.

P.S. Let's stay in touch!  If you liked our Pumpkin Patch Cupcakes post, click here to sign up for our Email Newsletter!
Or follow us on Pinterest, Facebook and Instagram!
**This post contains affiliate links but we only recommend products that we actually used and liked. Thanks for supporting Two Sisters Crafting!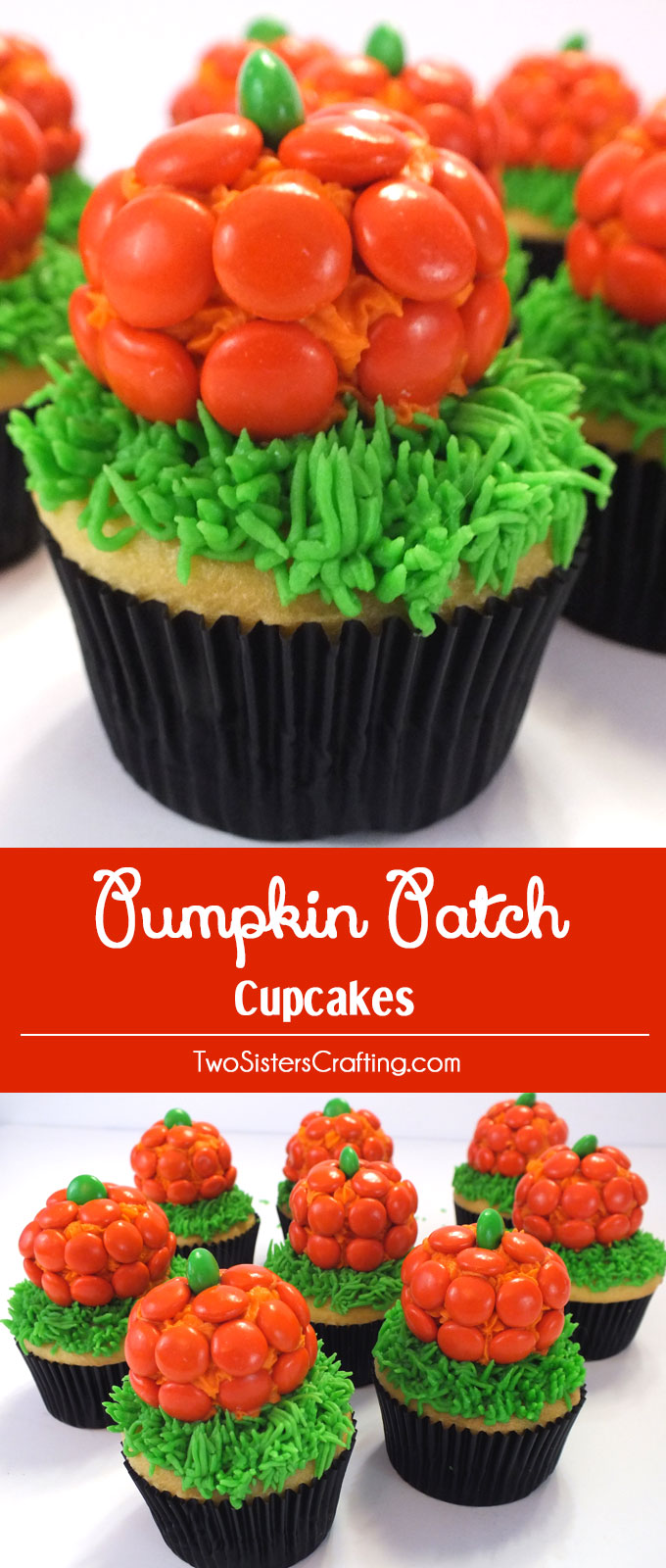 More Fun Halloween Recipes …
If you want to stay up-to-date on all our Halloween posts, Follow Two Sisters Crafting on Pinterest!
Follow Two Sisters Crafting's Halloween Food board on Pinterest.