Our goal is to have a pretzel bite for every party/holiday/occasion. We knew when we started working on our Frozen Party we needed a pretzel bite. We searched through our collection of M&M's and came up with these sweet and sassy Frozen Pretzel Bites.

How to Make Frozen Pretzel Bites
You will need:
M&M Candies in White, Lt. Blue, Pink and Blue
For the Elsa Pretzel Bites we used Light Blue and White M&M's.  You can buy specific color M&M's at Party City and online on Amazon and other candy warehouse sites.  We used the blue from Easter colored M&M's and the White from Valentine's colored M&M's.  We always stock up on bags of these special "holiday" M&M's so we can use these non-traditional M&M colors on projects throughout the year.  (Two Sisters Tip:  We've had great luck finding holiday M&M's up to 50% off in grocery stores in the week after a holiday is over.)  The dark pink M&M's were from the Valentine's holiday mix and the Blue are from a regular bag of M&M's.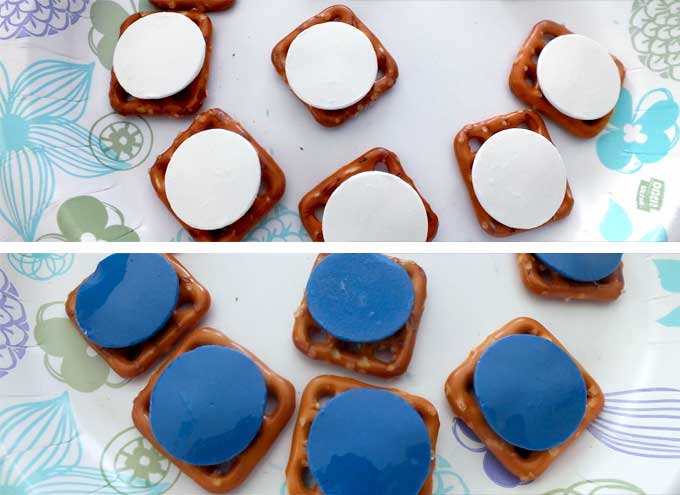 We like to use the square Pretzel Snaps when making Pretzel Bites but you can also use the regular mini pretzels.  First, place 7-8 Pretzel Snaps on a paper plate. Cover the pretzels with a Wilton Candy Melt.  You  will use the White and Blue Candy Melts for the Elsa Pretzel Bites and the Bright Pink and Royal Blue Candy Melts for the Anna Pretzel Bites.
Place the paper plate in the microwave and heat for approximately 45-50 seconds. The exact timing will take a bit of trial and error.  You want the candy melts to be melted enough to press the marshmallow petals into, but not so melted that the candy melt loses its' shape.  In the picture above you can see the the blue candy melts have a sheen to them – this is what they look like when they are the melted the perfect amount.  The exact time in the microwave will depend on how many pretzel/candy's you do at one time, how powerful your microwave is, the type of pretzels you are using, etc.  For us, 7-8 pretzels snaps take 50 seconds to melt to the right consistency.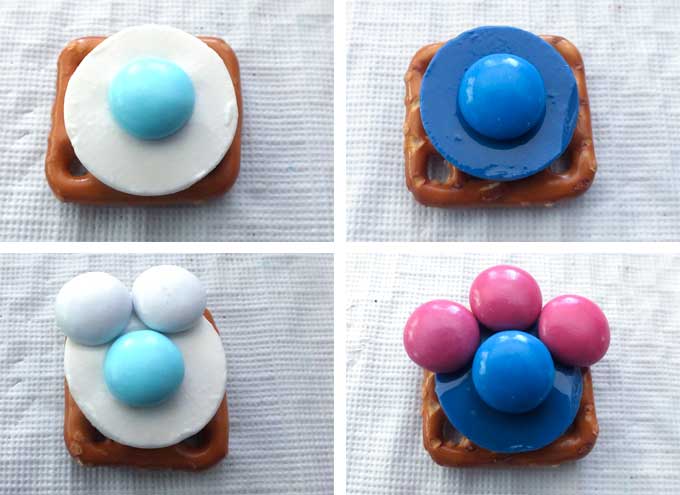 The Elsa & Anna Pretzel Bites are easy enough to assemble.  Start by pressing an M&M down in the center of the melted candy melt.  The Light Blue M&M goes on the White Candy Melt for the Elsa Pretzel Bite and the Blue M&M goes on the Royal Blue Candy Melt for the Anna Pretzel Bite.  Now create the flower petals with contrasting colored M&M's – we used six M&M's for the petals.  And remember to place the "M" side down!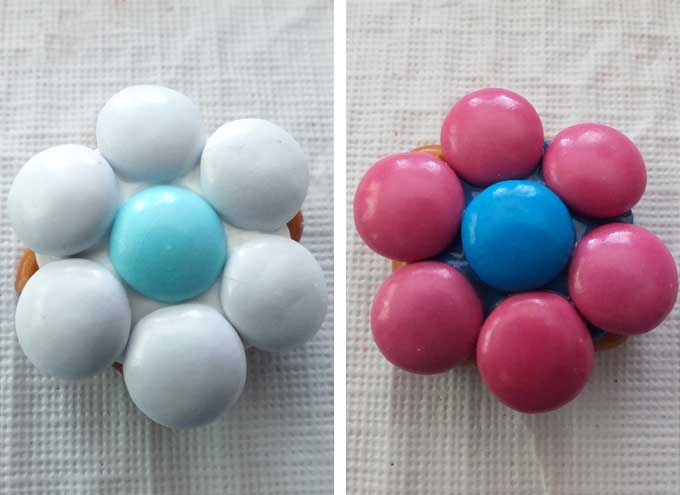 We stuck the Elsa & Anna Pretzel Bites in the freezer for about 5 minutes so the candy melts would set.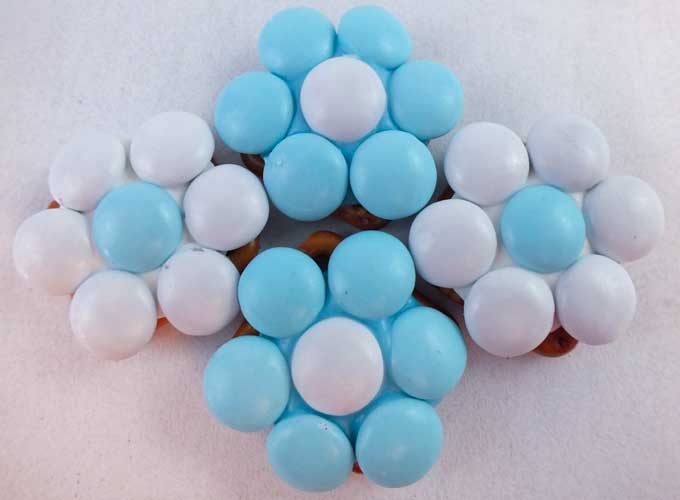 We created coordinated colored versions of the Anna Pretzel Bites – Blue with White Petals and White with Blue Petals.  So very pretty!
We did the same things for the Anna Pretzel Bites – Blue with Pink Petals and Pink with Blue Petals.  We love making these Frozen desserts in Anna colors – very colorful and Anna is a great character  – she deserves to shine right along side of her glittery sister.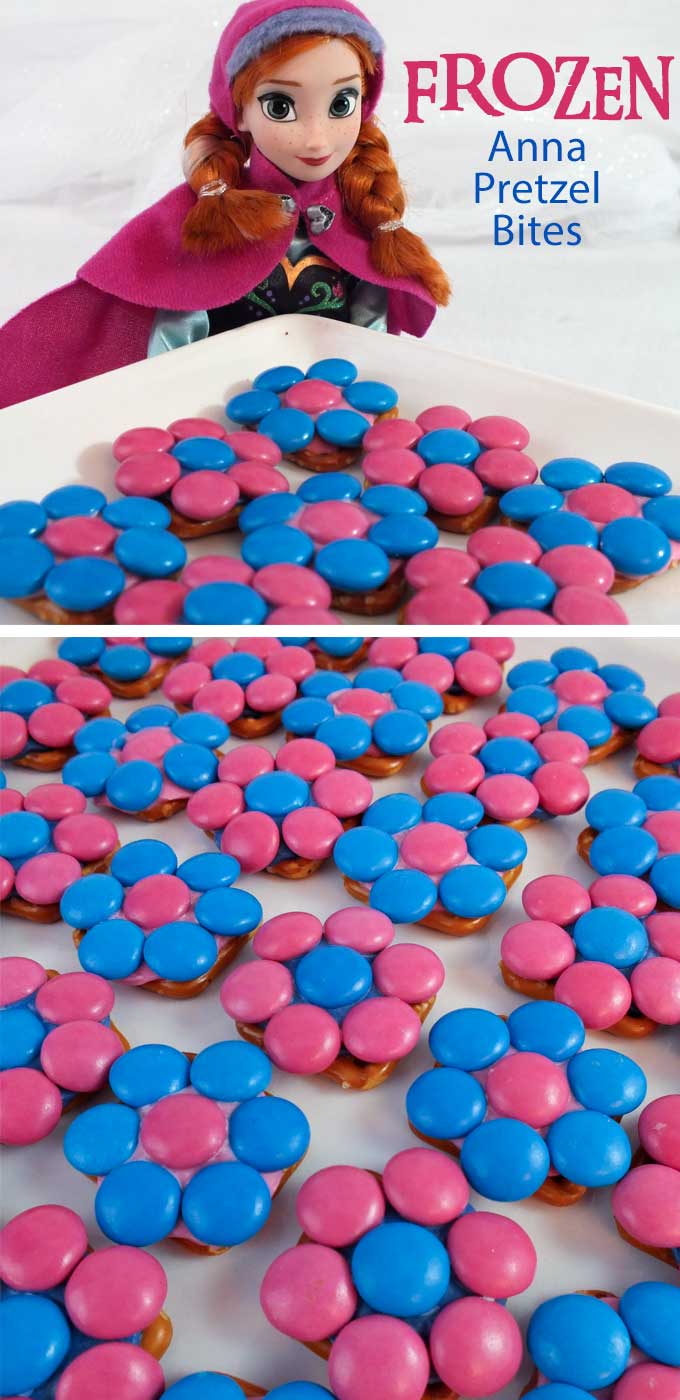 We are not sure we can pick our favorite color combination for our Elsa & Anna Pretzel Bites but you really don't have to choose. The Anna Pretzel Bites will look pretty mixed up with your Anna Pretzel Bites on your Frozen Party Dessert Table.  And nothing tastes better than these kind of pretzel bites – and that goes for any color combination you can think of!!

P.S. Let's stay in touch!  If you liked our Frozen Pretzel Bites post, [thrive_2step id='10744′]click here to sign up for our Email Newsletter![/thrive_2step]
Or follow us on Pinterest, Facebook and Instagram!
**This post contains affiliate links but we only recommend products that we actually used and liked. Thanks for supporting Two Sisters Crafting!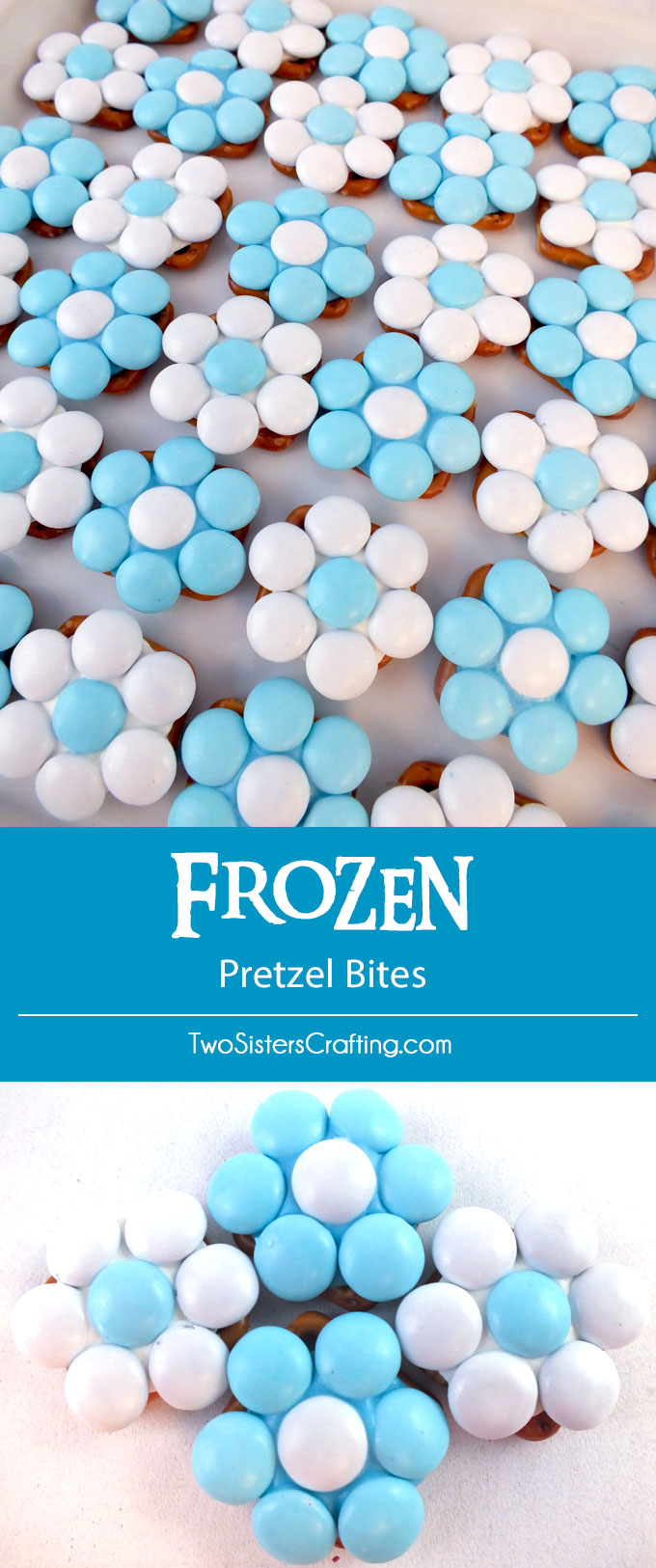 More Fun Disney Frozen Party Ideas …
If you want to stay up-to-date on all our Frozen Party posts, Follow Two Sisters Crafting on Pinterest!
Follow Two Sisters Crafting's board Frozen Party Ideas on Pinterest.