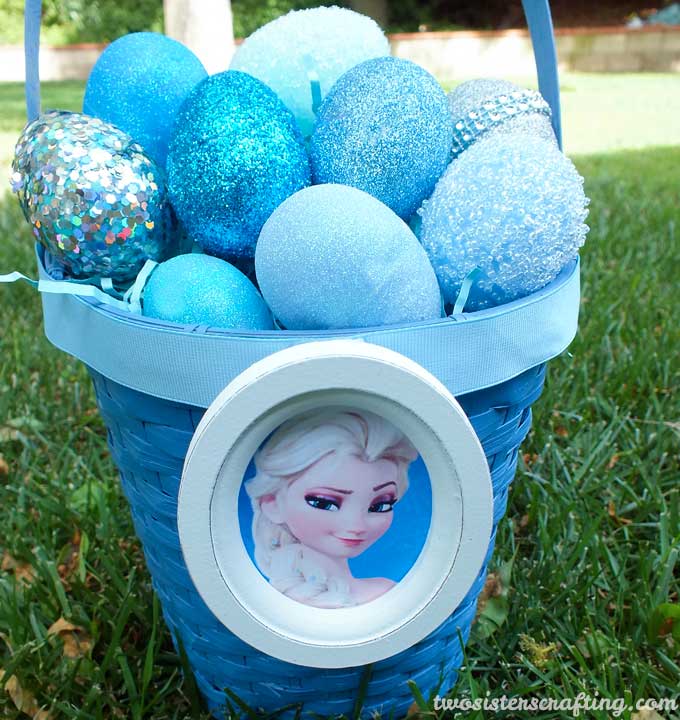 I cannot believe that one year after buying the DVD my daughter is still Frozen obsessed.   While Laurie and I enjoy trying to figure out how to incorporate Frozen into every holiday … I really feel like telling her to let it go already.  (Sorry, I know that joke has been done to death.)  So, here is our take on a Frozen Easter Basket and Easter Eggs.  My daughter is going to go crazy when she sees this Easter morning.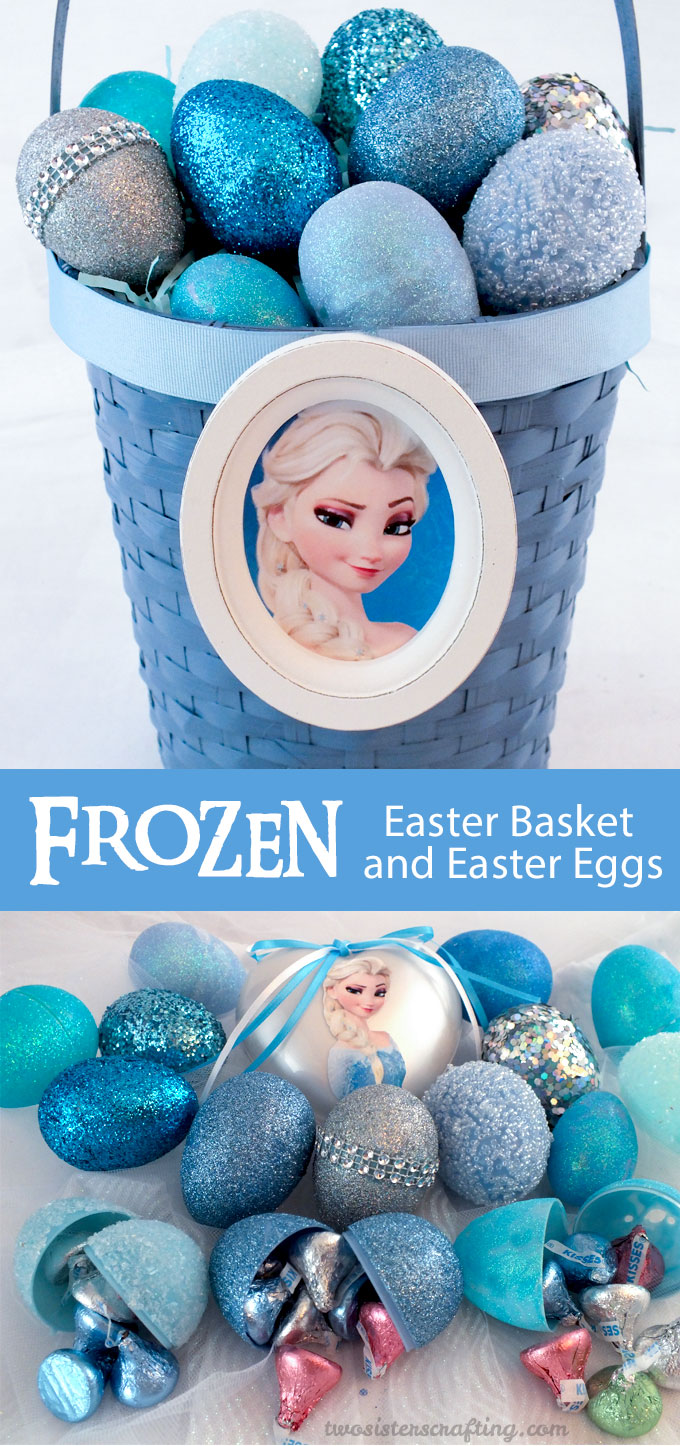 How to Make a Frozen Easter Basket and Easter Eggs
Supplies:
Plastic Easter Eggs
Mod Podge
Craft Brush
Glitter, seed beads, rhinestones and other embellishments
Easter Basket
Krylon Colormaster Periwinkle Spray Paint
Ribbon
Small Picture Frame
The first thing you'll need are some plastic Easter Eggs.  You can find them for as little as a $1.00 per dozen at the Dollar Store and at Big Box stores.  You will need plastic eggs that are shades of blue and aqua because depending on the type of glitter you use, some of the plastic egg will show through once the eggs are embellished.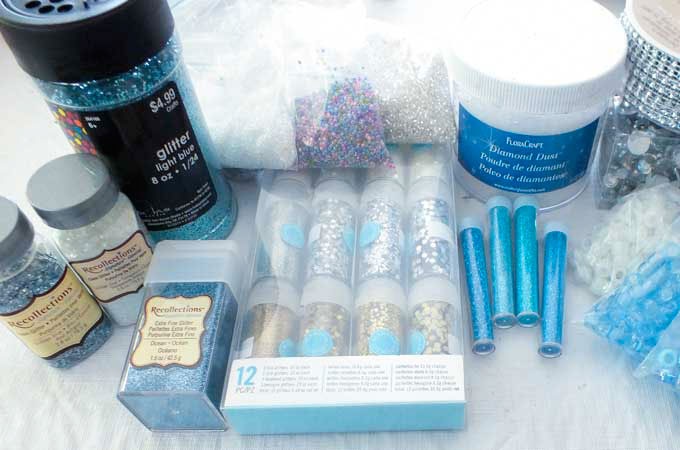 Next, we gathered up all of our "Frozen" colored glitter and embellishments – blues, whites and silvers.  We wanted each Frozen Easter Egg to be unique so we pulled out everything we had on the Two Sisters Crafting supply shelves.
Embellishing these plastic eggs is so simple.  First, cover one half of the egg with Mod Podge (we used a craft brush to apply the Mod Podge) and then liberally sprinkle the glitter over the glue.  (Crafting Tip:  I have these great Martha Stewart glitter trays that makes pouring the glitter back into the jars so easy, I highly recommend them.) Let the Mod Podge try and then glitter the other half of the egg.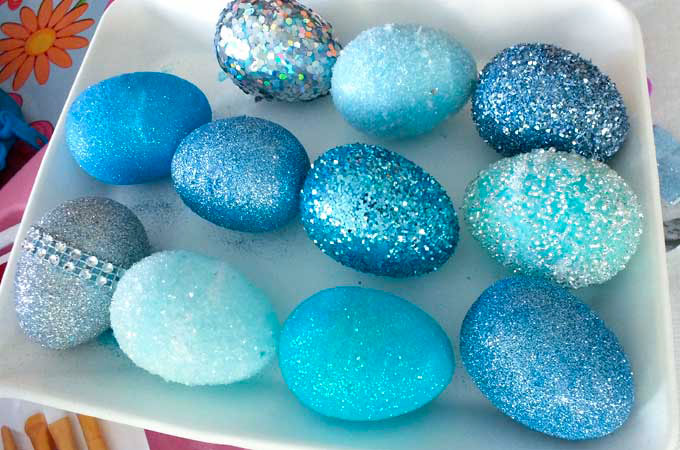 Let the eggs dry overnight and then lightly spray them with aerosol hair spray which really helps set the glitter.
Once the eggs are completely dry you can carefully crack them open and fill them with candy.  We only used non-toxic glitter and we are only going to fill them with wrapped Easter Candy so I think we are safe there.
We also are going to include the Elsa version of our A Kiss for your Frozen Heart candy container in the Easter Basket.  You can see how to make those right here.
For the Frozen Easter Basket, we found a very inexpensive Easter Basket at Target and spray painted it Frozen blue using Krylon Colormaster Periwinkle Spray Paint.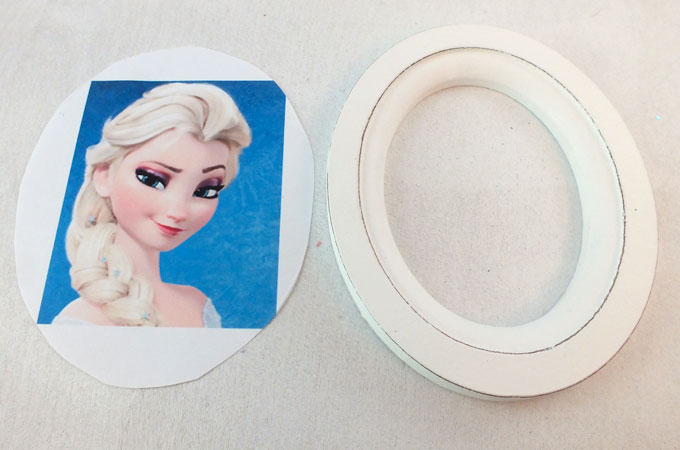 To embellish the Frozen Easter Basket, we used a mini frame that we had left over from a Christmas project.  Laurie printed out a picture of Elsa that she found using Google Images and glued it to the back of our white oval frame.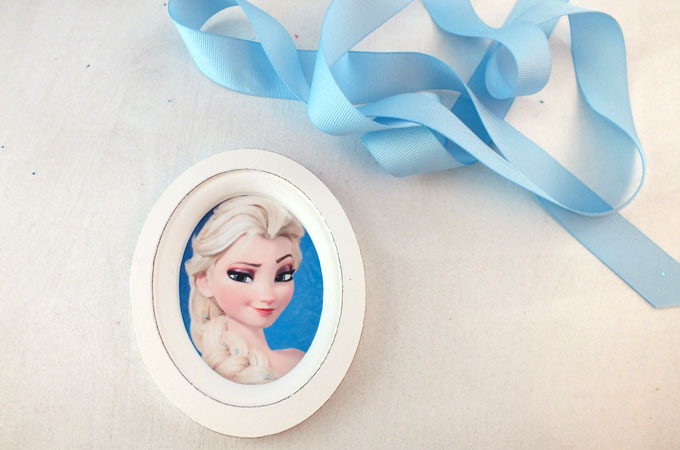 We hot glued the frame and some blue ribbon around the top of the Frozen Easter Basket.
So easy.  This Frozen Easter Basket was a 30 minute project at max.
We loved how our Frozen Easter Basket and Frozen Easter Eggs turned out – don't they look pretty and sparkly on the green grass? They are going to be a big hit Easter morning!

If you want to stay up-to-date on all our Easter Craft posts, Follow Two Sisters Crafting on Pinterest!
Follow Two Sisters Crafting's Easter Food Board on Pinterest.