I can't believe how time files.  Easter is approaching but it seems like I was just taking down my Christmas decorations.  I saw the directions for this adorable Easter Bunny Wreath on Pinterest and knew that it would be my first project for the Easter season.  It couldn't have been easier and I loved how it turned out.

How to Make an Easter Bunny Wreath: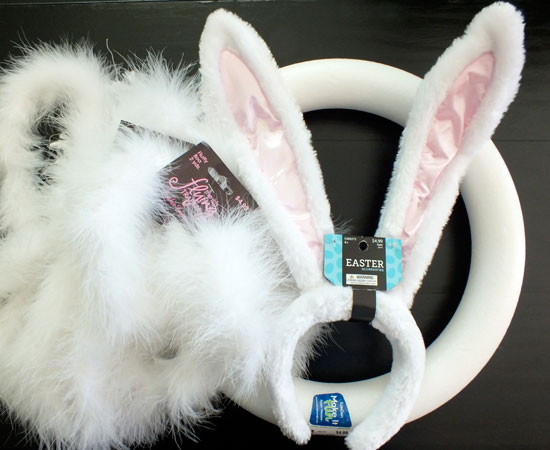 Project Supplies:
I bought all of these supplies at Hobby Lobby.  But I have seen these Easter Bunny Ears headbands everywhere lately – Target, Michaels, Amazon, even the grocery store.
The first step is to stretch out the headband and glue the Easter Bunny Ears all the way across the top of the floral ring.  I used my hot glue gun for the Easter Bunny Wreath project.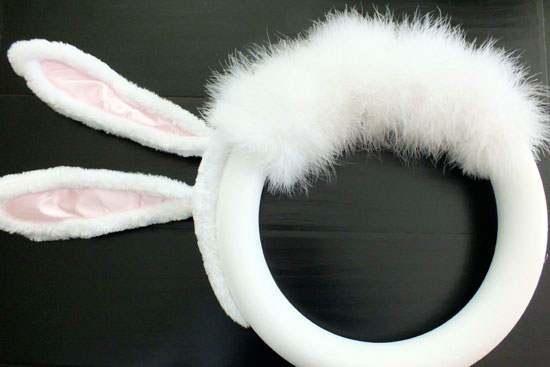 Next, I started wrapping one of the three feather boa's around the floral ring.  The original crafter said that she used 2 boa's but when I was buying these supplies at Hobby Lobby I didn't think 2 would be enough.  I bought 3 but honestly, I could have used a fourth one.
I used the hot glue gun to attach the final two boa's.  I only glued the boar's glued at each end instead of at every loop around the ring because I wanted to be able to fluff up and rearrange the placement of the feather loops once I was done adding all three.
That's all there was to making this great Easter Bunny Wreath.  This was a 15 minute project at most.  And if you used regular Tacky Glue instead of the Glue Gun, it would be fun project to do with kids.

P.S. Let's stay in touch!  If you liked our Easter Bunny Wreath post, [thrive_2step id='10744′]click here to sign up for our Email Newsletter![/thrive_2step]
Or follow us on Pinterest, Facebook and Instagram!
**This post contains affiliate links but we only recommend products that we actually used and liked. Thanks for supporting Two Sisters Crafting!

More great Easter Crafts …
Pinterest Inspiration:
If you want to stay up-to-date on all our Easter Craft ideas, Follow Two Sisters Crafting on Pinterest!
Follow Two Sisters Crafting's Valentine's Day Treats board on Pinterest.