Out of everything we did for Allison's Frozen Birthday Party, these Olaf Party Favor Bags were our favorites.  We had always planned on making these Olaf Party Favor Bags for the boys and Elsa Party Favor Bags for the girls, but after we finished with the Olaf bags we almost didn't make the Elsa bags.  The Olaf bags were so cute we thought the girls might be sad not to get one. In the end, we are glad we made both.  The boys at the Frozen party loved their personalized Olaf Party Favor Bags.

How to Make Disney Frozen Olaf Party Favor Bags
You will need:
Scissors
Pattern for Olaf's face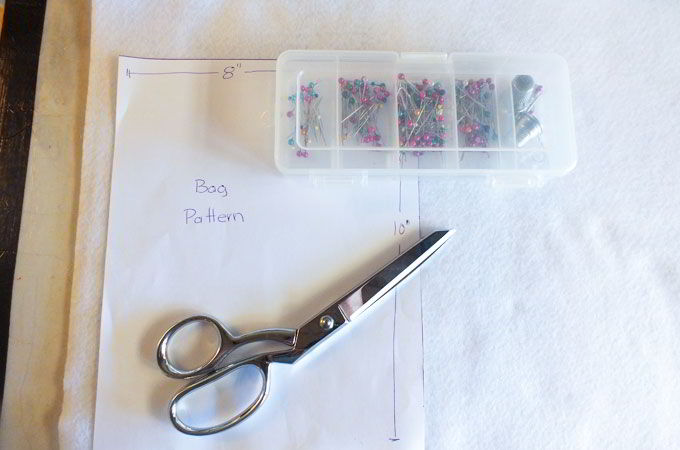 The first thing I did was cut the pieces of white felt for the bag.  I made a pattern that was an 8″ x 10″ rectangle.  You will need two of these pieces for each bag.  You can also use the Felt Squares that you can find in Hobby Stores.  The dimensions will be slightly different that the Olaf Party Favor Bag you see in these pictures but it works just fine.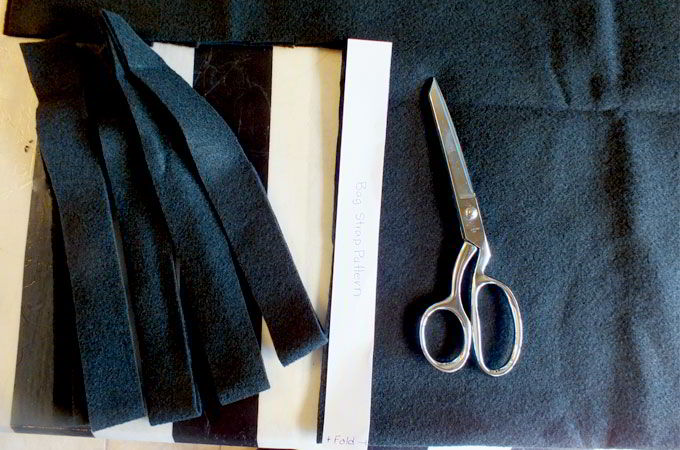 Next, I used black felt to cut out the handles for the Olaf Party Favor Bag.  I made the cuts on the fold, the width of the handle is 1 1/2″.  Each bag will need two handles.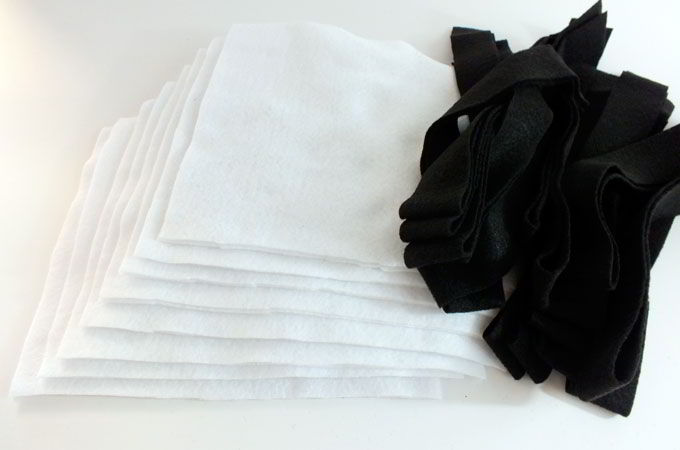 Olaf Party Favor bag pieces ready for sewing.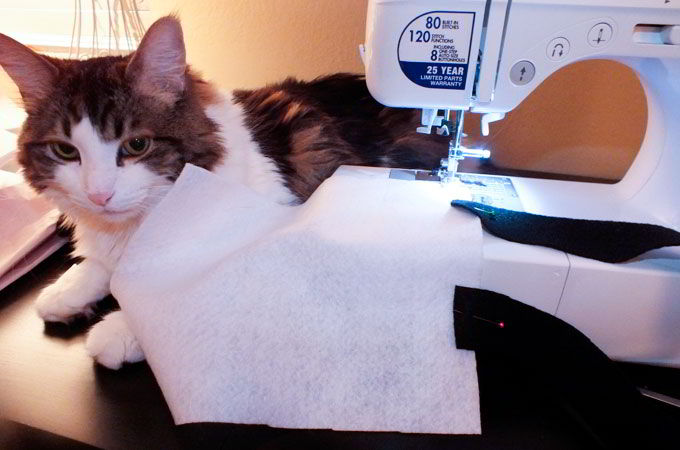 Here I am getting ready to sew the handles onto the white pieces of felt.  (Oh, hi Noodle!  Do you think Martha Stewart crafts with her nosy cat watching her every move?)  I attached each handle with a single zig-zag stitch seam across the top of the piece of felt.  If you don't have a sewing machine, you could use fabric glue to attach the handles to the tops of the bag pieces. Or you could use a needle and thread to hand stitch them to the white felt.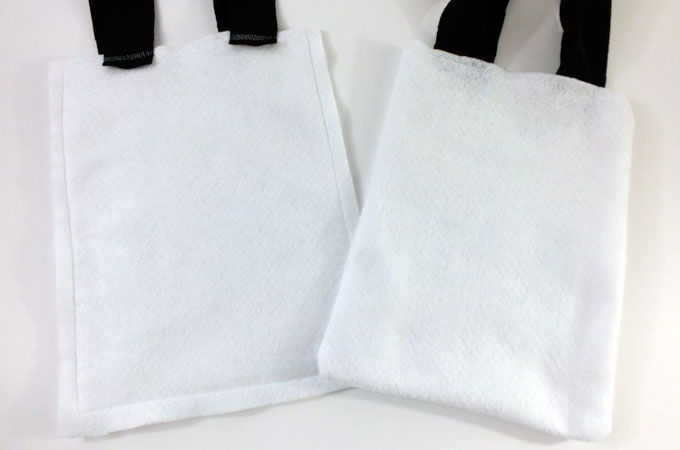 To create the bags,  I placed the rights sides of the white felt together and sewed around three sides (right side, bottom and left side.)  When I was done I turned the bag inside out and that is all there is to creating the bags.  This is a super simple sewing project.  Again, if you don't have a sewing machine you could use glue to create the side and bottom seams.
Next cut out the pieces to make Olaf's face.  I found an image of Olaf's face on Google Images to use as a guide and then I hand drew the various pieces on a piece of printer paper and then cut them out to use as a pattern. Here is what you will need for each Olaf face:
Black smiling mouth
White teeth
Orange nose
Three circles for his eyes – large black, medium white and small black.
Two black crooked eye brows.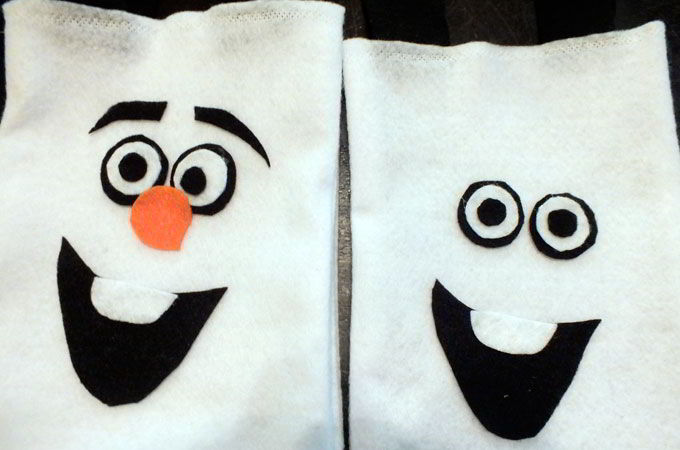 I used Tacky Glue to attach the Olaf Face pieces to the front of the Olaf Party Favor Bags.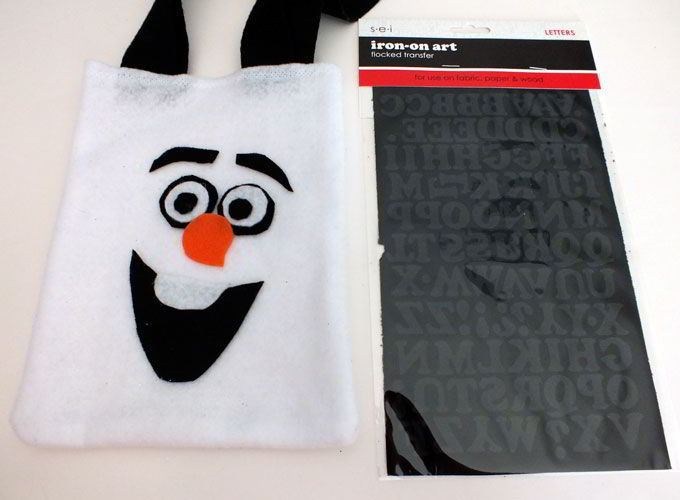 After we were done with the bags we decided to personalize them for the boys coming to Allison's Frozen Birthday Party.  Iron-on letters are strangely expensive.  We looked around at a couple of craft stores and were shocked at how much they cost.  Then we tried Hobby Lobby and found some that were much more reasonably priced.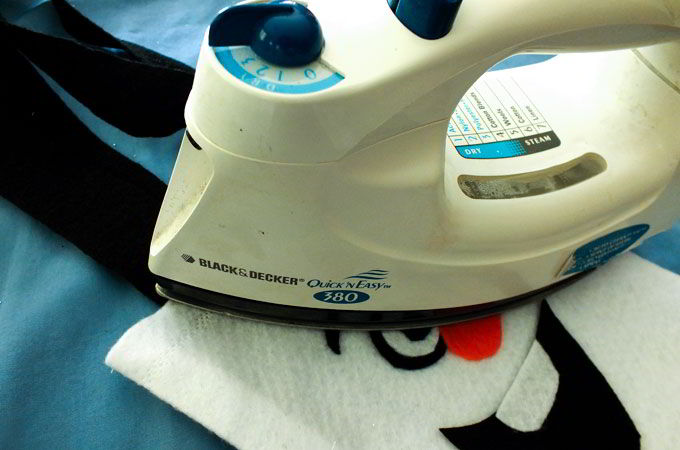 We ironed on the letters for each boy's name.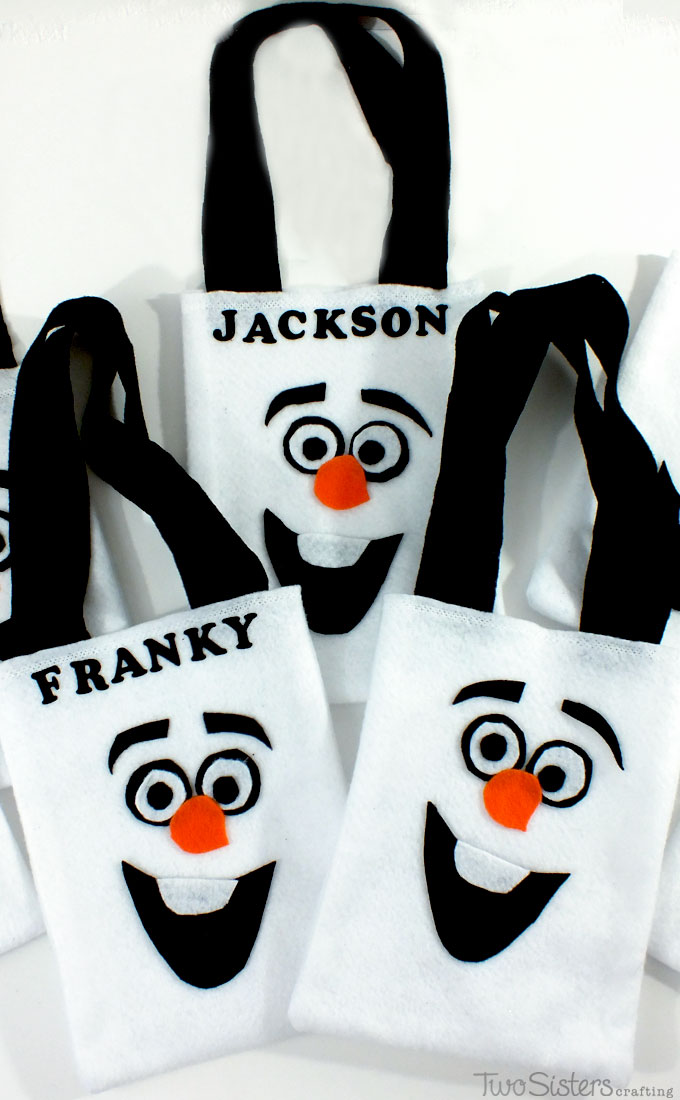 Taa Daa!  It's our great Frozen Party craft — ADORABLE Olaf Party Favor Bags. So … so … cute!  The boys at the party loved their thank-you gift (and don't worry about the girls – they got these beautiful Elsa Party Favor Bags and Anna Party Favor Bags!)

P.S. Let's stay in touch!  If you liked our Frozen Olaf Party Favor Bags post, [thrive_2step id='10744′]click here to sign up for our Email Newsletter![/thrive_2step]
Or follow us on Pinterest, Facebook and Instagram!
**This post contains affiliate links but we only recommend products that we actually used and liked. Thanks for supporting Two Sisters Crafting!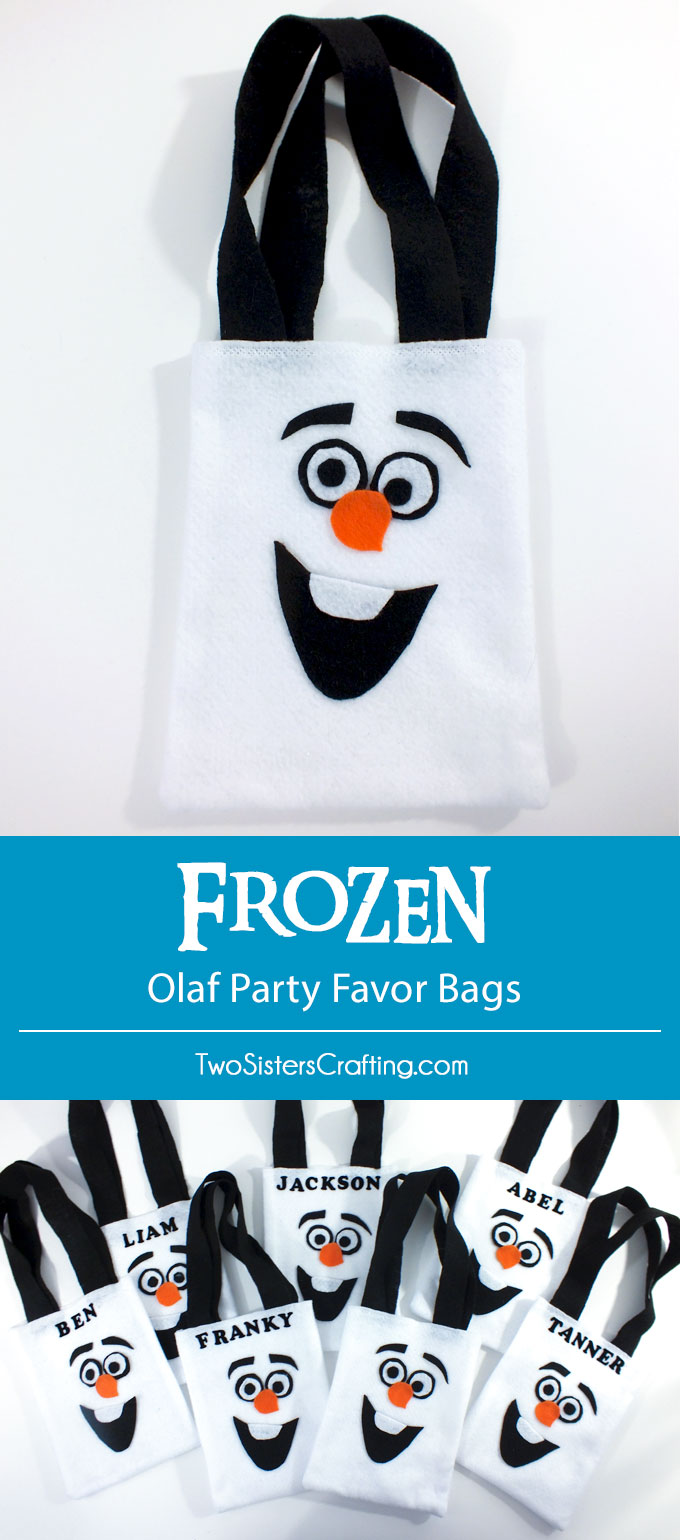 More Fun Disney Frozen Party Ideas …
If you want to stay up-to-date on all our Frozen Party posts, Follow Two Sisters Crafting on Pinterest!
Follow Two Sisters Crafting's board Frozen Party Ideas on Pinterest.