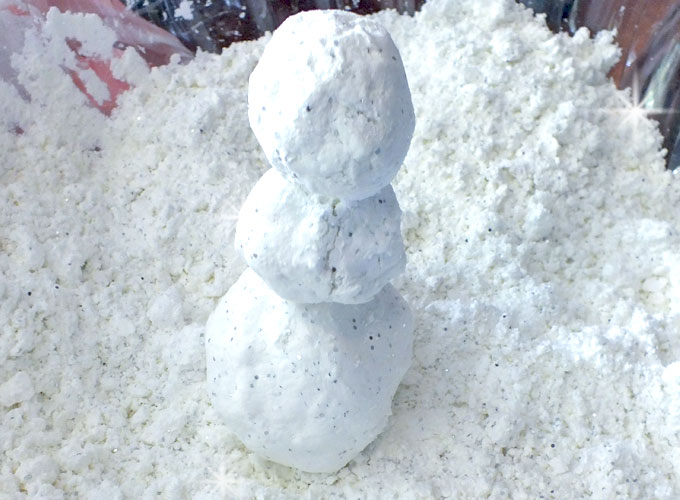 The most popular activity that we had for Allison's Disney Frozen Birthday Party was the Do You Want to Build a Snowman DIY Play Snow.  I knew the kids would have fun playing with it, but I didn't know just how much fun it would be.  My mistake was not putting an adult next to the snow to monitor the fun and make sure the kids didn't throw snowballs at each other.  Oh well, live and learn.

How to Make Frozen DIY Play Snow
You will need: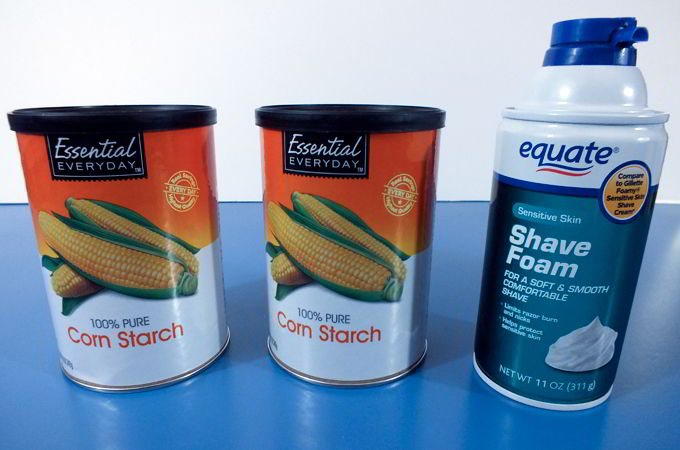 This is an inexpensive project.  We found cornstarch on sale for $0.99 a box at Wal Mart and generic brand shaving cream was under $2.00 everywhere we looked.  One batch of DIY Play Snow filled a gallon-sized plastic ziplock bag to give you a perspective on how much snow you will end up with for a single batch.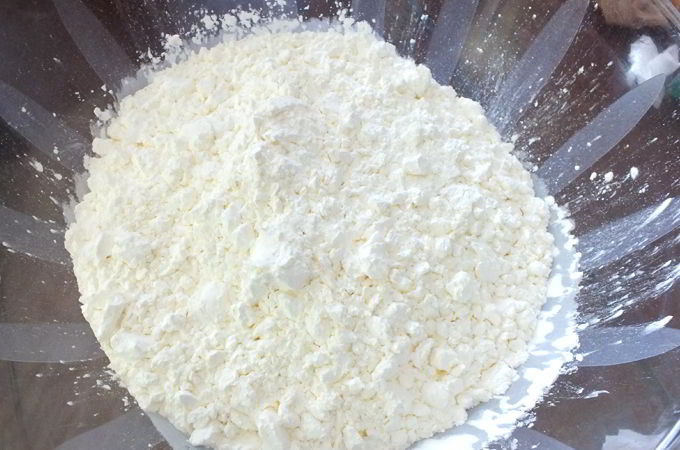 Pour both 16 oz. boxes of cornstarch into a large bowl.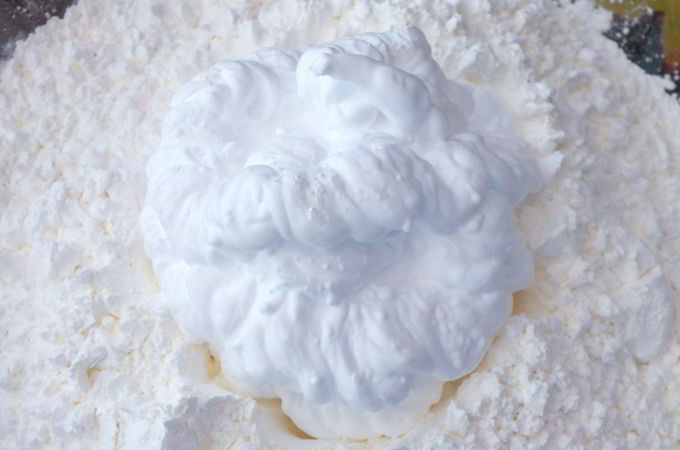 Add some shaving cream into the bowl.  How much?  We found that you get a better consistency of DIY Play snow if you work in the shaving cream in small batches.
Here is where your arms will get their workout.  Using your hands, knead the shaving cream into the cornstarch.  The process is similar to kneading butter into biscuits or pie dough.  It's a messy process in the beginning.  But the more you work the shaving cream into the cornstarch, the more the DIY Play Snow will start to mold together and not give off so much constarch dust.  The chemistry of mixing the shaving cream and the cornstarch will make the play snow feel cold which is very cool.  Add all of the shaving cream into the mixture,  a bit at a time.  You'll know you are finished when the snow is moldable, feels dry to the touch and stops sticking to your hands.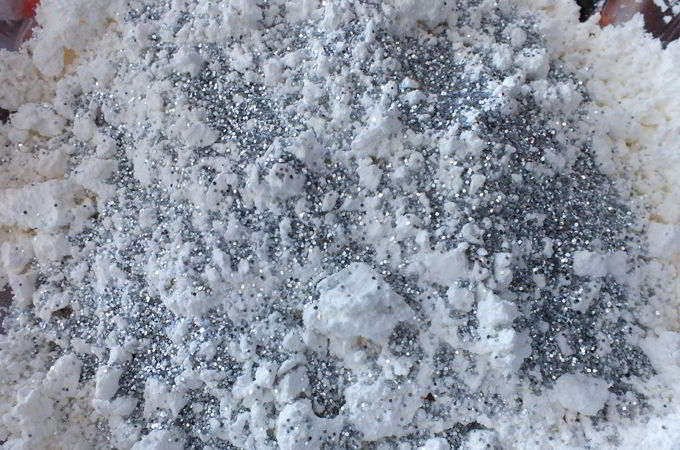 Once the snow was fully mixed, we sprinkled a couple of tablespoons of silver glitter into the finished snow for some extra sparkle.
That's all there is to it.  The snow feels cold.  It is light and fluffy.  It sticks together so you CAN make a snowman.   We made it ahead for the Frozen party and stored it in plastic ziplock bags in the freezer.  We took it out right before the guests arrived so it was really cold and fun to play with at the party.
We used Allison's water table as our "Do You Want to Build a Snowman" DIY Play Snow party activity station.  It took four batches of snow to fill it up.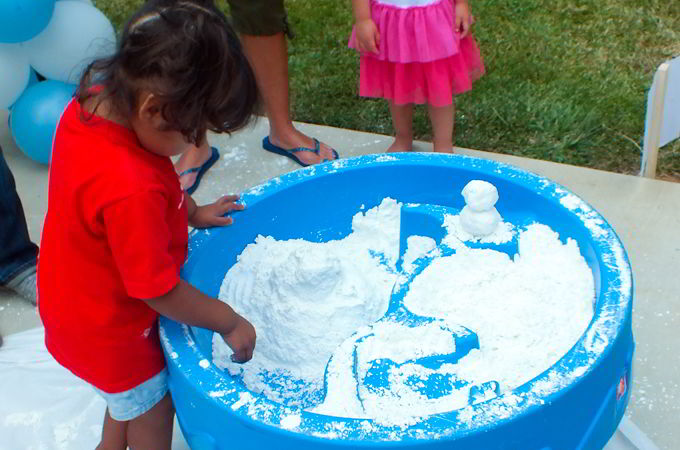 The kids loved the snow.  This was definitely our most popular party activity at the Frozen Birthday Party.  There was somebody here playing with the DIY Play Snow at every point through-out the party.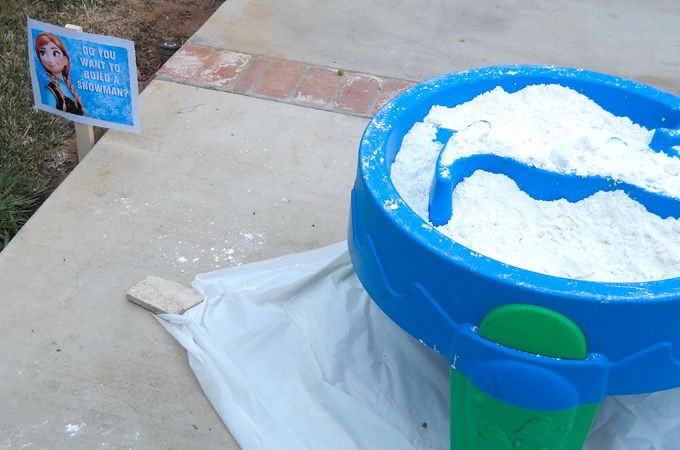 We thought the ground might get a little messy so we were so proud of ourselves that we remembered to put something underneath the Do You Want to Build a Snowman? activity station.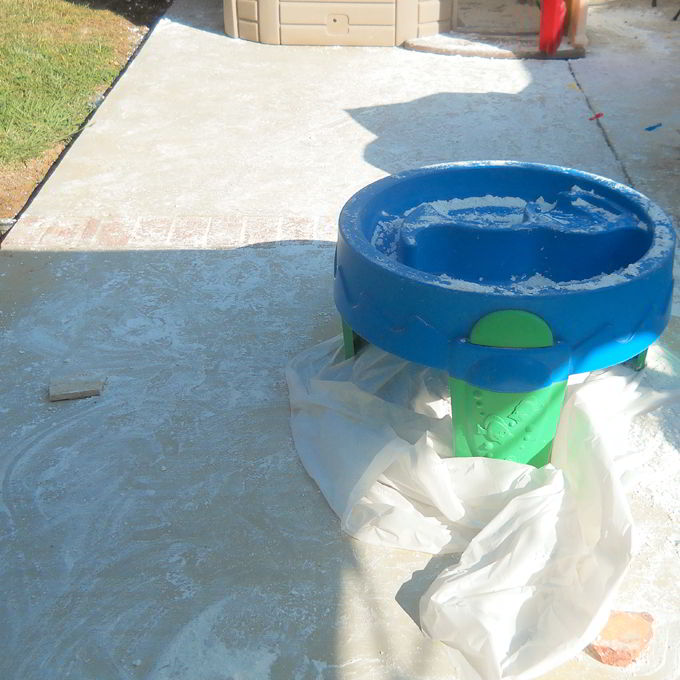 Ha ha ha ha ha!  We didn't use a big enough table cloth!!!  We should have just  put an adult there to stop the snowball fight that ensued.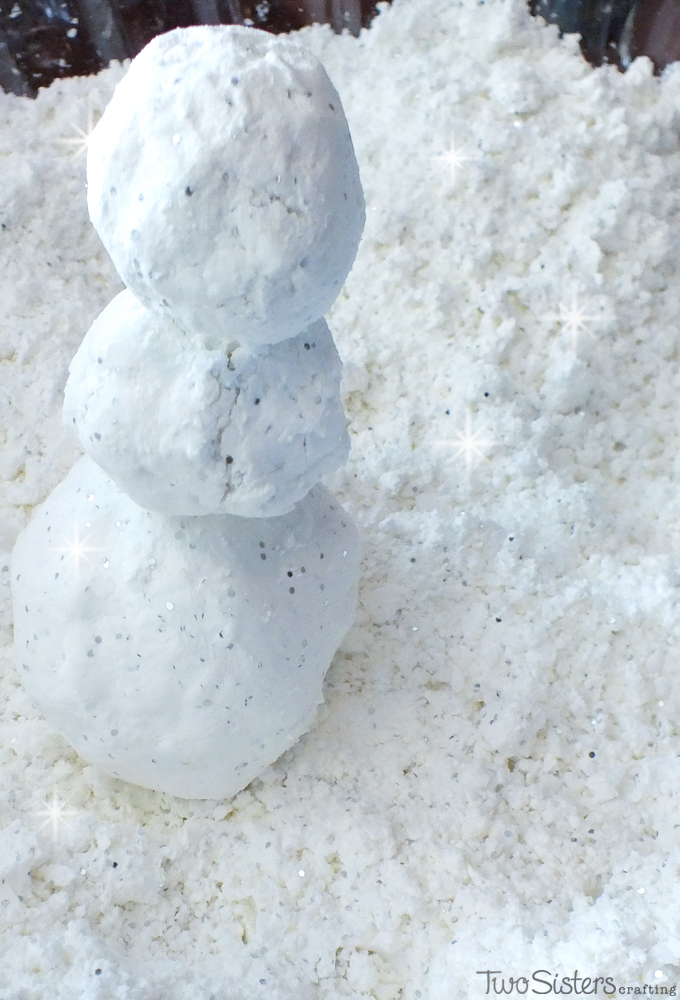 Oh well … the kids really had fun with the DIY Play Snow and that is what a birthday party is all about!
Don't forget to visit our Disney Frozen Party Idea post to see all of the other fun things from our Disney Frozen Party!

P.S. Let's stay in touch!  If you liked our Frozen DIY Play Snow post, [thrive_2step id='10744′]click here to sign up for our Email Newsletter![/thrive_2step]
Or follow us on Pinterest, Facebook and Instagram!
**This post contains affiliate links but we only recommend products that we actually used and liked. Thanks for supporting Two Sisters Crafting!
More Fun Disney Frozen Party Ideas …
If you want to stay up-to-date on all our Frozen Party posts, Follow Two Sisters Crafting on Pinterest!
Follow Two Sisters Crafting's board Frozen Party Ideas on Pinterest.