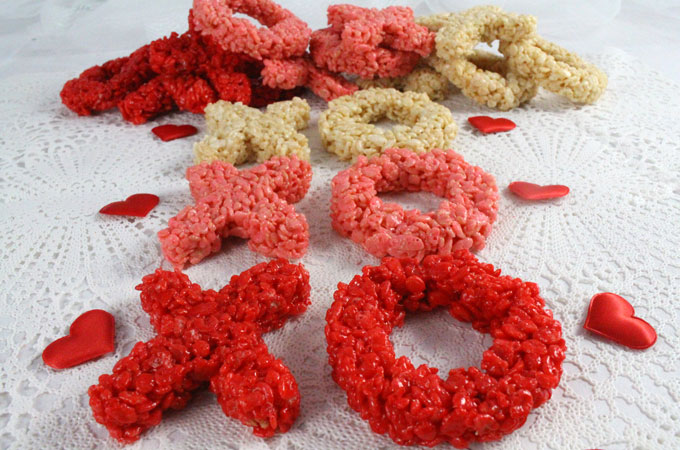 Looking for a way to say I love you this Valentine's Day?  These XOXO Rice Krispie Treats will do it.  They are an easy and delightful way to show your family and friends how much you love them.

How to Make XOXO Rice Krispie Treats
You will need:
Kellogg's Rice Krispie Cereal
Mini Marshmallows
Butter (Sweet Cream, Salted)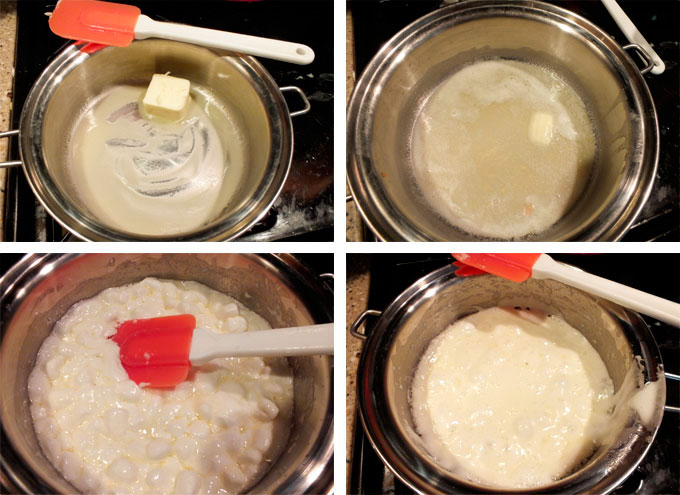 For each color batch of XOXO Rice Krispie Treats you will need 3 tablespoons of butter, 3 cups of marshmallows and 3 cups of Rice Krispies Cereal.   Melt the butter in a large pan on medium heat.  Add the marshmallows and stir until melted.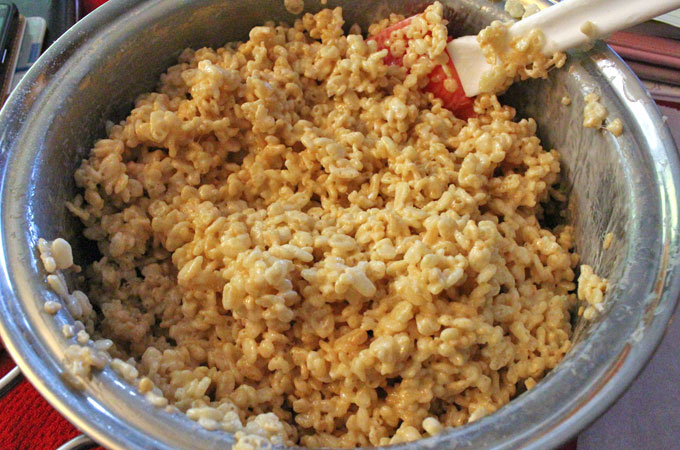 For the White XOXO Rice Krispie Treats, simply mix in the 3 cups of Rice Krispie Cereal to the  marshmallow mixture without adding any food coloring.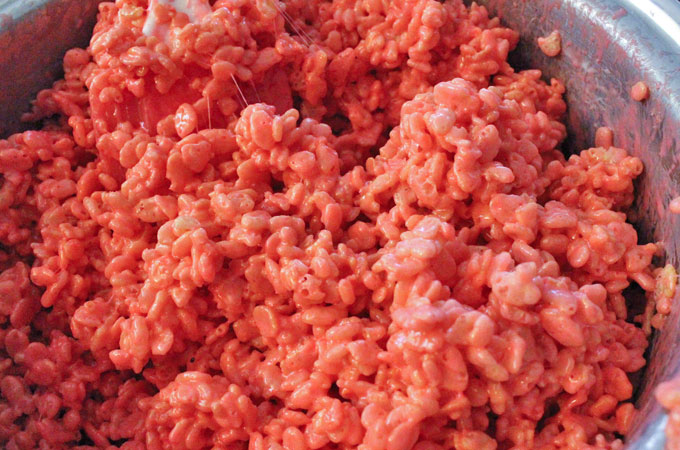 For the Pink XOXO Rice Krispie Treats add 1 drop of Americolor Super Red Food Coloring to the marshmallow mixture BEFORE you add in the Rice Krispie Cereal. Then mix in the cereal until it is completely covered with marshmallow mixture.
For the Red XOXO Rice Krispie Treats, add 8-10 drops of Americolor Super Red Food Coloring to the marshmallow mixture before you add the Rice Krispie cereal.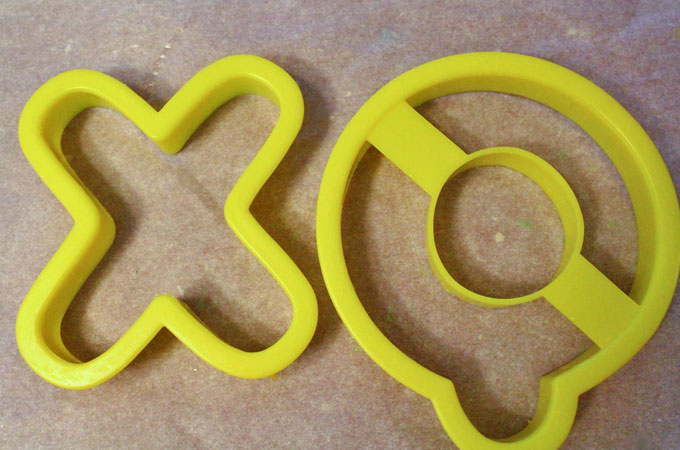 You'll see in the picture here, an X and a Q cookie cutter.  Somewhere we have misplaced our O so we used a Q instead.  But you should stick to the X and the O!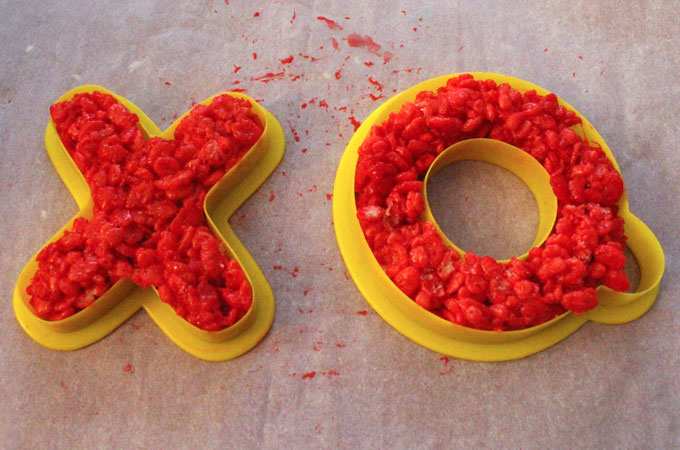 We made one color of the Rice Krispie Treat mixture at a time because you don't want the mixture to cool too much while you are making the X and O's.  Once the mixture had cooled enough so we could handle it without burning your fingers we started filling the cookie cutters to form the X and O's.  I like molding the mixture into the cookie cutters this way instead of making a sheet of Rice Krispie Treats and cutting out the X and O like a traditional cookie. You will have smoother and prettier edges this way.
Then pop the treat out of the cookie cutter and make another one.  Super easy!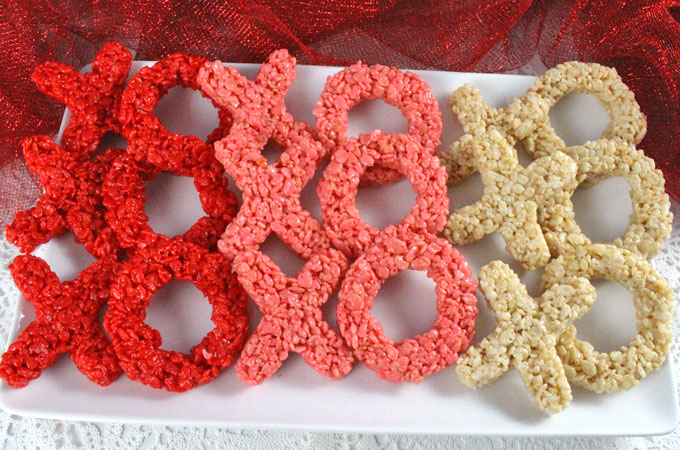 For us, the 3 cups of Rice Krispie Treat mixture made 3 X's and 3 O's but your yield will depend on the size of your cookie cutters.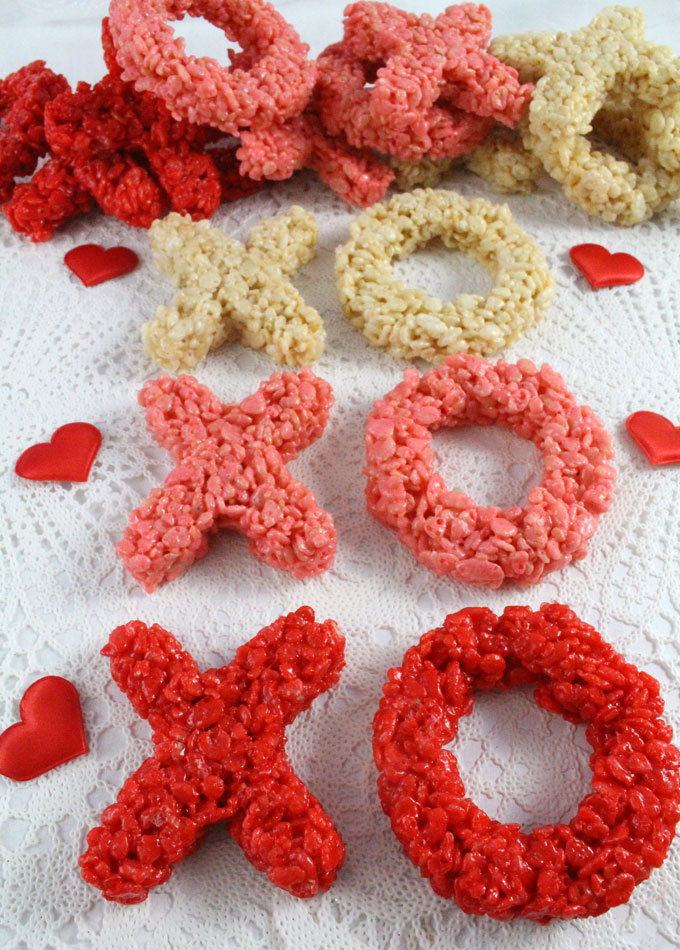 This is a super cute version of Rice Krispie Treats which is one of our all-time favorite desserts.  They are going to be perfect as a special treat in Allison's school lunch on Valentine's Day.

P.S. Let's stay in touch!  If you liked our XOXO Rice Krispie Treats post, [thrive_2step id='10744′]click here to sign up for our Email Newsletter![/thrive_2step]
Or follow us on Pinterest, Facebook and Instagram!
**This post contains affiliate links but we only recommend products that we actually used and liked. Thanks for supporting Two Sisters Crafting!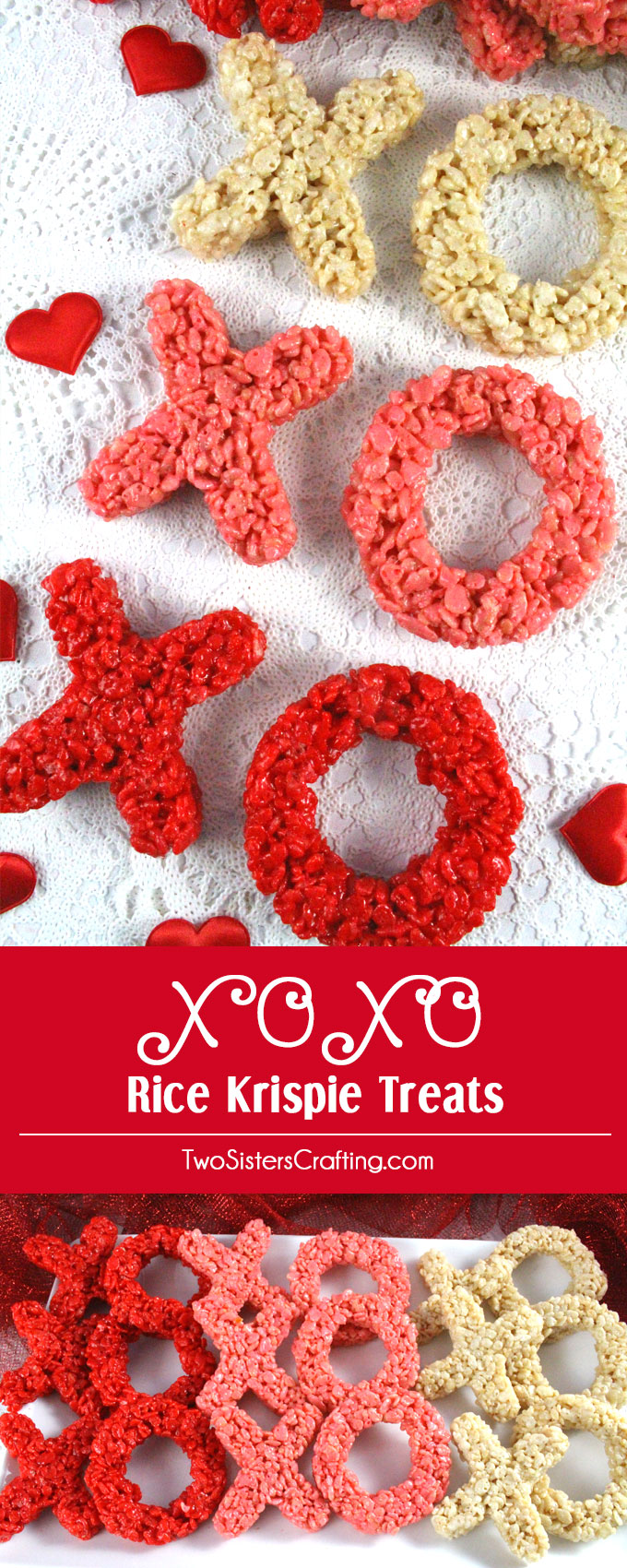 More great Valentine's Day Recipes …
If you want to stay up-to-date on all our Valentine's Day Treat ideas, Follow Two Sisters Crafting on Pinterest!
Follow Two Sisters Crafting's Valentine's Day Treats board on Pinterest.