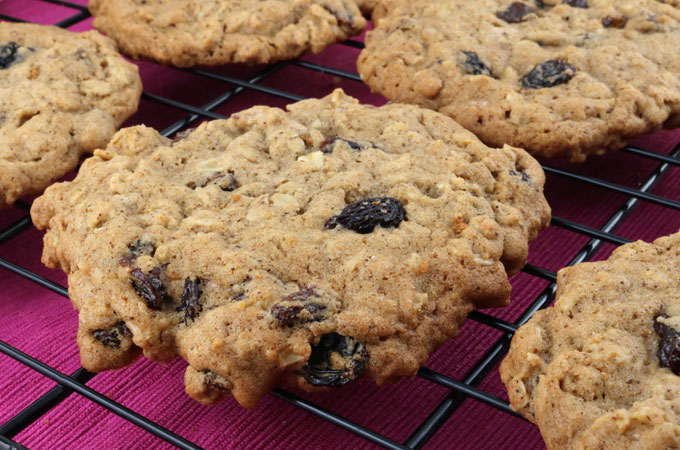 You are going to think I am crazy, but I am not a fan of chocolate chip cookies.  They are fine. I feel like I make a good one, but if you gave me a choice I would always pick an Oatmeal Raisin Cookie or a Peanut Butter Cookie. This is my go-to Oatmeal Raisin Cookie recipe. The trick with this recipe is to soak the raisins beforehand!  Trust me you will notice the difference.

How to make Oatmeal Raisin Cookies
You will need:
3 Eggs
1 ½ – 2 cups of Raisins
1 teaspoon Vanilla
1 cup Softened Butter (Sweet Cream, Salted)
1 cup Brown Sugar
1 cup White Sugar
2 ½ cups Flour
2 teaspoons Baking Soda
1 teaspoon Salt
2 teaspoons Cinnamon
2 cups Oatmeal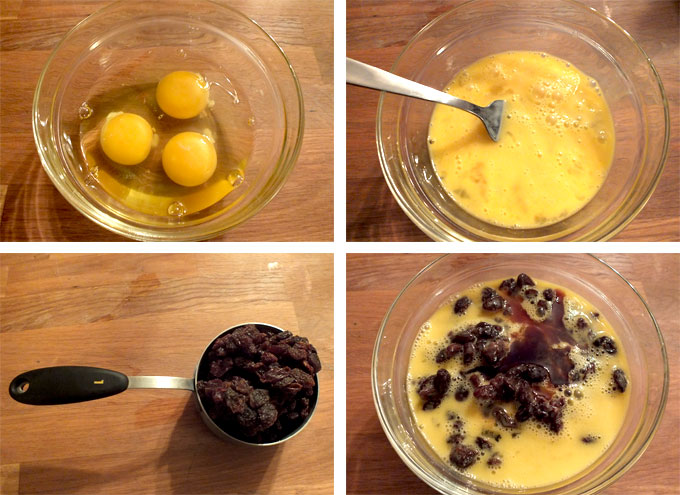 First, prepare the raisins.  Whisk three eggs in a small bowl. Add one cup of raisins to the eggs.  Add the vanilla. Then still the raisin/egg mixture until the raisins are fully covered.  Cover the bowl and refrigerate for at least an hour.
Flash forward one hour!  Now you are ready to mix the rest of the Oatmeal Raisin Cookie dough. Cream the butter, sugar and brown sugar in a mixing bowl.  Mix until thoroughly incorporated. Prepare the dry ingredients by adding salt, baking soda and cinnamon to the flour. Add dry ingredients to the creamed butter and sugar, one cup at a time. This is a little different than most cookie recipes, but you add the egg, vanilla and raisin mixture to the cookie dough AFTER the flour. Finally, add the oatmeal to the cookie dough mixture.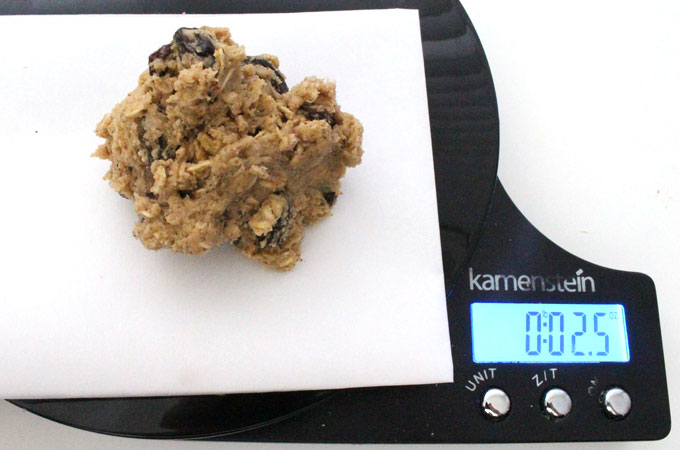 Using a food scale, we measured 2.5 oz. of cookie dough for each cookie.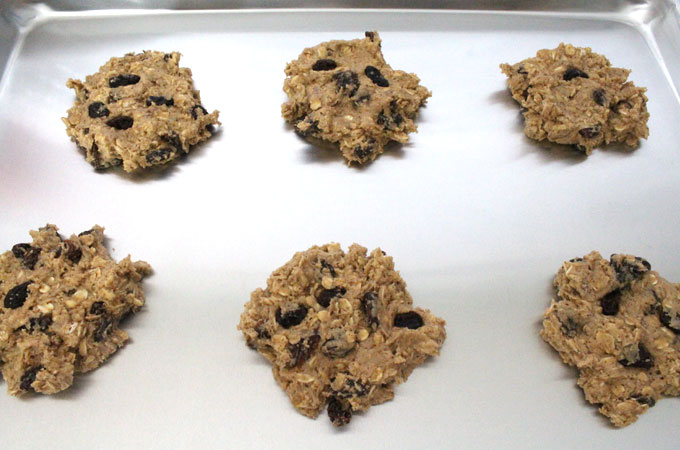 Bake cookies in a 350 degree oven for 10 to 12 minutes or until golden brown.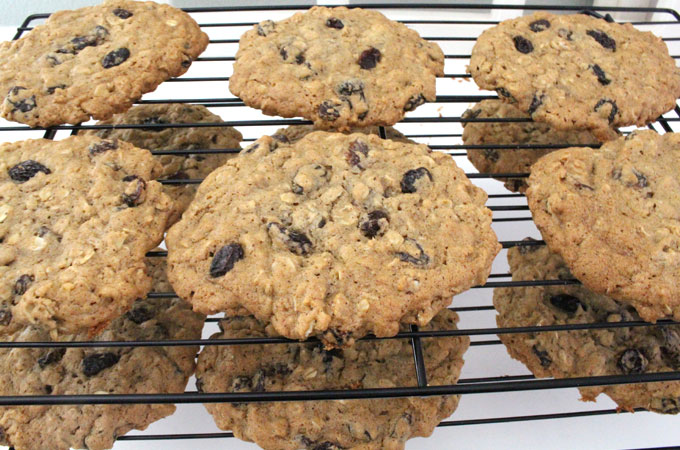 These Oatmeal Raisin Cookies should be stored in an airtight container.  They will stay fresh longer if they are completely cool before you pack them up.  We usually add a layer of parchment paper between each row of cookies in our plastic container.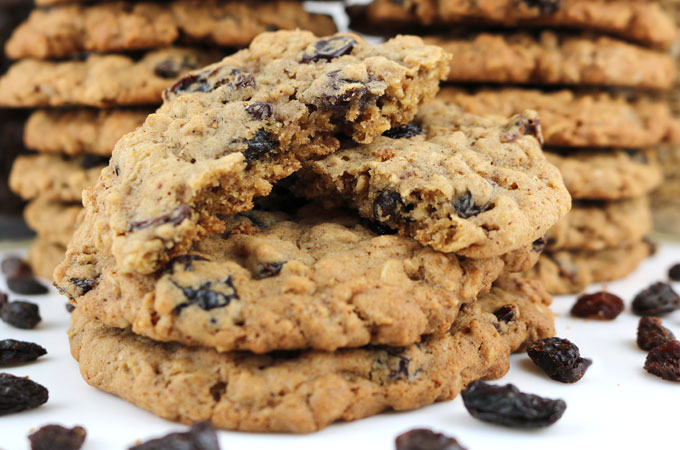 We loved these Oatmeal Raisin Cookies.  Soaking the raisins is a great technique that makes a moist delicious cookie.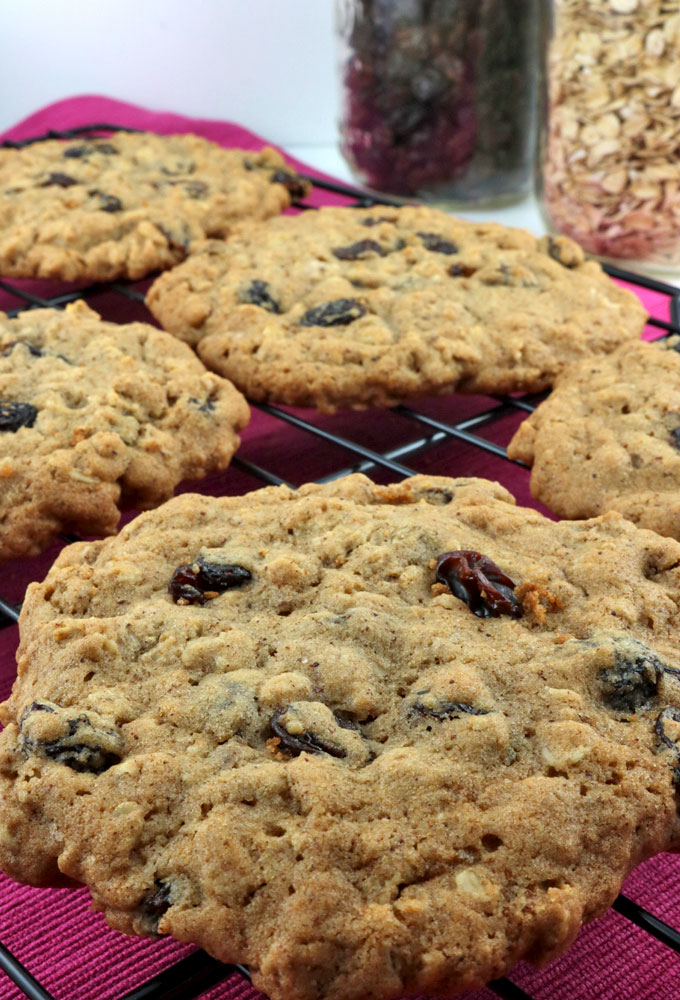 These Oatmeal Raisin Cookies are chewy, delicious bits of goodness.  Make them today, you won't be sorry!
P.S. Let's stay in touch!  If you liked our Oatmeal Raisin Cookies post, [thrive_2step id='10744′]click here to sign up for our Email Newsletter![/thrive_2step]
Or follow us on Pinterest, Facebook and Instagram!
**This post contains affiliate links but we only recommend products that we actually used and liked. Thanks for supporting Two Sisters Crafting!
More great Cookie recipes:
The Best Oatmeal Raisin Cookies
Author:
Two Sisters Crafting
Ingredients
3 eggs
1 ½ - 2 cups of raisins
1 teaspoon vanilla
1 cup buter
1 cup brown sugar
1 cup white sugar
2 ½ cups flour
2 teaspoons baking soda
1 teaspoon salt
2 teaspoons cinnamon
2 cups oatmeal
Instructions
Beat eggs in small bowl. Add vanilla and raisins. Mix well. Refrigerate for at least one hour.
Cream butter, sugar and brown sugar in a mixer.
Add dry ingredients: flour, salt, baking soda and cinnamon.
Add egg, vanilla and raisin mixture.
Add oatmeal.
Cook in 350 degree oven for 10-12 minutes.
Makes 20-24 medium sized cookies.
If you want to stay up-to-date on all our Cookie ideas, Follow Two Sisters Crafting on Pinterest!