We made a pretty Easter Candy Centerpiece in the Spring and we thought it would be fun to try a Thanksgiving version.  We love how this Thanksgiving Candy Centerpiece turned out!  So festive and colorful – and your guest will love the unique twist that it is made mostly of candy.  Fun, fun, fun!

How to make a Thanksgiving Candy Centerpiece
You will need:
The vase for my Thanksgiving Candy Centerpiece is filled with Harvest Blend M&M's.  The Fall colors are perfect and your guests will love that the centerpiece is made from candy.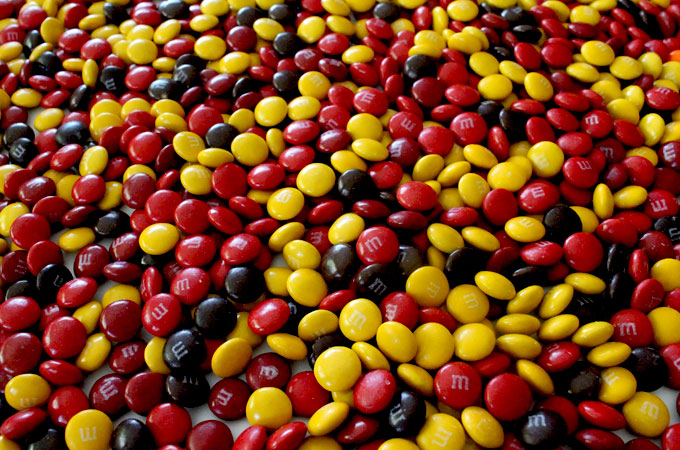 I needed three bags of Harvest Blend M&M's to fill my 12″ vase.  You can find these Fall themed M&M's in most grocery stores and big box stores like Target.  The Harvest Blend M&M's usually appear in stores when the Halloween candy arrives and we've purchased bags of them on sale all the way into December.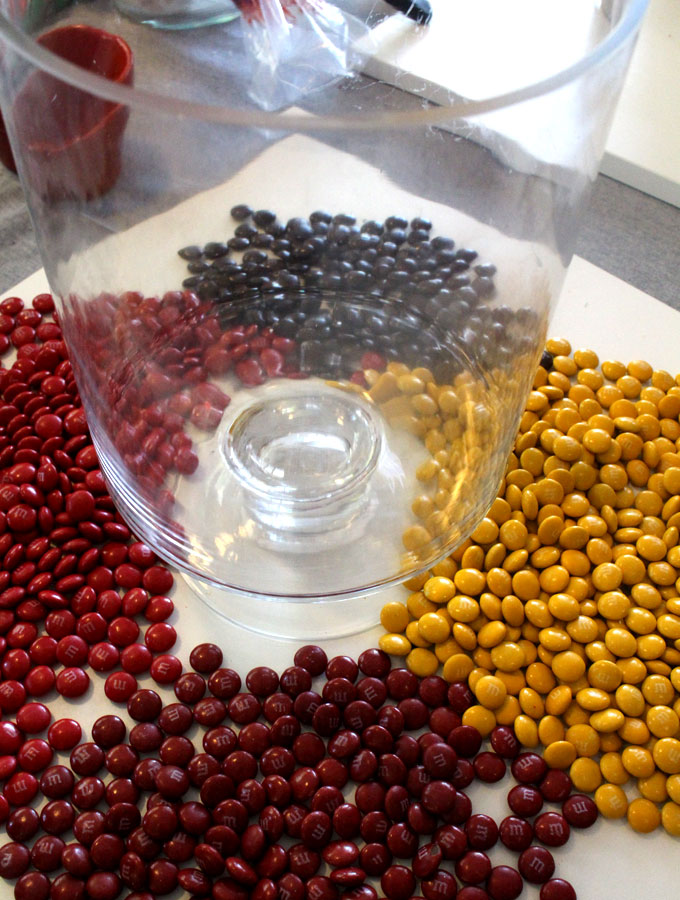 I use a 10″ vase shaped in a cylinder.  After I washed and dried the vase, I separated the M&M's by color.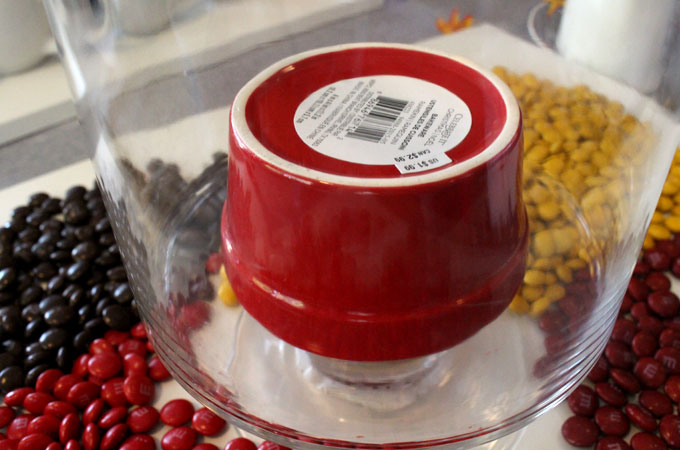 This is pretty big and it would take too many bags of M&M's to fill it up so I put a ramekin in the middle of the vase to take up some room.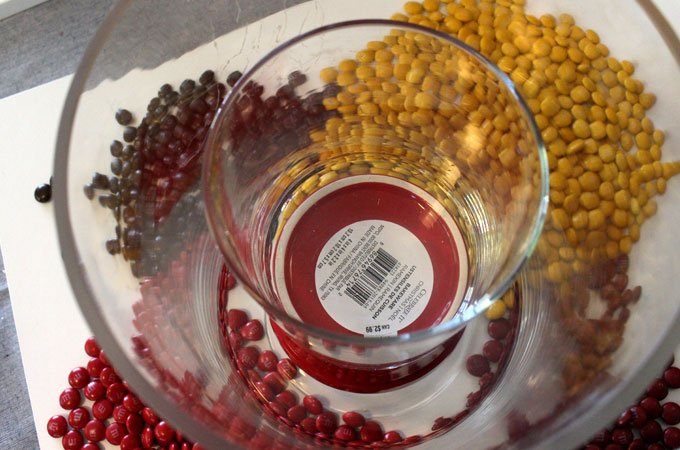 Then I set a smaller vase (this one is 6″ tall) on top of the ramekin.  I used the smaller vase to hold the stems of my artificial flowers but this would also be a great idea if you wanted to use fresh flowers.  Just fill the mini vase up with water, and you are good to go.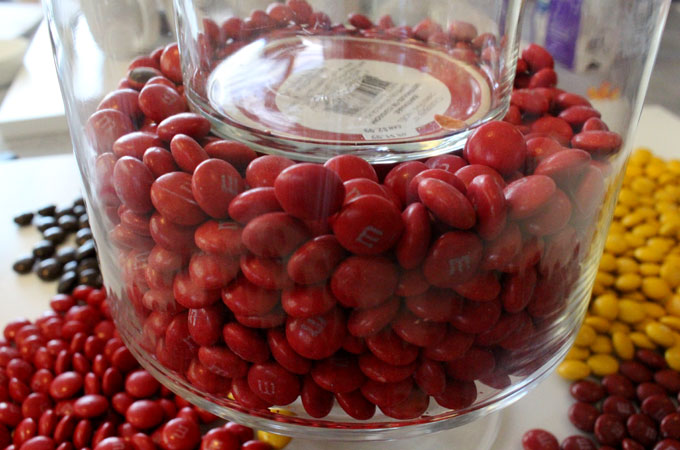 Now start filling up your vase with the Harvest M&Ms.  I started with a row of the lighter red color at the bottom.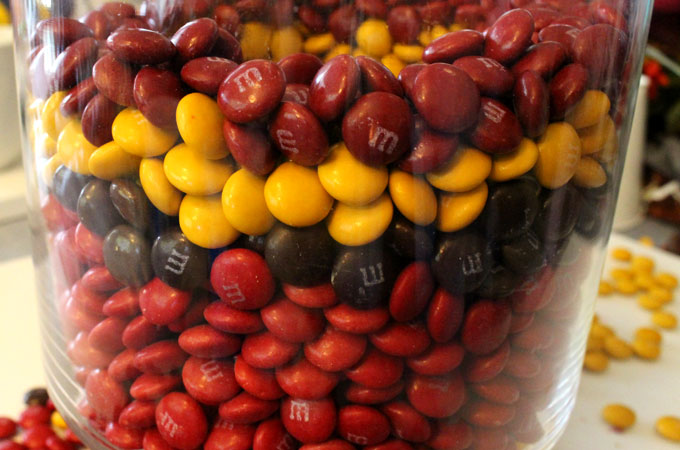 And then I kept layering in different colors of M&M's.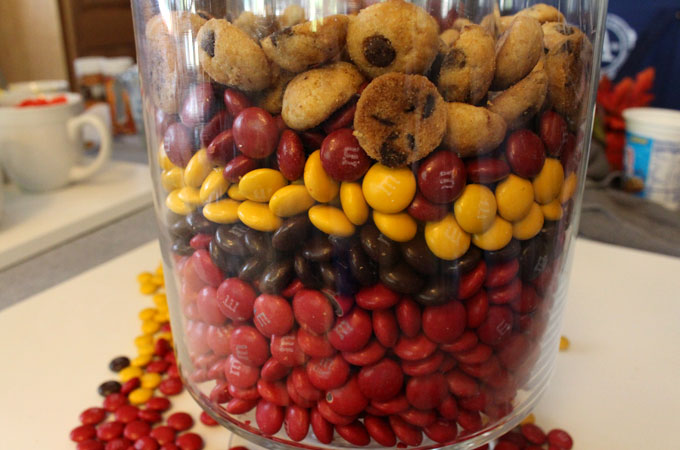 For some visual interest, I added a row of Mini Chips Ahoy cookies.
Then back to the M&M's.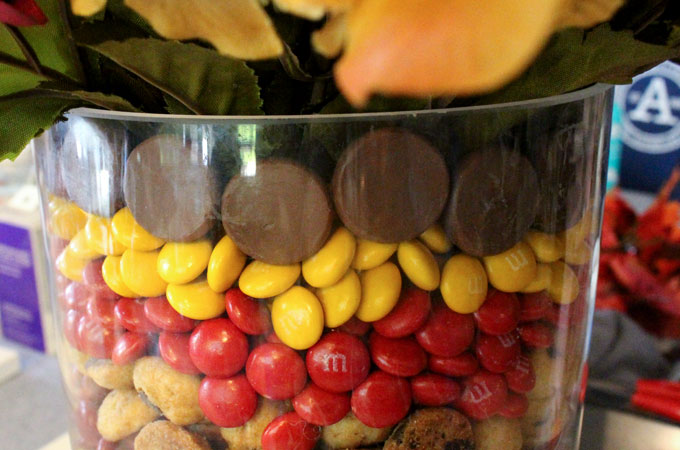 I ended with a row of Hershey's Kisses – bottom side out.
Once I had the candy arranged the way I wanted it, I added my artificial flowers.
Finally, I stuck a couple of Peeps Chicks on lollipop sticks and added to the arrangement so they were sticking up out of the flowers. So cute!  Finally, I stick in a wooden family sign that we found in the wood craft section at Michaels.
This is a really fun craft for Fall and Thanksgiving.  It's both a great Fall Decoration and a cute centerpiece for the Thanksgiving Dinner buffet table.

P.S. Let's stay in touch!  If you liked our Thanksgiving Candy Centerpiece post, [thrive_2step id='10744′]click here to sign up for our Email Newsletter![/thrive_2step]
Or follow us on Pinterest, Facebook and Instagram!
**This post contains affiliate links but we only recommend products that we actually used and liked. Thanks for supporting Two Sisters Crafting!
More Fun Thanksgiving Recipes …
If you want to stay up-to-date on all our Thanksgiving posts, Follow Two Sisters Crafting on Pinterest!
Follow Two Sisters Crafting's Thanksgiving board on Pinterest.