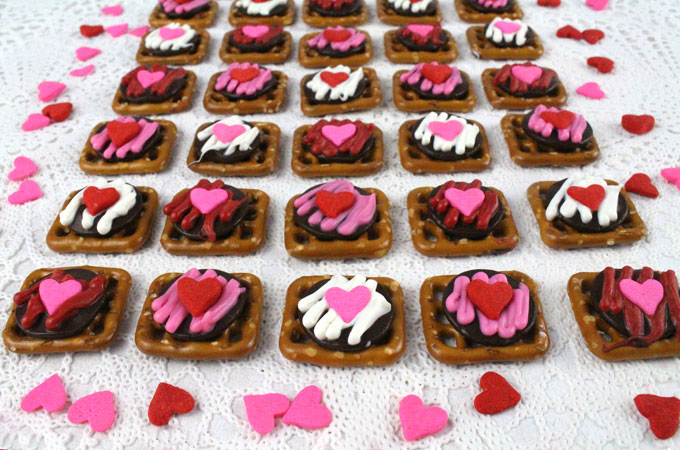 If you are looking for a last minute treat to bring to your Valentine's Day party you don't need to look any further than these Sweet Hearts Pretzel Bites.  All you need is a bag of Pretzels, chocolate confetti heart sprinkles and voila the perfect Valentine's Day dessert.  Sweet, salty and delicious!

How to Make Sweet Hearts Pretzel Bites
You will need: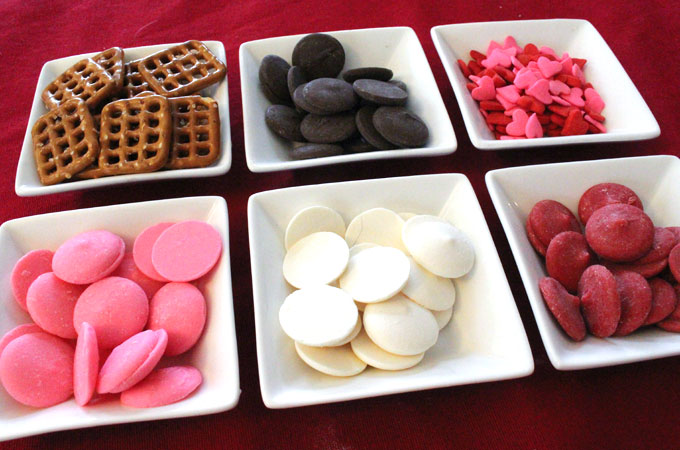 We like to use the square Pretzel Snaps when making Pretzel Bites but you can also use the round mini pretzels.  You'll also need some Candy Melts – we used Red, Bright Pink and Bright White.  And then you'll need  Hershey's Kisses. Wilton Chocolate Candy Melts or Ghirardelli Chocolate Melting Wafers as the chocolate base for the Pretzel Bite.  We used Ghirardelli Chocolate Melting Wafers for this batch.  Finally, you will need some Wilson Confetti Hearts Sprinkles.
We put approximately 15 Red Candy Melts and 5 Bright Pink Candy Melts in a plastic sandwich bag.  We melted them in the microwave, checking it every 20 seconds, using our hands to smush the candy melts together until they were totally melted.
Then we did the same thing to a plastic baggie filled with 20 Bright White Candy Melts and 20 Bright Pink Candy Melts.  If during the assembly process, the candy melts harden back up just put them back in the microwave for 20 seconds.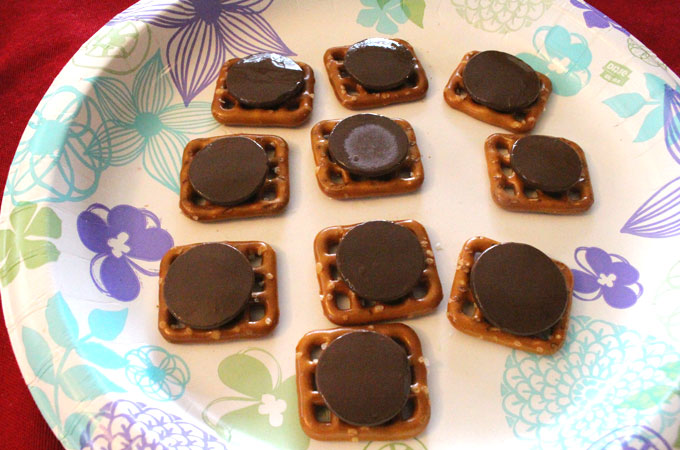 Place 7-8 Pretzel Snaps on a paper plate. Cover the pretzels with a Ghirardelli Chocolate Melting Wafers (you can also use a Hershey's Kiss or a Wilton Dark Chocolate Candy Melt.)  We place the candy melts bottoms-side up on the pretzel bites so we have a smooth surface to work with. Heat in a microwave oven for approximately 30-45 seconds. The exact timing will take a bit of trial and error.  You want the candy to be melted enough to stick to the pretzel but not so melted that the candy melt loses its' shape and the chocolate starts dripping off of the pretzel.  The exact time in the microwave will depend on how many pretzel/candy's you do at one time, how powerful your microwave is, the type of pretzels you are using, etc.  For us using the Ghirardelli Chocolate Melting Wafers, 7-8 pretzels took 40 seconds to melt to the right consistency.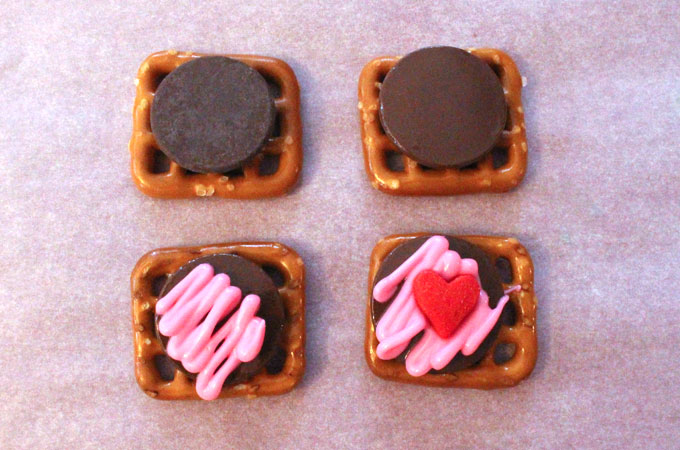 Snip off the tiniest bit of plastic off the corner of the sandwich bag so you can pipe on the pink, red and white melted candy melts onto the Chocolate candy as shown in the picture above. Finally, add a Confetti Heart to the middle of the squiggly candy melt lines on the pretzel bites.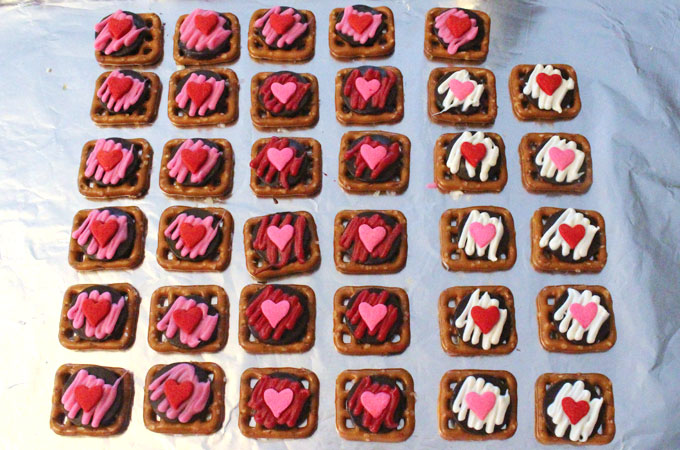 We created pink, red and white candy squiggly lines to the Sweet Hearts Pretzel Bites and then added a coordinated color of Confetti Heart.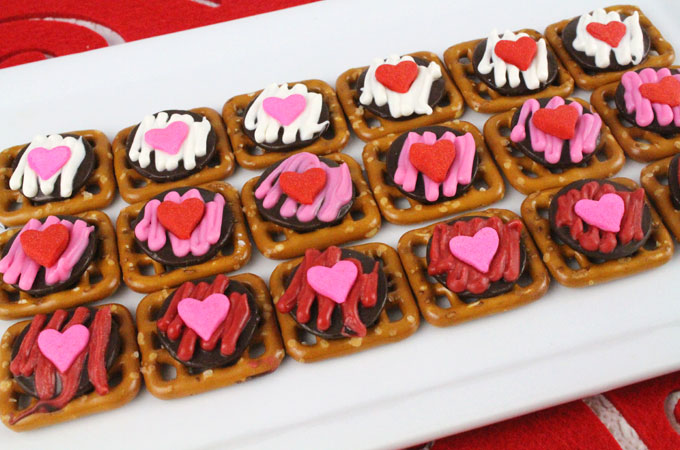 These Sweet Hearts Pretzel Bites are so colorful and adorable!  We think are Sweet Hearts Pretzel Bites are going to be a big hit on Valentine's Day. And these bite-sized bits of sweet and salty goodness could not have been easier to make.

P.S. Let's stay in touch!  If you liked our Sweet Hearts Pretzel Bites post, [thrive_2step id='10744′]click here to sign up for our Email Newsletter![/thrive_2step]
Or follow us on Pinterest, Facebook and Instagram!
**This post contains affiliate links but we only recommend products that we actually used and liked. Thanks for supporting Two Sisters Crafting!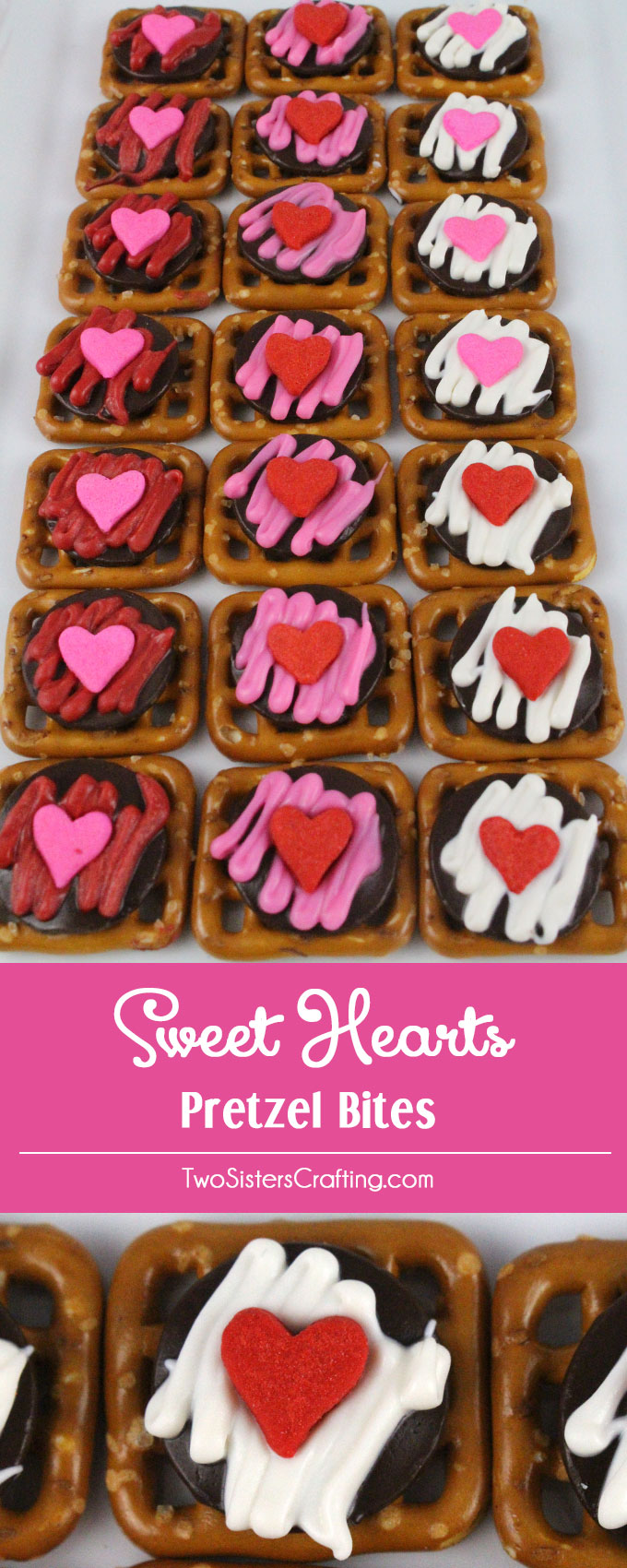 More great Valentine's Day Recipes …
If you want to stay up-to-date on all our Valentine's Day Treat ideas, Follow Two Sisters Crafting on Pinterest!
Follow Two Sisters Crafting's Valentine's Day Treats board on Pinterest.