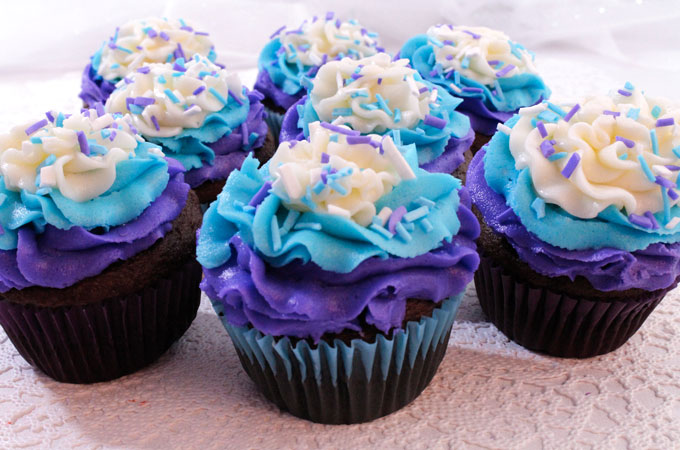 For Allison's Dinosaur Party, we made Dinosaur Cupcakes for the kids but there were also going to be quite a few adult family members and parents at the party so we knew we would need quite a few cupcakes.  To add some pizzazz to the dessert table we came up with the idea for these Sprinkles and Swirls Cupcakes using the exact same colored frosting that we used on the Dinosaur Cupcakes.  We really loved how they turned out – so pretty and colorful.  And tasty too!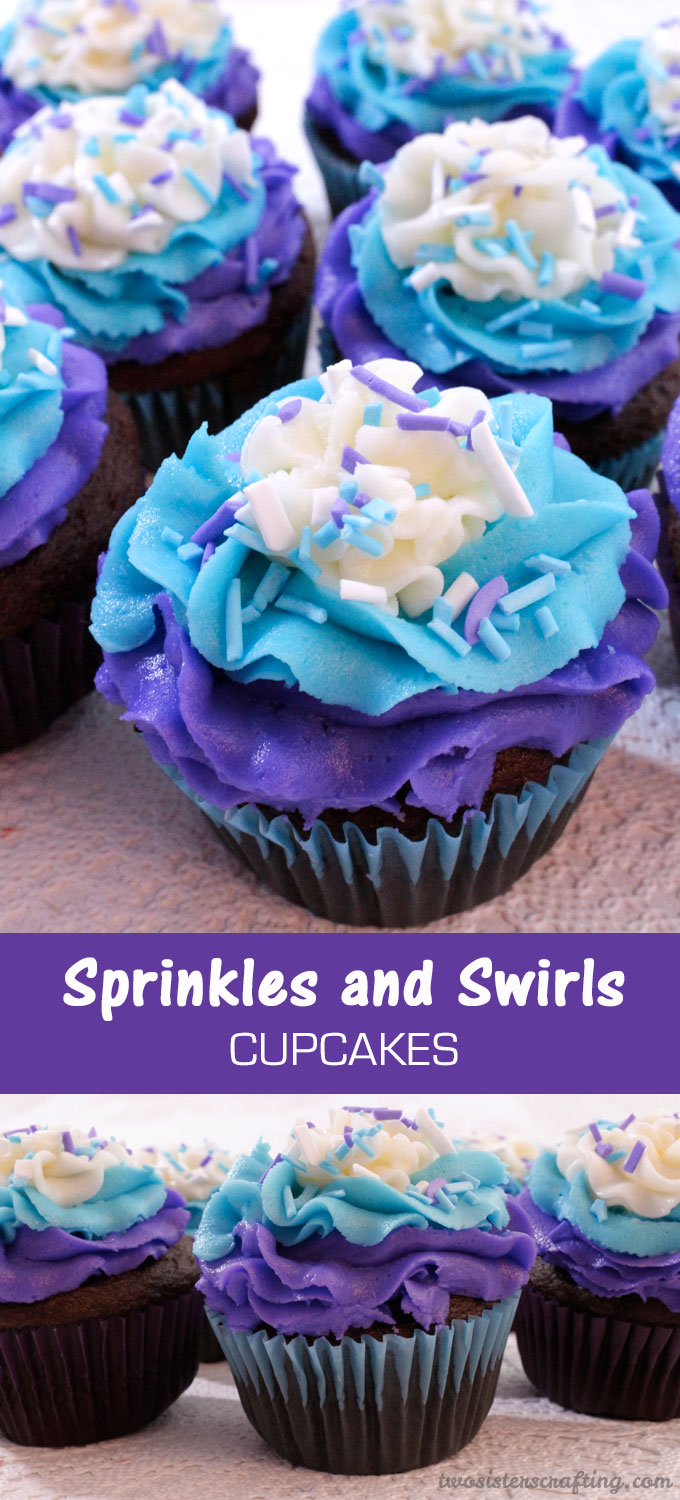 How to Make Sprinkles and Swirls Cupcakes
You will need:
Cupcakes
Wilton Color Right Food Coloring System
Decorating Bags
Wilton 2D Decorating Tips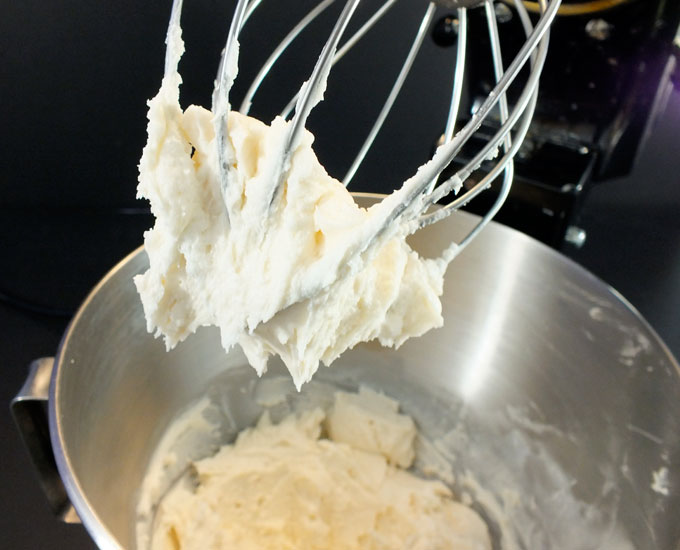 The key to these delicious Sprinkles and Swirls Cupcakes is our Best Buttercream Frosting recipe.   You will find the recipe and directions here.  We split the batch of frosting into thirds – one we left white and we colored the other two purple and blue.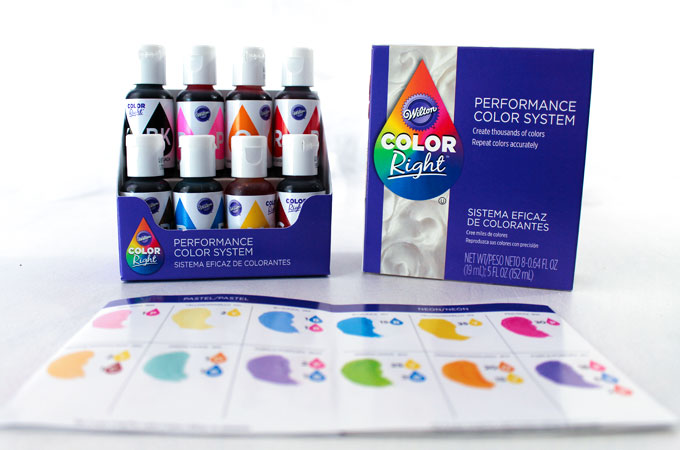 We saw this new Wilton Color Right food coloring set at Michaels and thought we would give it a try.  So far, we are loving it.  You really can make some beautiful frosting colors.
We created this pretty blue color using 2 drops of Blue. And the purple was created with 6 drops of pink and 2 drops of blue.  Once you get the colors you like,  load the frosting into pastry bags with Wilton 2D Decorating Tips.
Using a Wilton 2D frosting tip, make two full circles of purple frosting around the edge of the cupcake.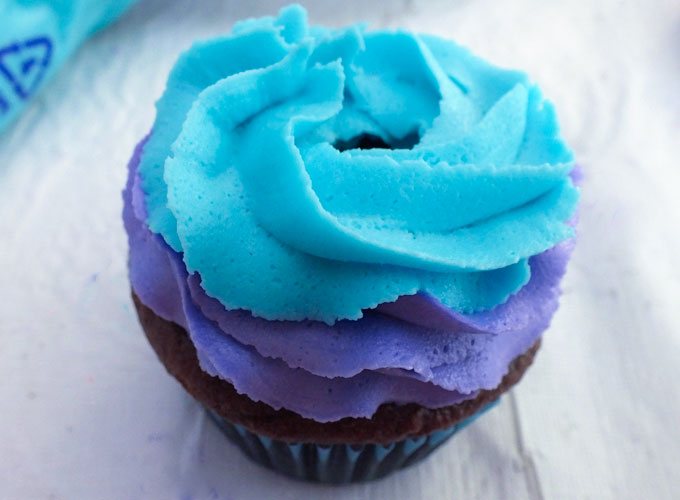 Next, use the Wilton 2D frosting tip with the blue frosting.  Apply two more circles of frosting but these should be a little smaller than the purple frosting layer as shown in the picture above.
Finally, a final two circles of white frosting, this time swirling the top up into a peak.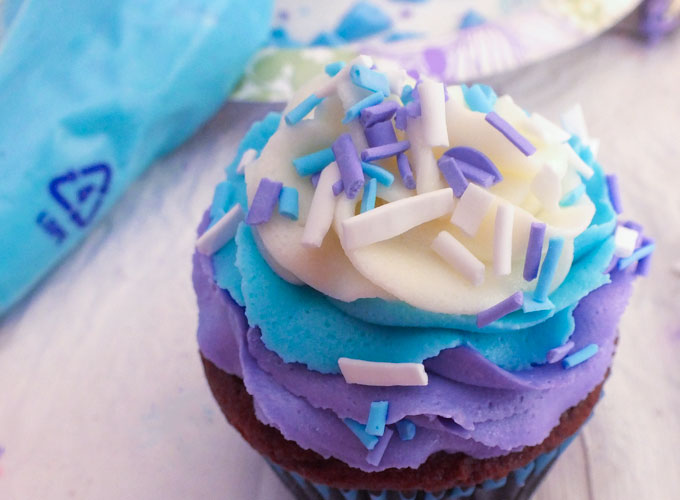 Now add some sprinkles for a little extra pizzazz.  Make sure you add the sprinkles right away.  If the frosting starts to dry even a little bit the sprinkles won't stick to the frosting.   We used our DIY Sprinkles, made in the exact same colors of our frosting.  What a great finishing touch.  You'll find the directions for making these easy sprinkles here.
These Sprinkles and Swirls Cupcakes turned out great.  And we were so proud of our matching buttercream frosting and DIY Sprinkles.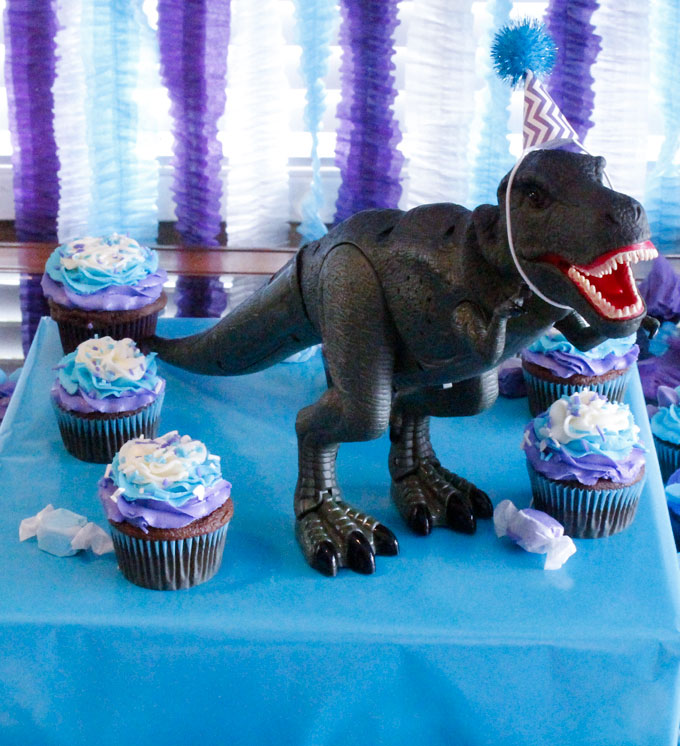 They were so pretty and blended in great with our Dinosaur Cupcakes.  This is a great cupcake idea for any kind of party – even a Dinosaur Party for Girls!

If you want to stay up-to-date on all our Dinosaur Party posts, Follow Two Sisters Crafting on Pinterest!
Follow Two Sisters Crafting's board Dinosaur Ideas on Pinterest.