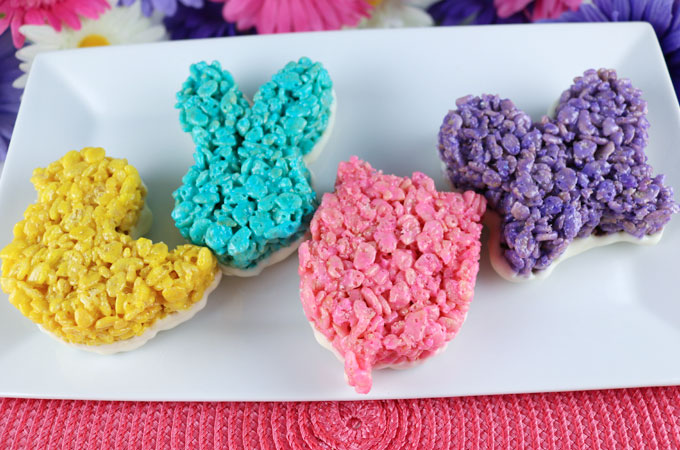 Hi, my name is Nancy and I have a cookie cutter addiction. (Hi Nancy!) They say admitting it is the first step. The thing is…I can't help it . Whenever I see cookie cutters, I end up buying one or two (or three or four). Last year I bought some spring cookie cutters. This year when Laurie and I were coming up with Easter ideas I knew I wanted to use them somehow. Laurie whipped up a batch of rice Krispie treats and our Springtime Rice Krispie Treats were born.


How to make Springtime Rice Krispie Treats
You will need:
Kellogg's Rice Krispie Cereal
Mini Marshmallows
Butter (Sweetcream, Salted)
Ghirardelli White Chocolate Melting Wafers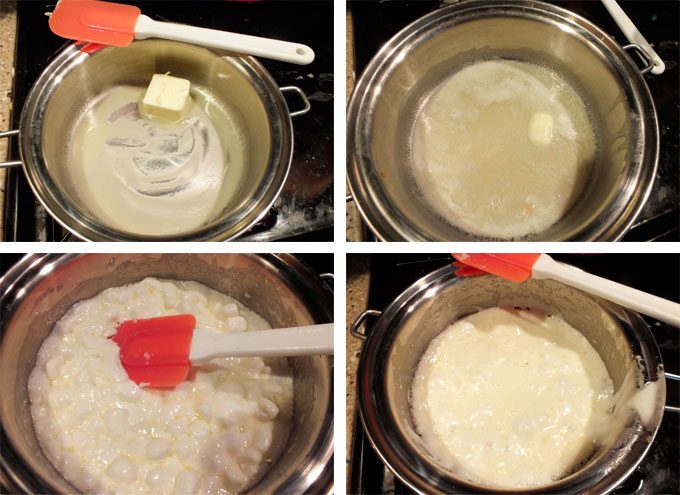 For each color batch of Springtime Rice Krispie Treats you make you will need 2 tablespoons of butter, 2 cups of marshmallows and 2 cups of Rice Krispies Cereal.   Melt the butter in a large pan on medium heat.  Add the marshmallows and stir until melted.  I was able to make 4 Springtime Rice Krispie Treats with this size batch of the Rice Krispie Treat mixture.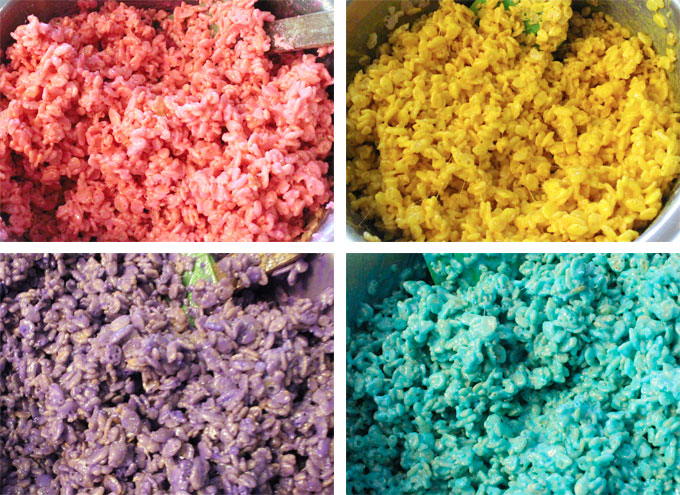 To tint the Rice Krispie Treat mixture, add food coloring to the melted marshmallow mixture before you add the Rice Krispie cereal. We used the follow food coloring combinations to make these pretty Springtime Rice Krispie Treats:
Pink: 2 small drops of Pink Wilton Color Right Food Coloring
Yellow:  2 drop of Yellow Wilton Color Right Food Coloring
Purple:  4 drops of Pink Wilton Color Right Food Coloring and 2 drops of Blue Wilton Color Right Food Coloring
Blue: 2 drops of Blue Wilton Color Right Food Coloring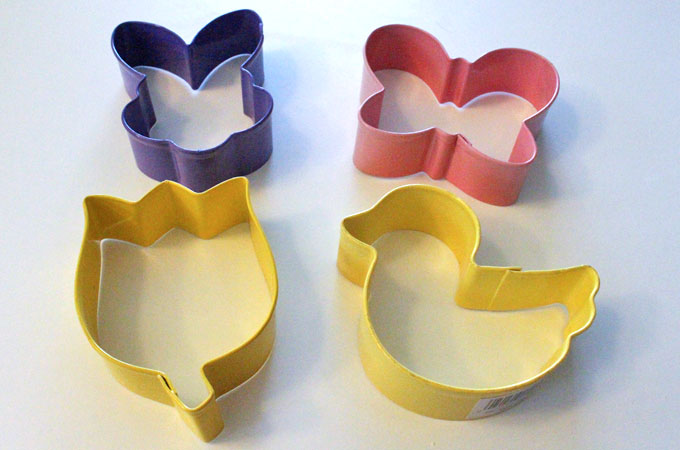 These are the Spring/Easter cookie cutters that we used to make these colorful Rice Krispie Treats – a bunny, a butterfly, a tulip and a duck.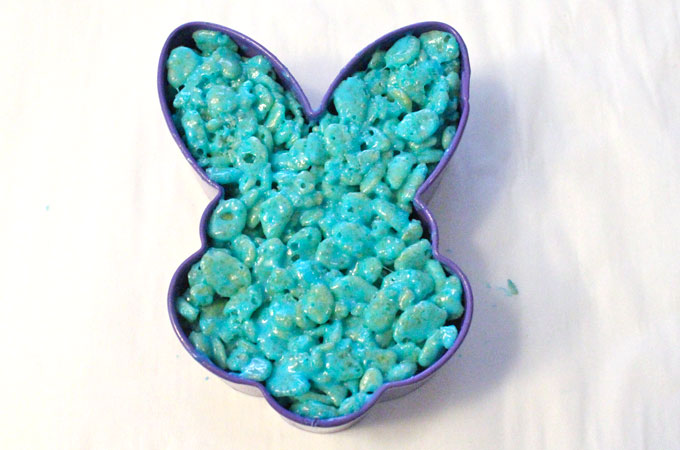 We made one color of the Rice Krispie Treat mixture at a time because you don't want the mixture to cool too much while you are making them.  Once the mixture had cooled enough so we could handle it without burning our fingers we started filling the cookie cutters to form our springtime themed treats.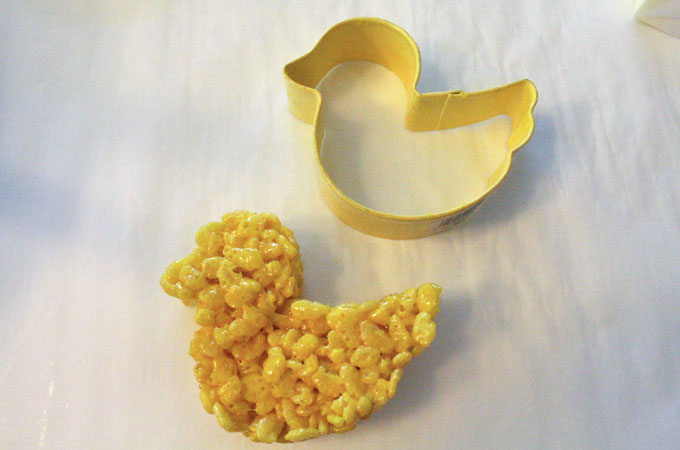 We like molding the mixture into the cookie cutters this way instead of making a sheet of Rice Krispie Treats and cutting out the hearts like a traditional cookie. You will have smoother and prettier edges this way.
We wanted to add a little something special to our Rice Krispie Treats so we decided to dip the bottoms in White Chocolate.  We used Ghirardelli White Melting Wafers which tastes great and are very easy to melt.
W took 25-30 wafers and melted them in the microwave.  We started with 30 seconds, stirred the chocolate and then microwaved them for another 10 seconds.  If they are still not completely melted, continue this process in 10 second intervals until they are.  This amount of white chocolate was enough to cover the bottoms of about 7-8 Rice Krispie Treats.  This number will obviously vary for you depending on how big of a cookie cutter you used and how thick you want the chocolate layer to be.
We laid the Springtime Rice Krispie Treat into to bowl of chocolate and swished it around a bit to get the chocolate up the sides a tiny bit.
Then we placed the Rice Krispie Treat on a piece of parchment paper, chocolate side up, so it could dry.  If you really like White Chocolate, you could do another dip into the chocolate once the first layer is completely dry.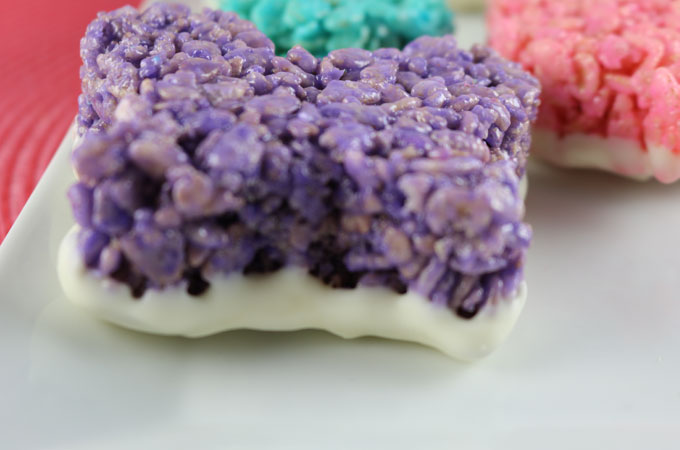 We loved how these turned out!  So pretty and colorful.  And so very tasty!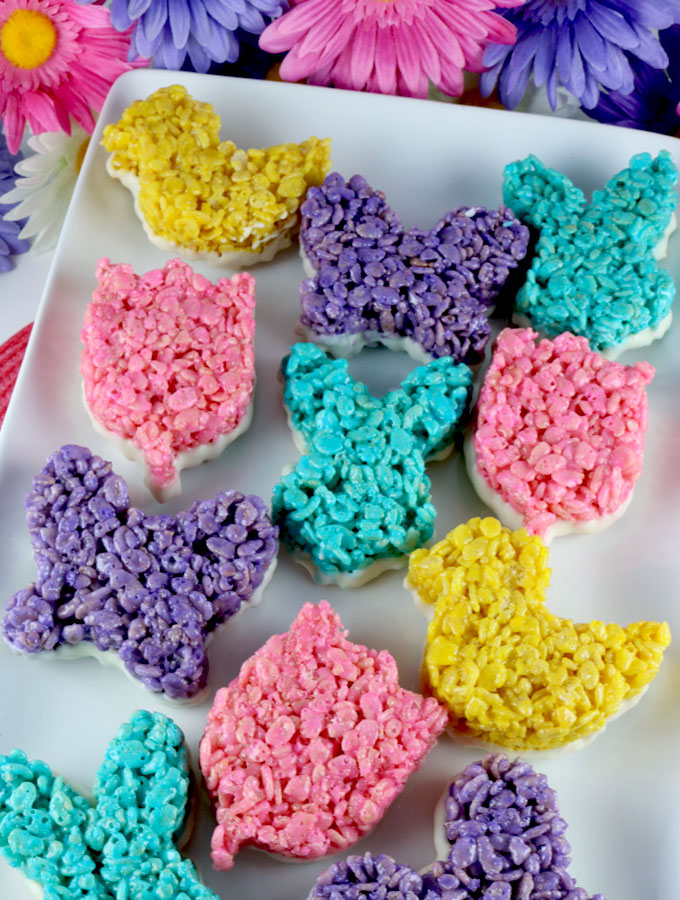 Our Springtime Rice Krispie Treats are going to be a big hit on Easter.  They'd also be fun for a baby shower, a springtime brunch or even a kid's birthday party.

P.S. Let's stay in touch!  If you liked our Springtime Rice Krispie Treats post, [thrive_2step id='10744′]click here to sign up for our Email Newsletter![/thrive_2step]
Or follow us on Pinterest, Facebook and Instagram!
**This post contains affiliate links but we only recommend products that we actually used and liked. Thanks for supporting Two Sisters Crafting!

More great Easter Recipes …
If you want to stay up-to-date on all our Easter posts, Follow Two Sisters Crafting on Pinterest!
Follow Two Sisters Crafting's Easter Food Board on Pinterest.