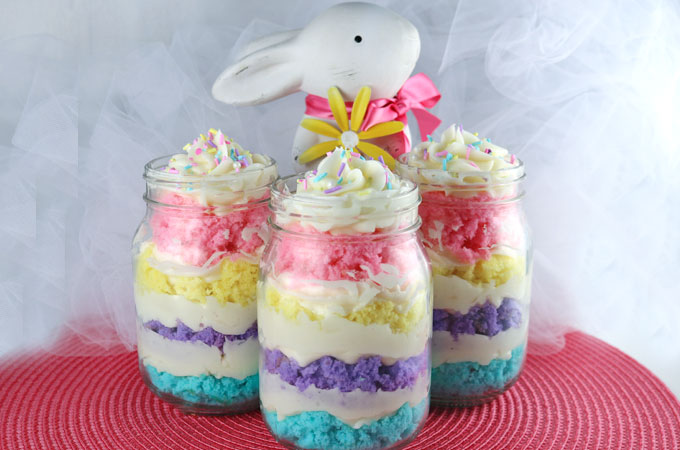 We love making cupcakes in a jar. They always end up being a fun make-ahead dessert for any occasion.  This Springtime Cupcake in a Jar is no exception.  They are a unique take on a cupcake that is a real crowd-pleaser at a party.


How to Make a Springtime Cupcake in a Jar
You will need:
2 boxes of White Cake Mix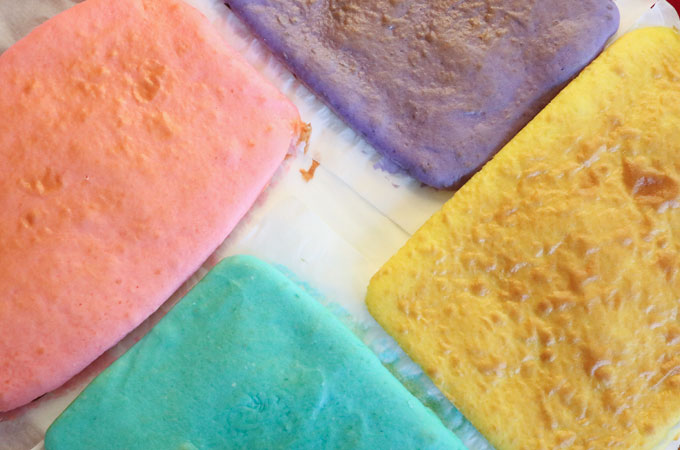 We made our Springtime Cupcake in a Jars from the left-over cake from our Bunny Mini Cakes.  If you want the details on how to  make these pretty pink, purple, yellow and blue cakes we have all the detailed directions you'll need right here.
For the frosting, we made up a batch of our Best Buttercream Frosting.  It is super easy to make and so very delicious. You can find the recipe and detailed instructions here.
Assembling the Springtime Cupcake in a Jar is super easy.  We used one pint Mason Jars.  You can get them everywhere now … craft stores, grocery stores, big box stores. We got these a Walmart.  We like them because they don't have a lot of writing on them.  Start by adding a layer of blue cake pieces on the bottom of the Mason Jar. Then add a layer of the best buttercream frosting.  We used a Wilson 2D decorating tip to get a little swirl in the frosting.   You don't need to completely cover the whole layer of cake. A circle of frosting around the edge of the jar is fine. Keeping adding layers of cake and frosting – we added purple cake, then yellow cake and put the pink cake on the top.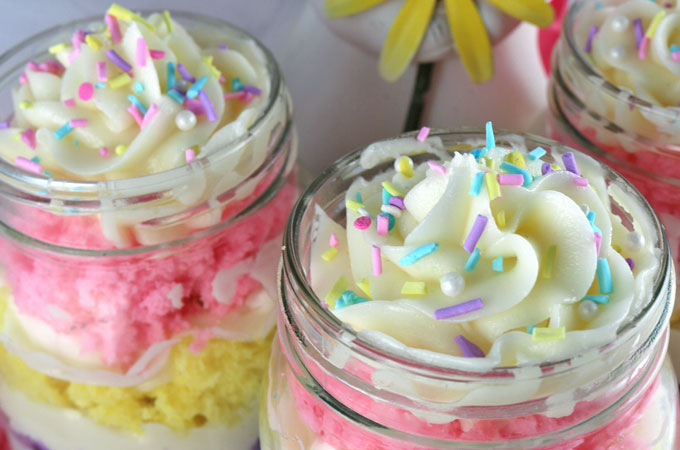 For the final layer of frosting, we used a Wilton 2D Decorating Tip to make a pretty swirl of frosting.  We topped our Springtime Cupcake in a Jar with some homemade sprinkles that match the colors of our cake!  This is super easy to do and really makes your desserts look great!  We have all the directions you'll need to make your own sprinkles right here.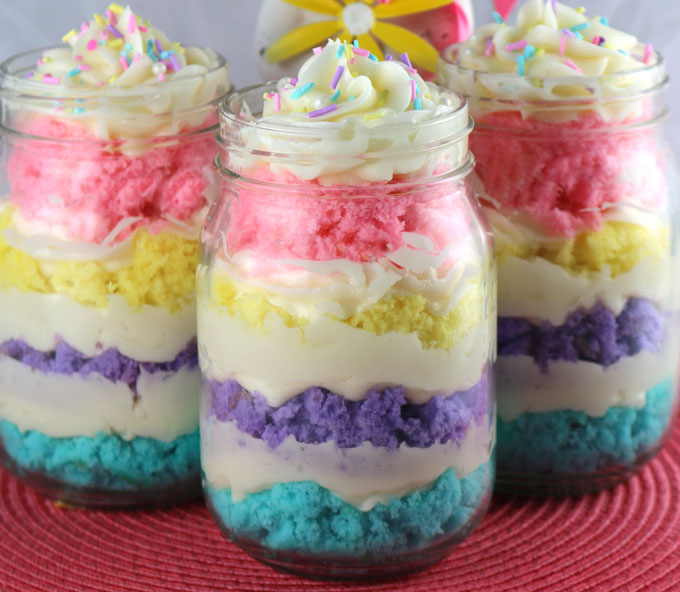 So pretty and so yummy!  This is a fun change of pace from a traditional cupcake.  You can make them the day before and store them in the refrigerator. They taste great the next day.
This Springtime Cupcake in a Jar would be a fun Easter dessert but that is not all.  They would be so pretty at a Baby Shower or even as a dessert at a kid's birthday party.
P.S. Let's stay in touch!  If you liked our Springtime Cupcake in a Jar post, [thrive_2step id='10744′]click here to sign up for our Email Newsletter![/thrive_2step]
Or follow us on Pinterest, Facebook and Instagram!
**This post contains affiliate links but we only recommend products that we actually used and liked. Thanks for supporting Two Sisters Crafting!

More great Easter Recipes …
If you want to stay up-to-date on all our Easter posts, Follow Two Sisters Crafting on Pinterest!
Follow Two Sisters Crafting's Easter Food Board on Pinterest.