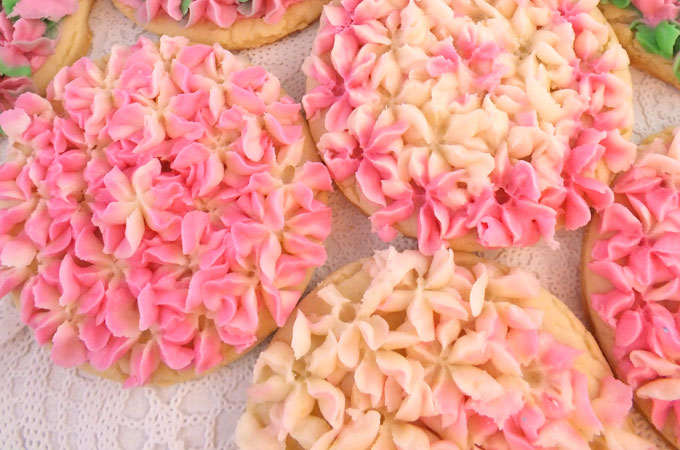 One of the very first pins I ever pinned on Pinterest were blue and purple hydrangea cupcakes. They were so beautiful, and I remember thinking that one day I hoped my skill level was strong enough to recreate them. I never bothered to look up how to do them. I just figured they were beyond me. When Laurie and I started talking about fun spring/mother's day treats, I thought of those cupcakes and wondered what it would take to recreate them. As it turns out, they are very easy to do. I was so surprised. If I had known they were this easy, we would have made these Spring Flowers Frosted Sugar Cookies way before now.

How to make Spring Flowers Frosted Sugar Cookies
You will need:
Our Spring Flowers Frosted Sugar Cookies start with our Best Sugar Cookie Recipe.  This sugar cookie dough is easy to work with, tastes great and really holds it's shape during the baking process.  You can find the recipe and detailed instructions on how to make the dough here.  We used a basic circle cookie cutter to make these cookies.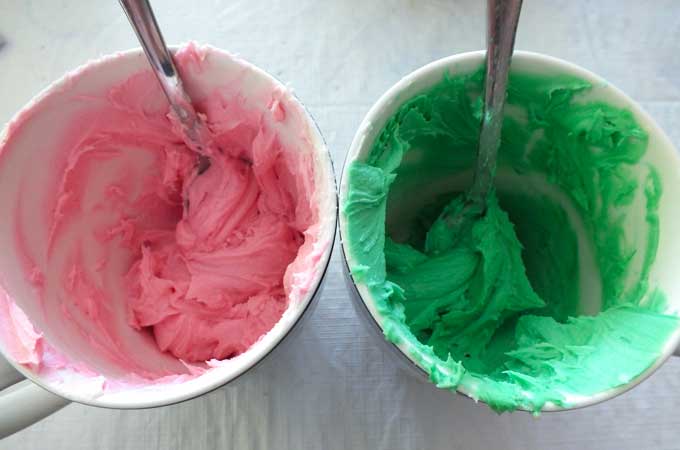 Next, we whipped up a batch of our Best Buttercream Frosting Recipe.  You can find our recipe for buttercream frosting here.  Split the frosting into three bowls, leave one ivory, color one green and color the last batch pink.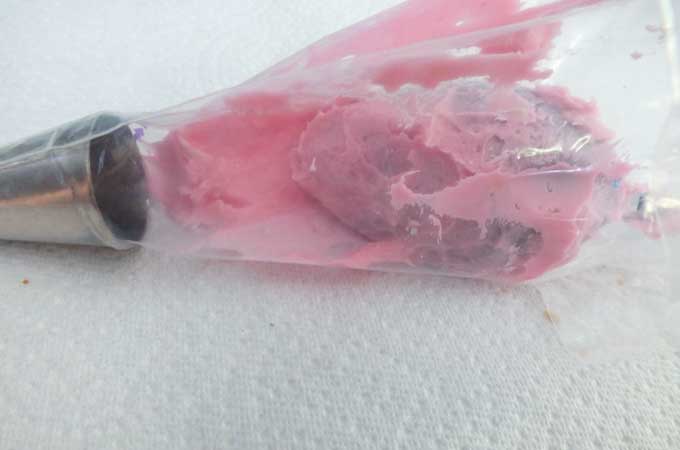 The tricks to creating the "hydrangea petal" effect is using the right decorating tip (Wilton #2D) and how you load the frosting into the pastry bag. Using a spoon, cover the sides of the pastry bag with one of your frosting colors.  In this picture we started with the pink frosting.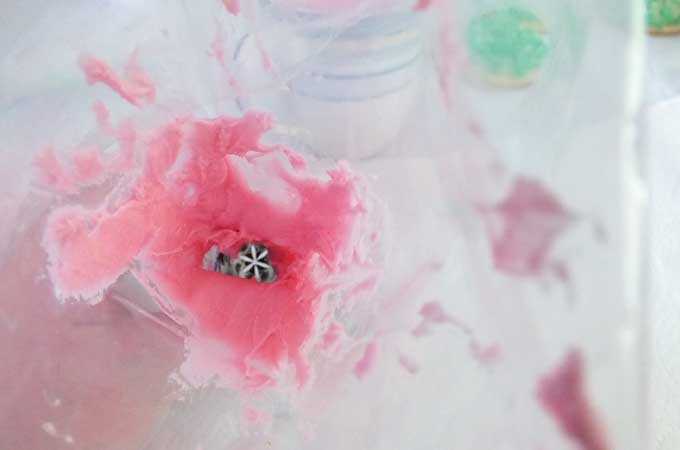 Here is how the frosting looks from the vantage point of the top opening of the pastry bag.  It doesn't have to be neat and tidy, you want the hydrangeas to have a variegated color effect.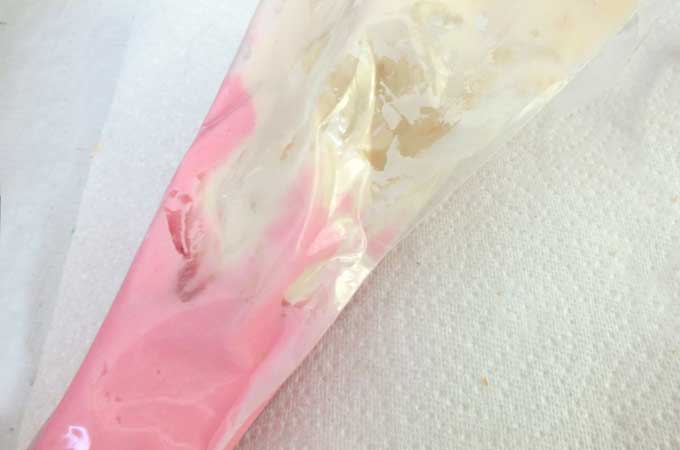 Now fill the middle of the bag with a second color, we used ivory frosting.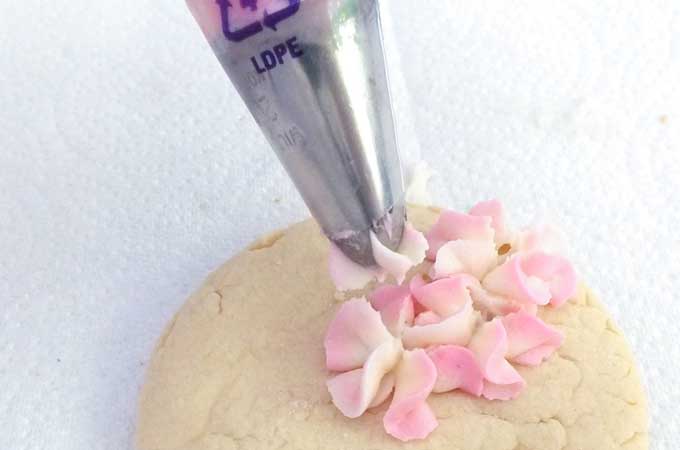 Using the Wilton 2D decorating tip.  Create a flower on the top of the cookie.  You can see here how pretty the pink and the ivory frosting blends together.
And here's another tip, the Spring Flowers Frosted Sugar Cookies will look best if you start with a thin layer of frosting before you start adding the petals.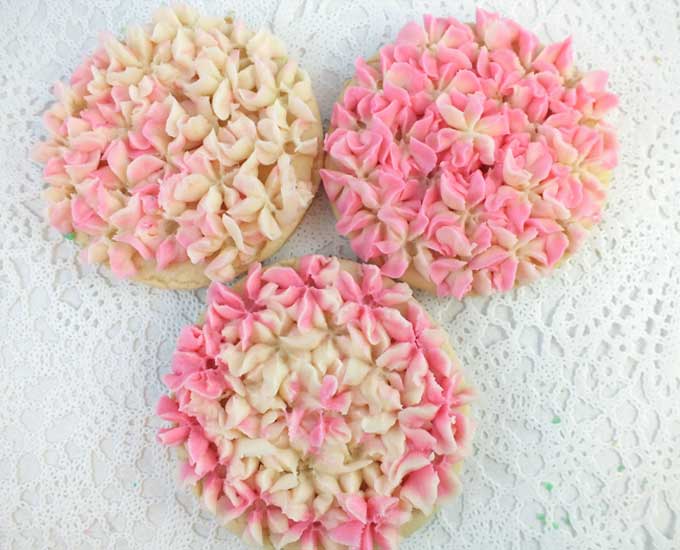 These Spring Flowers Frosted Sugar Cookies are so very beautiful.  And no two cookies will look the same, just like real Hydrangeas.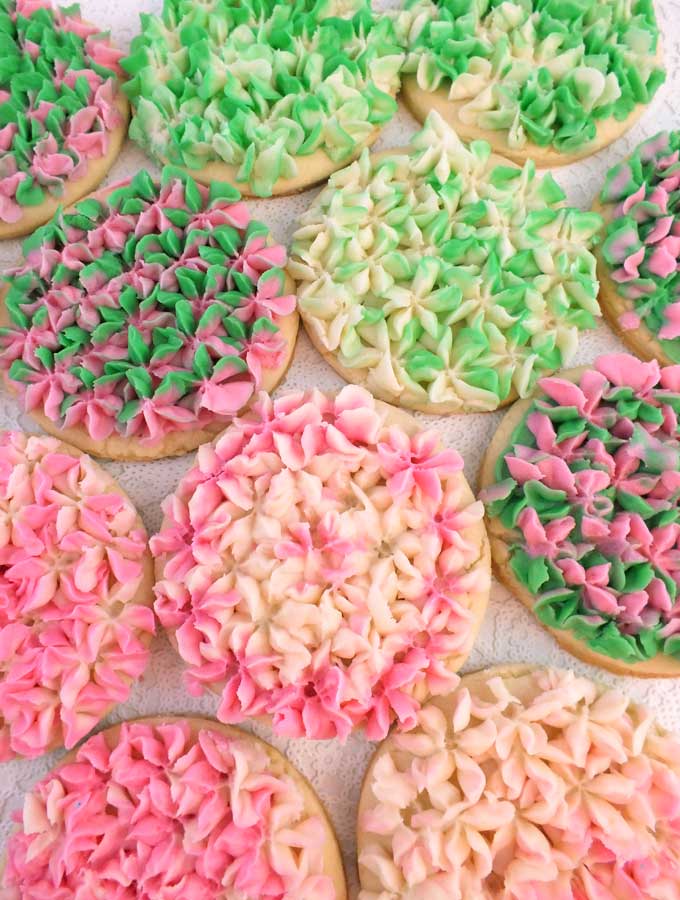 These Spring Flowers Frosted Sugar Cookies were so beautiful. They would be perfect for Easters, Mother's Day, a Sunday brunch or a Baby Shower.  And as you can see they are a lot easier to make then you might think!

P.S. Let's stay in touch!  If you liked our Spring Flowers Frosted Sugar Cookies post, [thrive_2step id='10744′]click here to sign up for our Email Newsletter![/thrive_2step]
Or follow us on Pinterest, Facebook and Instagram!
If you want to stay up-to-date on all our Cupcake posts, Follow Two Sisters Crafting on Pinterest!