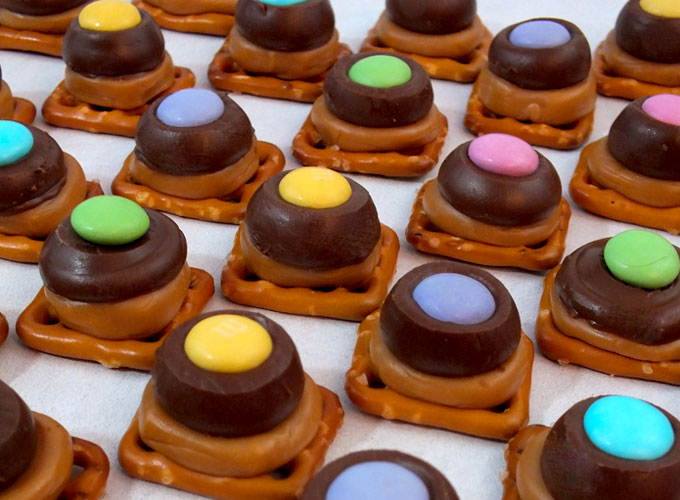 We are pretzel bite crazy at Two Sisters Crafting.  To us, they are the perfect bite of sweet and salty goodness.  We have topped our pretzel bites with different things and decorated them in different ways, but these are our absolute favorites.   They take a tad bit more time to make, but they are well worth it.  We thought when we did the pretzel bite with the Rolo that it couldn't get better, but we were wrong.  These are the absolute best.  And you can decorate them for ANY holiday or party, like these Spring Caramel Pretzel Bites.

How to make Spring Caramel Pretzel Bites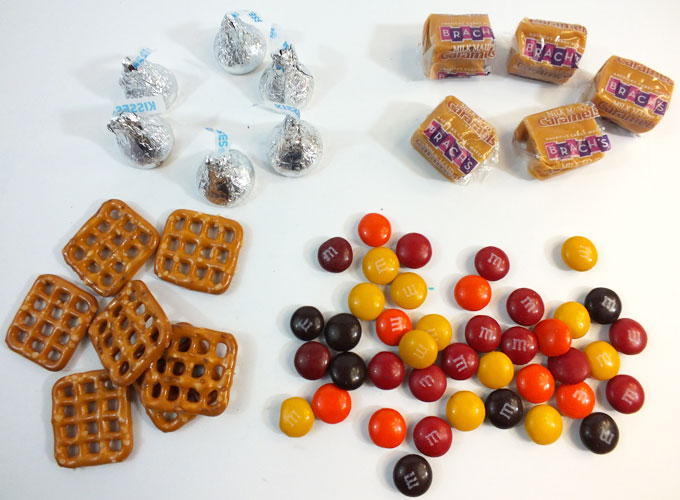 You will need:
Pretzel Snaps
Hershey Kisses
Caramel Candy
Easter M&M Candy
You only need these four ingredients to make these delicious sweet and salty Pretzel snacks.  We've seen (and tried ourselves) a Chocolate Caramel Pretzel Bite that uses Rollo candies to get that yummy chocolate-caramel combination but this recipe is 1000% better than that one.  Keep reading to find out how to achieve the perfect ratio of chocolate/caramel/sweet/salty/crunchy goodness.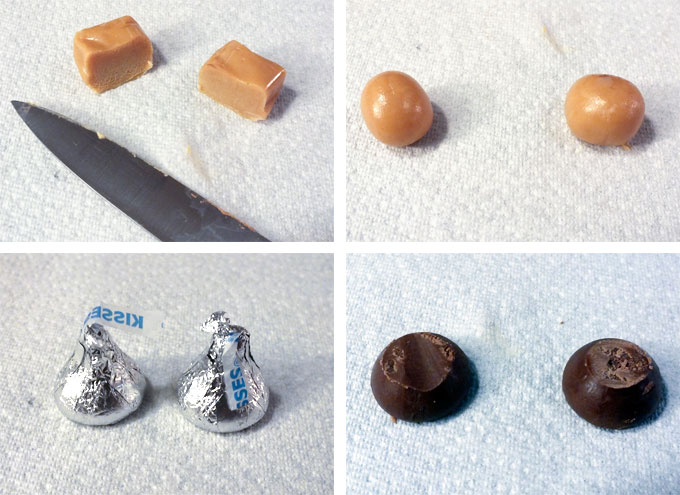 The first step is preparing the Caramel candies and Chocolate Kisses for assembly.   Using a sharp knife, cut the caramel candy piece in half. Then use the palm of your hand to roll the two pieces of caramel into balls.    For the kisses, use the knife to slice off the pointy top of the chocolate candy.  This will give you just the right amount of chocolate for the pretzel bite.  Each Spring Caramel Pretzel Bite will use one Caramel ball and one Chocolate Kiss.
For our Spring Caramel Pretzel Bites, we made sure the caramel layer went on first so the pretty and colorful Easter M&M's would stand out against the chocolate.

To assemble these tasty treats first take the caramel ball and gently press it onto the Pretzel Snap, flattening the caramel until it is slightly smaller than the pretzel itself. Then melt the Chocolate Kisses in the microwave for approximately 50 seconds with the Kisses bottom down/cut-side up.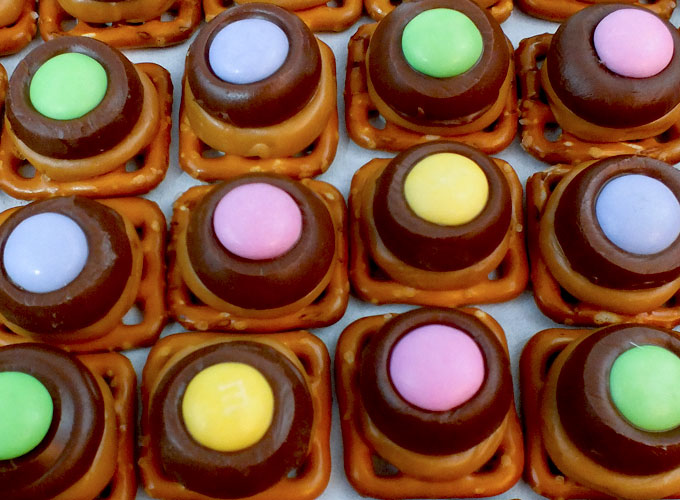 When you take the slightly melted Kiss out of the oven, press a single M&M onto the top as shown above.   Finally, place the chocolate kisses into the freezer for 3-5 minutes so they will firm back up.
Once the chocolate has cooled, use the tip of a knife to transfer the chocolate disc unto the caramel disc.  Press down gently, the sticky caramel will grab unto the chocolate and they be firmly attached.  You are done!  These Spring Caramel Pretzel Bites are just that easy to make!

P.S. Let's stay in touch!  If you liked our Spring Caramel Pretzel Bites post, [thrive_2step id='10744′]click here to sign up for our Email Newsletter![/thrive_2step]
Or follow us on Pinterest, Facebook and Instagram!
**This post contains affiliate links but we only recommend products that we actually used and liked. Thanks for supporting Two Sisters Crafting!

More great Easter Recipes …
If you want to stay up-to-date on all our St. Patrick's Day posts, Follow Two Sisters Crafting on Pinterest!
Follow Two Sisters Crafting's Easter Food Board on Pinterest.