Snowman Marshmallow Pops
These Snowman Marshmallow Pops are our favorite Christmas Treat that we made this year.  To start with we think they are adorable! Second, they taste great – marshmallow, chocolate and a secret Oreo Cookie what could be better? Finally, they are very fun to make – they'd be a great holiday family night activity.  We hope you like them as much as we do!


How to Make Snowman Marshmallow Pops
You will need:
Regular sized Marshmallows
Ghirardelli White Chocolate Melting Wafers or White Chocolate Chips
Oreo Cookies
Find 4 marshmallows that are approximately the same size.  Cut a whole in the middle of the bottom of the marshmallows with a knife.  This will make it easier to thread the lollipop stick through the marshmallows.
You will use a single Oreo wafer for the brim of the Snowman Hat.  Using a sharp knife, find the center of the cookie and make a hole in the Oreo wafer the size of the Lollipop stick.
Place three marshmallows on a lollipop stick and prepare your white candy melts for melting.
We used a long shallow pan to melt the candy melts.  We put about 20-25 candy melts in the pan and microwaved them for 30 seconds, checked them, gave them a stir and then microwaved them for 10 seconds more. Stirred and then microwaved them for another 10 seconds.  Once they were almost completely melted we took them out gave them a final stir.  This amount of candy  melts covered 2 to 3 wands.
Then we used a spoon to help cover the three marshmallows and also to smooth out the candy melts once it was on the marshmallows.
Allow the candy melt mixture to dry completely.  Check the fit for the Snowman Hat by putting the Oreo brim and the final marshmallow on the lollipop stick.  If they look good, take them back off and prepare to make the Snowman Hat.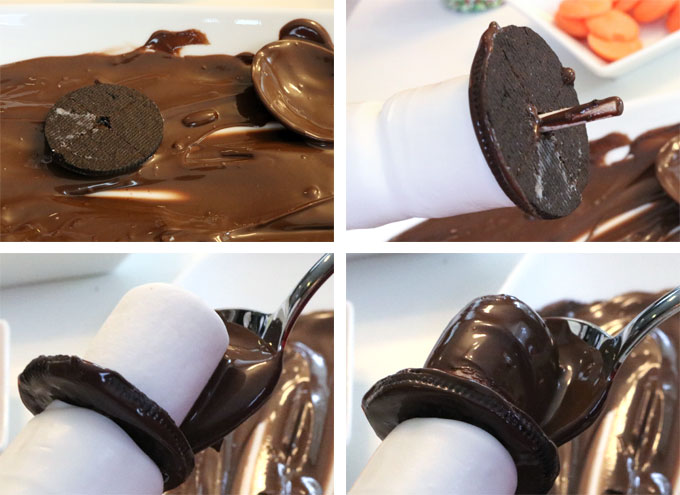 Melt 20-25 Dark Chocolate Melting Wafers in the same manner as the candy melts.  Place the Oreo wafer into the chocolate and then place it on the Snowman Marshmallow Pop chocolate side down (so it touches the other marshmallows.)  Using a spoon, cover the top marshmallow and the top of the Oreo cookie in the melted dark chocolate.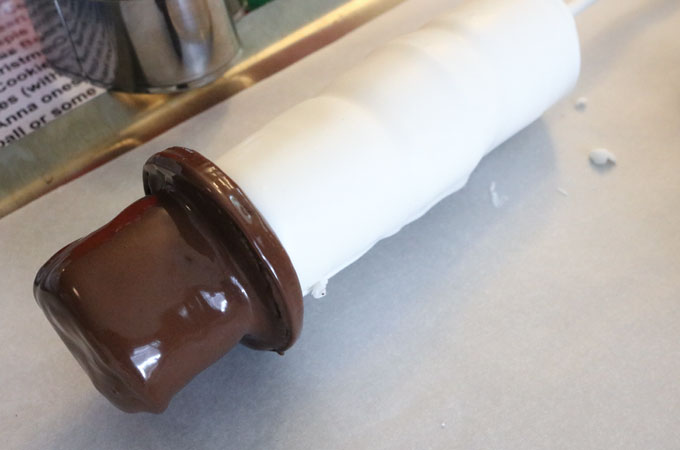 Allow the Chocolate Snowman Hat to dry.

Using a bit of the melted chocolate and the end of a lollipop stick, create three Snowman Buttons.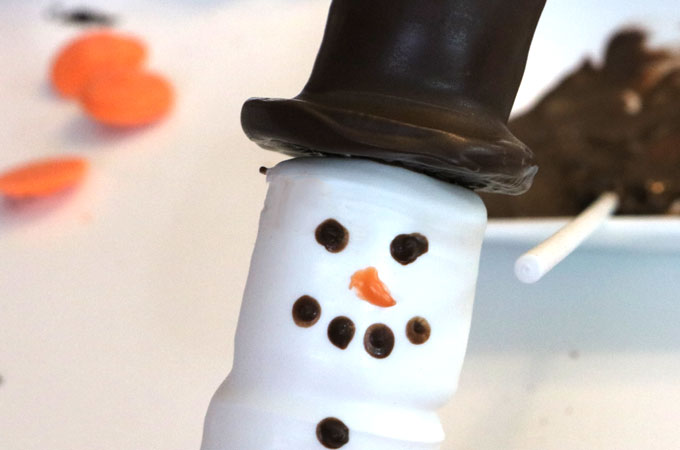 Then create the Snowman face with the lollipop stick and the chocolate.  Melt a couple of the Orange Candy Melts and use that to draw on a carrot nose.
Apply a snowflake sprinkle on the hat. We affixed ours with a dab of melted chocolate.
Finally, we added a scarf made out of Cherry Twizzlers Pull-Apart Candy.
So adorable … so yummy.  And you can eat his cute Snowman Hat too!
These Snowman Marshmallow Pops are a fun Christmas Treat.  They would be perfect for a Holiday Bake Sale or your child's school Christmas Party. Grab some Marshmallows and get started making these adorable Snowmen!  Merry Christmas from our family to yours!
P.S. Let's stay in touch!  If you liked our Snowman Marshmallow Pops post, [thrive_2step id='10744′]click here to sign up for our Email Newsletter![/thrive_2step]
Or follow us on Pinterest, Facebook and Instagram!
**This post contains affiliate links but we only recommend products that we actually used and liked. Thanks for supporting Two Sisters Crafting!
More Fun Christmas Recipes …
If you want to stay up-to-date on all our Christmas posts, Follow Two Sisters Crafting on Pinterest!
Follow Two Sisters Crafting's Christmas Desserts board on Pinterest.
**This post contains affiliate links but we only recommend products that we actually used and liked. Thanks for supporting Two Sisters!