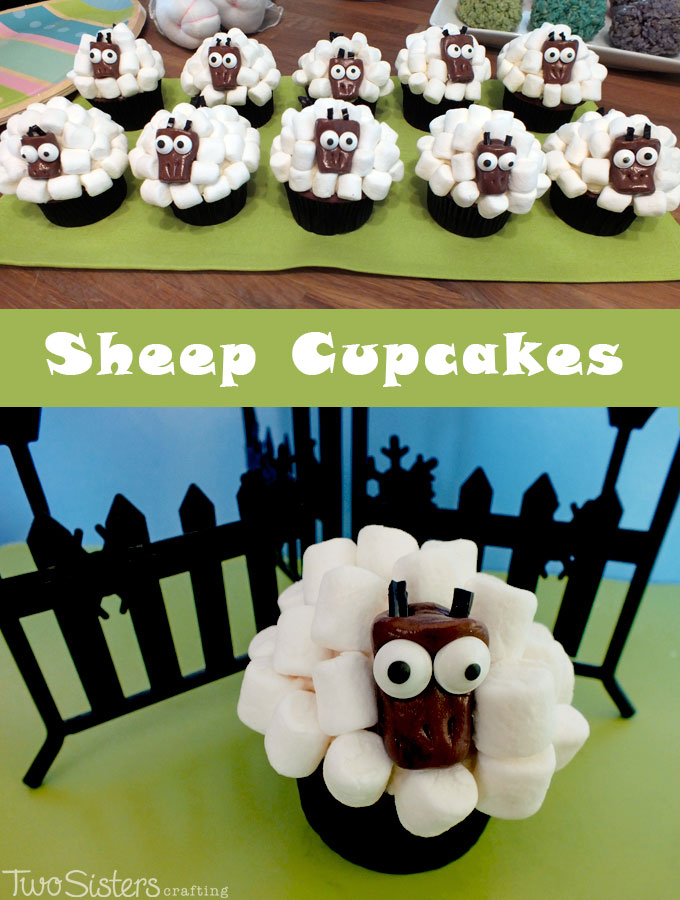 Laurie and I were perusing Pinterest and came across the cutest sheep cupcakes.  We were trying to think of an occasion where we could make them, and we finally decided to add them to our Easter menu. (I am not exactly sure how sheep relate to Easter, but thankfully no one asked any questions.) All the family agreed that the sheep were cute but they were not great as a dessert. Let me preface this next statement by saying that we are a marshmallow family.  We are drawn to any recipe that has marshmallows, but there were just too many marshmallows per cupcake. Most of the family picked off the marshmallows before eating the cupcake, except for my daughter who ate the marshmallows and left the cupcake.  To sum up … visually very pretty but not the best dessert.  
How to Make Sheep Cupcakes
Ingredients:
Chocolate cupcakes with black cupcake liners
Mini Marshmallows
Candy Eyeballs
Twizzlers
Tootsie Pop Midgets
First you will need to make cupcakes.  We used chocolate thinking it would be a good contrast to the buttercream frosting and all the marshmallows.  Then make up a batch of Nancy's Famous Buttercream Frosting.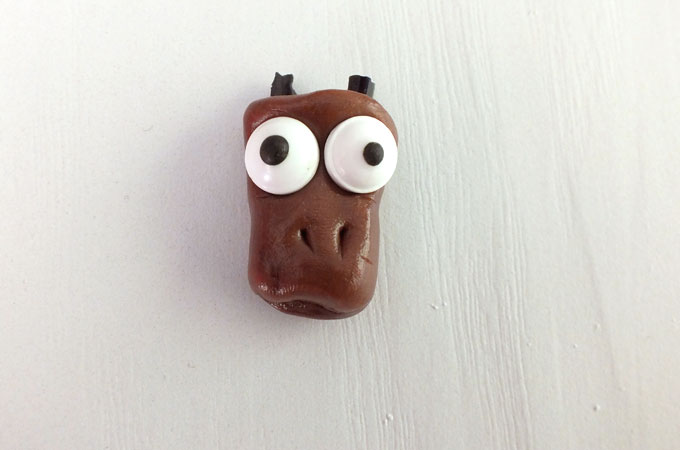 Next, you need to make the sheep's heads.  In the Land O' Lakes inspiration pin they used a large black gumdrop for the head.  We couldn't find any of those.  After looking at a lot of candy for another option, we eventually settled on the idea of using Tootsie Roll Midgets. They were brown, about the right size and could be flattened and molded into something "like" the shape of a sheep's head.  We found some Wilton Candy Eyeballs for the eyes.  We cut a tiny piece of Black Twizzlers for the ears and used a knife to make the nostrils.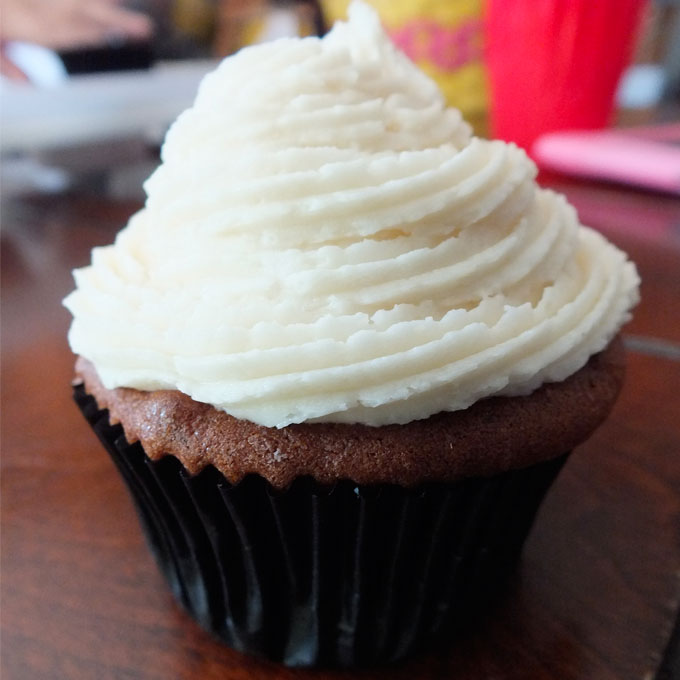 The next step was to add a tall mound of frosting to the cupcake.  This took some trial and error to get right but we eventually figured out the right amount of frosting, which is pictured above.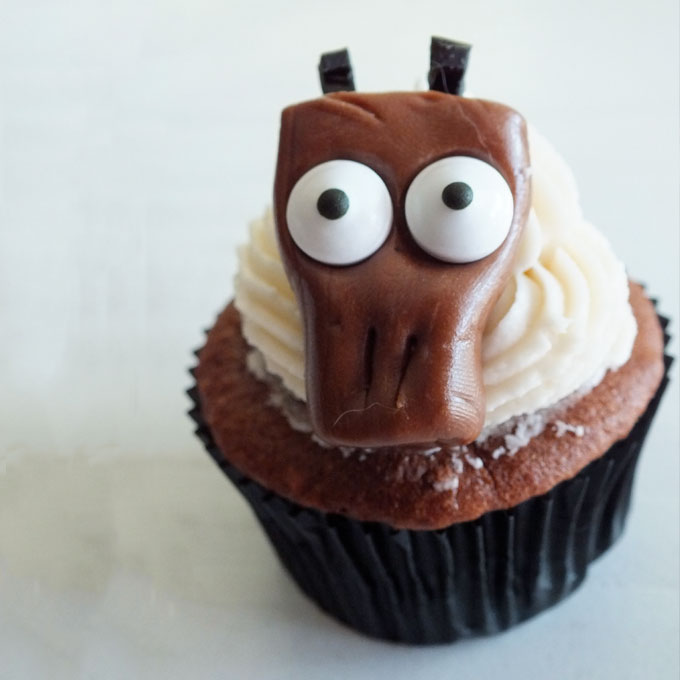 Next, afix the Sheep's head to the frosting.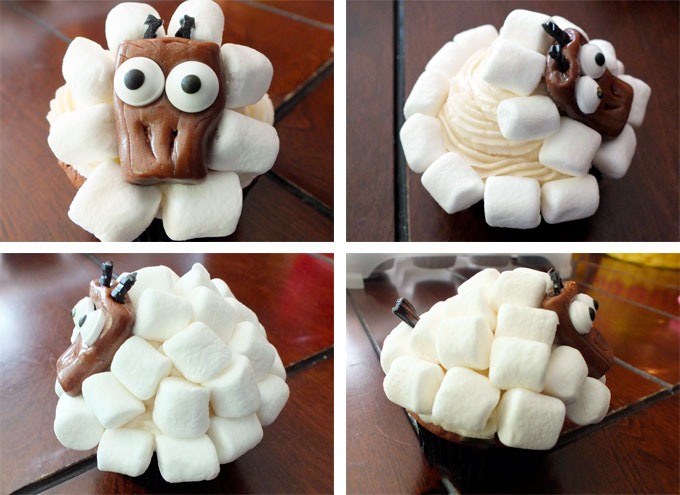 Then add the marshmallows.  We found that it worked best to add the marshmallows around the face first, then around the base of the cupcake and then lastly fill in the rest of the body.  As a final touch, add another small piece of black Twizzler for the tail.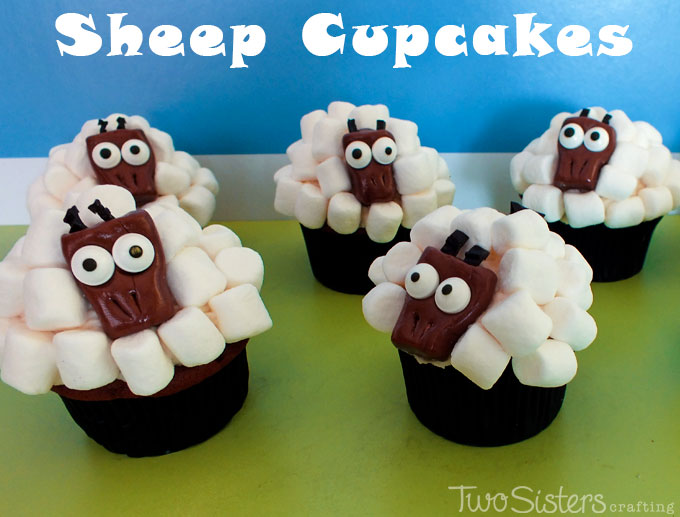 And that is how you make Sheep Cupcakes.  There are a lot of steps but I wouldn't call this a difficult decorating project.   If we ever try this again, we would cut the marshmallows in half length-wise to cut down on the marshmallow-iness of the cupcake.
Pinterest Inspiration: