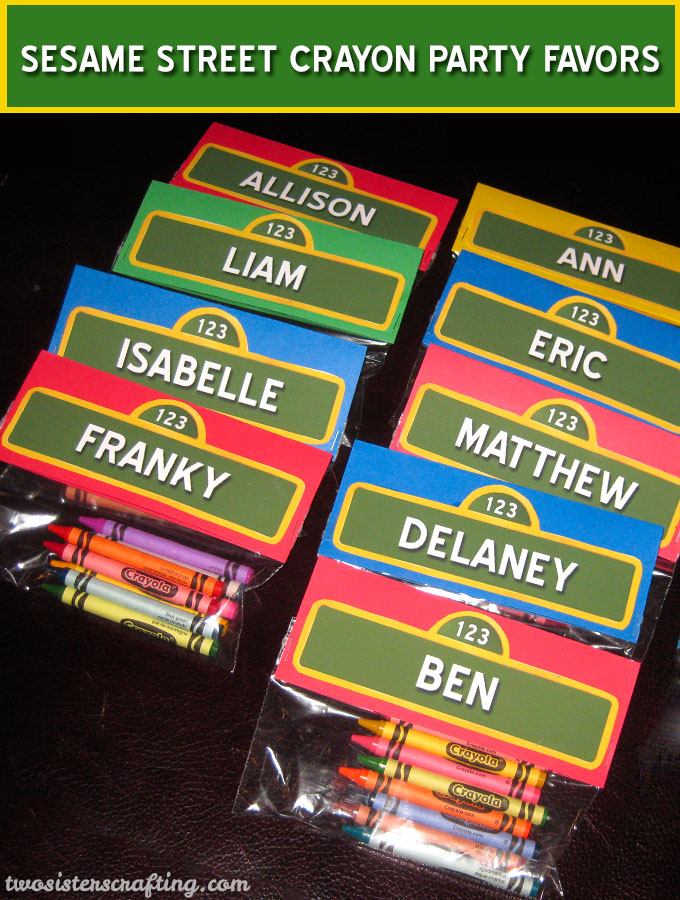 We created personalized crayon bags to give away to the kids as Sesame Street Party Favors.
How to Make Sesame Street Crayon Party Favors:
Project Supplies:
Crayons
Small Plastic Sandwich Bags
Color Card Stock
Color Inkjet Printer
Adobe Photoshop CC
Epson Presentation Matte Paper
Rubber Cement
Stapler
Nancy found some Crayola Crayons for a good price on Amazon.  We separated the crayons by color and then filled mini-sandwich bags with five crayons each.  We cut out red. blue, yellow and green card stock into 5×7″ sheets.   We folded the sheets in half length-wise so it was now 2.5×7″.  We stapled the card stock onto the top of the sandwich bags to act at the label.
For the personalized Sesame Street Signs, I used the same template that I did for the Big Bird Tulle Wreath and the Sesame Street Party Favors Gift Bags. You can find detail directions on creating the template on the Big Bird Tulle Wreath blog post.
We cut out the personalized Sesame Street signs by hand and attached them to the card stock label with Rubber Cement.

You might also enjoy our post on our other party ideas for a Sesame Street Birthday Party.
If you want to stay up-to-date on all our Sesame Street Party posts, Follow Two Sisters Crafting on Pinterest!
Follow Two Sisters Crafting's Sesame Street Party Ideas board on Pinterest.
Pinterest Inspiration: