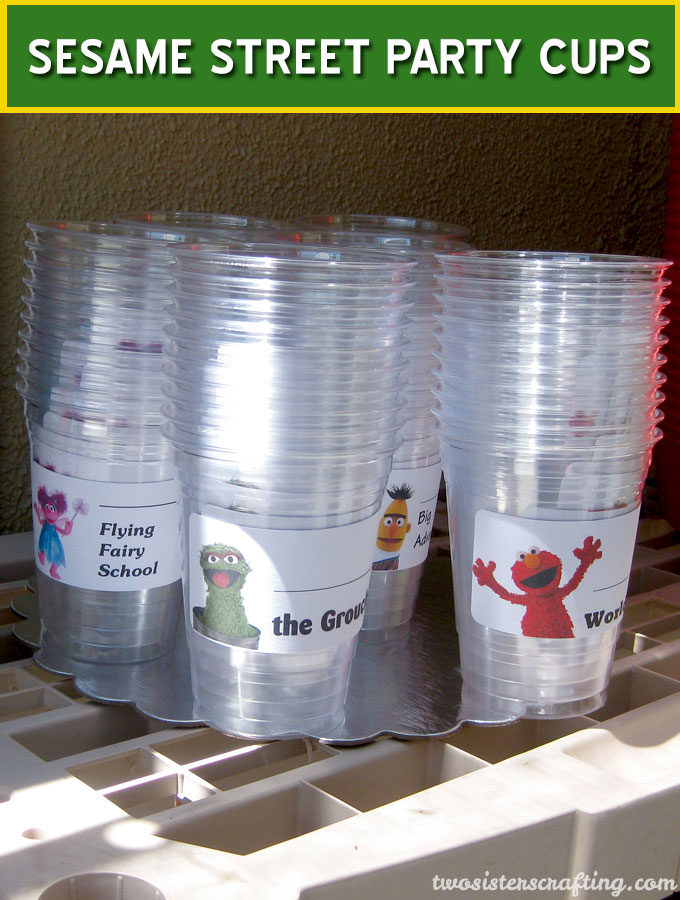 We were so proud of these Sesame Street Party Cups. We had come up with the idea on our own and really loved how they turned out.  The idea was that party guests could pick a cup with their favorite Sesame Street character and then write their name on the cup so they wouldn't lose track of it during the party.  The party guests thought it was a really fun idea … that is until the ice in the drinks started to melt, the plastic cups started to sweat, the paper labels got wet and the ink smeared. Oh well, chalk this one up to crafting lessons learned. Next time … use contact paper instead of paper labels!
How to Make Sesame Street Party Cups:
Project Supplies:
Clear Plastic Cups
Vinyl Sheets
Color Inkjet printer
Sesame Street Character clip art
Adobe Photoshop CC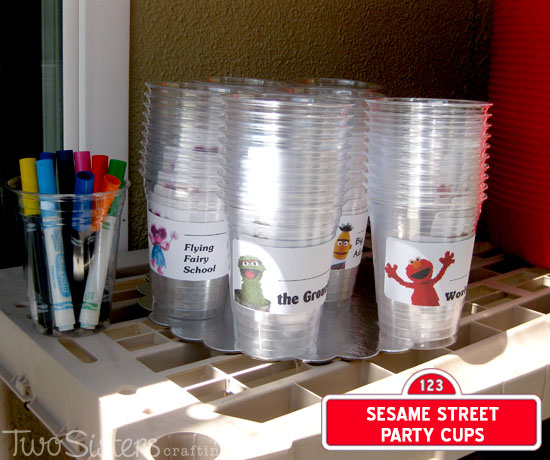 If we do something like this again, here is what we would do differently:
Use Printable Vinyl Sheets instead of Paper Mailing Labels so the label ink doesn't run when the plastic cups start to sweat.
Use Photoshop to build out the label templates instead of Microsoft Word Label Maker wizard so we could have more control over the layout.
There are a lot of great Sesame Street character clip art out there on the Internet to use for your Sesame Street Party Cups.  Remember to search for PNG files, as the backgrounds are usually transparent so you have more flexibility when re-purposing them.

You might also enjoy our post on our other party ideas for a Sesame Street Birthday Party.
If you want to stay up-to-date on all our Sesame Street Party posts, Follow Two Sisters Crafting on Pinterest!
Follow Two Sisters Crafting's Sesame Street Party Ideas board on Pinterest.