Sesame Street Frosted Sugar Cookies
For Nancy and I, a party is not a party without frosted sugar cookies.  So we knew we needed to come up with a fun sugar cookie for our Sesame Street Party.   Our idea of using the faces of Elmo, Cookie Monster and Oscar the Grouch on all of our Sesame Street desserts started with these Sesame Street Frosted Sugar Cookies.  We love how they turned out and by combining our ABC's and 123's with these iconic Sesame Street characters we hit on the perfect treat for our young party guests.

How to Make Sesame Street Frosted Sugar Cookies
Ingredients:
Wilton Frosting Tip #233
Americolor Super Red Food Coloring
Americolor Leaf Green Food Coloring
Americolor Royal Blue Food Coloring
Kraft Mini Marshmallows
Orange Peanut M&M's
Super Mini Chips Ahoy Cookies
Mini Oreo Cookies
Black Icing
Brown Icing
Red Icing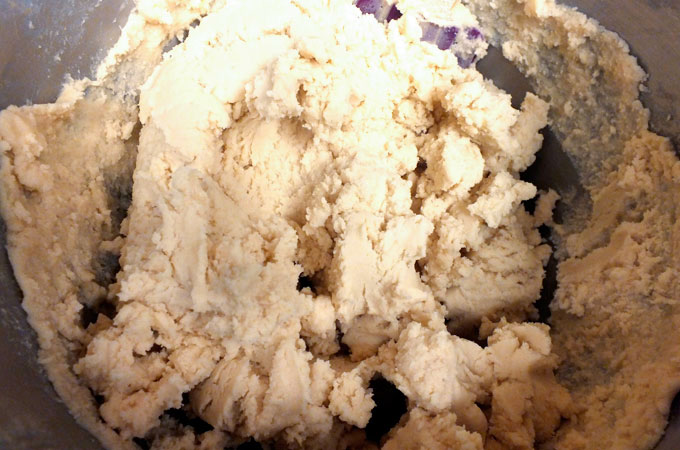 Our Sesame Street Frosted Sugar Cookies start with our Best Sugar Cookie Recipe.  This sugar cookie dough is easy to work with, tastes great and really holds it's shape during the baking process.  You can find the recipe and detailed instructions on how to make the dough here.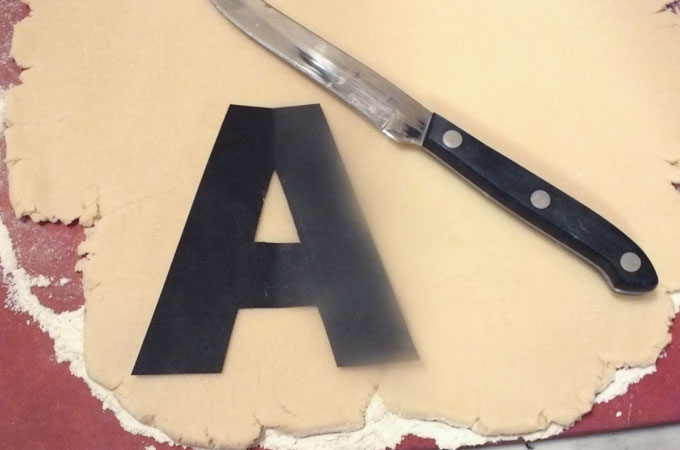 We wanted these cookies to be bigger than the alphabet and number cookie cutters that we had on hand. so we created our own ABC and 123 templates.  In Photoshop I created an image that would print at 4 inches by 4 inches.  Then I found a bold font that I liked.  The font I ended up using is called Ergo Black Condensed.  I printed out an A, B, C, 1, 2 and 3 on regular printer paper and cut them out with scissors.  I laid the letter and number templates on the rolled out cookie dough and used a sharp knife to cut out the cookies.
This seems like it might be hard, and that is what I thought before I started but it isn't hard at all.  The cutting out process was very easy and we are super excited about all the possibilities this opens up for us cookie shape-wise. No longer are we limited to store bought cookie cutters.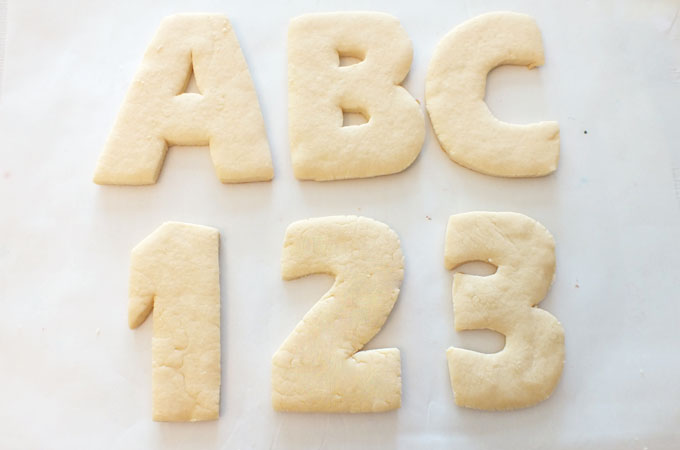 Here is what the cookies looked like once they were baked.  They are the perfect size and thickness for what we planned to do.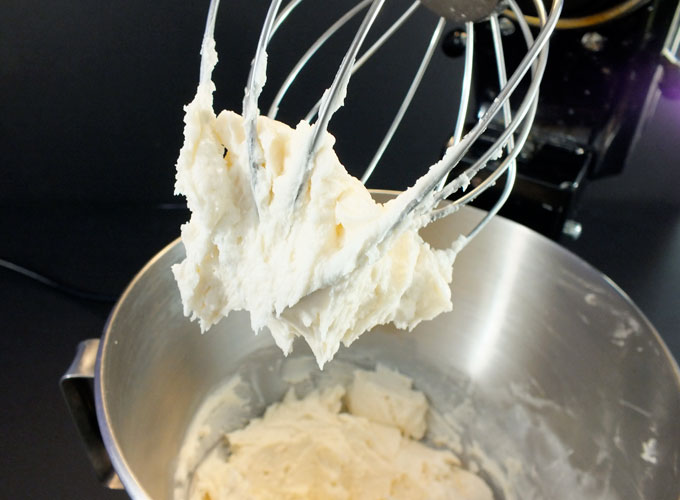 Next, Nancy whipped up a batch of her Best Buttercream Frosting Recipe.  We split this batch into three bowls and colored one batch blue using Americolor Royal Blue Food Coloring, one bowl red using Americolor Super Red Food Coloring and one bowl green using Americolor Leaf Green Food Coloring.  You can find our recipe for buttercream frosting here.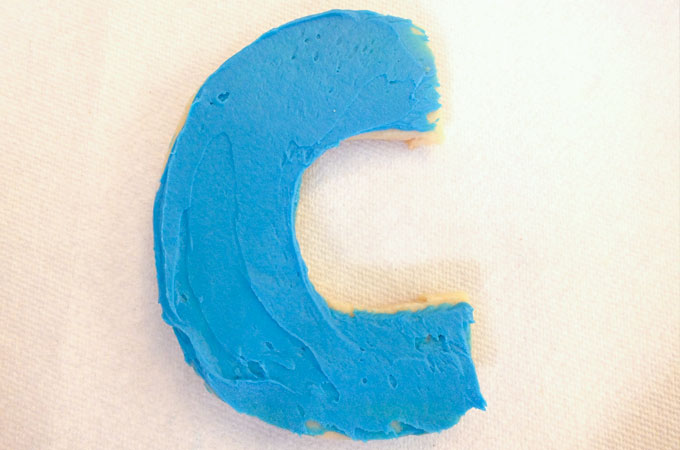 The cookie decorating process started with a thin layer of blue buttercream frosting.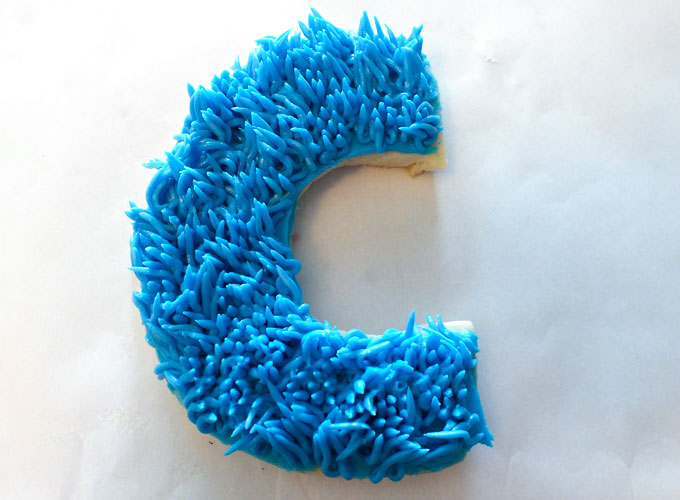 Then Nancy created Cookie Monster's blue fur by using a pastry bag filled with blue buttercream frosting and a Wilton Frosting Tip #233. This is the tip you would normally use to make "grass" like texture on a cake.  If you don't have one of these decorating tips, these cookies would also look cute with just some blue frosting applied with a knife or a spreader.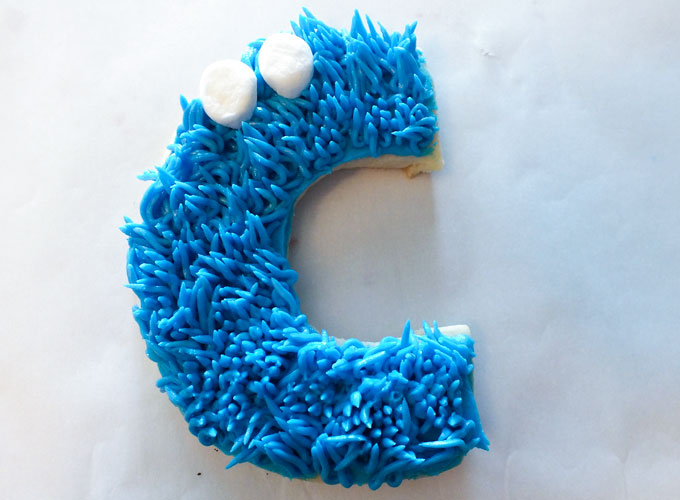 For Cookie Monster's face, I created his eyes using a mini marshmallow.  Each eye is one half of a single mini marshmallow.  I placed the marshmallow pieces on the cookie, cut side down.
For Cookie Monster's mouth we used one of the super mini Chips Ahoy cookies that come in the cup.  We cut one in half and placed that under his marshmallow eyes.
Finally, we used some black icing to make the Cookie Monster's googly eyes.
We turned the 2's and the C's into the Cookie Monster.  They are so adorable!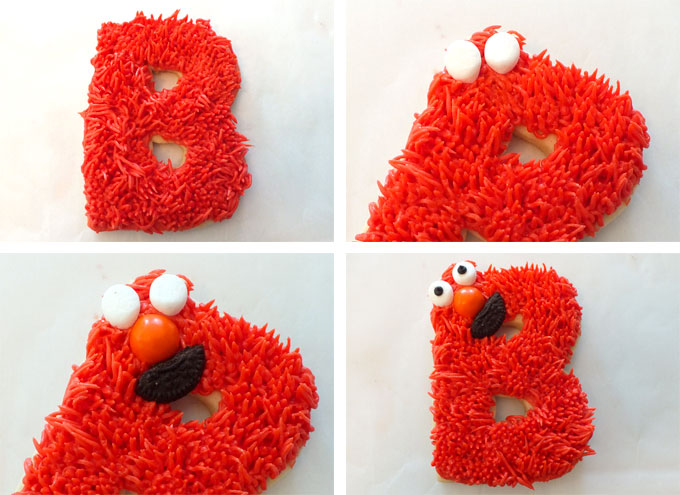 For our "Elmo" cookies we created the face a little bit differently.  The eyes are the same, two halves of a mini marshmallow.  We cut an orange Peanut M&M in half and used that for Elmo's nose.  Elmo's mouth is a half of a chocolate wafer from a mini Oreo cookie.  Finally, used the black icing to create Elmo's eyeballs.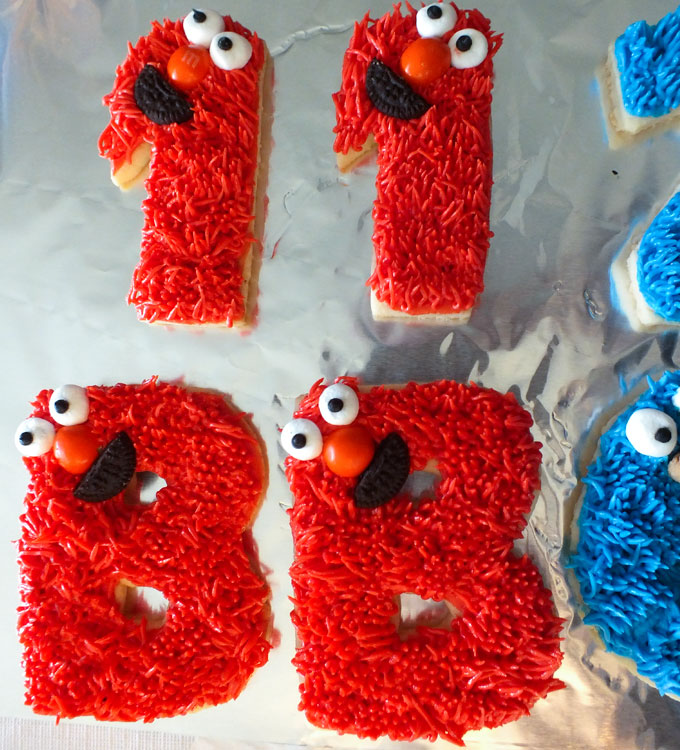 We created Elmo's on our 1 and B cookies.  Perfection!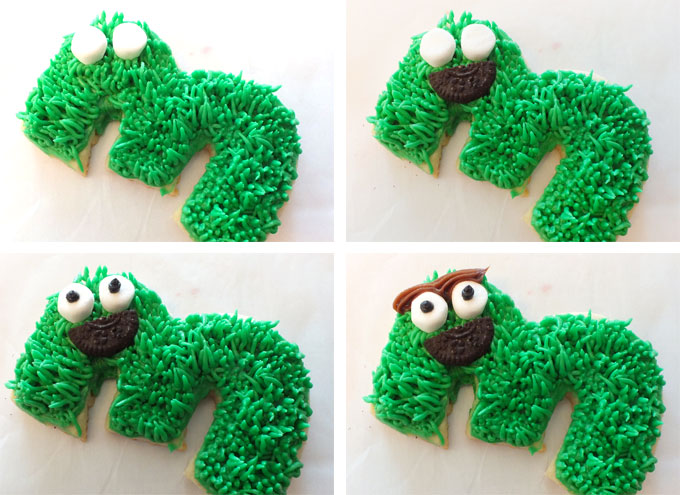 Oscar the Grouch's face is made similarly to Elmo's.  You start with the marshmallow eyes – one half of a mini marshmallow for each eye.  Use a half of one chocolate wafer from an Oreo cookie for Oscar's mouth.  Create his eyeballs with black icing.  Oscar's unibrow is make with brown icing.  And you need a little tiny spec of red icing for Oscar's tongue.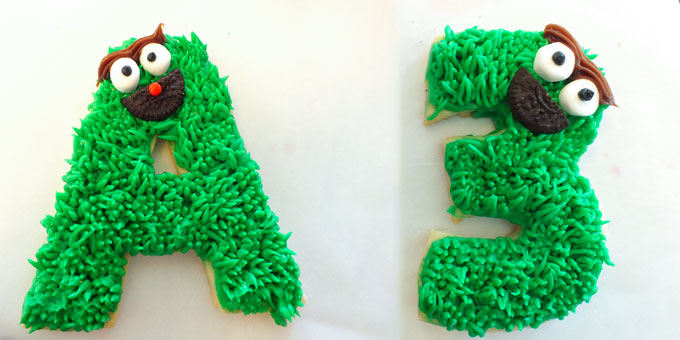 Oscar is represented on our A's and our 3's sugar cookies.
We loved how our Sesame Street Frosted Sugar Cookies turned out.  The ABC's and 123's fit in perfectly with our Sesame Street theme.  And including the iconic character faces into the cookies was so fun.  These cookies will be a big hit at your Sesame Street Party.
**This post contains affiliate links but we only recommend products that we actually used and liked. Thanks for supporting Two Sisters!