These Sesame Street Thank You Cookies were a big hit as a party favor and a thank-you gift at Allison's 2nd Birthday party.  They were fun to make, delicious to eat and a well-received gift for both adults and children at our Sesame Street Party.
How to Make Sesame Street Thank You Cookies:
Project Supplies:
A & 2 Cookie Cutters
Card stock paper
Small Plastic Bags
Adobe Photoshop CC
Printer Paper
Inkjet Printer
Scissors
Stapler
Rubber Cement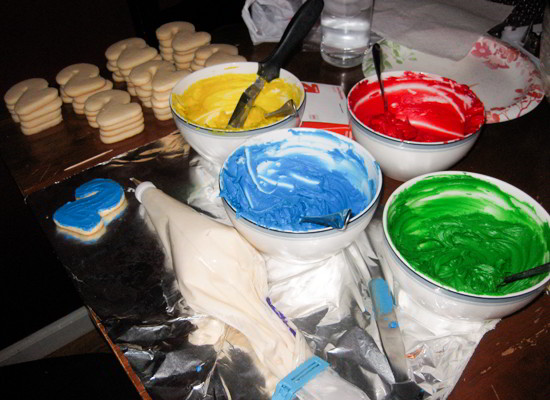 We started by baking our super yummy Best Ever Sugar Cookies in A's and 2's.  Then we used Nancy's Buttercream Frosting recipe to frost them blue, green, red and yellow.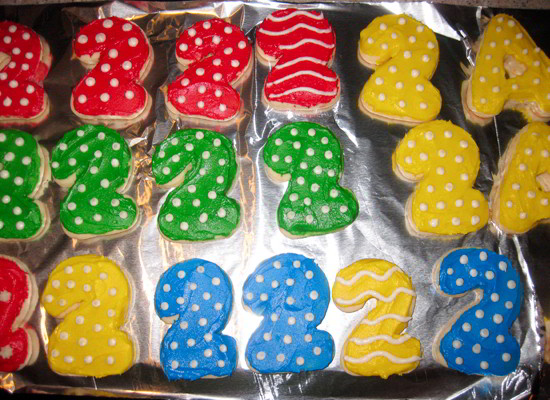 Next the decorating began.  We used White Buttercream Frosting to create Polka Dots, Squiggly lines, Outlines and Stars.
We did the decorating ahead of time and froze the cookies.  Frosted sugar cookies freeze up fine.  We stored them in an air tight container with layers of aluminum foil separating the cookies.  One tip:  let the cookies sit out for a couple of hours before you pack them up so the frosting can set.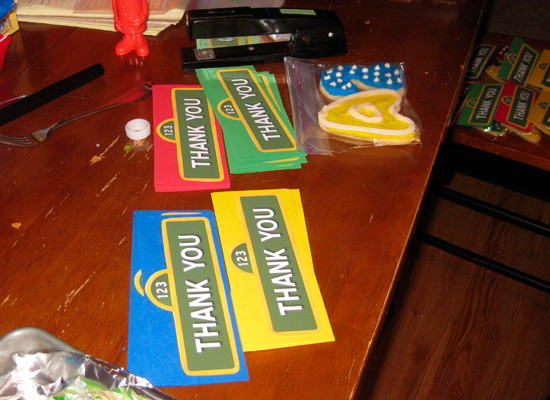 On the morning on the party we took the cookies out of the freezer and got them ready for the thank-you bags. We cut out red. blue, yellow and green card stock into 5×7″ sheets.   We folded the sheets in half length-wise so it was now 2.5×7″.  We stapled the card stock onto the top of the sandwich bags to act at the label.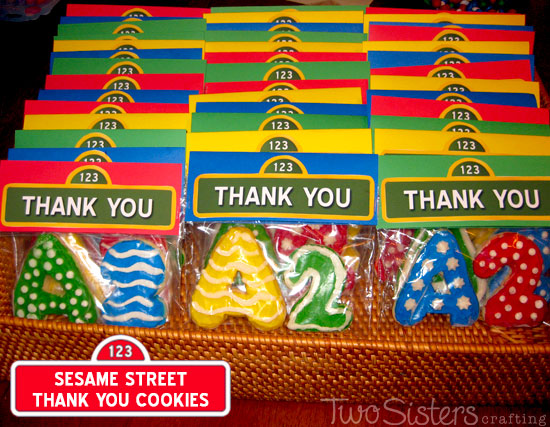 For the Thank You Sesame Street Signs, I used the same template that I did for the Big Bird Tulle Wreath and the Sesame Street Party Favors Gift Bags. You can find detail directions on creating the template on the Big Bird Tulle Wreath blog post.
We cut out the Thank You Sesame Street signs by hand and attached them to the card stock label with Rubber Cement.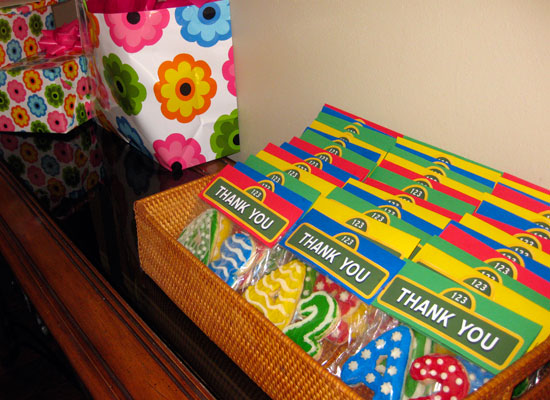 We displayed the Sesame Street Cookies by the front door and gave them out to Adult and Kids alike as they left the party as our way of saying thanks!

You might also enjoy our post on our other party ideas for a Sesame Street Birthday Party.
If you want to stay up-to-date on all our Sesame Street Party posts, Follow Two Sisters Crafting on Pinterest!
Follow Two Sisters Crafting's Sesame Street Party Ideas board on Pinterest.
Pinterest Inspiration: