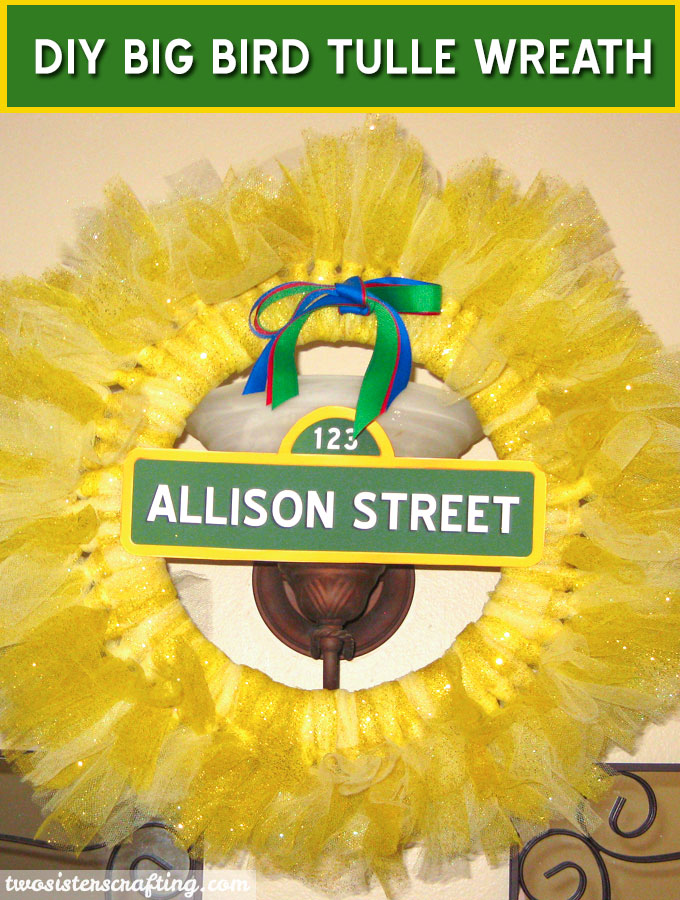 We saw this Sesame Street Big Bird Wreath on Pinterest and thought it would be a fun "welcome to the party" sign for the entry way and help set the tone for the rest of the Sesame Street Birthday party decorations.
How to make a Sesame Street Big Bird Tulle Wreath:
Project Supplies:
Yellow Tulle
Yellow Sparkly Tulle
Styrofoam Ring
Red, Green and Blue Grosgrain Ribbon
Glue Dots
Epson Presentation Matte Paper
Adobe Photoshop CC
Blue Highway Font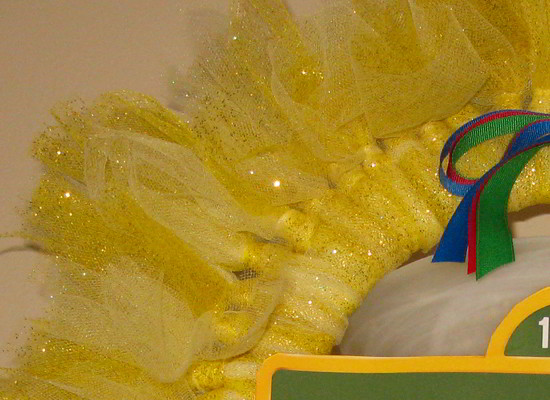 I cut the yellow and sparkly yellow tulle into 1 foot strips.  I put a strip of yellow tulle and a strip of yellow sparkly tulle together, folded the strips in half so there was a loop at the end.  I placed the loop around the Styrofoam ring and brought the ends through the loop so the tulle is attached to the ring through the loop.  I continued looping the tulle around the ring until it was completely covered.  The Sesame Street Big Bird Tulle Wreath was very easy to create, the longest part of the process was cutting all of the tulle strips.
For the Sesame Street Sign, I searched Google Images for "Sesame Street Sign PNG" to find a PNG version of the Sesame Street sign. (PNG images have transparent backgrounds so they are easier to re-purpose.)  I removed the "Sesame Street" wording in Photoshop and added "Allison Street" using the Blue Highway Font with a drop shadow effect.
I printed out the Sesame Street sign and attached it to the Sesame Street Big Bird Tulle Wreath with Glue Dots.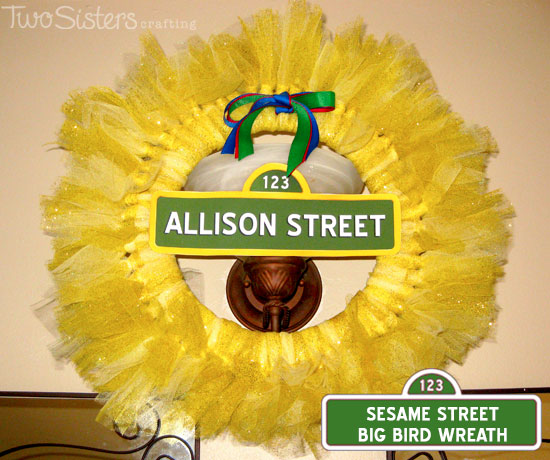 As a final touch I added a bow using Red, Green and Blue ribbon to coordinate with the color scheme of the other Sesame Street Party decorations.

You might also enjoy our post on our other party ideas for a Sesame Street Birthday Party.
If you want to stay up-to-date on all our Sesame Street Party posts, Follow Two Sisters Crafting on Pinterest!
Follow Two Sisters Crafting's Sesame Street Party Ideas board on Pinterest.
Pinterest Inspiration: