My first job was at a mall.  My second job was at a mall. My third job was at a mall.  In fact, until I graduated from college I worked at the mall.  Christmas is a crazy time when you work at a mall. I pretty much hated everything about it except the decorations.  My favorite part was that every year Macy's would open a Christmas Holiday Store.  I LOVED the decorations in there.  I coveted the way they decorated their trees.  When I moved out on my own I started collecting my own ornaments and trying to perfect my tree.  It has taken many many many years but I have finally done it.  I have finally figured out the perfect formula for decorating a tree like they did at the Macy's Holiday Store.  I probably would have gotten there sooner, but I went through a pink and purple Christmas tree phase that I don't like to talk about.

How to create a Santa Christmas Tree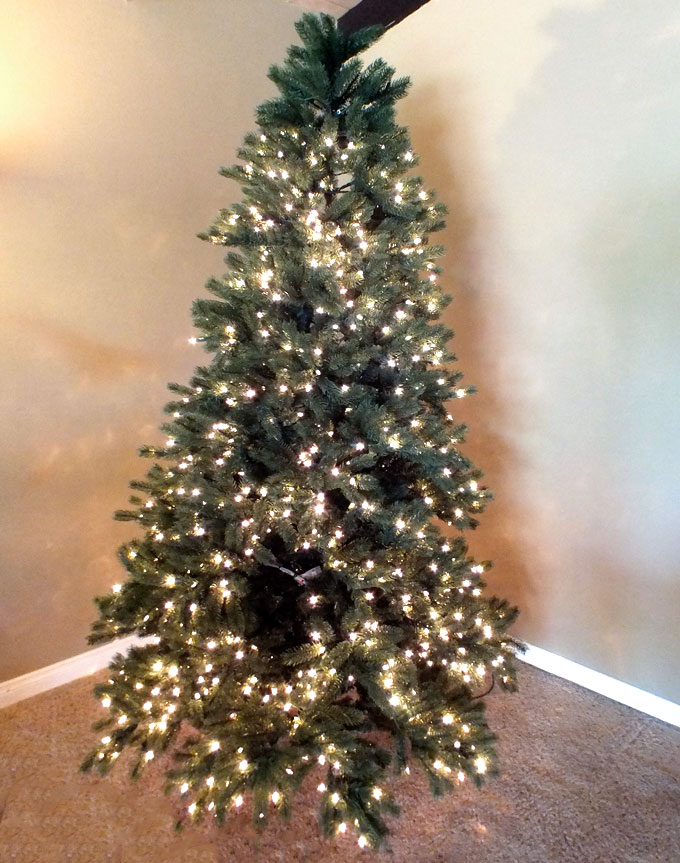 Step 1:  Put together your Christmas Tree.
I switched to an artificial tree many years ago.  And I really resisted.  I love the smell of a real tree.  I love picking out a tree at a Christmas Tree lot.  But I don't love the hassle of getting rid of a tree after the holiday when you live in an apartment.  I don't love having a dried out, dead Christmas Tree on Christmas morning because you've had your tree up for a month already.   So I gave in and bought an artificial tree.  This is actually my second tree.  My first one had many broken branches (apparently these trees were not made to be climbed on a nightly basis by an adventurous cat!)   You'll see that the lights on the top of the tree aren't working. That is on purpose.  More on this when we get to the tree topper in Step 4.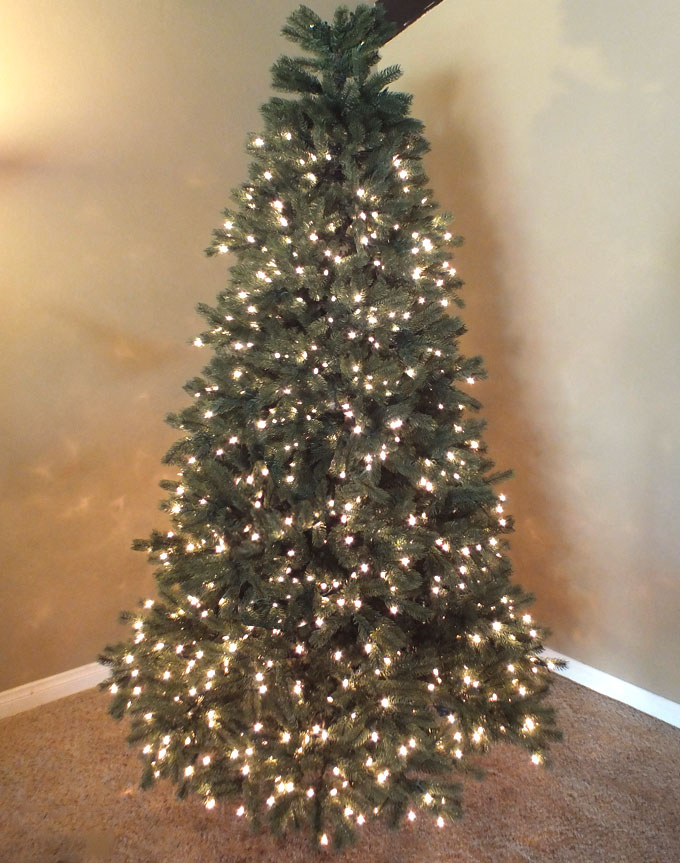 Step 2:  Fluff up the branches of your Christmas Tree.
I'm not going to sugar coat this – this part is not fun or pleasant.  You have to fluff up and arrange all the branches of your tree.  It is time consuming and the branches are scratchy.  I have gotten many cuts on my fingers from this process but it cannot be skipped.  You have to fill in all the blank spots and twist the branches up and down and around so that you have plenty of options for hanging your ornaments.  It took me over an hour to get the tree in the picture step 1 to look like it does in this picture for step 2.
Step 3:  Hang your tree garlands.
I found these red beaded garlands at Home Goods.  For my tree, I use (4) eight foot strands.  I start at the top and work my way down the tree.  At this point I'm just trying to get the garland on the tree. I don't spend a lot of time trying to get the loops spaced perfectly. I will adjust the garland  later when I arrange the ornaments.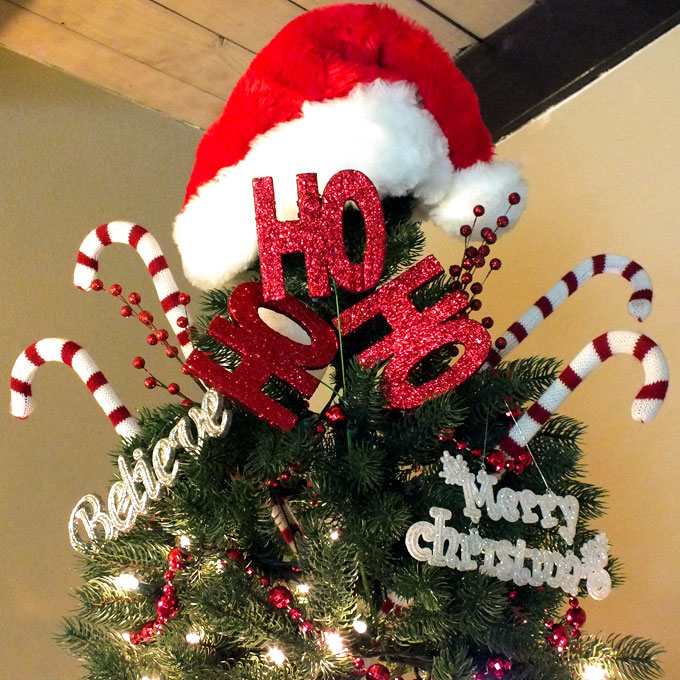 Step 4:  Create your Tree Topper.
My Santa Hat tree topper is my favorite part of my Santa Christmas Tree.  This is an actual Santa Hat that I bought at Albertson's of all places.  I turned off the lights at the top of the tree because the hat was resting on them and I was worried it might be a fire hazzard.  I bought the knit covered candy canes at Grandin Road.  And the Ho, Ho, Ho sign is from Hobby Lobby.   I arrange all of these things at the top of the tree before I start adding all of the other ornaments.  This is the focal part of the tree and it needs to look special.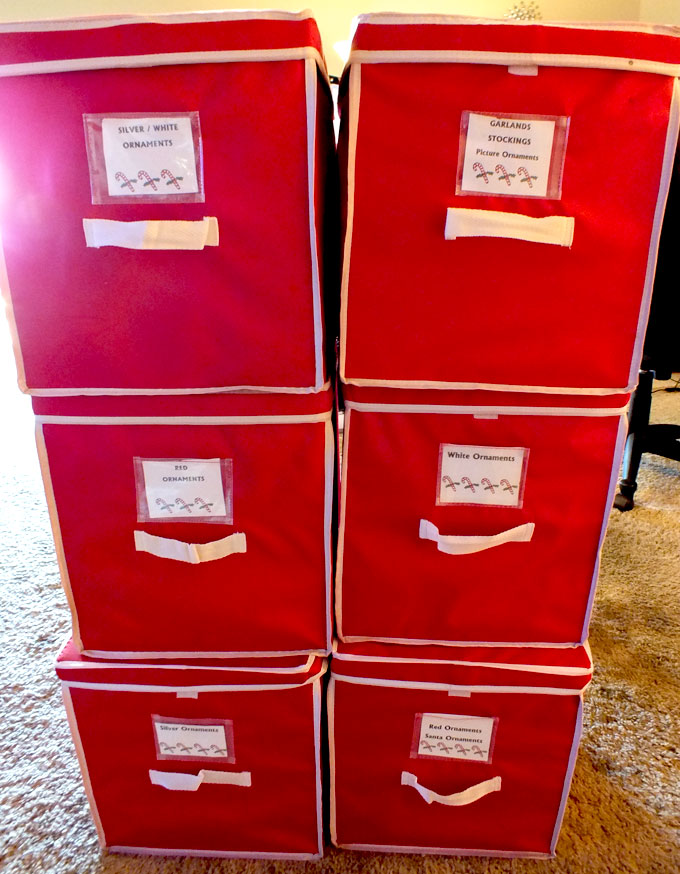 Step 5:  Get out your Christmas Tree Ornaments
Now for the tree ornaments.  I have them stored by color.  I bought these soft-sided storage containers at Target in an after-Christmas sale.  Best investment I've ever made.  I take all the ornaments out of these boxes and arrange them on the floor by color so I don't have to pick around in the boxes as I am decorating.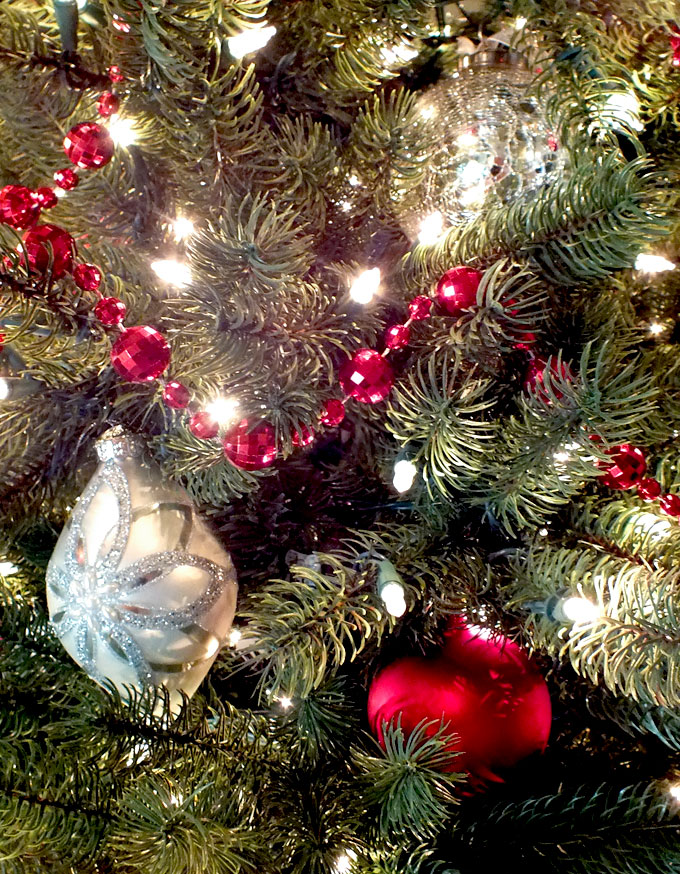 Step 6:  Start with the Over-sized Ornaments
I start decorating with the big, plainer ornaments.  I place them inside the tree a bit to give the tree some color, depth and dimension.  The silver and red glitter ornaments that I have made really look good nestled in the inside branches like this with the lights shinning on them.   I have never counted, but I probably add 15-20 big ornaments to the tree.  I use the soft wire green ornament hooks that you can buy at any big box store.  They are amazing.  You can twist them around the branch and have pretty precise control on how your ornament hangs from the branch.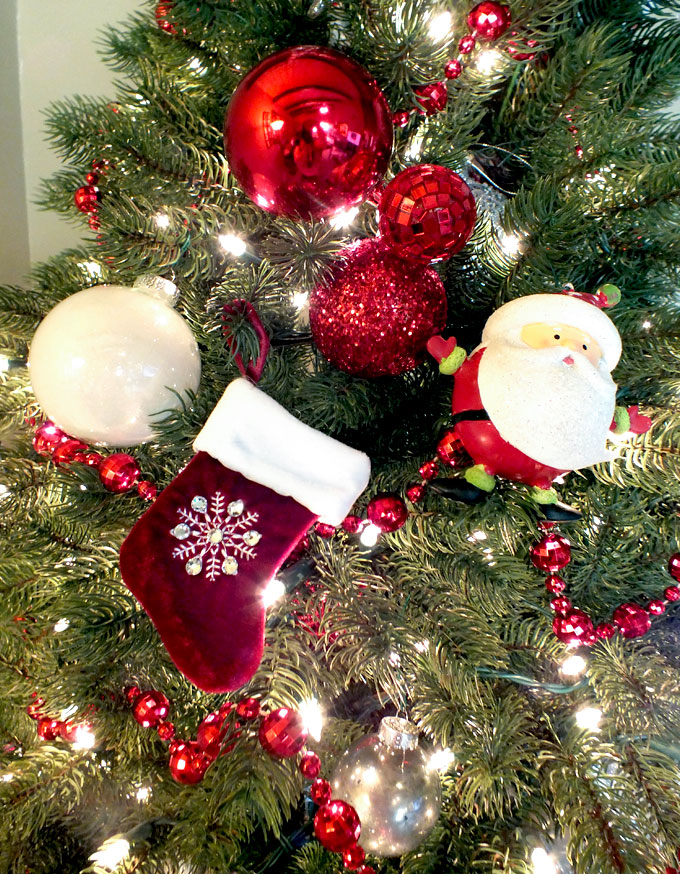 Step 7:  Design a grouping of ornaments
This is the fun part.  I play around with a group of ornaments until I find something that I like.  This year I used (1) Santa Ornament, (1) Christmas Stocking, (1) Fancy White Ornament and a grouping of (3) Red ornaments.    For the grouping of red ornaments, I put all three of the ornaments on a single soft wire ornament hook and attached that hook to the branch. This is my building block for the rest of my tree.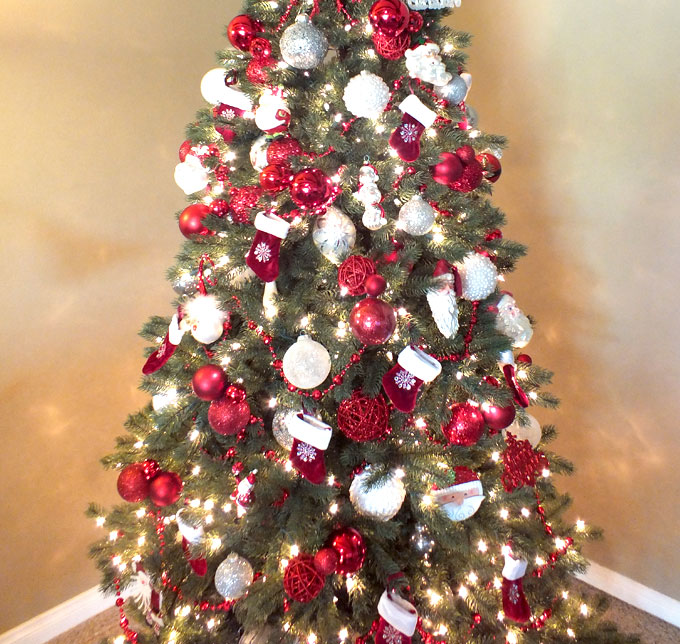 Step 8:  Arrange and then Re-arrange your ornaments
Using the ornament grouping  that I designed above, I fill out the rest of my tree – group by group.  Once all the ornaments are up, the rearranging process begins.  I step back, look at the tree, switch this ornament with that ornament.  Take a break. Come back and look at the tree again, move this Santa ornament to the front, etc. etc. until I like what I see.
Step 9:  Add a floral sprig to the tree.
After all the ornaments are arranged I add these sprigs of glittery cranberries.  I got them at Hobby Lobby.  They give this tree some sparkle and dimension.  This year I placed them above every grouping of three red ornaments.  I love this look!
 Step 10:  Add your Tree Skirt
Finally, add your Christmas Tree Skirt. I bought this at Costco a couple of years ago. It reminds me of the dresses Rosemary Clooney and Vera Miles wore at the end of my all-time favorite Christmas movie, "White Christmas" and I LOVE IT!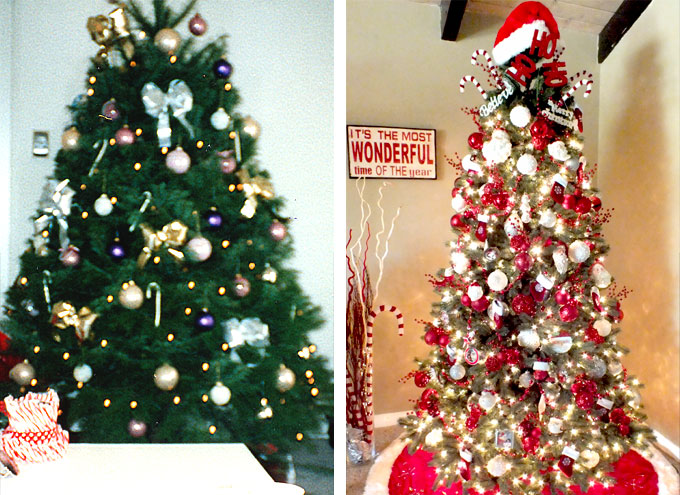 Here is a picture of my very first Christmas tree – yeah, I wasn't kidding. the pink and purple decorations were a tragic mistake.  But from that first humble attempt I have learned and grown and practiced and now I can create this lovely Santa Christmas Tree!  I hope these tips help you with your dream Christmas Tree. Merry Christmas everyone!

P.S. Let's stay in touch!  If you liked our Santa Christmas Tree post, [thrive_2step id='10744′]click here to sign up for our Email Newsletter![/thrive_2step]
Or follow us on Pinterest, Facebook and Instagram!
**This post contains affiliate links but we only recommend products that we actually used and liked. Thanks for supporting Two Sisters Crafting!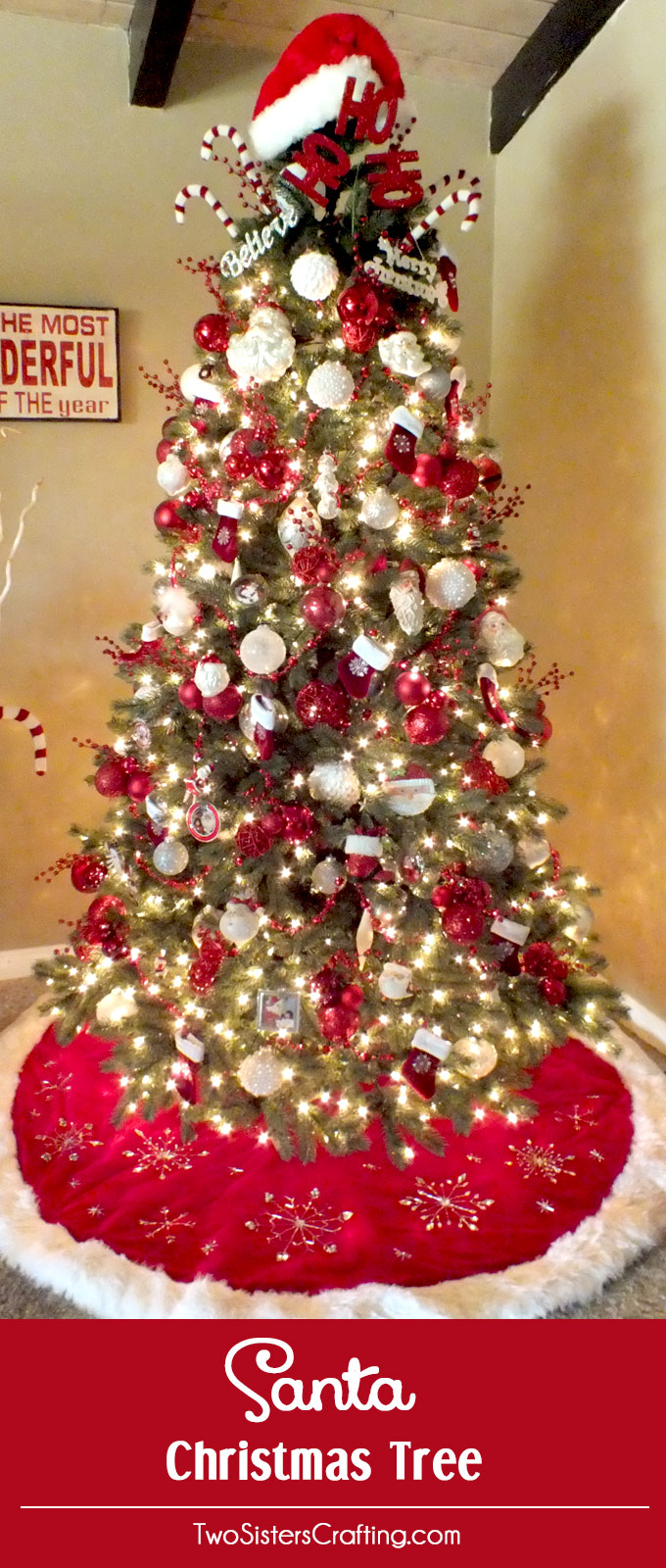 More Fun Christmas Crafts …
If you want to stay up-to-date on all our Christmas posts, Follow Two Sisters Crafting on Pinterest!
Follow Two Sisters Crafting's Christmas Decorations board on Pinterest.