As far as we are concerned, no holiday is complete without a Rice Krispie Treat so For Halloween, we made these cute Witch Hats Rice Krispie Treats.  They are easy to do, very cute, and they taste really great.  What more could you ask for in a Halloween dessert?

How to Make Witch Hats Rice Krispie Treats
You will need:
Kellogg's Rice Krispie Cereal
Mini Marshmallows
Butter (Sweet Cream, Salted)
M&M Candies – Green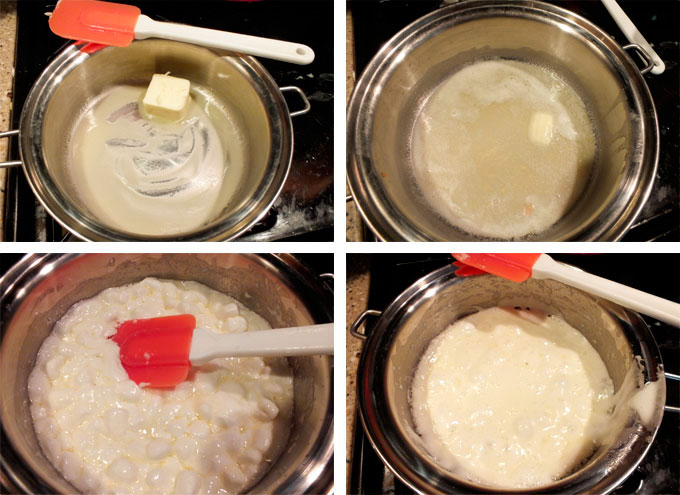 The base for our Firecracker Rice Krispie Treats is our Best Ever Rice Krispie Treat Recipe which we have adjusted and perfected over the years until it is now absolutely the best Rice Krispie Treat recipe we have ever tasted.  You can find all the directions you'll need to make these delicious treats right here.  For each batch of Rice Krispie Treats you will need 6 tablespoons of butter, 6 cups of mini marshmallows and 6 cups of Rice Krispies Cereal.   Melt the butter in a large pan on medium heat.  Add the marshmallows and stir until melted.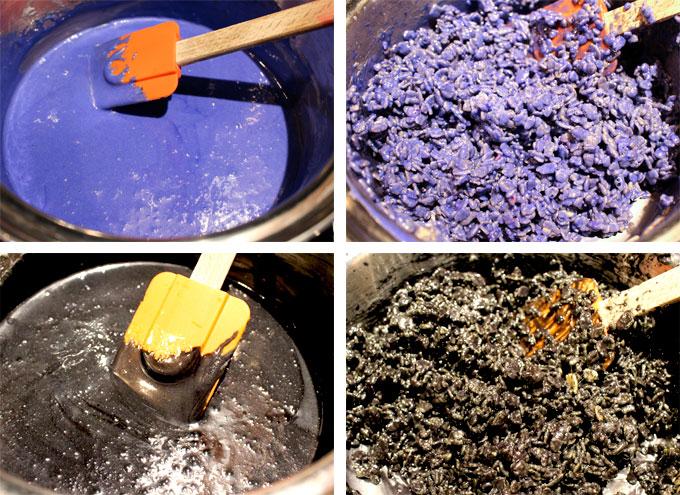 Turn off the heat and add the food coloring to color the marshmallow mixture. We made one batch of purple Rice Krispie Treat mixture (4 drops of Pink Wilton Color Right and 2 drops of Blue Wilton Color Right) and one batch of black Rice Krispie Treat Mixture (4 drops of Americolor Super Black.)  We made a dozen witch hats from each batch.  Add the Rice Krispie Cereal to the colored marshmallow mixture and gently stir until it is completely covered.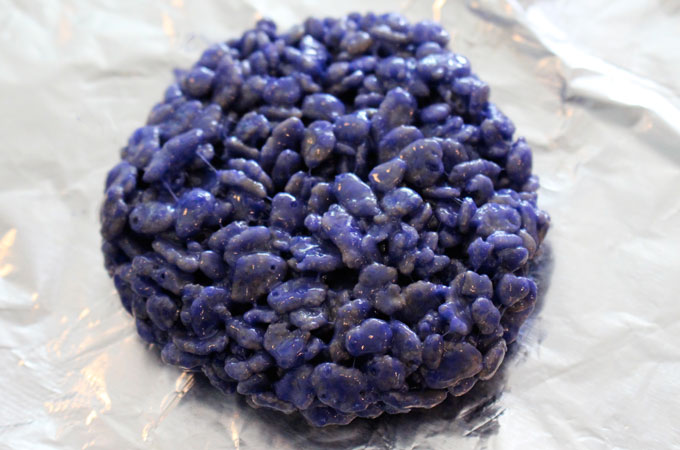 Let the Rice Krispie Treat mixture cool only until it is no longer burning to the touch.  You need to mold the witch hat while the mixture is still warm.  Cover your hands with butter and mold a small handful of Rice Krispie Treat Mixture into a small disc – this is the base of the Witch Hat.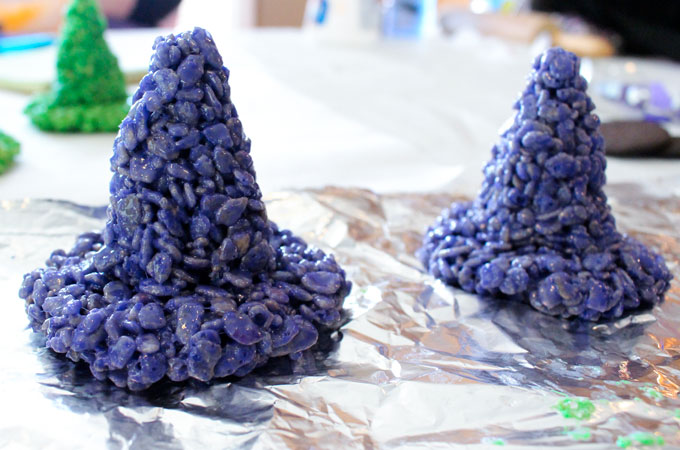 Next, grab another small handful of the Rice Krispie Treat mixture and mold yourself a cone like piece to be the top portion of the hat. Press the top of the hat onto the base of the hat.  They will stick together.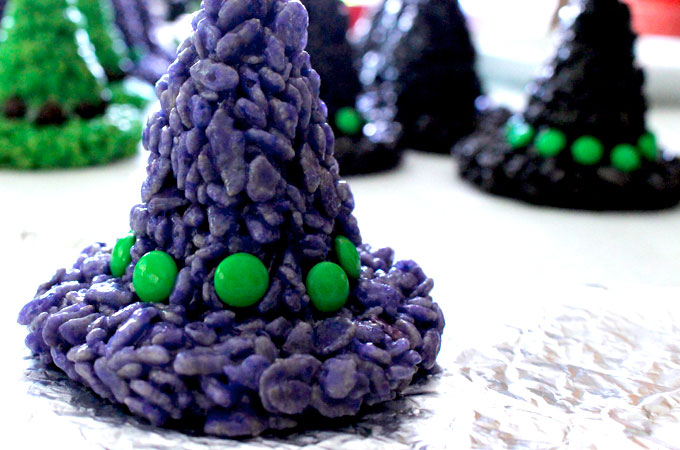 Before the Witch Hats Rice Krispie Treats have cooled, embellish the hat with M&M's.  If you wait too long, the M&M's won't stick to the hat and you will have to attach them with frosting or something like that.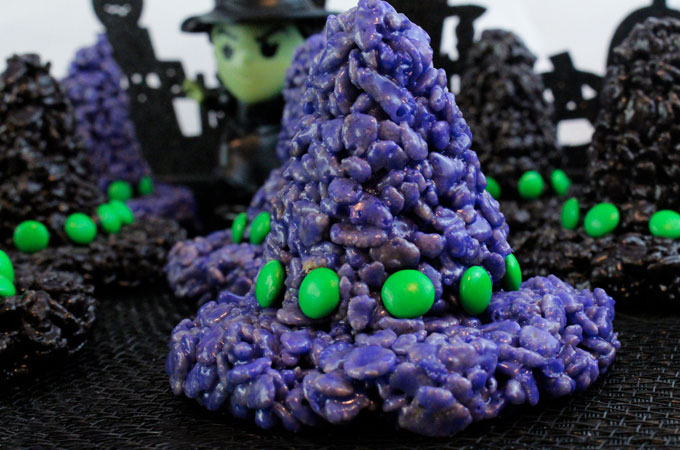 These Witch Hats Rice Krispie Treats are so adorable and were so easy and fun to make.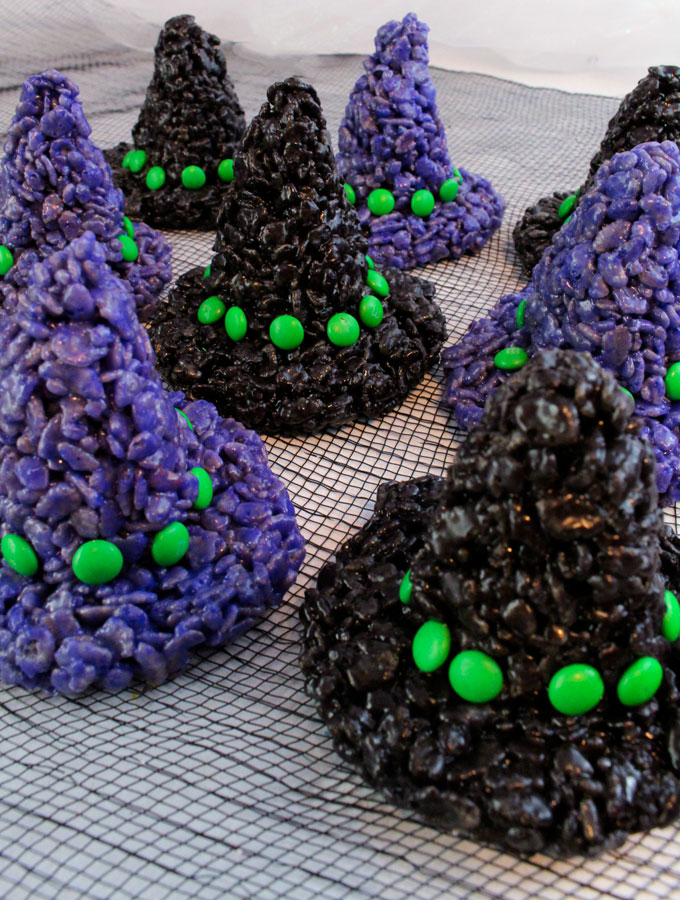 We've never met anyone who didn't love Rice Krispie Treats so these Witch Hats Rice Krispie Treats are bound to be a big hit at this year's Halloween Party.

P.S. Let's stay in touch!  If you liked our Witch Hats Rice Krispie Treats post, [thrive_2step id='10744′]click here to sign up for our Email Newsletter![/thrive_2step]
Or follow us on Pinterest, Facebook and Instagram!
**This post contains affiliate links but we only recommend products that we actually used and liked. Thanks for supporting Two Sisters Crafting!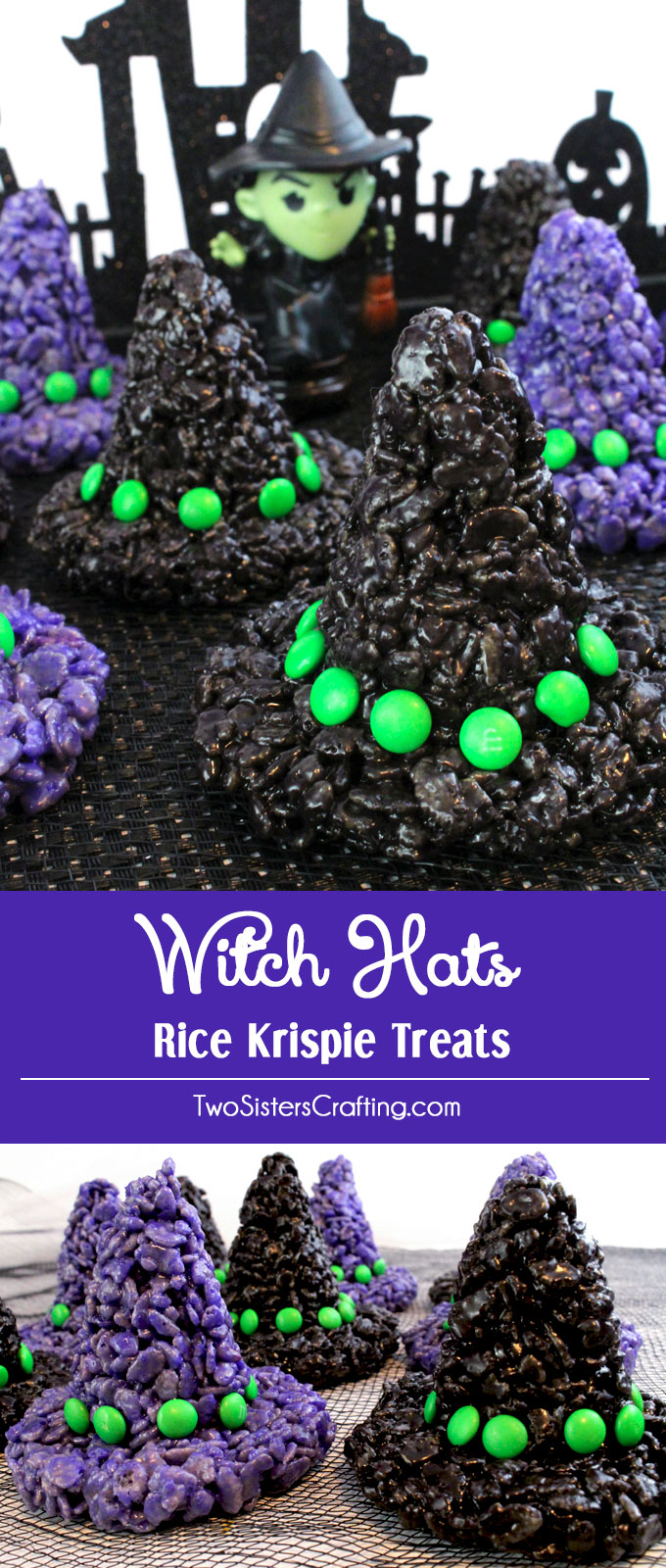 More Fun Halloween Recipes …
If you want to stay up-to-date on all our Halloween posts, Follow Two Sisters Crafting on Pinterest!
Follow Two Sisters Crafting's Halloween Food board on Pinterest.