Rice Krispie Treat Valentines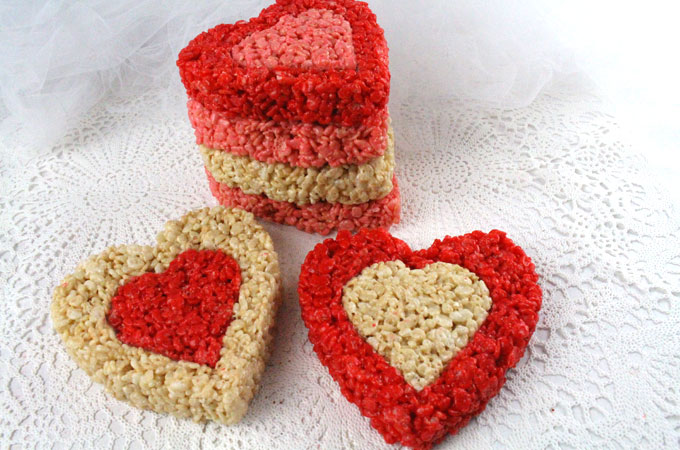 Rice Krispie Treats are great.  They are easy to make, taste great, and can be molded into any shape imaginable.  For Valentine's Day, Nancy and I put together these fun Rice Krispie Treat Valentines.  They are the perfect treat to package up and give to your best guy, your best friend, or your best teacher.
How to make Rice Krispie Treat Valentines
You will need:
Kellogg's Rice Krispie Cereal
Mini Marshmallows
Butter (Sweet Cream, Salted)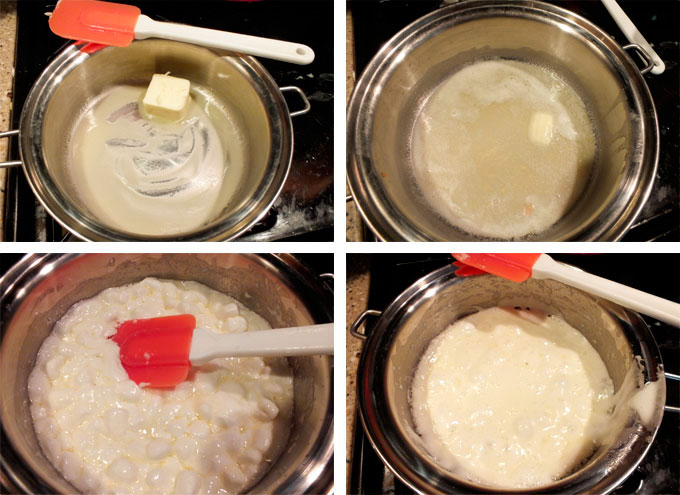 For each color batch of Rice Krispie Treat Valentines you will need 3 tablespoons of butter, 3 cups of marshmallows and 3 cups of Rice Krispies Cereal.   Melt the butter in a large pan on medium heat.  Add the marshmallows and stir until melted.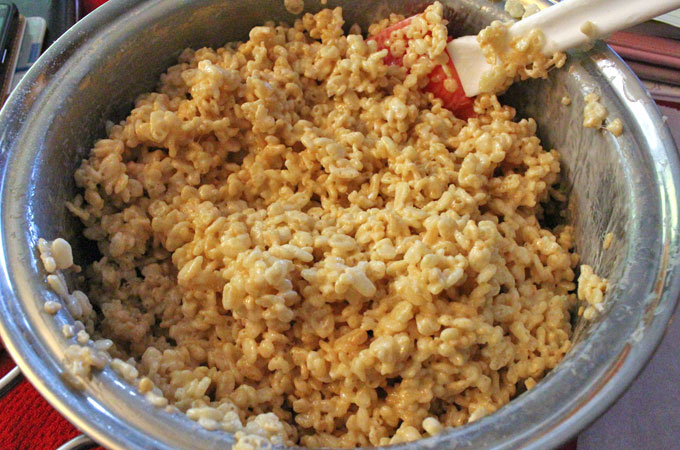 For the White Rice Krispie Treat Valentines, simply mix in the 3 cups of Rice Krispie Cereal to the  marshmallow mixture without adding any food coloring.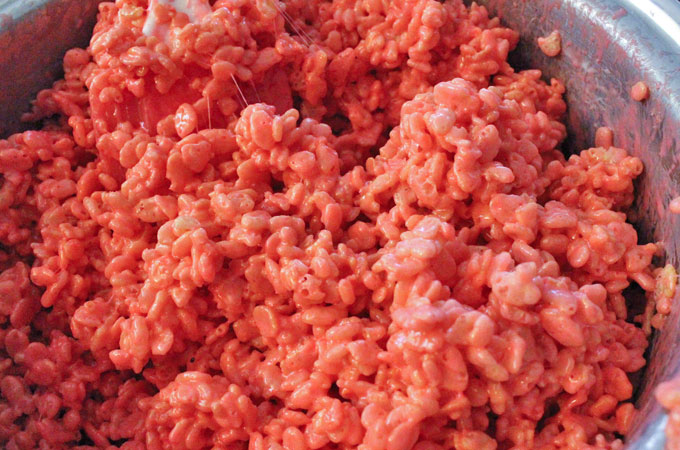 For the Pink Rice Krispie Treat Valentines add 1 drop of Americolor Super Red Food Coloring to the marshmallow mixture BEFORE you add in the Rice Krispie Cereal. Then mix in the cereal until it is completely covered with marshmallow mixture.
For the Red Rice Krispie Treat Valentines, add 8-10 drops of Americolor Super Red Food Coloring to the marshmallow mixture before you add the Rice Krispie cereal.
We used two sizes of a Heart Cookie Cutter.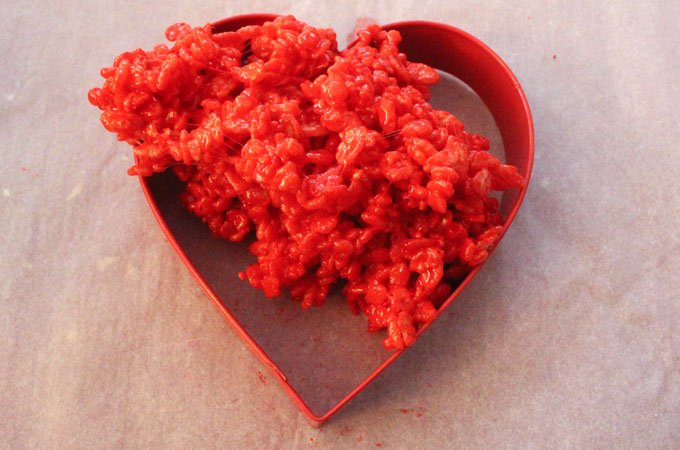 We made one color of the Rice Krispie Treat mixture at a time because you don't want the mixture to cool too much while you are making the Hearts.  Once the mixture had cooled enough so we could handle it without burning our fingers we started filling the cookie cutters to form hearts.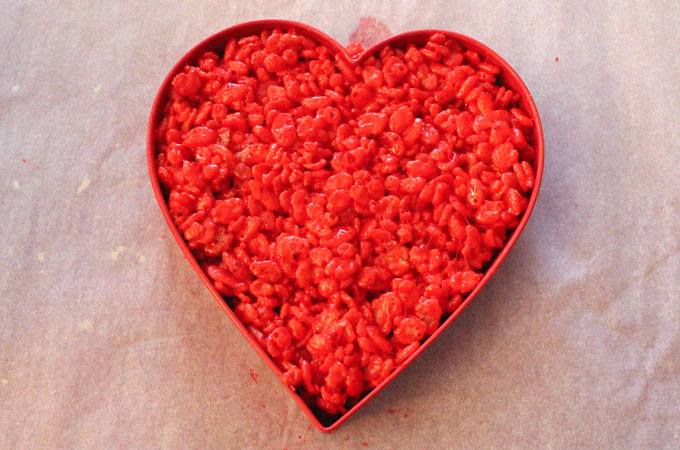 I like molding the mixture into the cookie cutters this way instead of making a sheet of Rice Krispie Treats and cutting out the hearts like a traditional cookie. You will have smoother and prettier edges this way.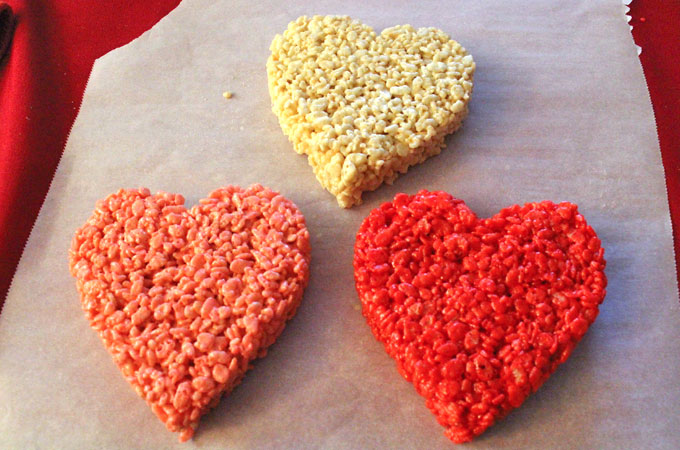 Then pop the treat out of the cookie cutter and make another one.  Super easy!
Using the smaller heart cookie cutter, make a heart cut-out in the middle of the large heart Rice Krispie Treats.
Now switch the cut-outs.  The Rice Krispie Treat Valentines are sticky from the marshmallows so you will be able to push the shapes back together.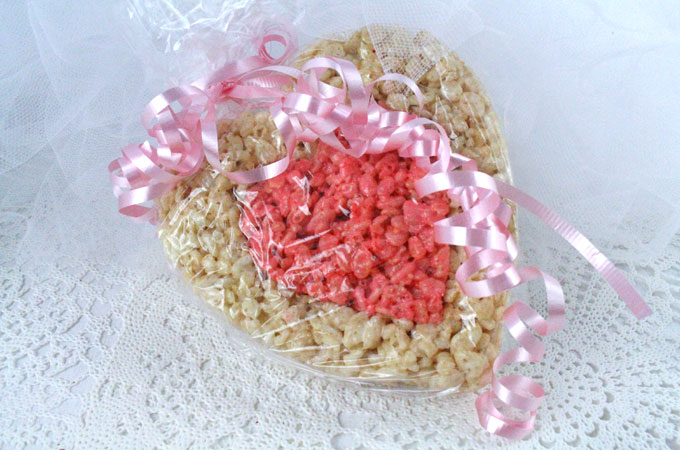 Wrap the Rice Krispie Treat Valentines with plastic wrap and add a pretty ribbon. They are now ready to give to your personal valentine!
Our Rice Krispie Treat Valentines are fun and delicious.  You family will love them.  They'd even be a fun Valentine's gift for your kids' teachers.  Or you might just want one for yourself!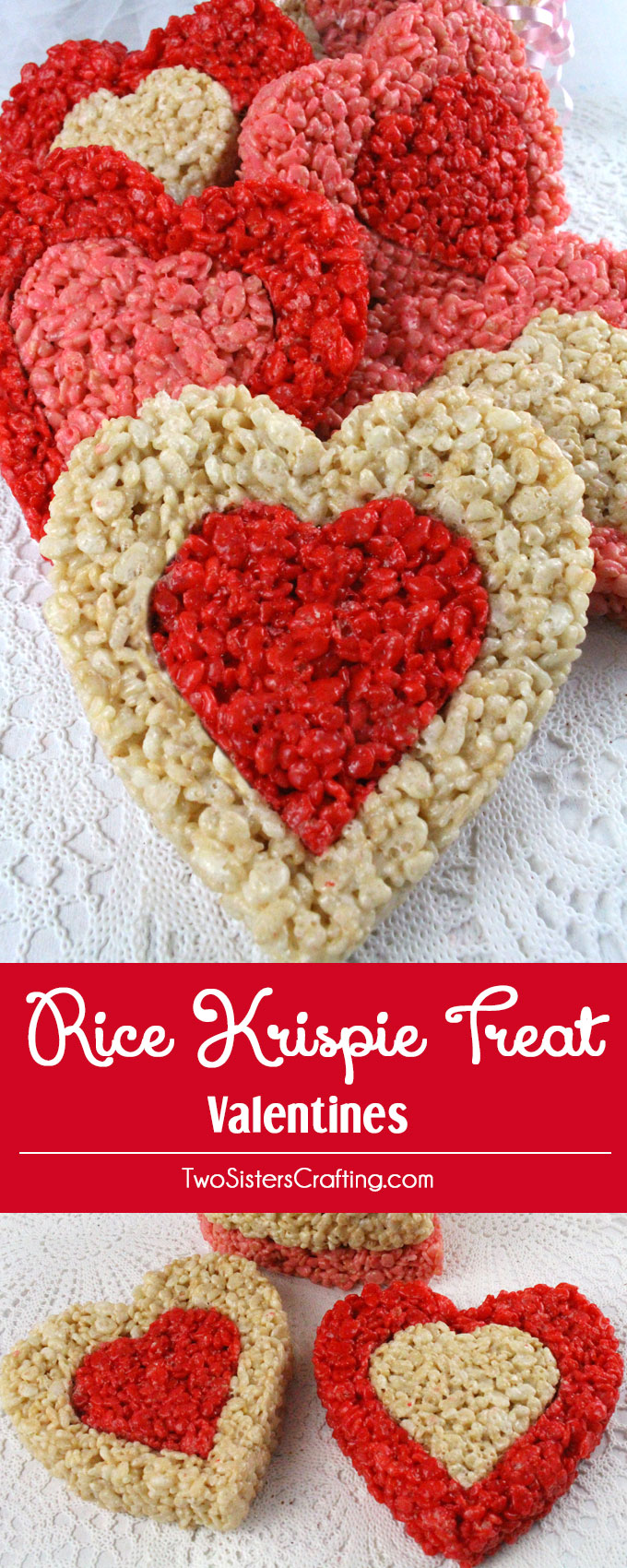 **This post contains affiliate links but we only recommend products that we actually used and liked. Thanks for supporting Two Sisters!