When we originally started thinking about doing a jar dessert for 4th of July, we were talking about doing Strawberry Shortcake in a Jar. Luckily, we did a dry run because it did not turn out well. It tasted good, but the whipped cream did not last very long in the jar. We would have had to prepare it right before serving it for it to look good. The beauty about doing something in a jar is that you can prepare it the day before, stick it in the refrigerator, and forget about it until the day of the event. So since Strawberry Shortcake didn't work out, we decided to do a Red White and Blue Cupcake in a Jar. This turned out much much better. Very patriotic and yummy.

How to Make a Red White and Blue Cupcake in a Jar
You will need:
2 boxes of White Cake Mix
We think the cake looks best in the Mason Jar when it  is crumbled up a bit so instead of starting with cupcakes we bake the cake batter in a cookie sheet.  We made red and blue cakes by mixing Americolor Super Red and Americolor Royal Blue Food Coloring into the individual cake batters. As you can see in the picture above we lined the cookie sheet with parchment paper before we baked the cake.  This really helped keep the edges of the cake from browning.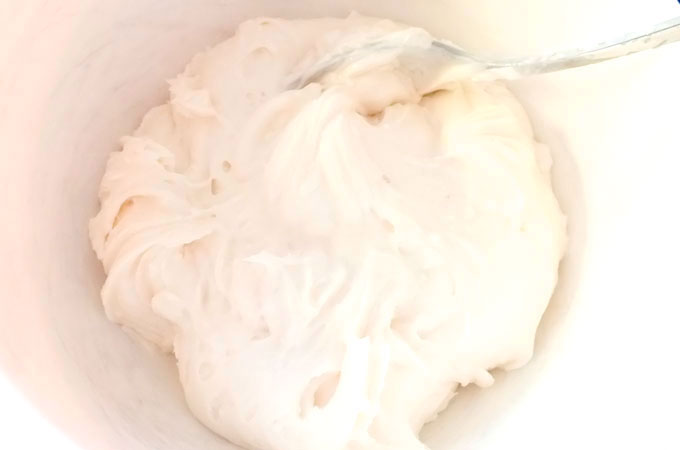 Next we made a batch of our Best Buttercream Frosting.  You can find the detailed directions on how to make this delicious frosting here.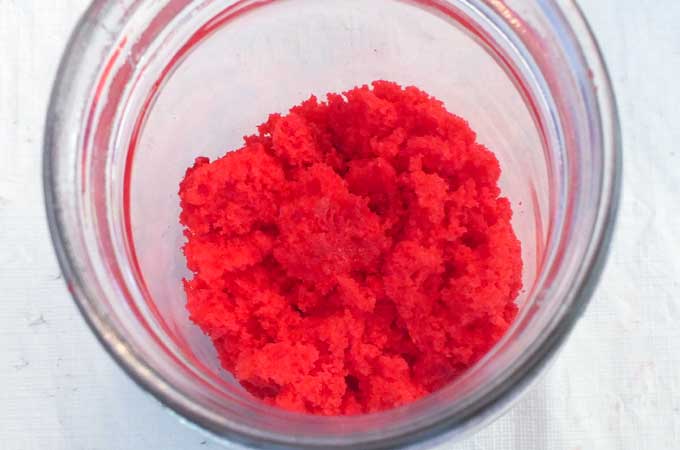 We used one pint Mason Jars for our Red White and Blue Cupcake in a Jar.  You can get them everywhere now … craft stores, grocery stores, big box stores. We got these a Walmart.  We like them because they don't have a lot of writing on them.  Start by adding a layer of red cake pieces on the bottom of the Mason Jar.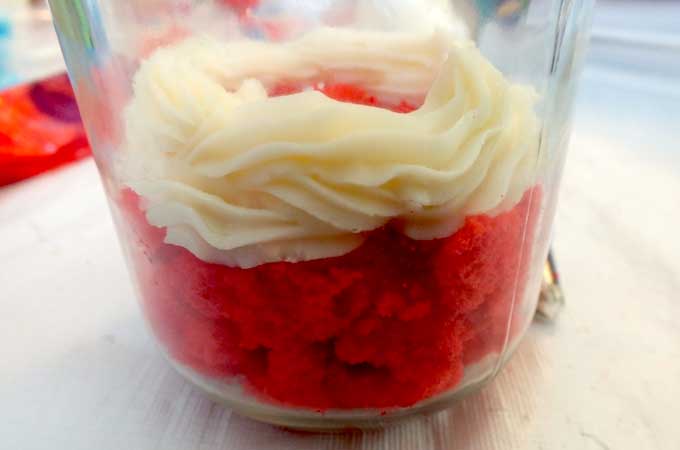 Then add a layer of the green best buttercream frosting.  We used a Wilson 2D decorating tip to get a little swirl in the frosting.   You don't need to completely cover the whole layer of cake. A circle of frosting around the edge of the jar is fine.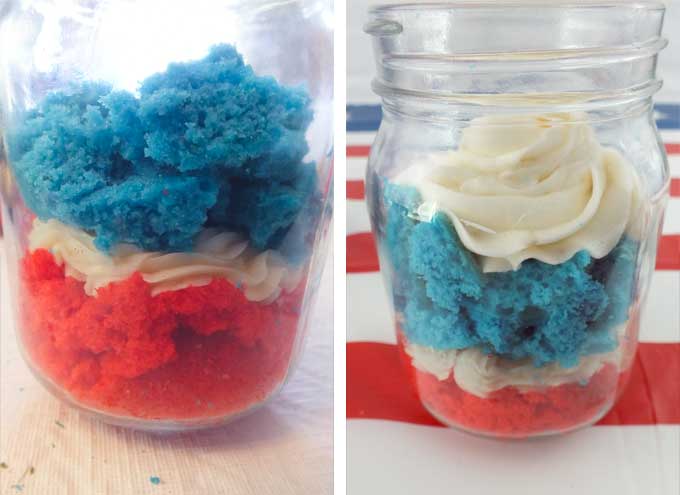 Add a layer of blue cake and then for the final layer of frosting, add a little swirl!
These Red White and Blue Cupcakes in a Jar are perfect for a 4th of July or Memorial Day Party, Picnic or BBQ because not only did they taste delicious but they are an unique take on cupcakes and very easy to make.  Your friends will be very impressed!
P.S. Let's stay in touch!  If you liked our Red, White and Blue Cupcake in a Jar post, [thrive_2step id='10744′]click here to sign up for our Email Newsletter![/thrive_2step]
Or follow us on Pinterest, Facebook and Instagram!
More great 4th of July Recipes …
If you want to stay up-to-date on all our 4th of July Food posts, Follow Two Sisters Crafting on Pinterest!
Follow Two Sisters Crafting's 4th of July Food Board on Pinterest.