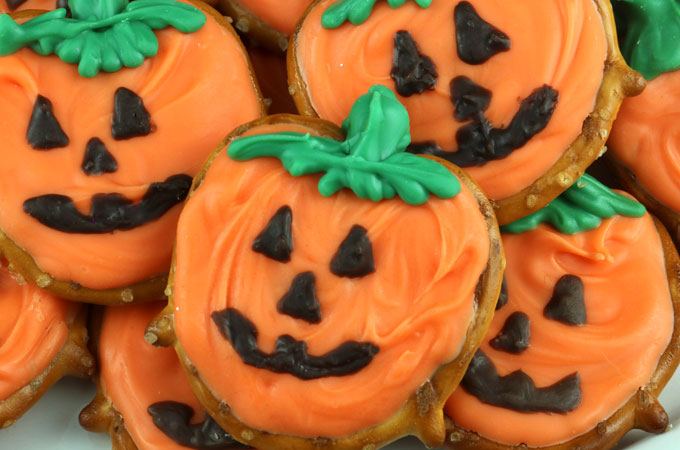 Pretzel Bites are a great holiday snack.  We always say they are sweet, salty and delicious and truer words were never spoken.  Here we have turned this fun treat into an adorable Jack O' Lantern.  We think these easy to make Pumpkin Pretzels are going to be a big hit at this year's Halloween Party.


How to Make Pumpkin Pretzels
You will need: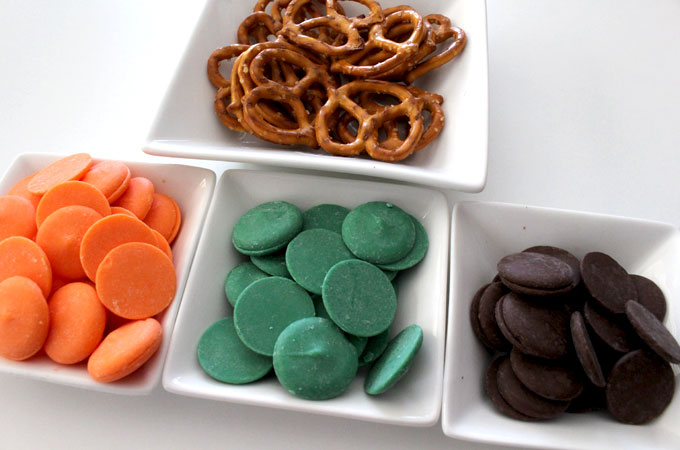 Our Pumpkin Pretzels are made with Pretzels and Candy Melts.  You will need three colors of Wilton Candy melts to make this fun Halloween treat.  Orange for the pumpkin. Green for the Pumpkin stem and chocolate for the pumpkin face.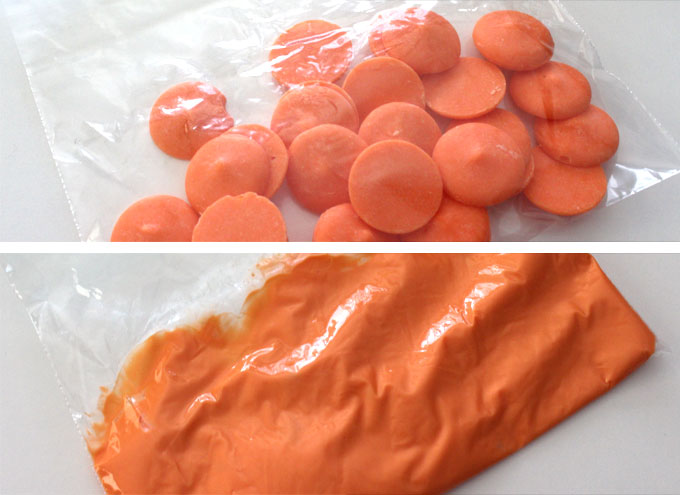 Place 25-30 orange Candy Melts in a sandwich bag. Melt the candy melts in the microwave.  Start with 30 seconds, open the microwave and then check the candy melts. Massage the melts around in the bag. Then continue to melt at 10 second intervals until they are all completely melted.  Don't melt all three of the colors at once.  Start with the orange, you will need that first.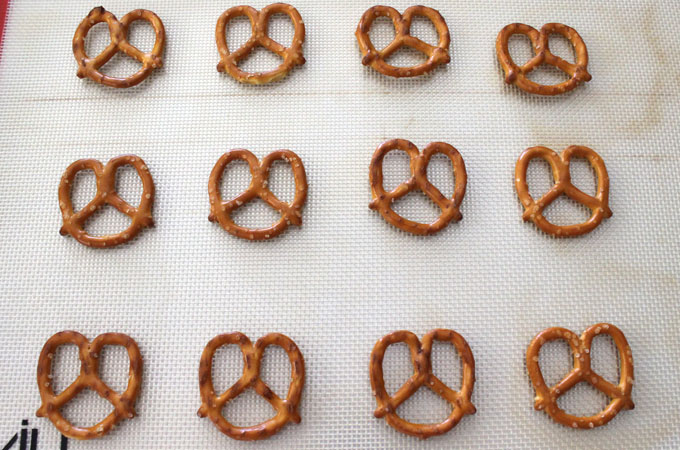 Lay out the mini pretzels on a piece of foil, parchment paper or a silpat liner.  We used Rold Gold Tiny Twists for our Pumpkin Pretzels, they are a little bigger than the other mini pretzels we saw at our grocery store and we liked that.  But this decorating technique will work with any sized pretzel twist.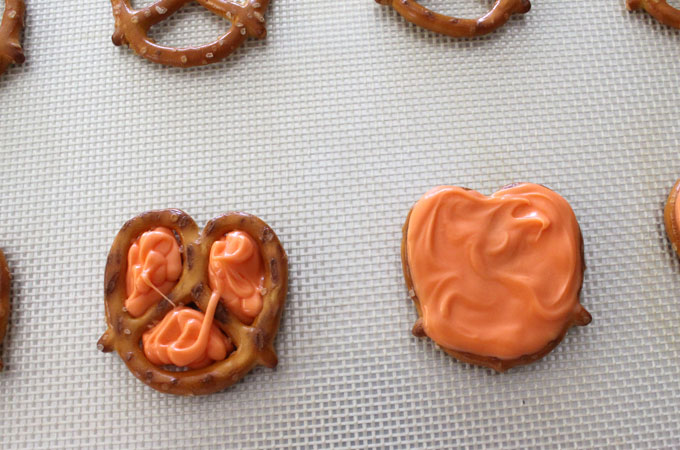 Snip off a very tiny piece on one of the bottom corners of the plastic sandwich bag.  First, squeeze the melted orange candy melt mixture into the holes of the pretzel.  After those are filled, cover the full top area of the pretzel as shown in the picture above.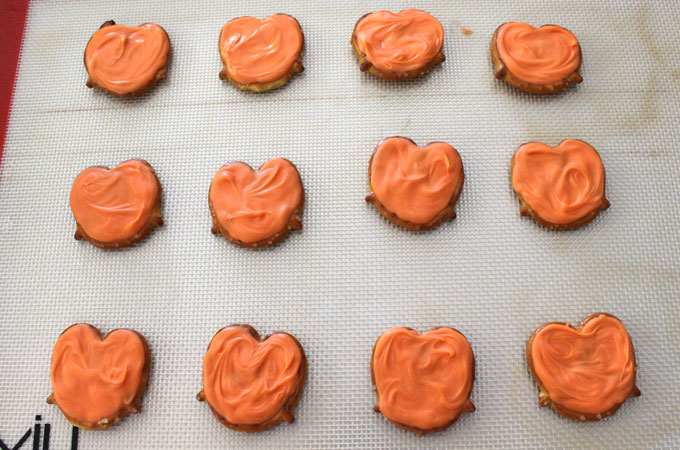 We worked assembly line style.  We created all the Pumpkins and allowed them to dry before moving on to the next step.  If you work on a foiled covered cookie sheet, you can place the cookie sheet with the pretzel bites in the refrigerator for 5 minutes to speed up the hardening process.
Now melt the green candy melts.  You will use those for the Pumpkin stem.  Snip of a tiny corner of the sandwich bag and squeeze and create a pumpkin stem on the cookie sheet at the top of the pretzel.  Once you have created the stem, add some leaves to the top of the pretzel.  When the candy melt mixture hardens the stem will be fused to the pretzel bite. Allow this candy to cool and harden before moving on.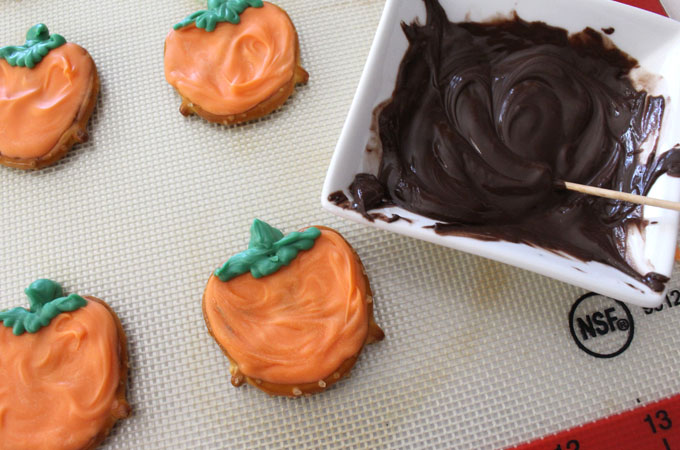 Finally melt some Dark Cocoa Candy Melts or a handful of chocolate chips in a small bowl.  You'll use this to draw on the pumpkin face.  You'll also need a toothpick.
Using a toothpick, draw on a pumpkin face.  We made triangle eyes, nose and a smiling mouth.  Easy peasy. The kids will love helping with this part.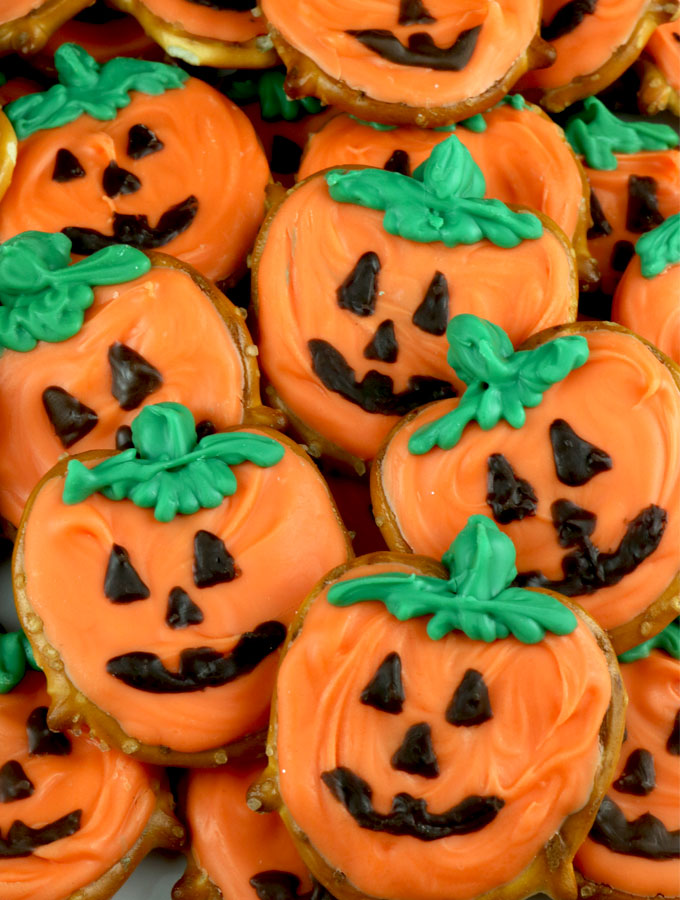 Sweet, salty, crunchy and look at that cute Jack O' Lantern face!  These Pumpkin Pretzels will be a big hit at your Halloween Party this year.

P.S. Let's stay in touch!  If you liked our Oreo Cookie Cups with Marshmallow Creme post, [thrive_2step id='10744′]click here to sign up for our Email Newsletter![/thrive_2step]
Or follow us on Pinterest, Facebook and Instagram!
**This post contains affiliate links but we only recommend products that we actually used and liked. Thanks for supporting Two Sisters Crafting!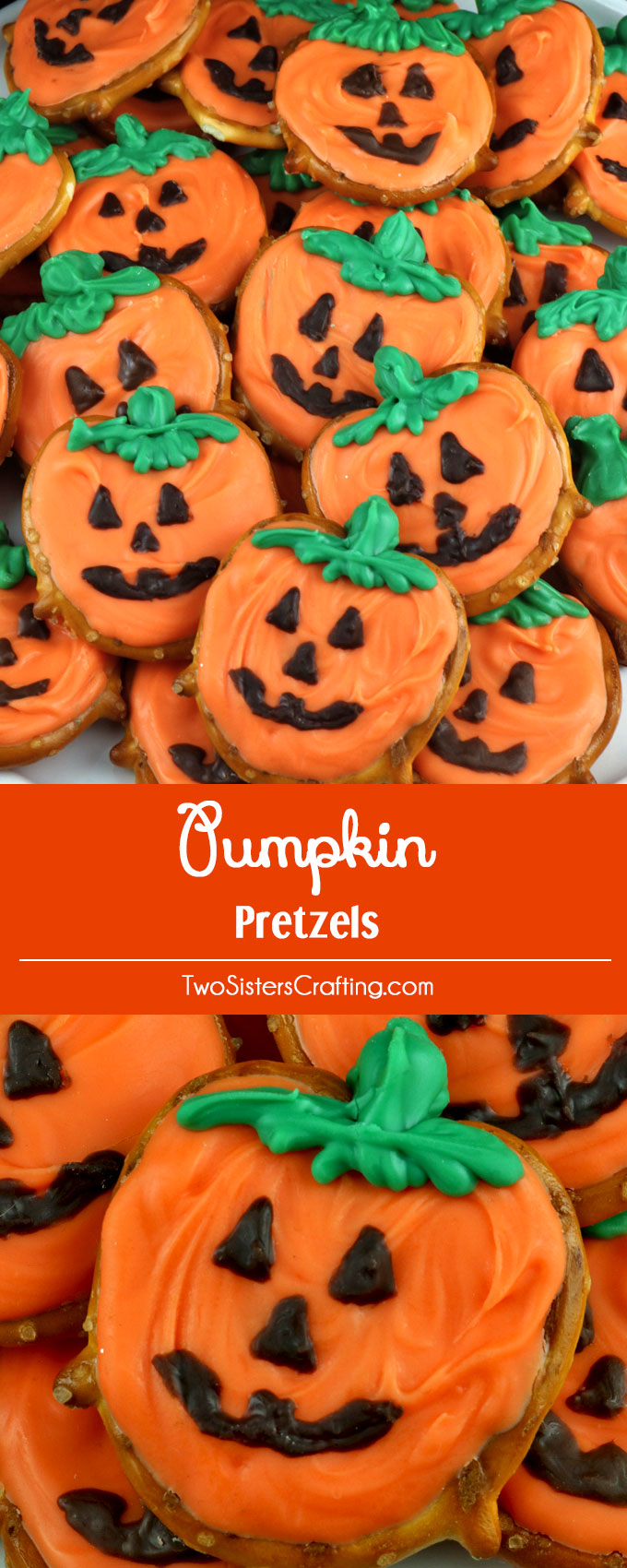 More Fun Halloween Recipes …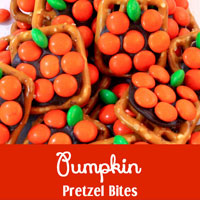 If you want to stay up-to-date on all our Halloween posts, Follow Two Sisters Crafting on Pinterest!
Follow Two Sisters Crafting's Halloween Food board on Pinterest.