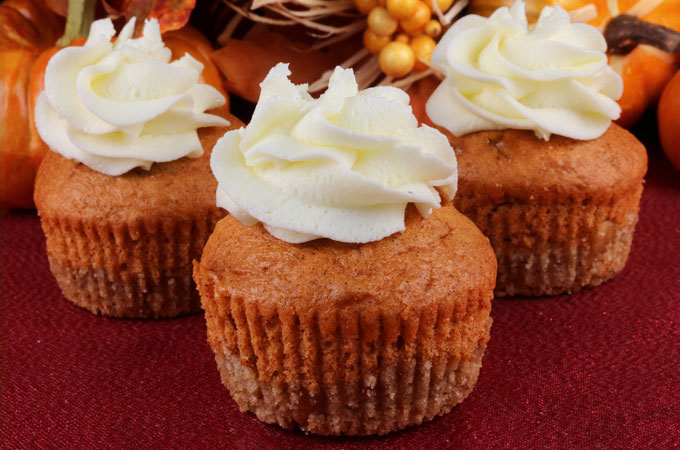 I don't like pie.  There, I've said it!  I can't believe that I'm the only one.  But maybe I am.   For sure I'm always begging my family to include an alternative Thanksgiving dessert on the menu – Pumpkin Spice Cookies, Pumpkin Mini Cakes even Fall Leaves Rice Krispie Treats.  This year I think we have come up with the Thanksgiving dessert that I am going to request every single year from now on … Pumpkin Pie Cupcakes! Boy are they delicious …layers of Nilla Wafer "crust" and delicious pumpkin spice cake topped with our amazing Best Whipped Cream Frosting.   Yum, yum, yum!!!
How to make Pumpkin Pie Cupcakes
You will need:
To make the "crust" for our Pumpkin Pie Cupcakes you will need about 30 Nilla Wafers, 3 tablespoons of sugar and 3 tablespoons of butter.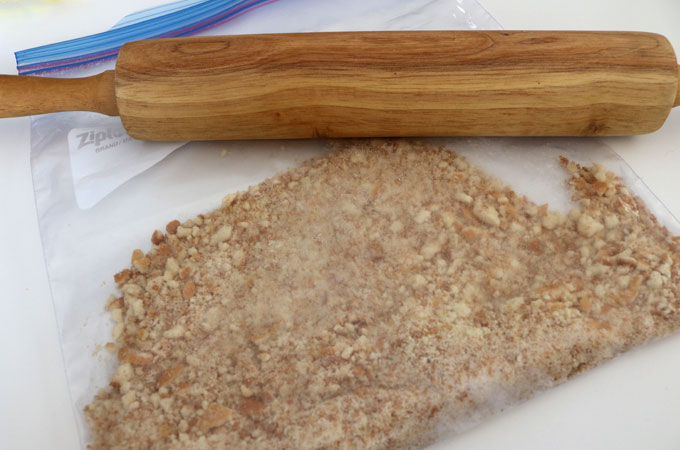 Put approximately 30 Nilla Wafers in a large plastic bag.  Crush them with a rolling pin. You want a coarse crush – not too fine.  That is why we didn't crush them in a food processor. Melt the butter in the microwave and then add the butter and the sugar into the bag.  Mix thoroughly until the Nilla Wafers are coated with the butter.
Add a heaping tablespoon of the Nilla Wafer mixture to each cupcake liner.
Use a spoon or your fingers to firmly press down the Nilla Wafer mixture into the bottom of the  cupcake liner.  You want the crust to take up about 1/4 of the liner.

The cake layer of our Pumpkin Pie Cupcakes was made with this Pillsbury Perfectly Pumpkin Cake mix.  It tastes great and bakes up into a yummy and moist cake.  Make up the cake batter as instructed on the cake box with the following additions:
Add 1 teaspoon of Cinnamon
Add 1/2 teaspoon of Pumpkin Pie Spice
Add 6 drips of Orange food coloring
Fill the cupcake liner with the cake batter until it is 3/4 full (as shown above.)
Bake the cupcakes as you normally would, 15-20 minutes in a 350 degree oven.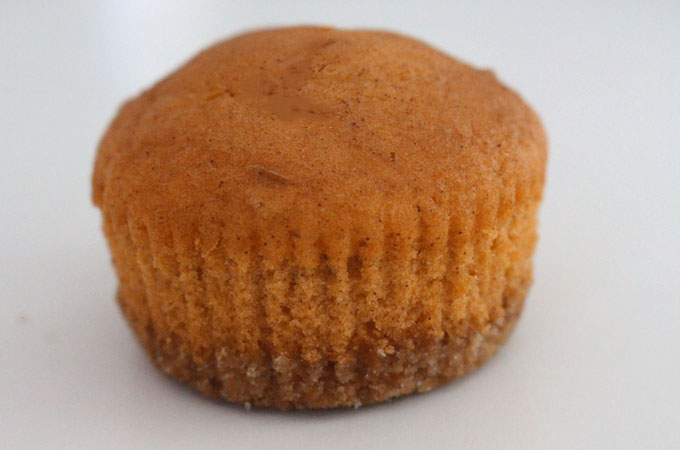 This is what the Pumpkin Pie Cupcakes look like fresh out of the oven.  The crust and the cupcake have fused together — so pretty and so delicious!
We topped our Pumpkin Pie Cupcakes with our super delicious Best Whipped Cream Frosting. It tastes just like whipped cream but has the consistency of frosting.  This light and not too sweet frosting is perfect for these cupcakes.  You can find the recipe and detailed instructions for making this frosting right here.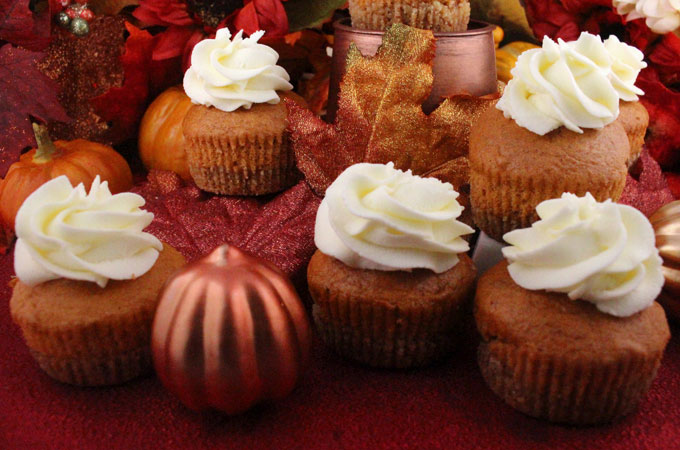 Frost the cupcakes as you normally would and store them in an airtight container in the refrigerator.  Leave the cupcakes liners on so the cake doesn't dry out but we suggest that you remove the liner before you display these beautiful cupcakes on your Thanksgiving dessert table.  The cupcakes taste best at room temperature so we suggest that you take them out of the refrigerator a couple of hours before you serve them.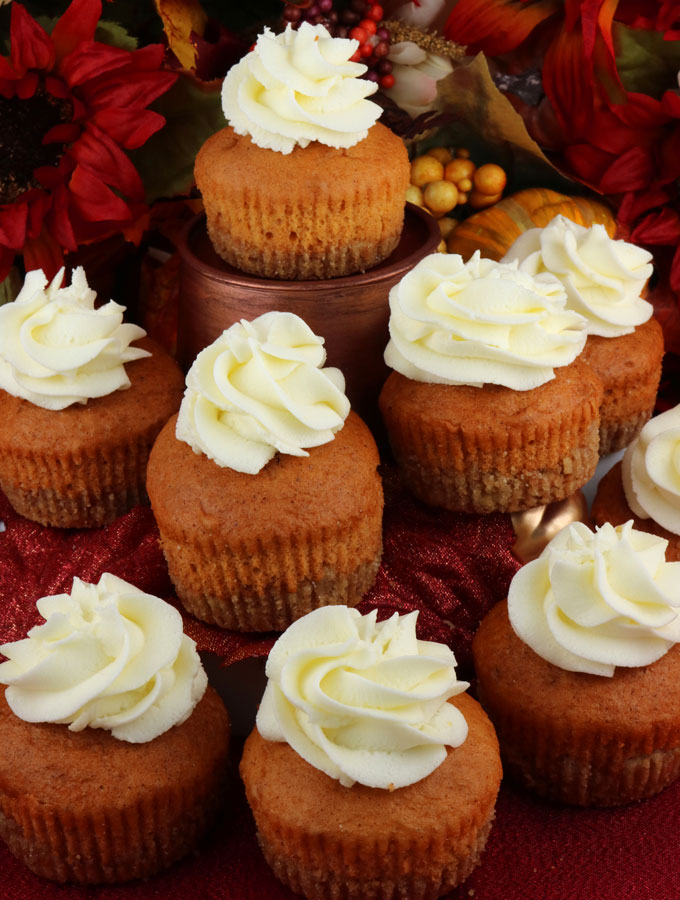 These Pumpkin Pie Cupcakes are so very good. The buttery Nilla Wafer bottom is such a great addition to the yummy pumpkin cupcake.  And the light and delicious Whipped Cream frosting is the perfect topping for this unique cupcake that would be great at Halloween, Fall, Thanksgiving, Christmas  or anytime you have a hankering for pumpkin that isn't served up in a pie!

P.S. Let's stay in touch!  If you liked our Pumpkin Pie Cupcakes post, [thrive_2step id='10744′]click here to sign up for our Email Newsletter![/thrive_2step]
Or follow us on Pinterest, Facebook and Instagram!
**This post contains affiliate links but we only recommend products that we actually used and liked. Thanks for supporting Two Sisters Crafting!
Pumpkin Pie Cupcakes
Author:
Two Sisters Crafting
Ingredients
30 Nilla Wafers
3 tablespoons Sugar
3 tablespoons Butter (melted)
1 Box Pillsbury Perfectly Pumpkin Cake Mix
6 drops Orange Wilton Color Right Food Coloring
1 teaspoon Cinnamon
¼ teaspoon Pumpkin Pie Spice
Instructions
Crust
Crush 30 Nilla Wafers in a plastic bag
Add sugar and melted butter to bag and mix.
Pour 1 tbsp of Nilla Wafer mixture in each cupcake liner. Press firmly into the bottom of the liner.
Cake
Make cake batter according to the box.
Add 1 tsp. cinnamon to batter.
Add ¼ Pumpkin Pie Spice to the batter.
Add 6 drops of Orange Food coloring to the batter.
Pour cake batter into the cupcake liners over the Nilla Wafer crust mixture. Do not fill to the top of the cupcake liner.
Bake in a 350 degree over for 15-18 minutes.
Frosting
Top the cupcakes with our Best Whipped Cream Frosting.
More Fun Thanksgiving Recipes …
If you want to stay up-to-date on all our Thanksgiving posts, Follow Two Sisters Crafting on Pinterest!
Follow Two Sisters Crafting's Thanksgiving board on Pinterest.