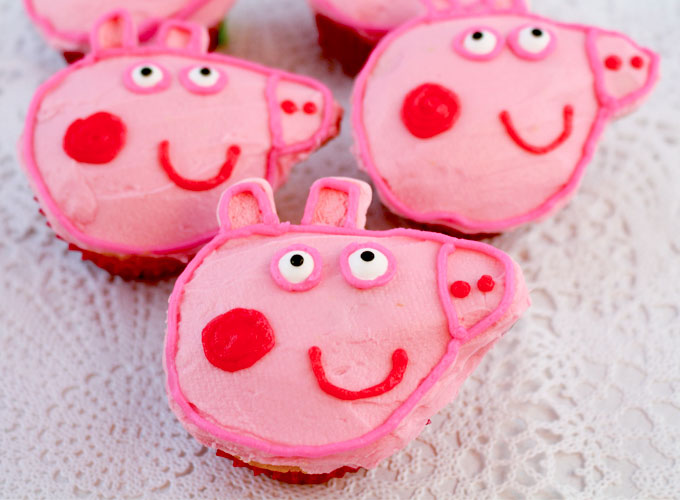 I have a bit of a reputation with my friends for being a baker. Whenever we get together I always bring dessert. Much to my chagrin, no one ever asks me to bake anything for their parties, so when my friend asked me to make cupcakes for her daughter's third birthday, I was all over it. Her daughter is a girlie girl so I was really looking forward to some a princess party. When I found out it was Peppa Pig, I was flummoxed. I went to my favorite site Pinterest to see what was out there. I am sad to report there is not a lot. Laurie and I got together and dissected Peppa (figuratively of course) to figured out how to go about making Peppa Pig Cupcakes. I think they turned out so cute, and the best part was they pretty easy to make.
You will need:
Cupcakes
Pink Cupcake Liners
Americolor Deep Pink Food Coloring
Milano Minis Cookies
Wilton Candy Eyeballs
Pink Marshmallows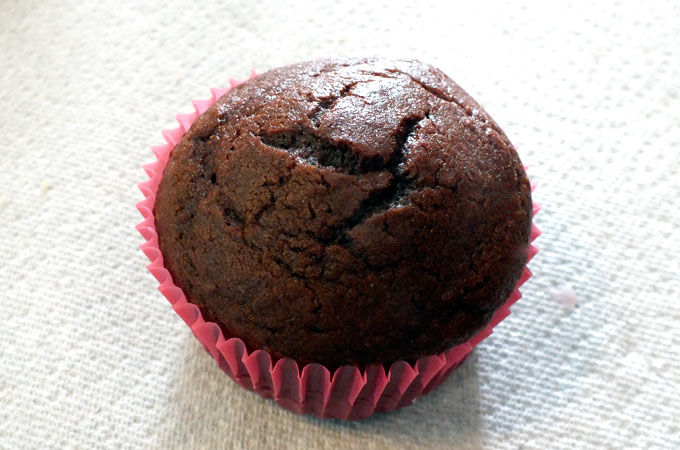 We made cupcakes using a standard box cake. For this party we made both chocolate and yellow cupcakes.  We used dark pink cupcake liners to represent Peppa's dress.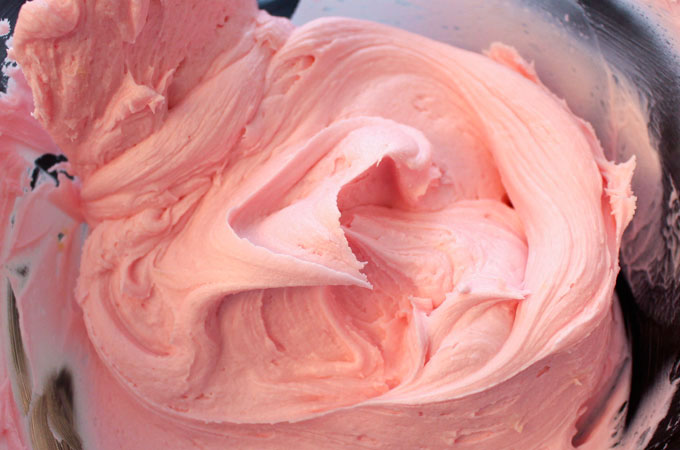 Next you will need to prepare some of our Best Buttercream Frosting (you will find the recipe and detailed directions here).  Separate the frosting into three bowls.  The first bowl will be for covering the cupcakes so you will need more of this color than the other two.  Use 1 to 1 1/2 drops of Americolor Deep Pink Food Coloring to color the frosting a very light pink.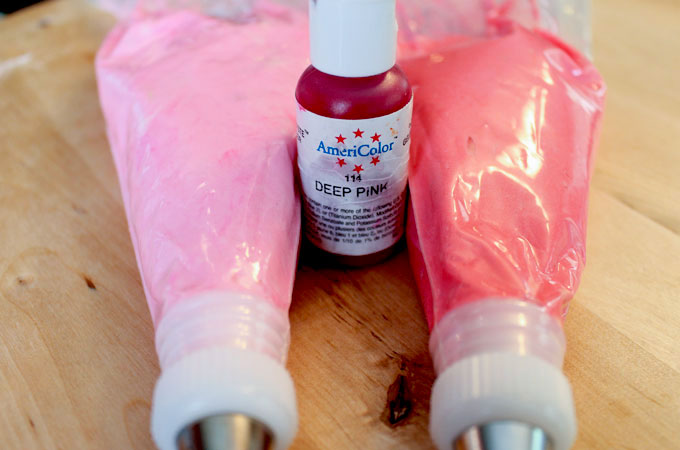 Now use the frosting in the other two bowls of frosting to create two darker shades of Peppa Pig Pink, we used Americolor Deep Pink Food Coloring in the following amounts:
Medium Pink (used to outline the Peppa Pig Cupcake) – 3 Drops of Deep Pink Food Coloring
Dark Pink (used for Peppa Pig's mouth, cheek and nose) – 5 Drops of Deep Pink Food Coloring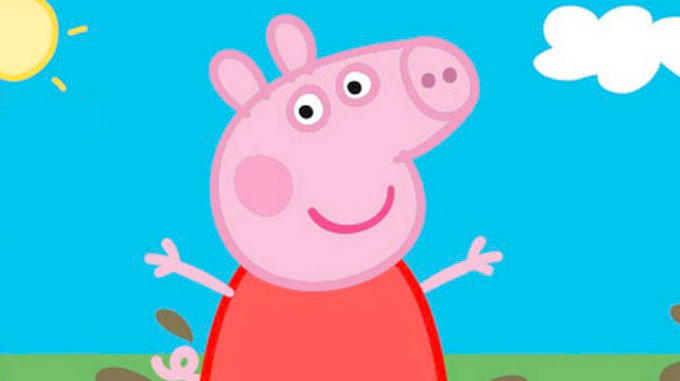 Here's the picture of Peppa Pig that we used as our inspiration.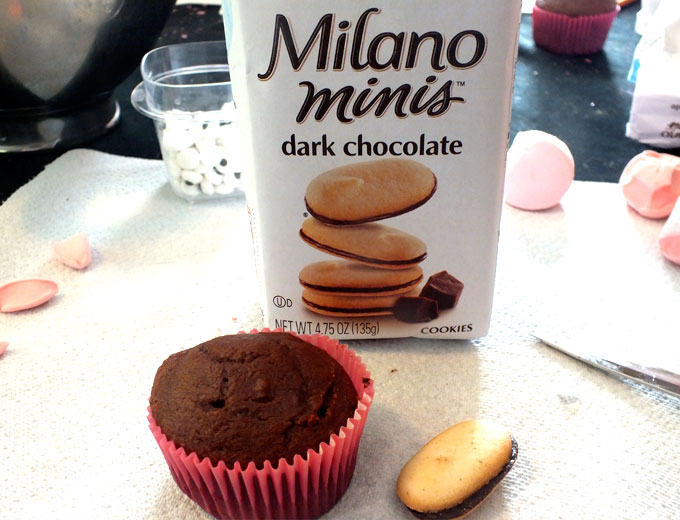 The Milano Minis are what we used to create Peppa's nose.  They are both yummy and the perfect size.
Once the cupcakes cooled, we cut a slit in it for the nose.
Two Sisters Tip:  before you put the cookie in the slit in the cupcake, frost that area of the cupcake.  It's too hard to do it after the cookie is already attached to the cupcake and you need the frosting underneath the cookie to prop it up.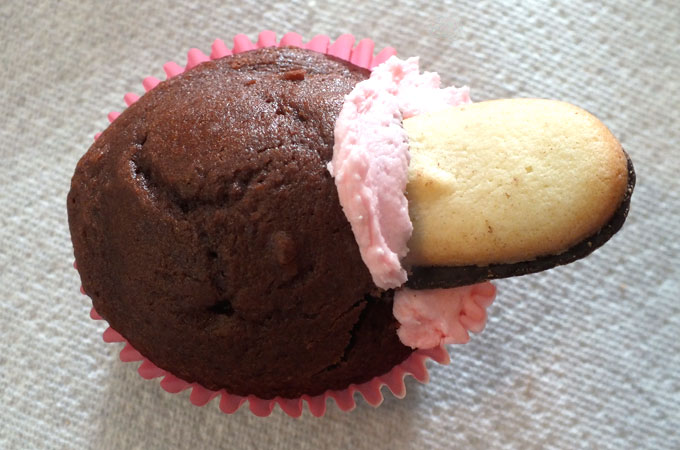 This is what the cupcake should look like after you have the Milano nose attached.
We slathered on a pretty good amount of light pink frosting over the whole cupcake.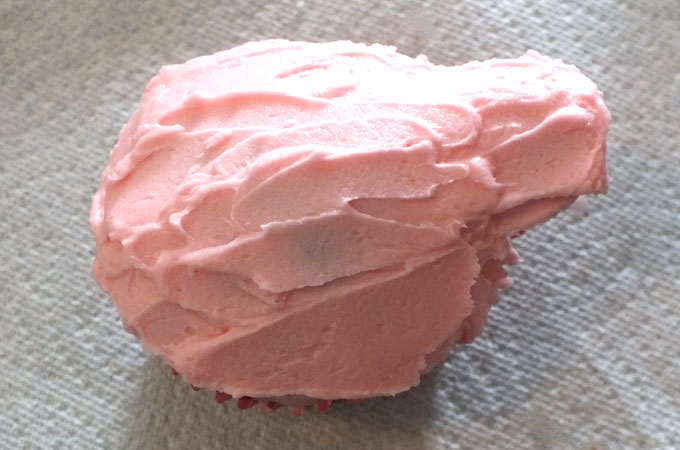 Then we smoothed the icing over the whole cupcake to even it out.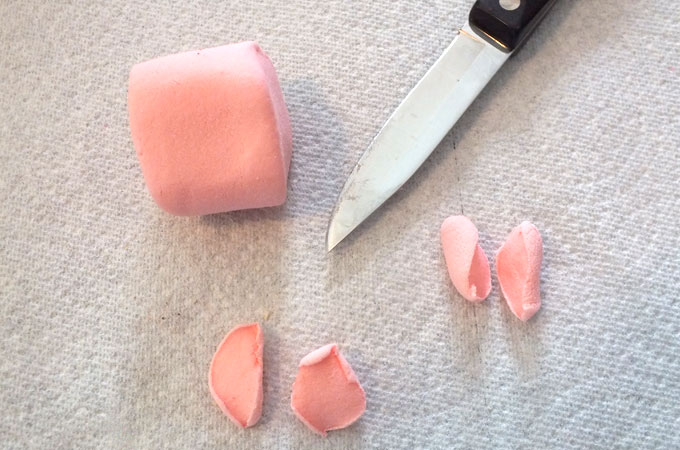 We were looking for the mini multi-color marshmallows to use as the ears, but we could only find BIG pink Marshmallows. We took the big marshmallow and cut off part to make the ear. They looked great.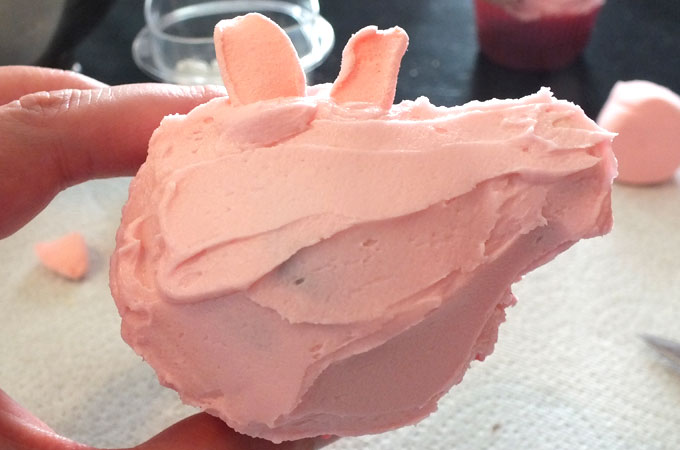 Stick the pink marshmallow ears into the frosting.
Now add the Wilton Candy Eyeballs.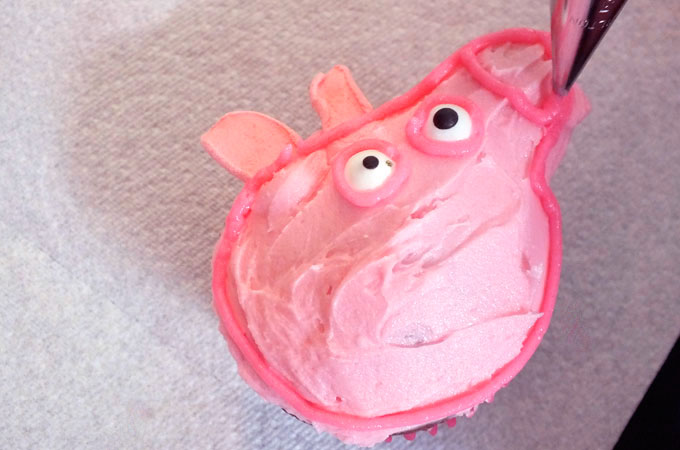 We took the medium pink frosting and put into a piping bag with a small Wilton #3 Decorating tip,  we outlined the entire face and around the eyes.
Finally, we used the dark pink frosting to make the smile, the blush on her cheek and her nostrils.
VOILA!!
A cupcake that is cute, delicious, easy to make and has a secret cookie inside?  Who wouldn't want to eat these Peppa Pig Cupcakes?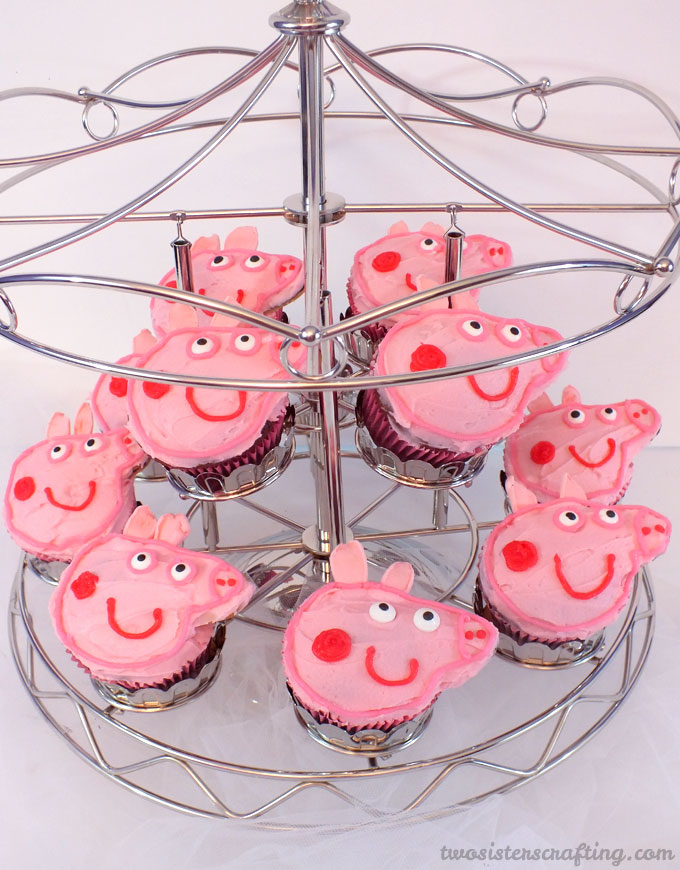 This Peppa Pig Cupcake is so adorable. The kids at your Peppa Pig Birthday Party will love them!

If you want to stay up-to-date on all our Peppa Pig Party posts, Follow Two Sisters Crafting on Pinterest!
Follow Two Sisters Crafting's board Peppa Pig Party Ideas on Pinterest.