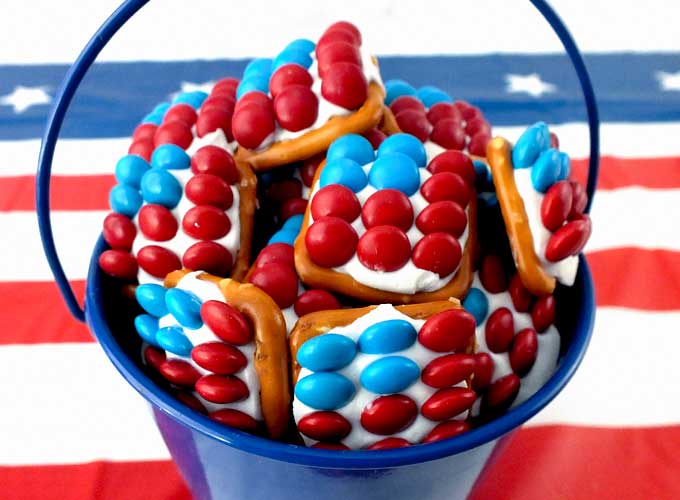 We love sweet and salty treats which I guess explains why we always seem to find a reason to make Pretzel Bites for parties and family get-togethers.  These Patriotic Pretzel Bites are our take on a 4th of July themed version of these delicious pretzel and chocolate snacks using Mini M&M's and Vanilla Candy Melts to create a yummy US Flag on each pretzel.

How to Make Patriotic Pretzel Bites
You will need:
Pretzel Snaps
Red & Blue Mini M&M's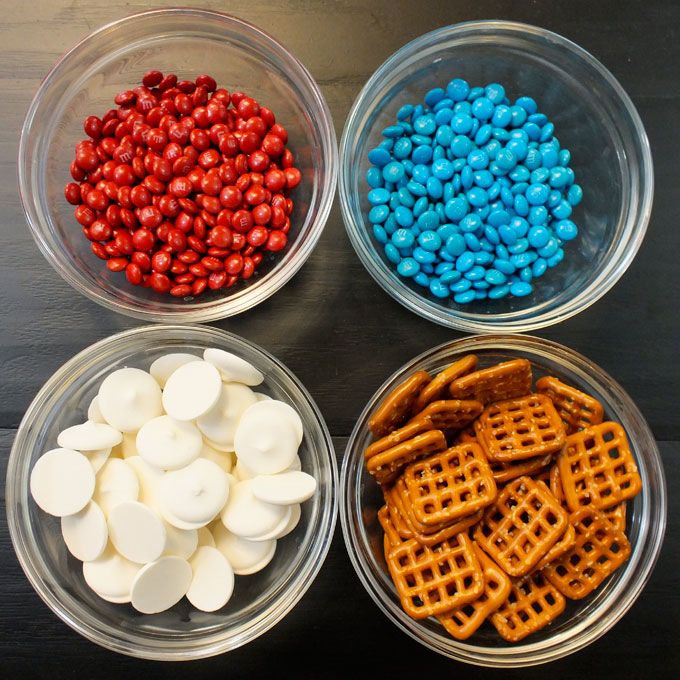 I always use Pretzel Snaps for these Pretzel Bites.  The square shape gives you a little more room to be creative with the candy topping while still remaining "bite" sized.  And I used Mini M&M's this time instead of the regular sized M&M's. There are plenty of red and blue candies in a single bag of Mini M&M's for a big batch of Patriotic Pretzel Bites.
Witon has Bright White Candy Melts now along with the traditional Ivory/White ones.  The Bright White worked really well for this project but still have that nice vanilla/white chocolate taste.  Place the Candy Melts on the Pretzel Snaps, bottom side up.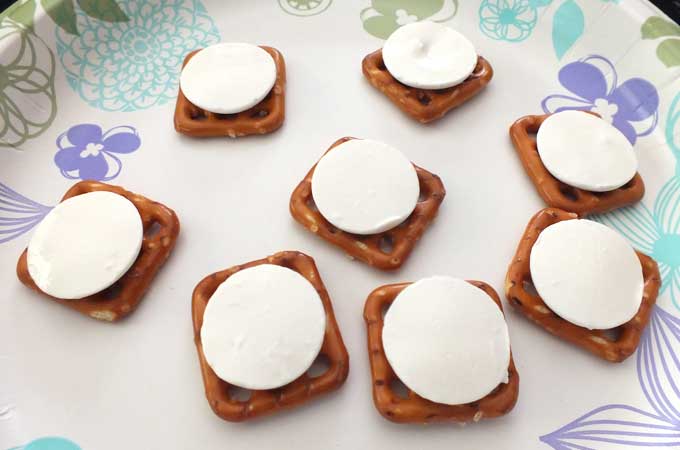 I melted the candy in the Microwave this time.  You can use the oven (around 200 degrees for 4-5 minutes) or the microwave (it was 15 seconds in my microwave) to soften the candy melts.
First I pressed two blue Mini M&M's into the softened white candy.  I didn't lay them flat but instead pushed them into the candy at kind of a 45 degree angle to create a row effect.  Finally, I added the Red Mini M&M's to create the red stripes on the flag.  I repeated that pattern in the second row and then I added to final rows of red M&M's.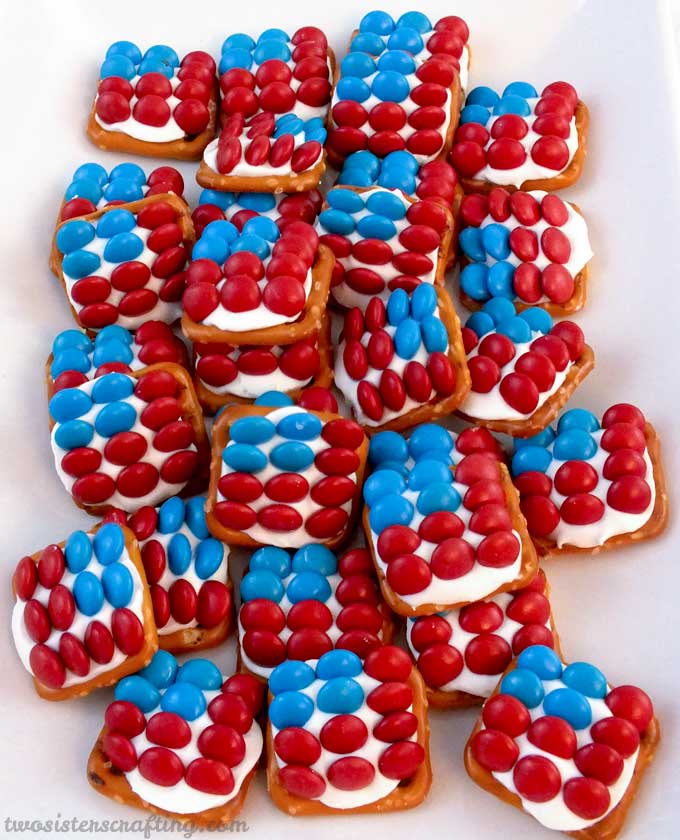 We really liked how these turned out and they taste good too!  These Mini M&M's are really delicious, even better than regular M&M's.  I have no idea how that it possible but it is definitely true.   This is also a good make ahead party item – both the pretzel and the M&M freeze up fine and still taste just as good after they are defrosted.  Happy 4th of July everyone!

P.S. Let's stay in touch!  If you liked our Patriotic Pretzel Bites post, [thrive_2step id='10744′]click here to sign up for our Email Newsletter![/thrive_2step]
Or follow us on Pinterest, Facebook and Instagram!

More great 4th of July Recipes …
If you want to stay up-to-date on all our 4th of July Food posts, Follow Two Sisters Crafting on Pinterest!
Follow Two Sisters Crafting's 4th of July Food Board on Pinterest.