We love our Monster Marshmallow Pops! You can't go wrong with a fun and spooky Halloween dessert that is so easy to make. And who doesn't love marshmallows covered with chocolate? They are going to be a great addition to our Halloween party dessert table.


How to Make Monster Marshmallow Pops
You will need:
Kraft SmoreMallows
Ghirardelli Dark Chocolate Melting Wafers or Chocolate Chips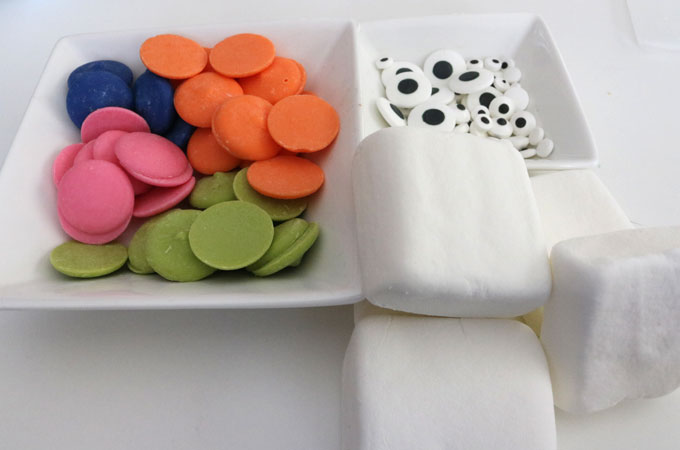 The first thing to too is grab yourself some Halloween colored Candy Melts. We used Orange, Vibrant Green and make Purple by combining Bright Pink and Royal Blue.  You'll also need a Wilton Candy Eyeballs.  You can find those on Amazon, at craft stores and at Target.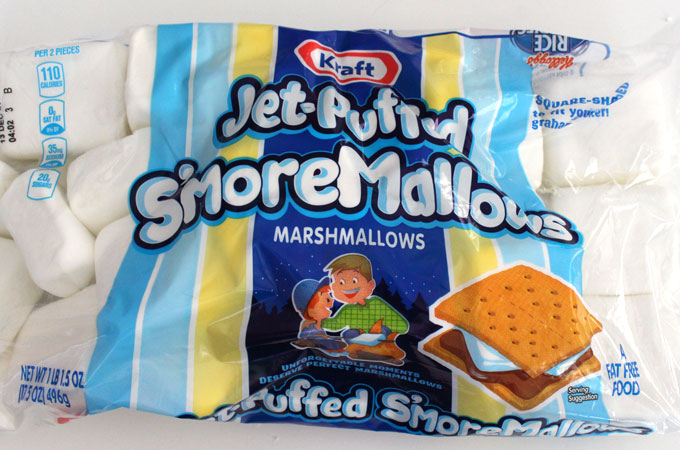 Our Marshmallow Pops are usually made with three regular Marshmallows but this time we tried something different.  We used these fun, square Kraft S'moreMallows.  They were the perfect size and shape for our Monster Marshmallow Pops.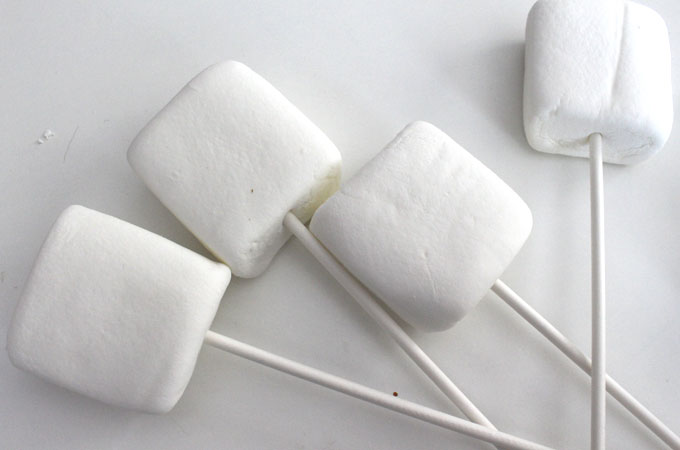 Place one S'moreMallow on each Lollipop Stick.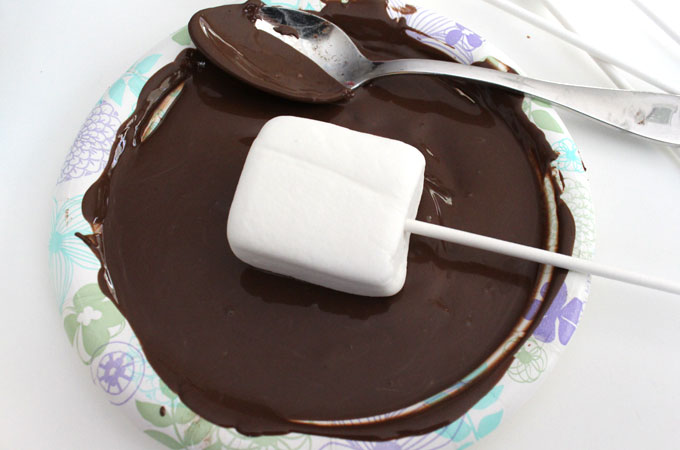 We put about 10-15 Ghirardelli Dark Chocolate Melting Wafers on a paper plate and microwaved them for 30 seconds, checked them, gave them a stir and then microwaved them for 10 seconds more. Stirred and then microwaved them for another 10 seconds.  Once they were almost completely melted we took them out gave them a final stir.  This amount of candy  melts covered 2 to 3 wands.
Then we used a spoon to help cover the marshmallow squares.  Allow the dark chocolate to dry before moving to the next step.

Melt 10-12 of one of your colored Candy Melts in a small bowl in the microwave.  Spoon the candy mixture onto the top half of the chocolate covered marshmallow.  Before the candy melt mixture hardens add a configuration of Candy Eyeballs to one side.  Allow the Candy Melt mixture to dry.
Monster Marshmallow Pops – spooky and yummy and fun to make.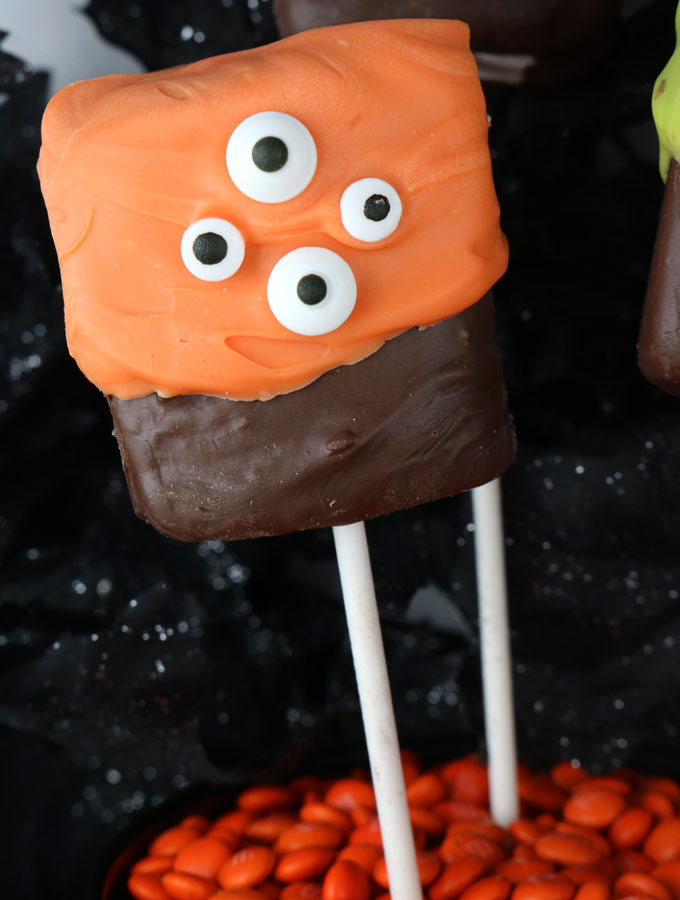 These Monster Marshmallow Pops would be great for a Halloween Party (especially a school party.)  Let the kids help out and make a batch of these this Halloween.
P.S. Let's stay in touch!  If you liked our Monster Marshmallow Pops post, [thrive_2step id='10744′]click here to sign up for our Email Newsletter![/thrive_2step]
Or follow us on Pinterest, Facebook and Instagram!
**This post contains affiliate links but we only recommend products that we actually used and liked. Thanks for supporting Two Sisters Crafting!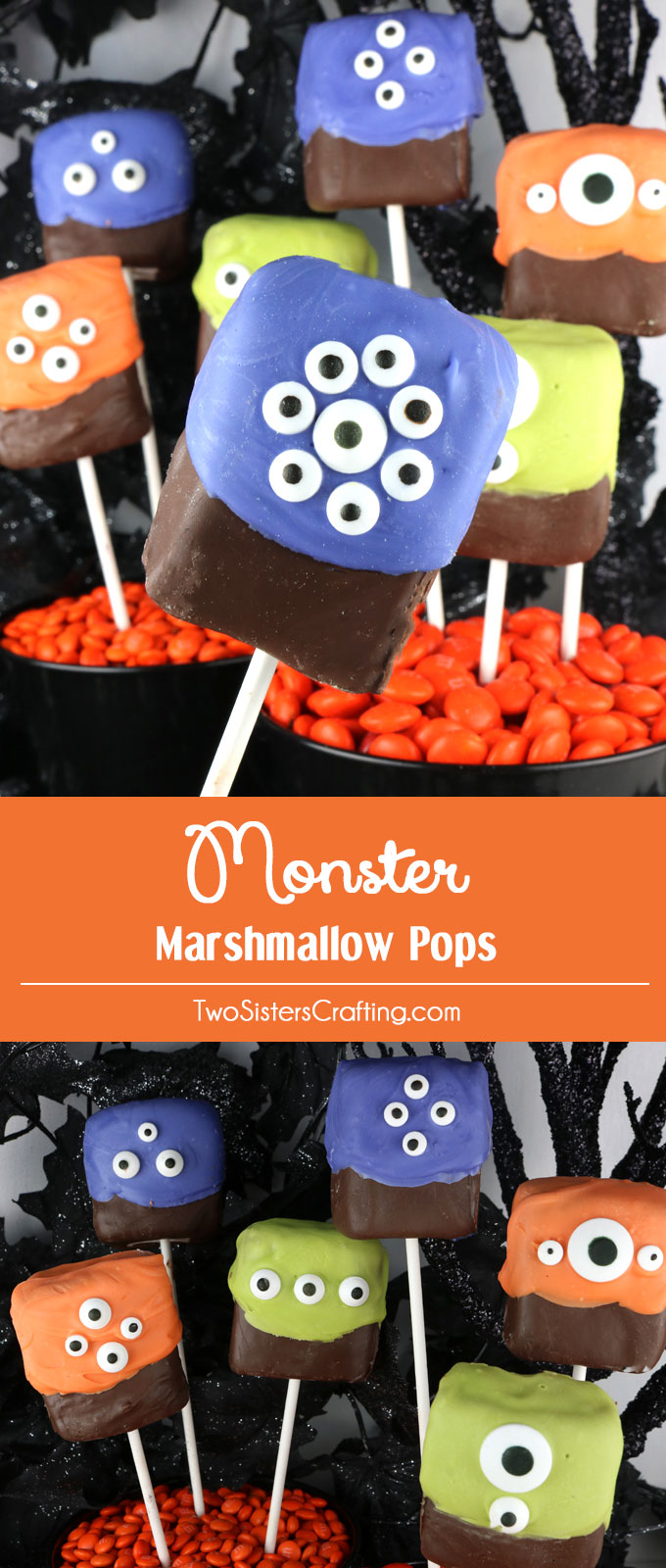 More Fun Halloween Recipes …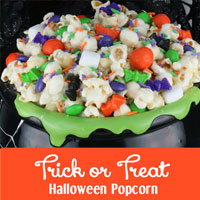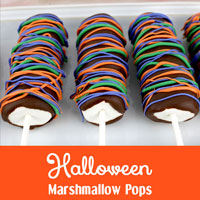 If you want to stay up-to-date on all our Halloween posts, Follow Two Sisters Crafting on Pinterest!
Follow Two Sisters Crafting's Halloween Food board on Pinterest.