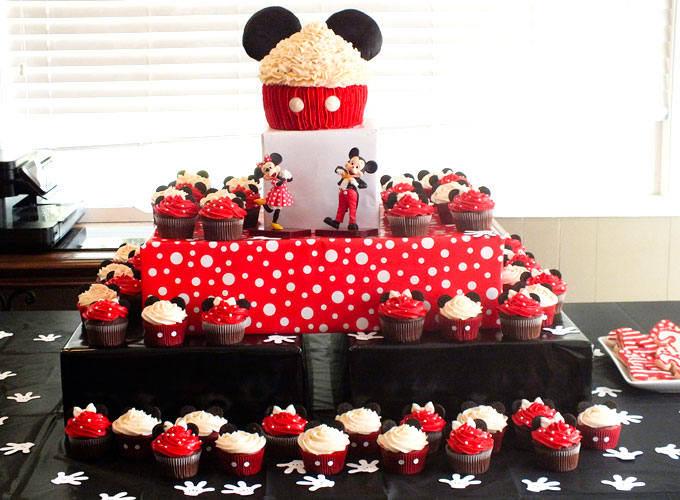 Coming up with a design for these Mickey & Minnie Mouse Cupcakes was the hardest part of planning the Mickey Mouse Party, but also what I think turned out the best.  We agonized for weeks about what we were going to do.  The cakes and cupcakes we found on Pinterest and other sites were super cute, but they were above our decorating level.  Most of the cakes were stacked and used fondant, which not only tastes bad but is hard to work with, so we kept having to go back to the drawing board.  I felt like we had really set the bar high with our Sesame Street Cupcakes, so I wanted to make sure these turned out as nice.   We finally decided to make these Mickey & Minnie Mouse Cupcakes, as opposed to cake.  We felt like for a kids' party it is easier to have a grab and go dessert.

How to Make Mickey & Minnie Mouse Cupcakes
You will need:
Mini Oreo Cookies
White Dots from a Hole Punch
When we finally decided on cupcakes, we talked about using molding chocolate and make Mickey Mouse ears.  Ummm…yeah… that didn't work.  We then went to our second favorite website Etsy and found people who make candy/soap/candle molds.  Since the invitations and our banner used Mickey and Minnie body parts we thought we would buy molds of those same parts and use them on the cupcakes.  We found some, because you can find everything on Etsy, and bought them. Thankfully, we got them early enough to do a test run.  It was a good we did, the Mickey hand was too small, the Mickey pants were too big, and the Mickey ears were minuscule.  The Minnie bow we bought was cute though, so we revamped our idea again, and came up with these.
Cupcakes:  We made both chocolate and red velvet cupcakes.
Ears:  We used mini Oreo cookies.  You need to open them up and carefully scrap the filling out.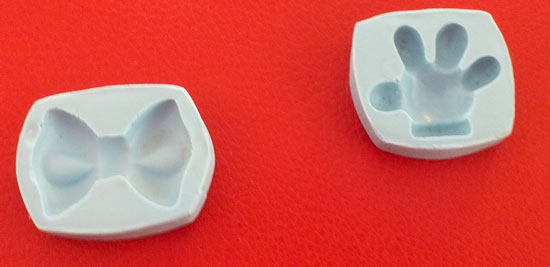 Bows: We bought a bow candy mold from Etsy.  We melted Wilton White Candy Melts and poured it into the form.  We only bought one form so it took awhile to make all of these bows. We stored them in the freezer.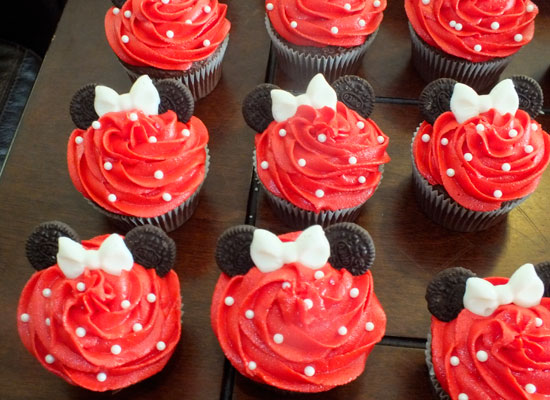 The Minnie Mouse Cupcakes were frosted with red buttercream frosting using a 1M frosting tip. We used two mini Oreo cookies as the ears. The Candy bow nestled between the ears. And a handful of white sugar pearls hand placed around the frosting to create polka dots. It's really important to get the pearls on before the frosting dries.
The Mickey Mouse Cupcakes were baked in red cupcake liners.  We frosted them with white buttercream frosting using a 1M frosting tip.  The ears are mini Oreos.  Finally we glued on two white circles from a hole punch machine on the front of the liner for buttons.
We arranged the cupcakes on our black, white and red Mickey Mouse Cupcake Stand.  It looked beautiful, the cupcakes tasted great and the party-goers loved them!

P.S. Let's stay in touch!  If you liked our Mickey & Minnie Mouse Cupcakes post, [thrive_2step id='10744′]click here to sign up for our Email Newsletter![/thrive_2step]
Or follow us on Pinterest, Facebook and Instagram!
**This post contains affiliate links but we only recommend products that we actually used and liked. Thanks for supporting Two Sisters Crafting!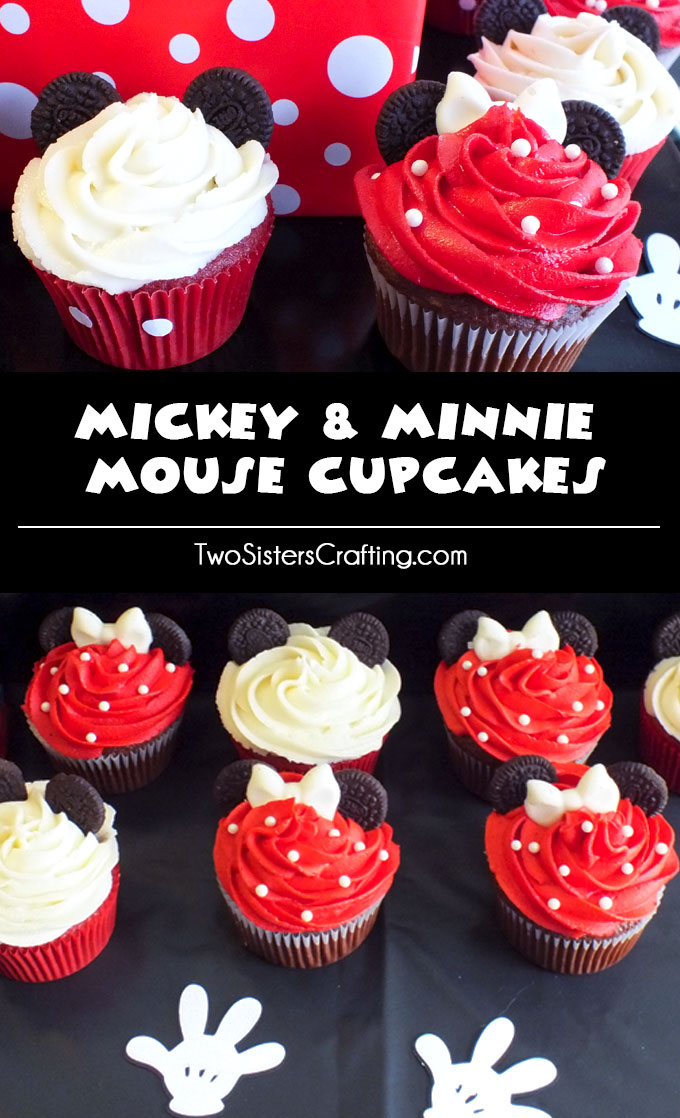 More Fun Mickey Mouse Party Ideas …
If you want to stay up-to-date on all our Mickey Mouse Party posts, Follow Two Sisters Crafting on Pinterest!
Follow Two Sisters Crafting's Mickey Mouse Party Ideas board on Pinterest.