Mini Pies for Thanksgiving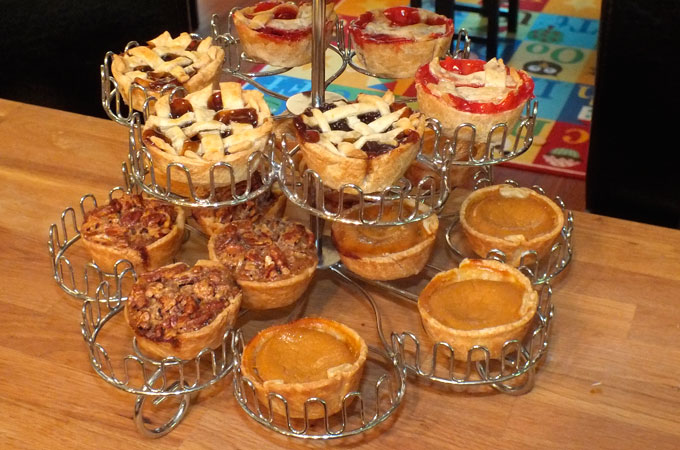 My husband's brother and sister-in-law who recently got married surprised us right after Christmas by telling us they were moving to Northern California. To say we were shocked and very sad would be an understatement. We didn't have a lot of time to plan but we pulled together a family going away party. It was the first time we have had the whole family together in quite a long time. I decided to do a dessert. Aaron's brother is a big fan of pie, so I decided to try making my mini pies again.
How to Make Mini Pies
The first time I made the mini pies was last Thanksgiving My thought at Thanksgiving was that usually my family always wants to have a small slice of pumpkin pie and a small slice of [fill in the blank].  I thought mini pies solved that problem.  Laurie and I figured everyone could have two or three different kinds without overdoing it.  I thought it was, as my daughter would say, a super genius idea.  Unfortunately, when the time came the family only ate one mini pie.
At the time I thought they were a failure, but since I really enjoyed them, I decided to try them again.  This time they were a huge hit.  Maybe because the family wasn't filled to the brim with turkey, stuffing, mashed potatoes, etc.
Here is the recipe for the Apple Crumb Mini Pie:
Filling
8 cups of tart apples (about 6-8) cut into small bite-sized pieces
¾ cup of flour
1 ½ cups of sugar
2 tablespoons of cinnamon
You will also need 4 tablespoons of chilled butter cut into 24 equal portions
2 boxes of premade pie crusts (which make about 20-22 pies)
Crumb Topping
4 tablespoons of butter (slightly softened)
½ cup of brown sugar
½ cup of flour
The first thing I did was buy premade pie dough.  Unroll your first pie crust.  You want to make sure it's not too cold otherwise it break easily. I then experimented with different sized circles to see which would fit into the muffin pan the best. I ended up using one of my coffee mugs.  I was able to get 5 circles cut out of each crust.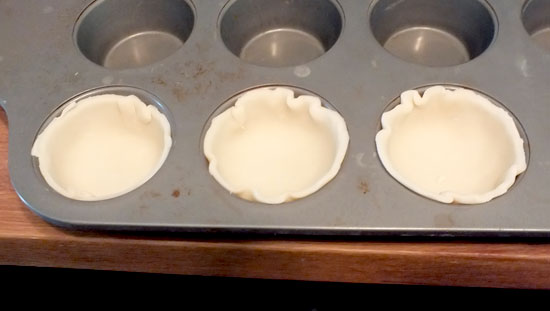 Put your circle of pie crust into your muffin pan.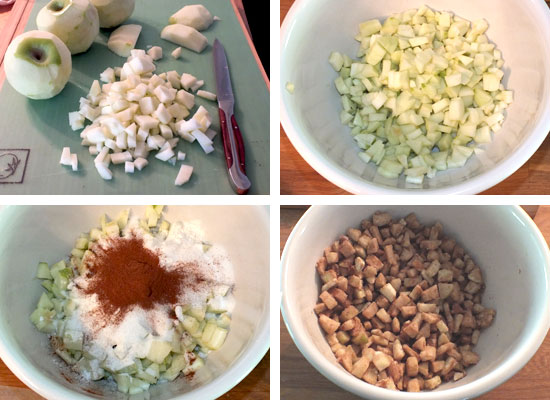 Mix the apples, flour, sugar, and cinnamon together in bowl.  Make sure you stir it well so everything is coated.   For crumb topping, in separate bowl, combine all ingredients and mix together with fork.
Fill each circle with the apple filling.  I filled them to just over the edge. They will cook down a bit.   Top each pie with a square of the cut butter. Then top with crumb topping.
Bake in 400 oven for 18-22 mins.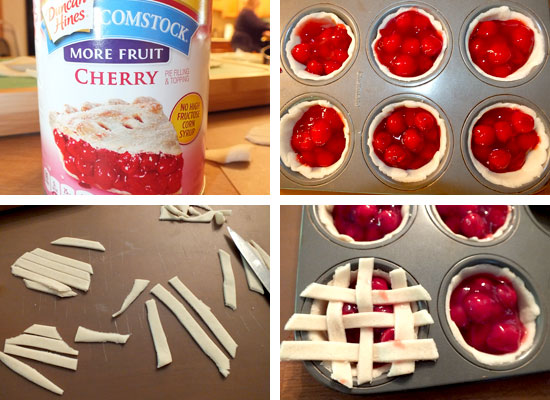 I would include my cherry pie recipe, but I just bought a can of cherry pie filling and put them in the pie crust.  I used the leftover pieces of crust to create the lattice on top of the pie.  I tried topping them with a full pie crust layer.  It worked, it looked nice, but it tasted bad.  It was too much crust.  The lattice was a perfect amount.  I also brushed the top with melted butter.  I am not a pie person, so I am not sure if melted butter is a normal topping, but the ones I forgot to brush with the butter looked dry and not as pretty.
For the mixed berry pies, I took a 40 oz bag of frozen mixed berries thawed and drained.  ¼ cup of sugar and ¼ cup of flour mixed them together like I did the apple crumb pie.  I also topped them with the same crumb topping.   They turned out yummy too.  They were a nice combination of sweet and tart.
And here is my recipe for the Pecan Mini Pies:
3 Eggs
1 Cup White Sugar
1 Cup Corn Syrup (light or dark)
2 Tbl melted butter
1 teaspoon vanilla
1 ½ cups pecans roughly chopped
Beat eggs in bowl. Add sugar, syrup, butter, vanilla and mix.  Put roughly chopped pecans into uncooked mini pie shell. Fill pie crust with liquid to just below the top.  Carefully, place in oven to cook for 18 – 22 mins. Pecans will rise to the top when cooked.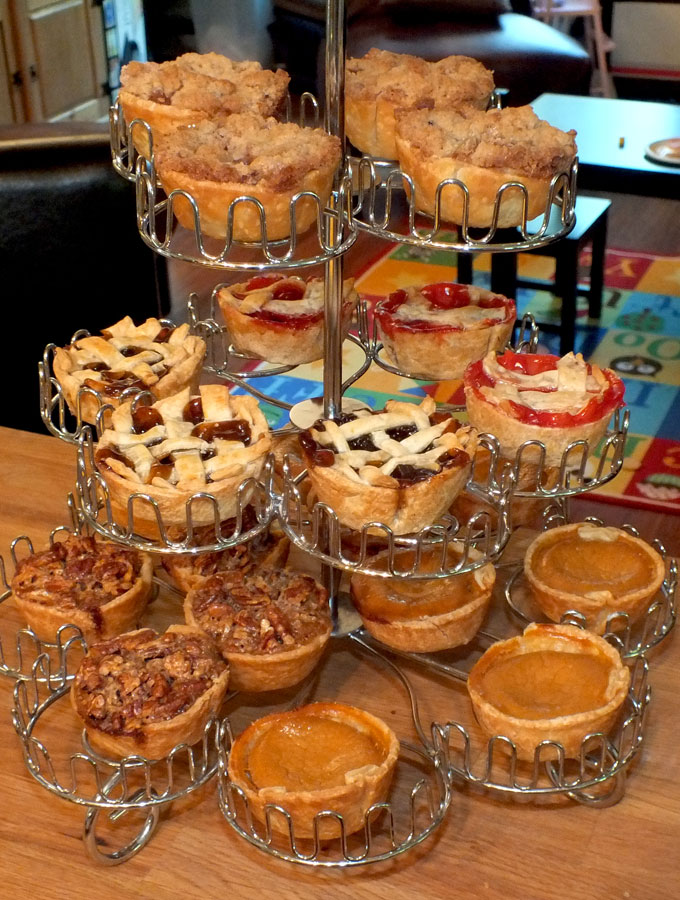 We used a Cupcake Stand to serve our Mini Pies on Thanksgiving. That was a big hit.  I received this particular one as a gift, but here is a similar stand from Amazon.  Enjoy!
**This post contains affiliate links but we only recommend products that we actually used and liked. Thanks for supporting Two Sisters!