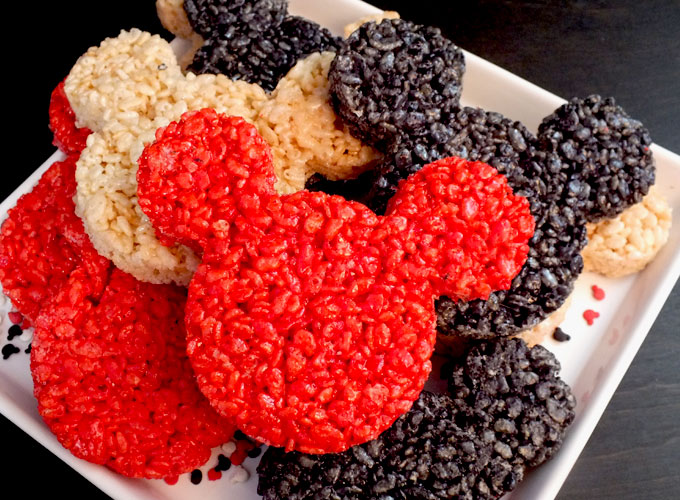 Apparently, in Nancy and my world, you cannot have a party without some sort of celebratory Rice Krispie Treat. Here's the thing…they are so delicious AND you can color them, mold them and make them into whatever sized treasure you want.  So that is what we did with our Mickey Mouse Rice Krispie Treats, we colored and shaped them to match our Mickey Mouse Party theme.  These yummy Mickey Mouse Rice Krispie Treats looked great on our dessert table and the guests loved them.
How to Make Mickey Mouse Rice Krispie Treats
You will need:
Kellogg's Rice Krispies Cereal
Mini Marshmallows
Butter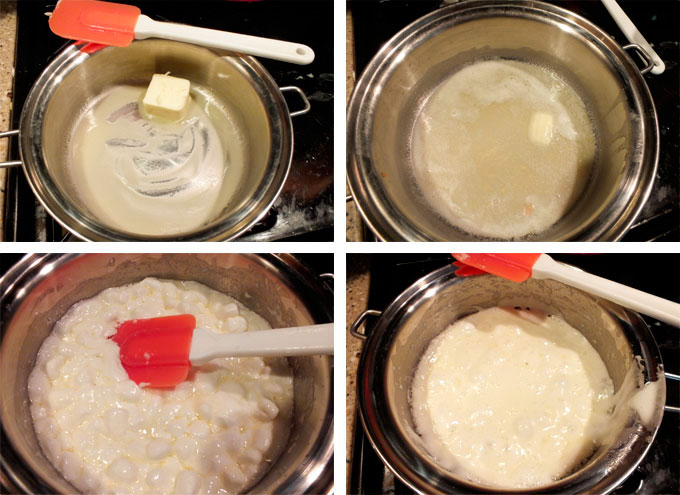 The base for our Mickey Mouse Rice Krispie Treats is our Best Ever Rice Krispie Treat Recipe which we have adjusted and perfected over the years until it is now absolutely the best Rice Krispie Treat recipe we have ever tasted.  You can find all the directions you'll need to make these delicious treats right here.
You will need to make up three batches of Rice Krispie Treat mixture – one batch with no food coloring, one batch of red and one batch of black.  Our Mickey Mouse Cookie Cutter is pretty big so we only made three Mickey Mouse Rice Krispie Treats from each of the individual batches.   For each batch, we used 3 tablespoons of butter, 3 cups of marshmallows and 3 cups of Rice Krispie Treats.
After the marshmallows have melted but before you add the Rice Krispie Cereal, add your food coloring.  Finally, add the Rice Krispie Cereal under it is completely covered with the black or red marshmallow mixture.
Spoon the Rice Krispie Treat mixture into a large cookie sheet, press it down into a flat layer as shown above and let cool for approximately 5 minutes.
Finally, we used our Mickey Mouse Cookie Cutter to cut out our fun birthday party treats.
The cookie cutter we used is on the big side, so we only made 9 Mickey Mouse Rice Krispie Treats for our party.  But we also had a bag of Rice Krispie Treats remnants for the family to snack on!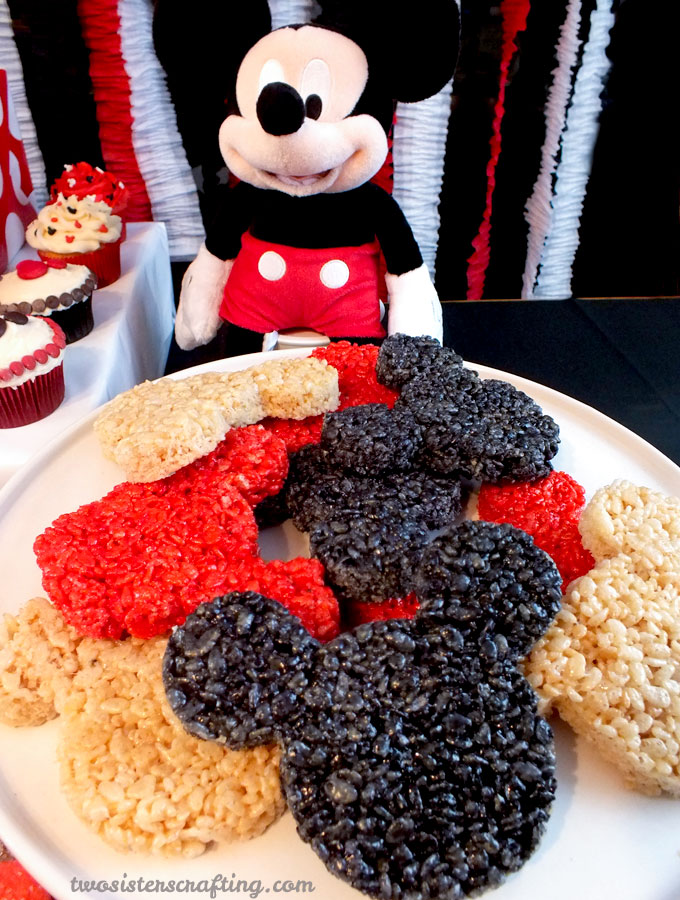 The red, white and black color scheme looked great on our Mickey Mouse Party dessert table!
And neither Nancy nor I have ever met anyone who didn't love a Rice Krispie Treat!