Ever since we did our Halloween Bewitched Cupcakes, we have been trying to find another occasion to try that technique again. The Mickey Mouse Party was the perfect time. We love the tri-color effect of the marble cupcakes and the fact that no two Mickey Mouse Marble Cupcakes are the same. It doesn't hurt that they are super easy to make too.

How to Make Mickey Mouse Marble Cupcakes
You will need:
Cake Mix
Hershey's Unsweetened Cocoa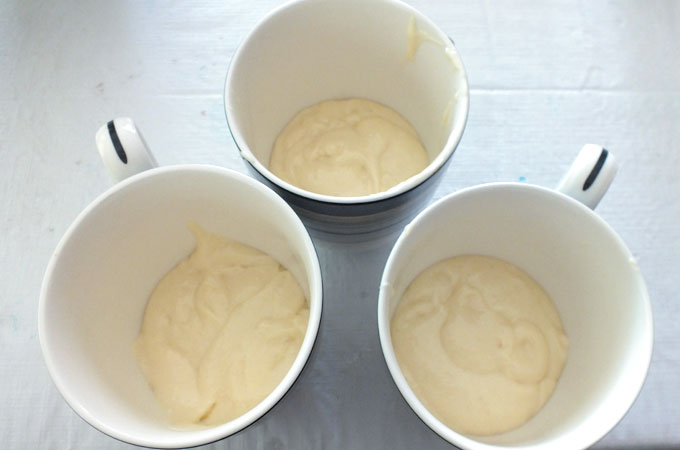 We made our Mickey Mouse Marble Cupcakes with some leftover cake batter that we had from our Mickey Mouse Cake.  If you make up a typical box cake you will have more than this.  We used a kitchen scale to split the batter up into three parts.  One we left white, one we colored red and one we added cocoa powder to make it chocolate.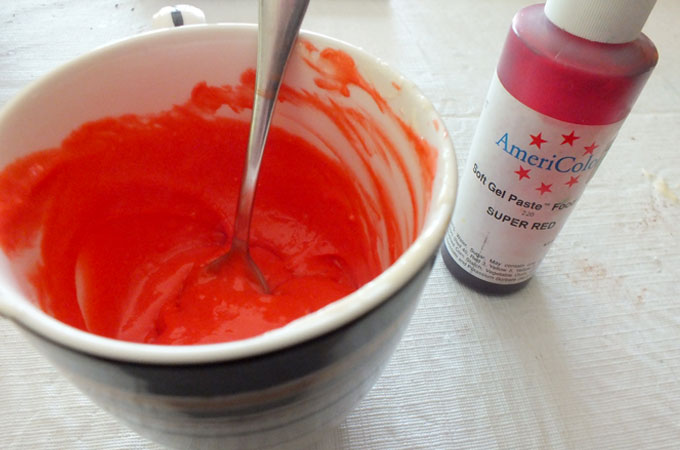 For the red cake batter, we added two very small drops of Americolor Super Red Food Coloring.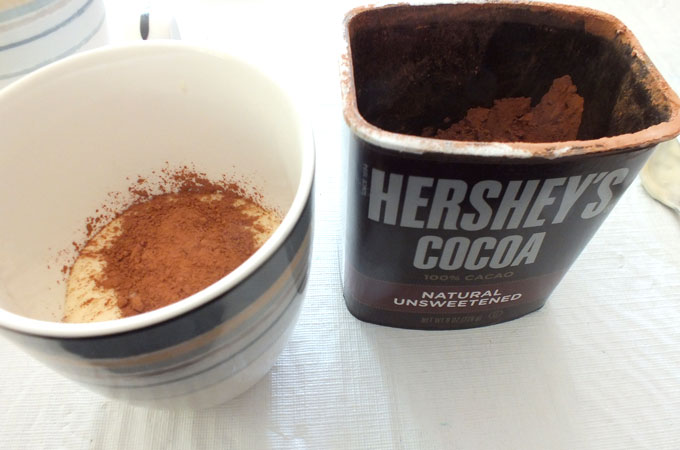 For the chocolate cake batter, we added two teaspoons of Hershey's Unsweetened Cocoa powder to the white cake mix.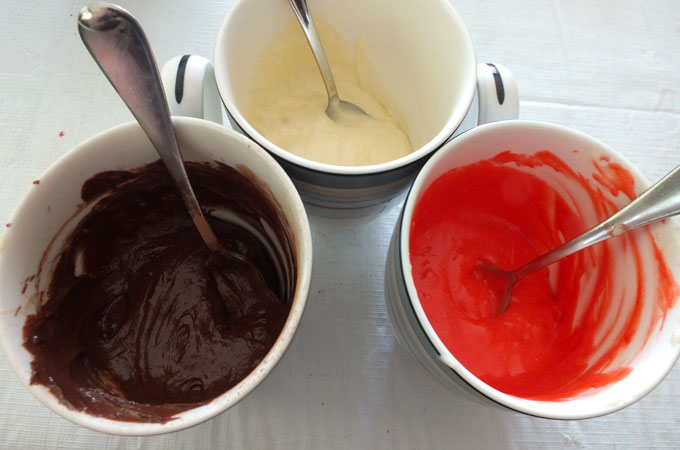 Here is our three colors of cake batter, ready to be transformed into our Mickey Mouse Marble Cupcakes.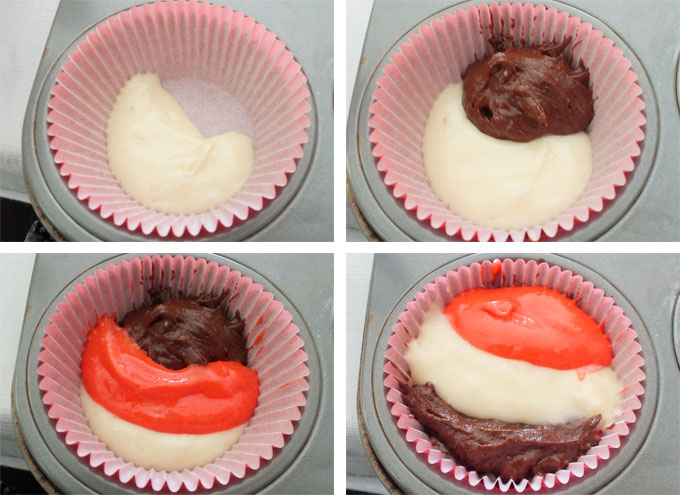 Using a kitchen spoon, we carefully dropped small amounts of all three of the cake batters into the red cupcake liners.  We didn't use any specific pattern, we wanted each cupcake to be different.  In the picture above you see the different layers we created for a single cupcake.
As you can see here, the marble effect was different for each cupcake.
We baked the cupcakes according to the directions on the box cake mix.  Here is what they looked like out of the oven.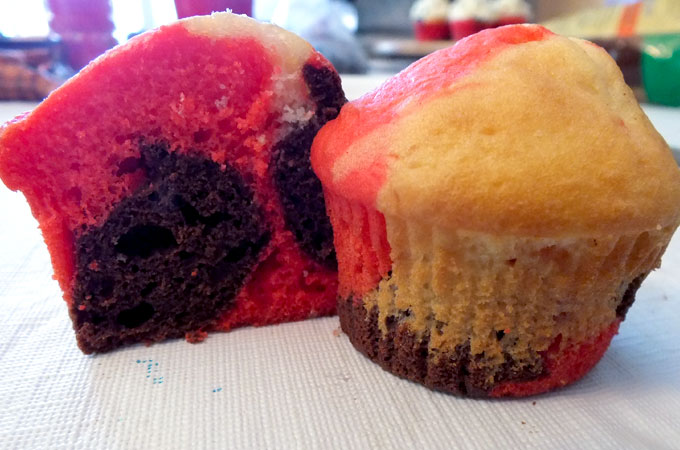 Here are a couple of the cupcakes.  They turned out so pretty.  The red, black and white color scheme is perfect for our Mickey Mouse Party.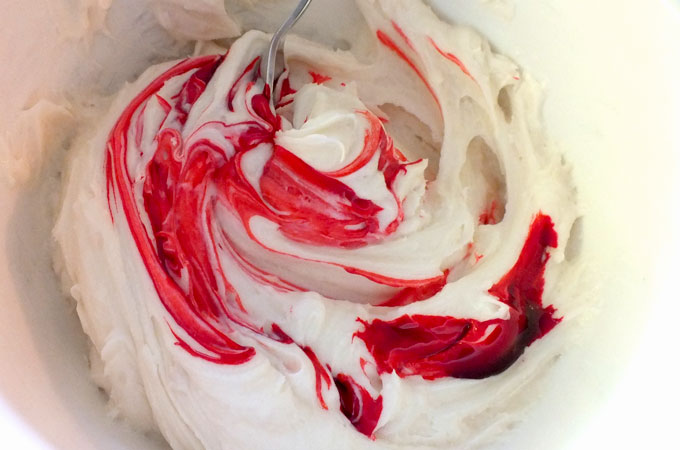 Now we made up a batch of our delicious Buttercream Frosting.  You can find the recipe and directions here.  We colored half of the buttercream frosting with our Americolor Super  Red Food Coloring and left the rest white.
Using a pastry bag and a Wilton 2D Decorating Tip we added a pretty swirl of frosting to the Mickey Mouse Marble Cupcakes.  Finally, we added some adorable Mickey Mouse Sprinkles that we found on Amazon.
These cupcakes turned out so beautifully and were so easy to make.
They looked great on our Mickey Mouse Party dessert table.
If you are looking for an easy way to jazz up cupcakes, we highly recommend this technique that we used on our Mickey Mouse Marble Cupcakes.  It definitely takes regular cupcakes to the NEXT level!

P.S. Let's stay in touch!  If you liked our Mickey Mouse Marble Cupcakes post, [thrive_2step id='10744′]click here to sign up for our Email Newsletter![/thrive_2step]
Or follow us on Pinterest, Facebook and Instagram!
**This post contains affiliate links but we only recommend products that we actually used and liked. Thanks for supporting Two Sisters Crafting!
More Fun Mickey Mouse Party Ideas …
If you want to stay up-to-date on all our Mickey Mouse Party posts, Follow Two Sisters Crafting on Pinterest!
Follow Two Sisters Crafting's Mickey Mouse Party Ideas board on Pinterest.