The Mickey Mouse Party Invitations were the first project we did and was one of the hardest. The invitation itself wasn't hard, but figuring out how we wanted it to look was. The Elmo invitation we did for Allison's two-year-old Sesame Street Birthday Party really turned out cute so we were thinking of doing something similar using a Mickey head, but the Cricut cutout was oddly proportioned.  To make it big enough to put the wording on it we would have had to use a large manila envelope to mail it.   We finally decided to put decorations on a 5×7 rectangle.  What we ended up with was a result of numerous days, numerous conversations, and numerous of pieces of ruined paper.

How to Make Mickey Mouse Party Invitations
You will need:
Red, White, Black Card Stock paper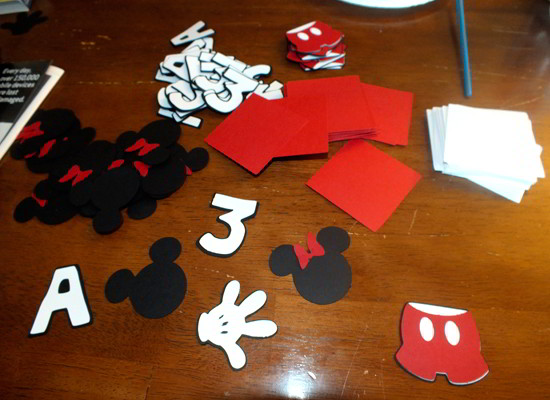 We used the Cricut Machine to make these Mickey Mouse themed cutouts in the party's black, white and red color scheme. Each Mickey Mouse Invitation had an "A", a "3", a Mickey Mouse Head, a Minnie Mouse Head, a Mickey Mouse Hand and Mickey Mouse pants, three red squares and 3 white squares.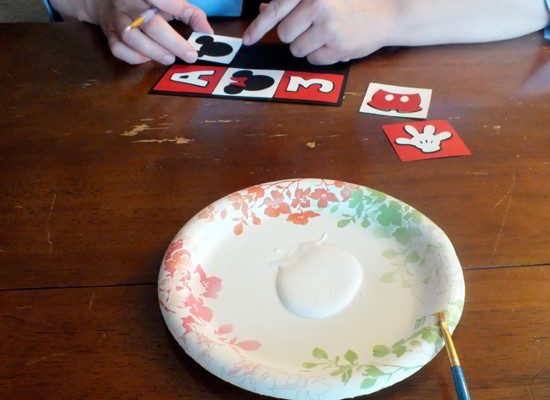 We used a small paint brush to glue the pieces of the invitation to the black 5×7″ paper.
On the back we glued on a piece of white paper with the party information.  We used a Minnie Mouse font that we found on the Internet.  We were so happy with how these Mickey Mouse Party Invitations turned out!

P.S. Let's stay in touch!  If you liked our Mickey Mouse Party Cups post, [thrive_2step id='10744′]click here to sign up for our Email Newsletter![/thrive_2step]
Or follow us on Pinterest, Facebook and Instagram!
**This post contains affiliate links but we only recommend products that we actually used and liked. Thanks for supporting Two Sisters Crafting!



More Fun Mickey Mouse Party Ideas …
If you want to stay up-to-date on all our Mickey Mouse Party posts, Follow Two Sisters Crafting on Pinterest!
Follow Two Sisters Crafting's Mickey Mouse Party Ideas board on Pinterest.