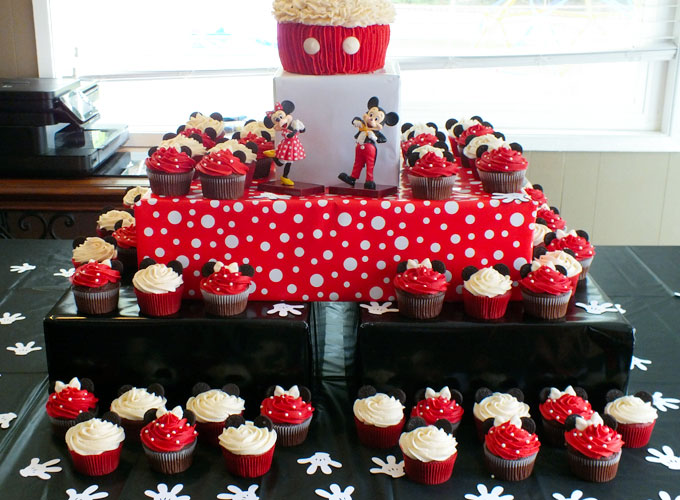 We found the idea for the Mickey Mouse table cloth on Pinterest.  We were originally going to have it on the kitchen island where were we were going to have all the food.  As we were getting ready for the party, we thought it would look cuter to have it be part of the Mickey Mouse Cupcake Stand.  It was a pretty easy project too.  The hardest part was finding a pattern on the Internet to make Mickey's buttons.   We situated the table so it was the first thing everyone saw when they came in.  It was our big Wow factor at the party. 

How to make a Mickey Mouse Cupcake Stand
You will need:
2 – Red plastic table cloths
1 – Black plastic table cloth
White printer paper
4 empty boxes
Wrapping Paper
The Mickey Mouse Table Cloth was the star of the show and so easy to do. We covered the dining room table with the two red table clothes, making sure that the table cloth went all the way down to the floor.  We drapped the black table cloth over the top.  We cut out two white oval "buttons" from printer paper and taped them onto the red table cloth.  It's that easy but makes a great statement!
For the actual Mickey Mouse Cupcake Stand we covered four Amazon shipping boxes with wrapping paper and arranged them on the table in a pyramid of sorts.  The small box on the top was for the Mickey Mouse Cake.
We added Mickey Mouse and Minnie Mouse figurines that I bought at Disneyland a couple of trips ago. And as a finishing touch we sprinkled some of the extra Mickey Mouse Hand cutouts we had left over from our Mickey Mouse Invitation project on the table as confetti.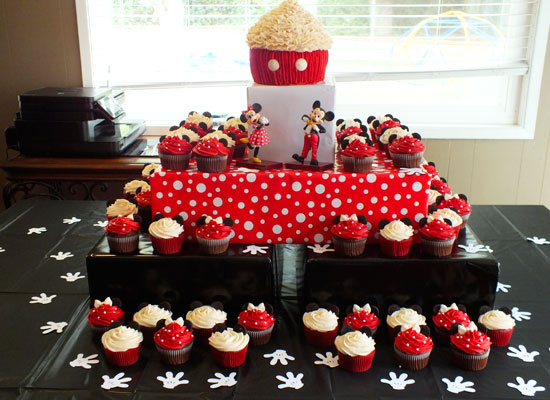 Finally, we arranged the Mickey Mouse Cupcakes and Minnie Mouse Cupcakes on the display.

P.S. Let's stay in touch!  If you liked our Mickey Mouse Party Cups post, [thrive_2step id='10744′]click here to sign up for our Email Newsletter![/thrive_2step]
Or follow us on Pinterest, Facebook and Instagram!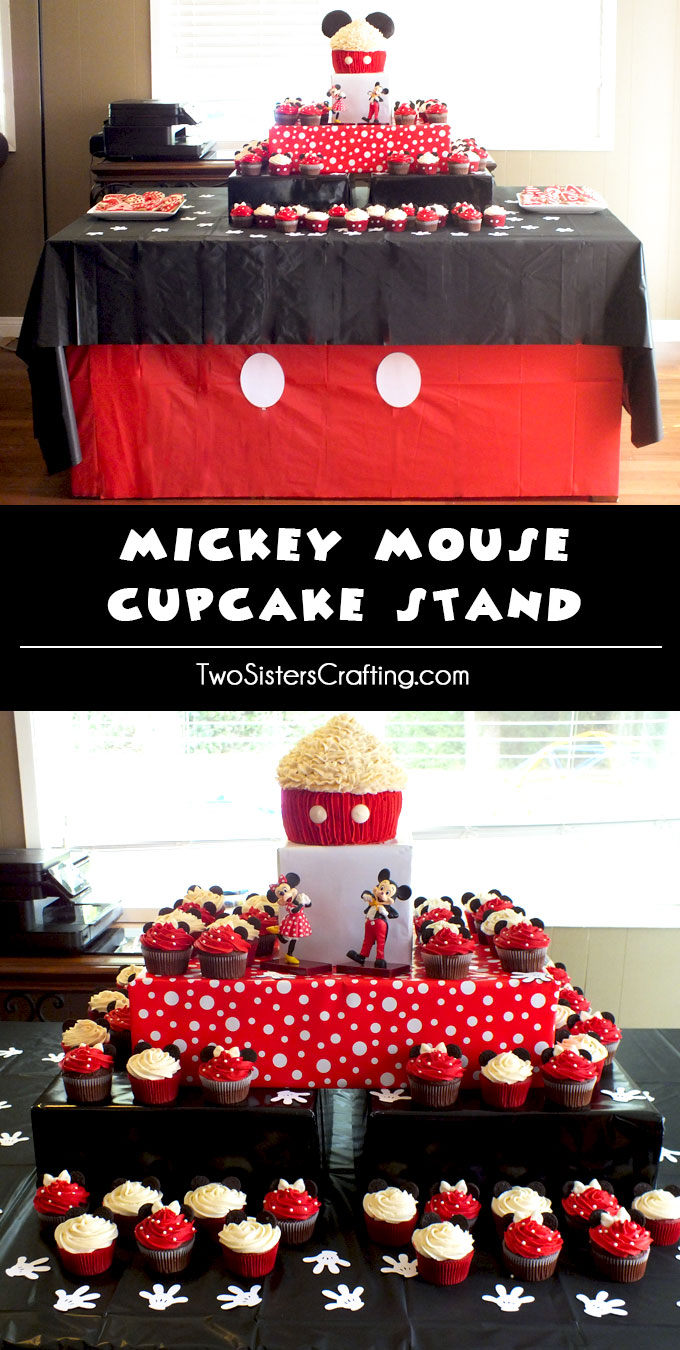 More Fun Mickey Mouse Party Ideas …
If you want to stay up-to-date on all our Mickey Mouse Party posts, Follow Two Sisters Crafting on Pinterest!
Follow Two Sisters Crafting's Mickey Mouse Party Ideas board on Pinterest.