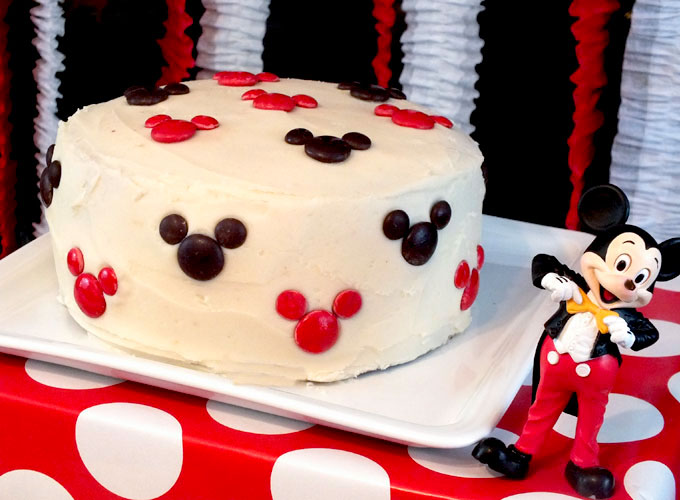 For our first Mickey Mouse Party we made an elaborate Mickey Mouse Cupcake Cake but for this party EASY was the main goal so we tried something a little different.   We used black and red M&M's to decorate a three-layer birthday cake and WOW did our Mickey Mouse Cake turn out great!  Sometimes simple is best!


How to Make a Mickey Mouse Cake
You will need:
Chocolate Cake Mix
Yellow Cake Mix
Mega M&M Candies
M&M Candies
Our Mickey Mouse Cake was a three layer cake – we wanted the colors to coordinate with the red, black and white theme of our Mickey Mouse Party. The first layer was chocolate, made from a simple box cake mix.
Our second layer was a variation of a Red Velvet cake in that we added Americolor Super Red Food Coloring to remaining batter from our chocolate cake mix.
Finally, we baked a third white layer using a white boxed cake mix.  (We used the remaining batter to make our Mickey Mouse Marble Cupcakes.)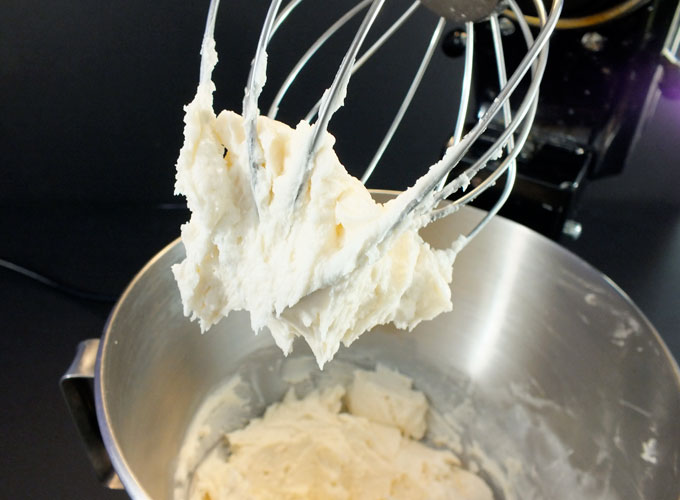 For frosting, we made up a batch of our Best Buttercream Frosting.  You can find the recipe and directions here.  This frosting is delicious and the perfect consistency for frosting a cake.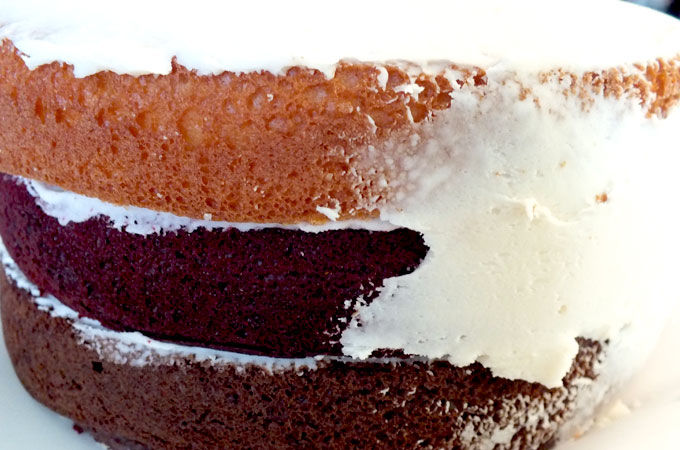 Using a spreader, we covered the cake in Buttercream Frosting.
No fancy frosting decoration this cake, just a simple but delicious layer of Buttercream Frosting is all that is needed.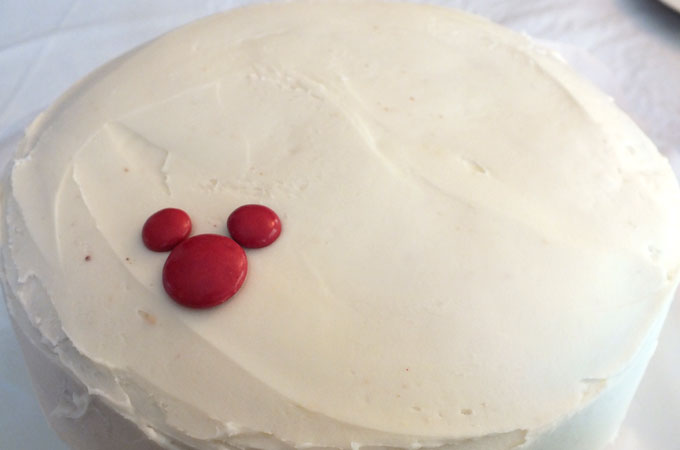 Our cake decoration could not be easier. You'll need a bag of Mega M&M's and a bag of Regular M&M's.  Use the Mega M&M's for the Mickey head and then add two regular M&M's as Mickey's ears.  This is so easy, it would be a great cake decorating project to do with the kids.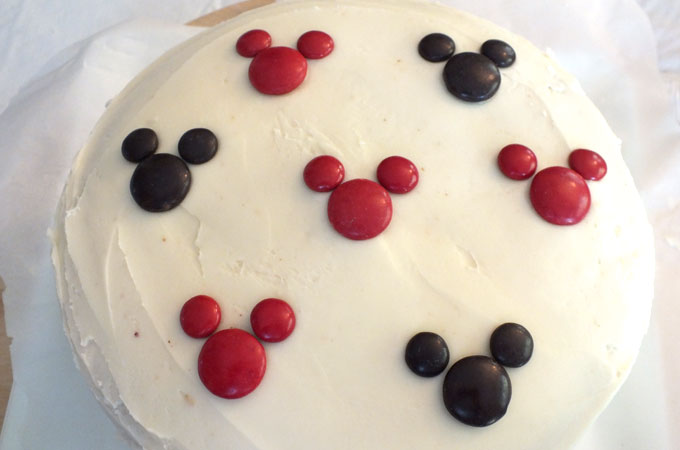 We added a random combination of red and black Mickey Mouse heads to the top of the cake.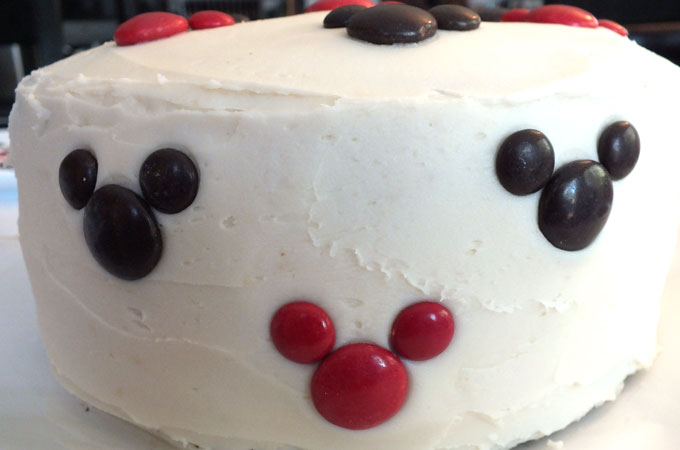 As well as the side of the cake.  Super adorable!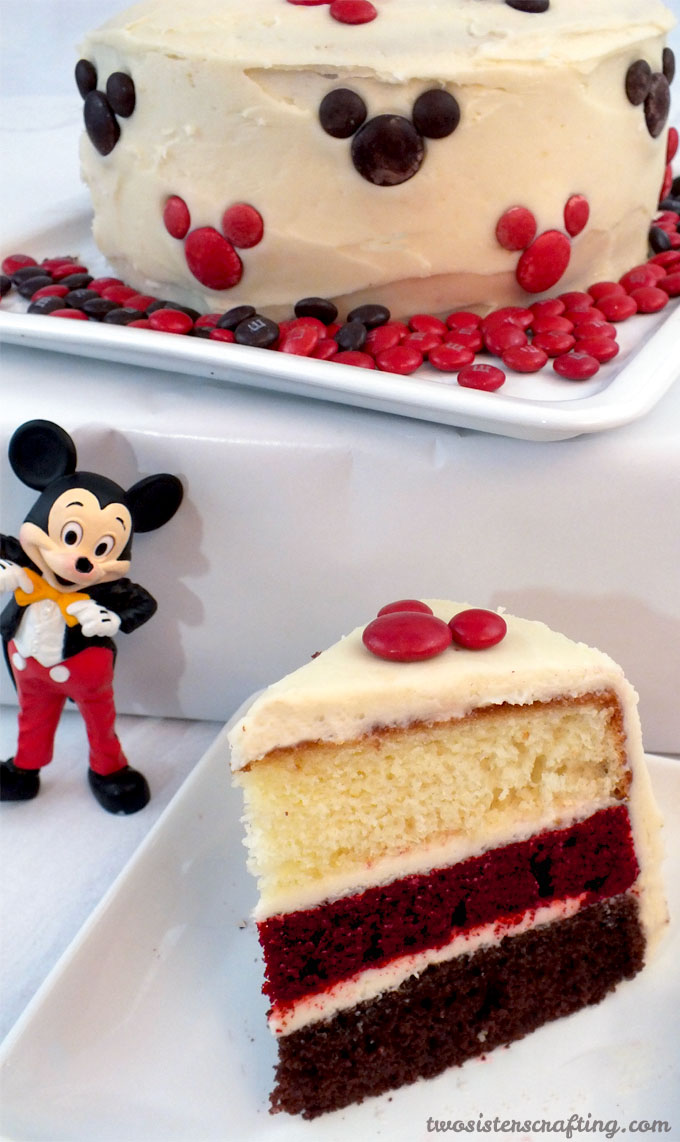 The cake was super moist and delicious.  The Buttercream Frosting tasted great with the chocolate and white cakes.  The three colored cake layers were so pretty.
Our Mickey Mouse Cake was perfect for our Mickey Mouse Party and went great with our M&M Mickey Cupcakes.  If you are planning a birthday party for a Mickey Mouse lover, this is the cake for you. So easy to make and so very adorable.  It really shined on our dessert table.

P.S. Let's stay in touch!  If you liked our Mickey Mouse Cake post, [thrive_2step id='10744′]click here to sign up for our Email Newsletter![/thrive_2step]
Or follow us on Pinterest, Facebook and Instagram!
**This post contains affiliate links but we only recommend products that we actually used and liked. Thanks for supporting Two Sisters Crafting!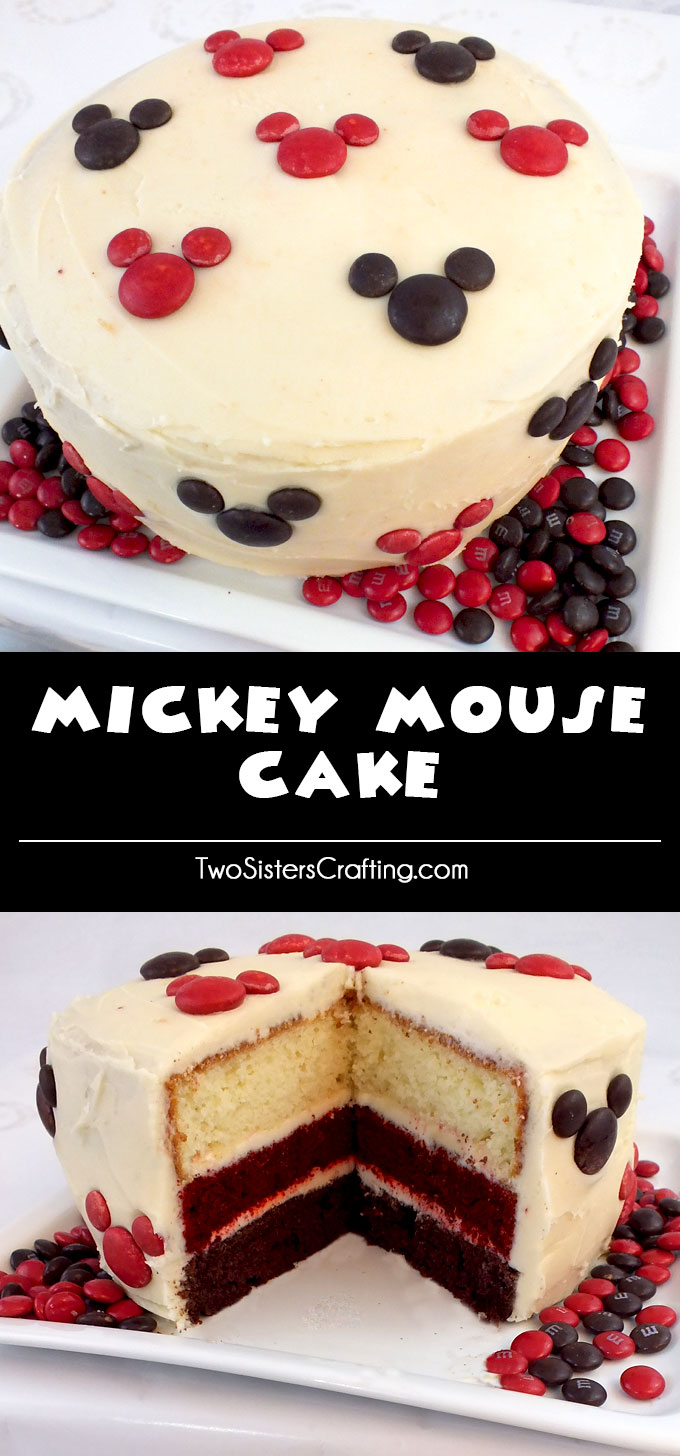 More Fun Mickey Mouse Party Ideas …
If you want to stay up-to-date on all our Mickey Mouse Party posts, Follow Two Sisters Crafting on Pinterest!
Follow Two Sisters Crafting's Mickey Mouse Party Ideas board on Pinterest.