We had such good intentions with this Mickey Mouse Balloon Arch.  We must have thought to ourselves how hard could it be.  It's hard.  Really hard.  And time consuming.  And in the end just not worth it. Don't get us wrong we think it turned out very cute, but it was just too much work. 

How to Make a Mickey Mouse Balloon Arch
You will need:
1.5-inch PVC pipe (length of arch)
2 inch PVC pipe (approx. 4 feet)
2 Galvanized steel buckets
Cement
Helium or Blow-Up Balloons?  We blew up the balloons ourselves.  Helium is both expensive and hard to get due to the world-wide helium shortage so we decided to make the arch with blown up balloons.  If you use Helium you can tie the balloons to a string and that's all you need for support.  Air blown balloon arches require a stand to give it structure.
Making a Homemade Balloon Arch Structure: We found directions on how to make a DIY balloon arch structure and got Nancy's husband to build it for us. We used galvanized buckets, PVC pipe and cement.
How many balloons will you need?  That depends on the size of the arch and the balloons. The Mickey Mouse Balloon Arch we built was 25′ from end to end.  You should figure that you will use 6 11″ latex balloons for every foot of arch.
How long does it take to build the arch?  It took two of us, over two hours to blow up the balloons and attach them to the arch structure on the morning of the party.  To save some time, we used an air compressor to blow up the balloons.
Can you blow up the balloons ahead of time?  Yes, but we didn't.  Blown up balloons can last up to 48 hours. But heat and humidity will cause them to start losing air more quickly.  The party was on a hot, humid day in July so we waited until the morning of the party to blow up the balloons.
Like the Balloon Columns we made for the Mickey Mouse Party the balloon arch is made up rows of four balloon groupings. Tie together two balloons and then twist together two sets of double balloons into a quad balloon grouping.  This is the building block for your balloon arch.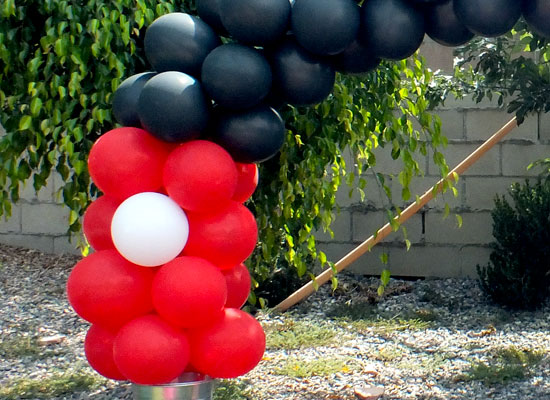 To make the actual Mickey Mouse Balloon Arch, we started with four rows of red balloons on each end of the arch.  For the third row, the quad grouping was three red balloons and one white balloon.   Then we filled in the rest of the arch with rows of black balloons.
The inspiration Pinterest Pin had Mickey Mouse ears at the top of the arch.  We ran out of time and didn't get that part done for the party.

P.S. Let's stay in touch!  If you liked our Mickey Mouse Party Cups post, [thrive_2step id='10744′]click here to sign up for our Email Newsletter![/thrive_2step]
Or follow us on Pinterest, Facebook and Instagram!
**This post contains affiliate links but we only recommend products that we actually used and liked. Thanks for supporting Two Sisters Crafting!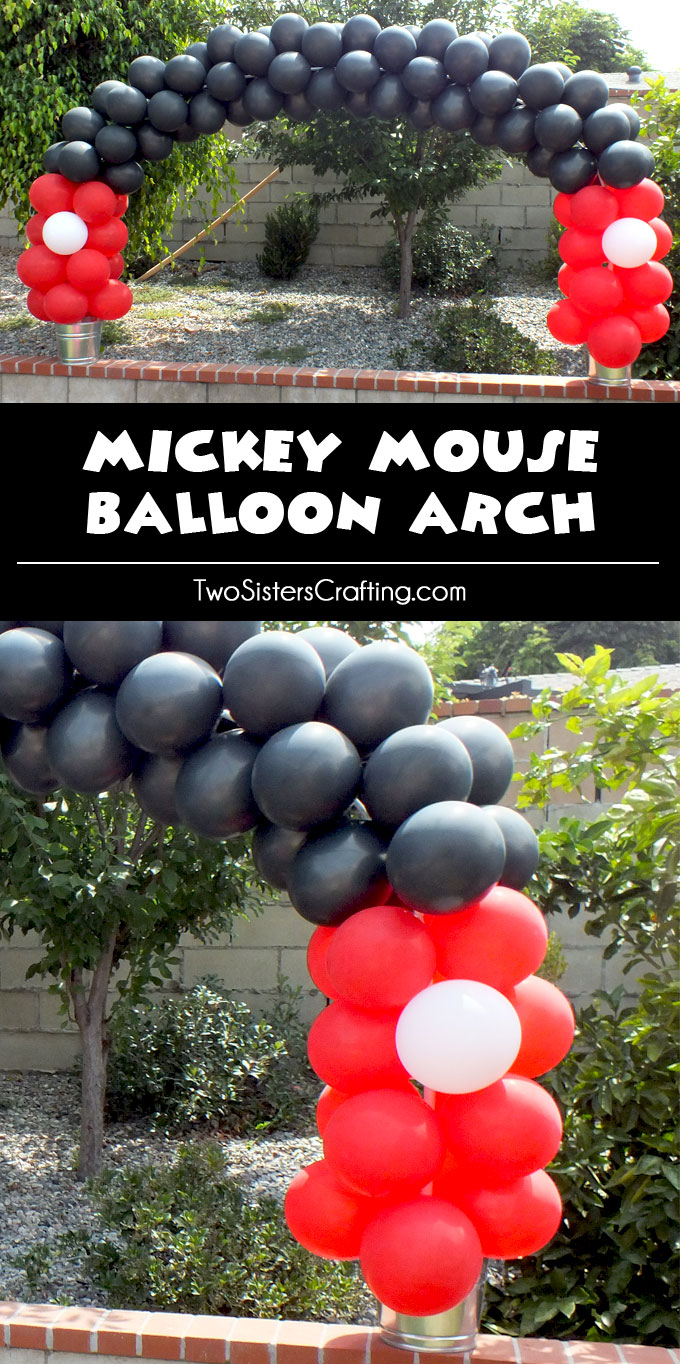 More Fun Mickey Mouse Party Ideas …
If you want to stay up-to-date on all our Mickey Mouse Party posts, Follow Two Sisters Crafting on Pinterest!
Follow Two Sisters Crafting's Mickey Mouse Party Ideas board on Pinterest.