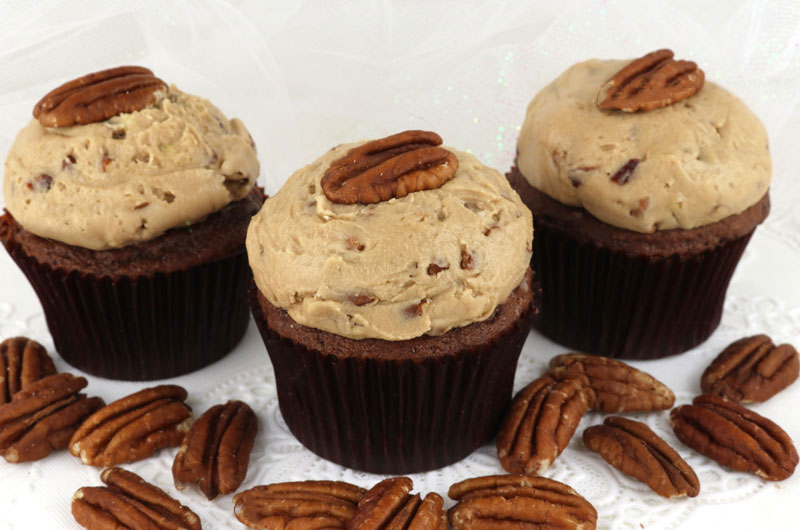 Sometimes frosting is just a little something extra on top of a delicious dessert … but sometimes frosting is the star of a dessert. That is definitely the case with this sweet and crunchy Maple Pecan Buttercream Frosting.  Unique and delicious and teaming with classic Fall flavors, your family and party guests will beg you for a second helping of whatever cookies, cupcake or cake you serve it on.

How to make Maple Pecan Buttercream Frosting
You will need: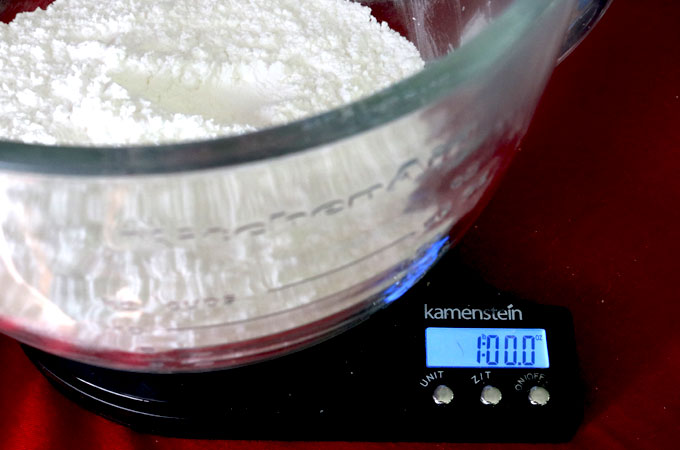 First step is to measure the powdered sugar.  I use my food scale.  (If you don't have a food scale the equivalent would be 4 cups.)  You can sift the powdered sugar if it is really lumpy.  I do not always do this.  Instead I will mix the powdered sugar on low for 30 seconds to break up any large lumps.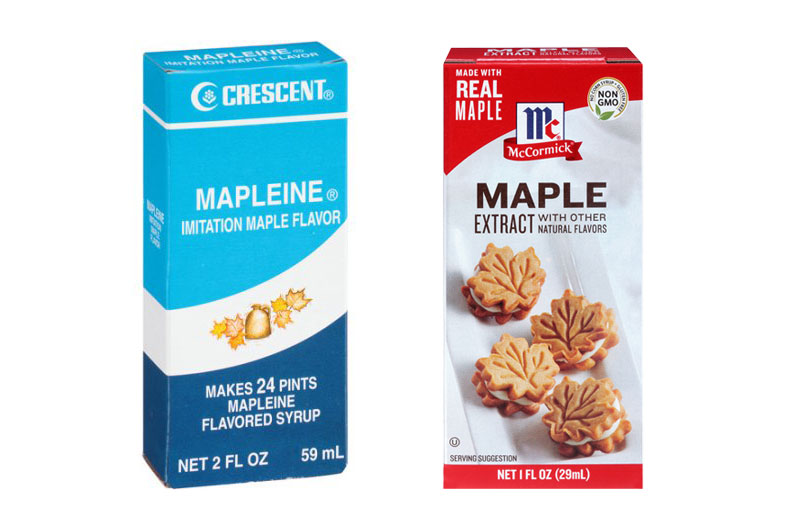 A note about the Maple Extract.  There are two types … Crescent Mapleine Imitation Maple Flavoring or Maple Extract. Here is a great article that goes into a lot of detail on the differences between the two. We tried both in our Maple Maple Pecan Buttercream Frosting recipe and we ended up liking the flavor of the Mapleine better.  It was closer to the taste of a Maple doughnut.  But individual tastes vary obviously, and either will work for this frosting.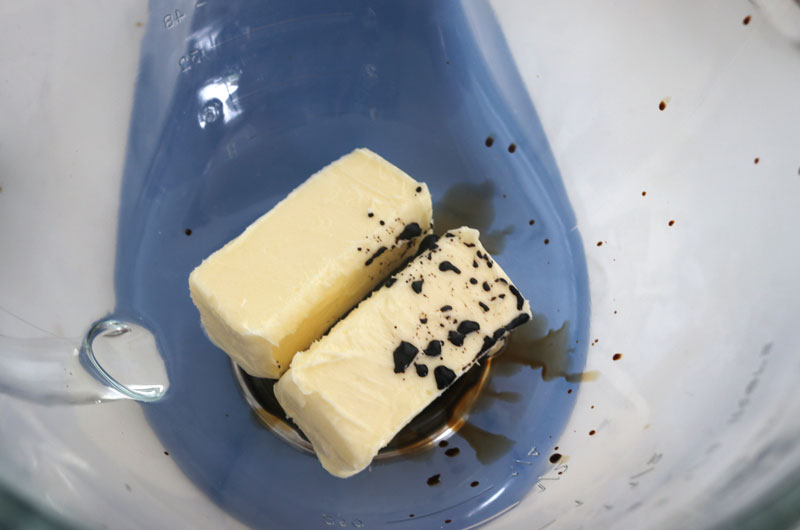 Add 1 cup (2 sticks) of softened butter.  I only ever use real butter, but you can use whatever you have on hand.  Although I think margarine changes the taste, your buttercream frosting made with margarine will still be better than canned frosting. Then add the 1 teaspoon of vanilla and 1 teaspoon of Maple Extract.  (Note on the extract.  We found that more is not necessarily better.  Start with the 1 teaspoon and then taste after it is mixed.  Increase the extract in very small increments.  It can quickly become "too much."  And remember, the flavor will continue to develop over time.)
Mix the butter and vanilla and maple extract until it is combined.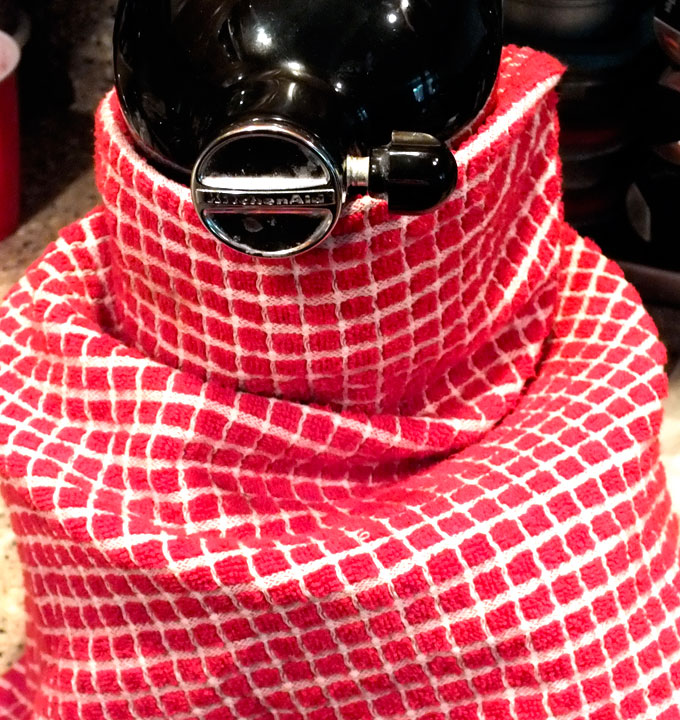 Now add the powdered sugar to the mixing bowl.  Start your mixer (or electric beater) on the lowest setting.  I usually put a clean dishtowel around my mixer to keep the sugar from flying out.  Keep on low until the butter and sugar are incorporated and then kick your mixer up to medium high.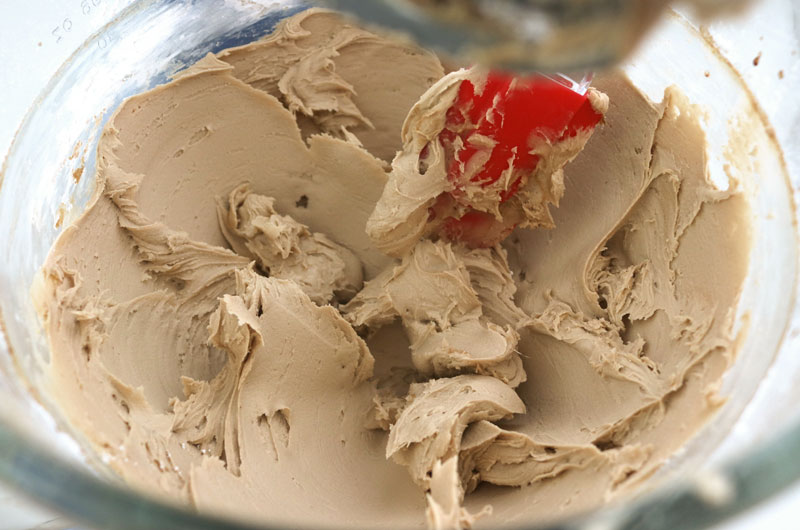 ALWAYS ALWAYS ALWAYS taste your frosting.   You are trying to determine if the consistency is wrong, if it needs more vanilla or a dash of milk.
We added a little less than 1 cup of finely chopped pecans.  We suggest anywhere from 3/4 to 1 cup depending on how crunchy and nutty you want your frosting to be.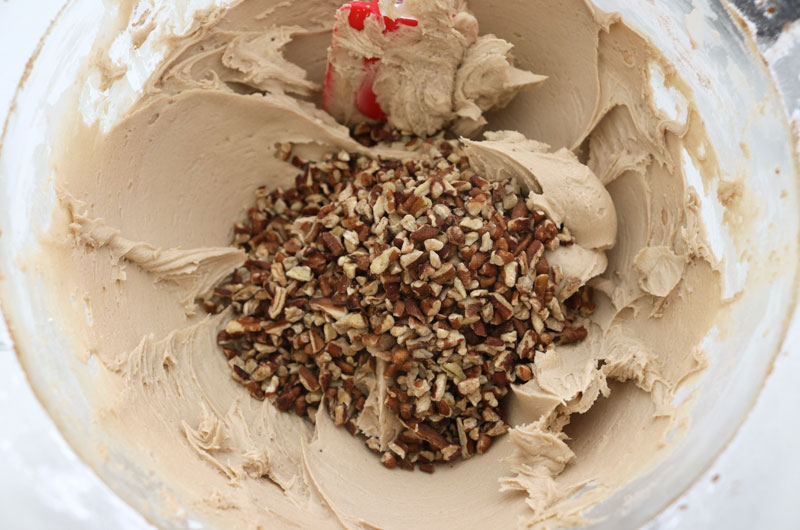 We stirred in the pecans by hand.
That's all there is to making Maple Pecan Buttercream Frosting. Now you just have to starting thinking of something yummy to put it on.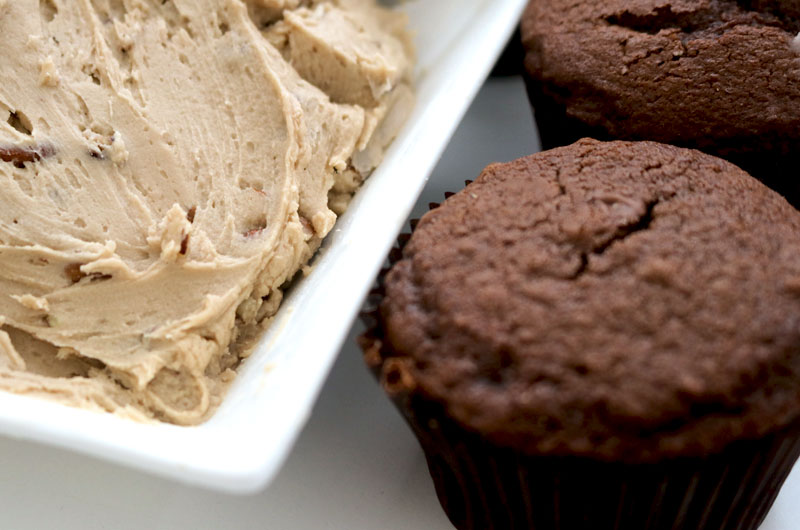 How much frosting will you need?  That always depends on how thick or thin you apply the frosting or how much decorating you do but here are a couple of guidelines. Our recipe should make enough The Maple Pecan Buttercream Frosting to cover a 9″ x 13″ sheet cake or a two-layer 8″ cake.  If you are making cupcakes, you should be able to frost 24 cupcakes. This frosting is a little to thick to swirl on, but if you do you'll be able to frost approximately 18 cupcakes.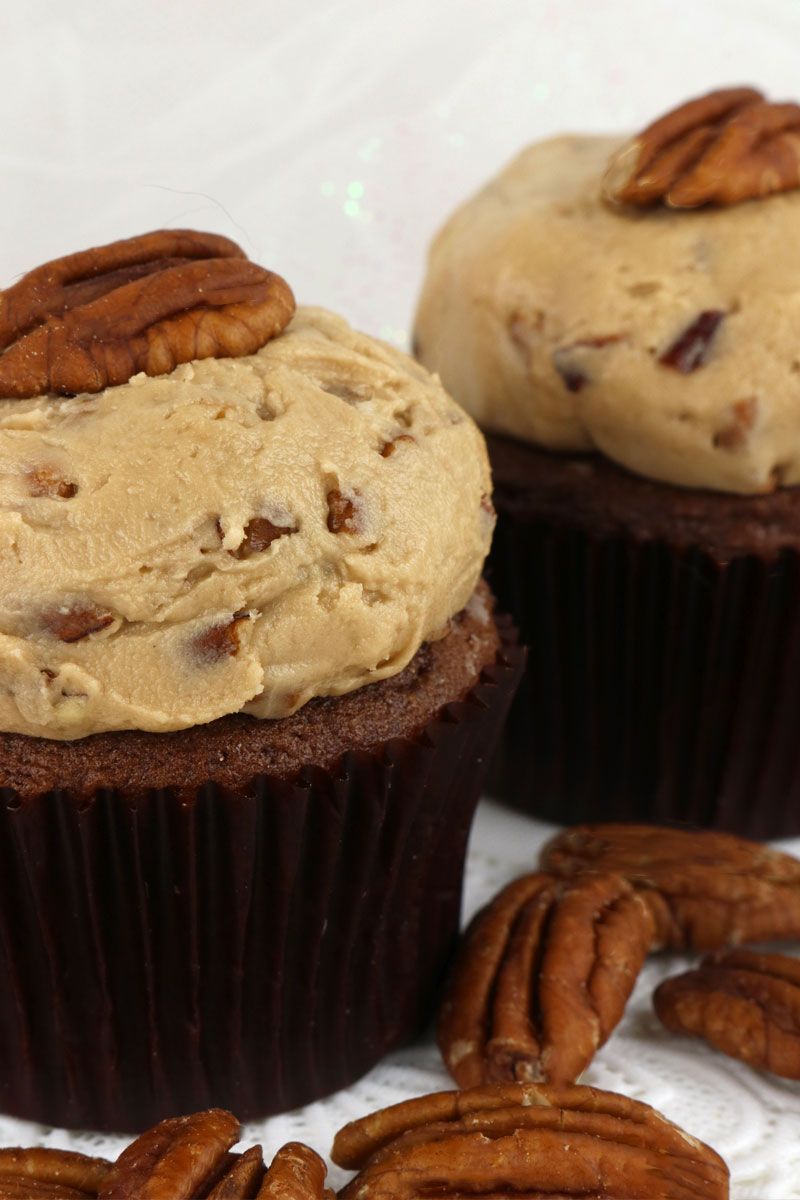 If you are a pecan lover, this Maple Pecan Buttercream frosting is the Fall Frosting for you.  Thick and crunchy, it will be the star of any baked good you put it on.  If you are looking for an idea, how about our Maple Cookies with Maple Pecan Frosting?
P.S. Let's stay in touch!  If you liked our Maple Pecan Buttercream Frosting post, [thrive_2step id='10744′]click here to sign up for our Email Newsletter![/thrive_2step]
Or follow us on Pinterest, Facebook and Instagram!
Maple Pecan Buttercream Frosting
Author:
Two Sisters Crafting
Ingredients
1 pound (4 cups) of Powdered Sugar
1 cup Butter (We use Salted Sweet Cream Butter)
1 teaspoon Vanilla
1 teaspoon Maple Extract
¾-1 cup Finely Chopped Pecans
Instructions
Add softened sticks of butter to mixer.
Add vanilla and maple extract.
Mix until butter and extracts are completely mixed.
Add powdered sugar. Beat on low until powdered sugar is incorporated. Then move mixer up to medium-high speed. Scrape sides and bottom of bowl often. When completely mixed the frosting may appear dry. If it is add a dash of milk.
Mix the pecans into the frosting by hand.