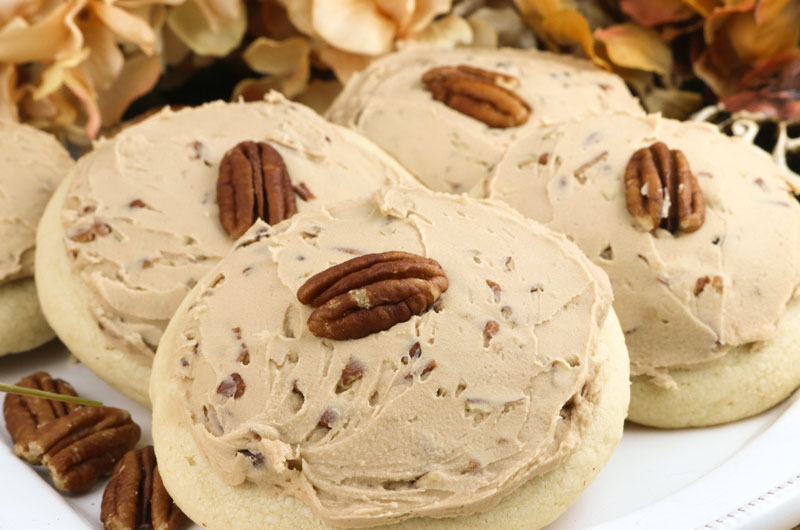 These Maple Cookies with Maple Pecan Frosting are a great Fall cookie featuring a delicious combination of maple and pecan.  The cookie is light and cake with just a hint of maple.  Top it with creamy and crunchy Maple Pecan Buttercream Frosting and you have a unique and tasty cookie would be great for a potluck dinner, a fall bake sale or a Christmas Cookie exchange.

How to make Maple Cookies with Maple Pecan Frosting
You will need: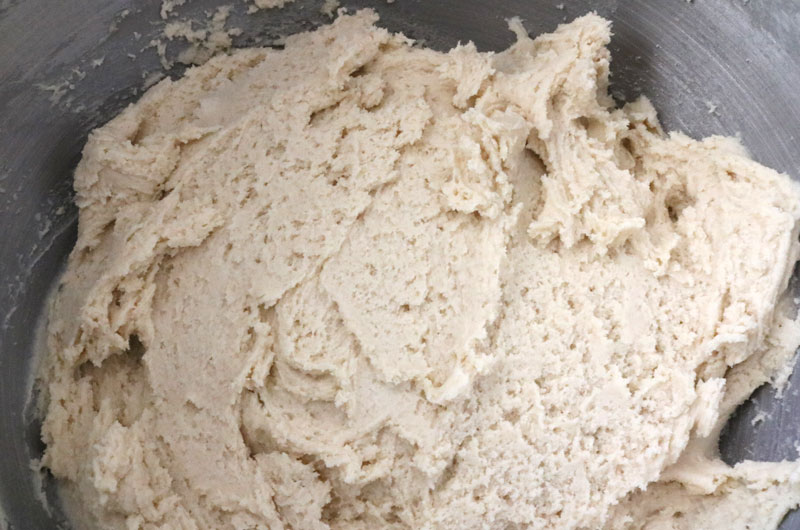 In a large bowl, cream butter and sugar until light and fluffy.  Beat in eggs and maple extract.  Add the syrup and the half and half and continue mixing.  Mix in the baking soda and salt. Mix well.  Add the flour and mix until combined.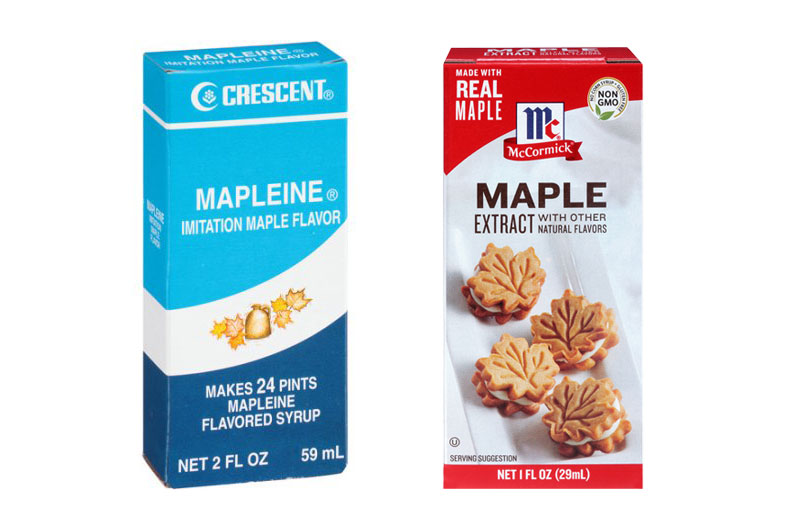 A note about the Maple Extract.  There are two types … Crescent Mapleine Imitation Maple Flavoring or Maple Extract. Here is a great article that goes into a lot of detail on the differences between the two. We tried both in our Maple Cookie and Maple Pecan Buttercream Frosting recipes and we ended up liking the flavor of the Mapleine better.  It was closer to the taste of a Maple doughnut.  But individual tastes vary obviously, and either will work for these recipes.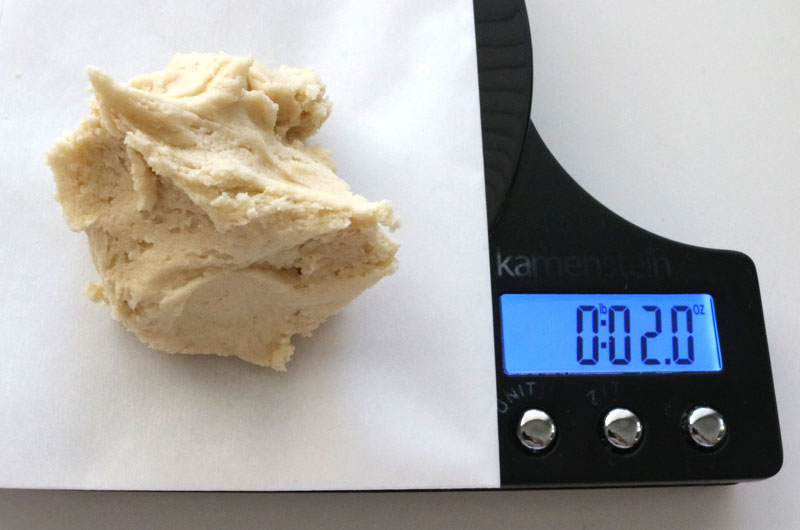 To keep the cookies similar in size I measured out 2 oz. of dough for each cookie on my food scale.  I rolled the dough into a ball and pressed the ball down slightly on the cookie sheet.
Bake the cookies in a 350 degree oven for 9-10 minutes or until light brown around the edges.   Here is what the cookies look like just out of the oven. Light and cakey, with a subtle taste of maple.
Make up a batch of our super delicious Maple Pecan Buttercream Frosting.  It is the perfect topping for the Maple Cookies. You can find the recipe and detailed instructions on how to make this frosting right here.
That's all there is to it!  For a bit of flair, we added a Pecan to the top of the cookie.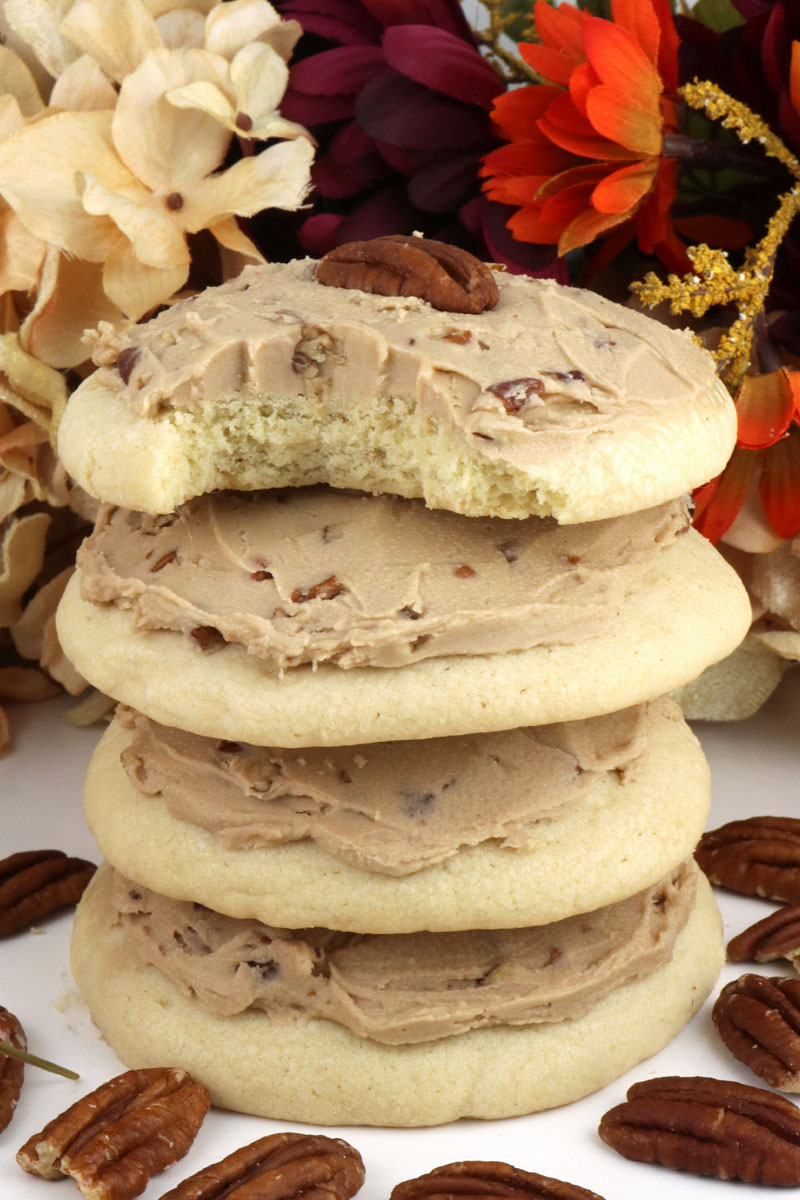 If you like Pecans you'll love our Maple Cookies with Maple Pecan Buttercream Frosting.  So incredibly tasty!  Your family will ask you to make them again and again!

P.S. Let's stay in touch!  If you liked our Maple Cookie with Maple Pecan Buttercream Frosting post, [thrive_2step id='10744′]click here to sign up for our Email Newsletter![/thrive_2step]
Or follow us on Pinterest, Facebook and Instagram!
**This post contains affiliate links but we only recommend products that we actually used and liked. Thanks for supporting Two Sisters Crafting!

Maple Cookies with Maple Pecan Frosting
Author:
Two Sisters Crafting
Ingredients
1 cup Butter (Sweet Cream Salted)
2 cups Powdered Sugar
2 Eggs
1½ tablespoons Half and Half (or Milk)
¼ cup Maple Syrup
1 teaspoon Crescent Mapleine Imitation Maple Flavoring or Maple Extract
3 cups All-Purpose Flour
1 teaspoon Baking Soda
½ teaspoon Salt
Instructions
In a large bowl, cream butter and sugar until light and fluffy.
Beat in eggs and maple extract.
Add the syrup and the half and half and continue mixing.
Mix in the baking soda and salt. Mix well.
Add the flour and mix until combined.
Bake in a 350 degree oven for 9-10 minutes.
Frost with Maple Pecan Buttercream Frosting