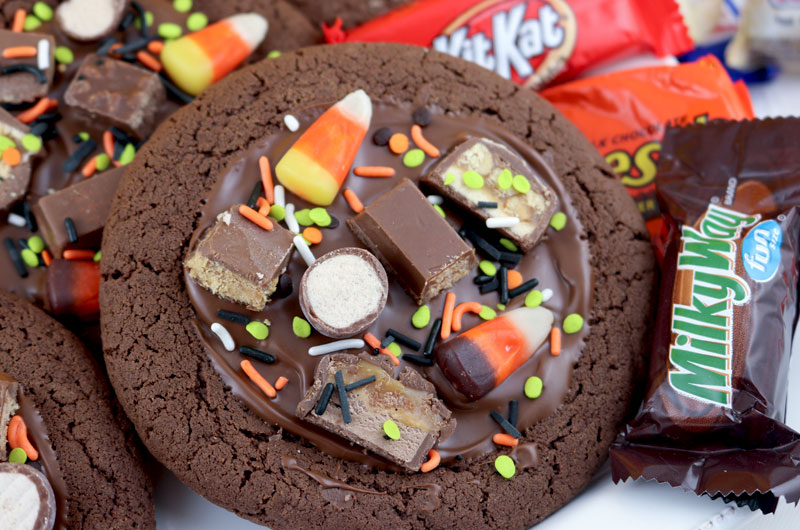 Once a year you send your kids out into the neighbor to beg for candy, what a great tradition.  But then you have all that candy around the house.  We've come up with a fun cookie recipe that will help you get through that large bucket of candy … introducing our Left-Over Halloween Candy Cookies.  And you're welcome!
How to make Left-Over Halloween Candy Cookies
You will need:
2 cup butter (Sweet Cream, Salted)
1 1/2 cups Granulated Sugar
1 1/3 cups Brown Sugar (packed)
4 Eggs
1 tbsp. Vanilla
4 1/2 Cups Flour
1 1/3 Cups Unsweetened Cocoa Powder
2 tsp. Baking Soda
1/2 tsp. Salt
Halloween Candy
Hershey's Mini Candy Bars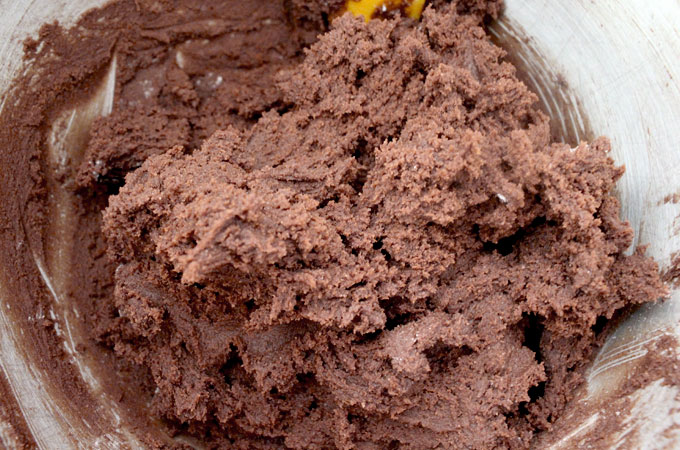 To make the chocolate cookie dough, mix together the dry ingredients (including the cocoa powder) and set aside.  Cream together the butter and white and brown sugars.  Mix in the eggs and vanilla.  Finally, add in the dry ingredients 1 cup at a time.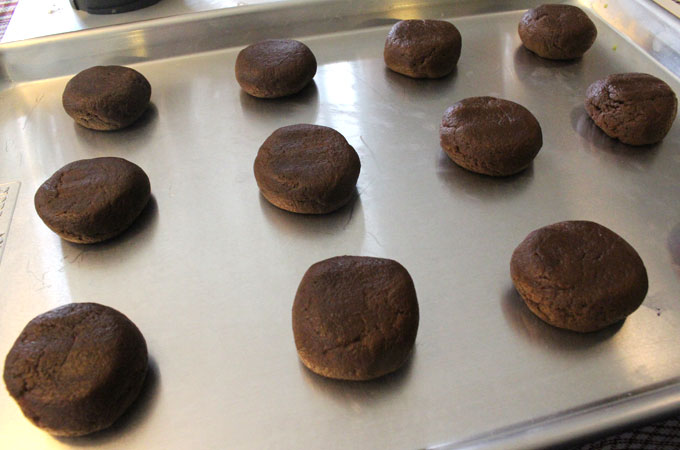 Take a large spoonful of cookie dough and roll it into a ball.  (We wanted these Left-Over Halloween Candy Cookies to be big enough to hold the Halloween candy so we made large cookies … each of ball of dough measured 2 1/2 oz. on a food scale.) Slightly press down the cookie dough ball. Bake the cookies in a 350 degree oven for 11-12 minutes. As soon as you remove the cookies from the oven, use the bottom of a glass or a measuring cup to lightly press down in the center of the cookie. This will create a slight indentation in the middle of the cookie that you will use to contain the melted chocolate.  Allow the cookies to cool.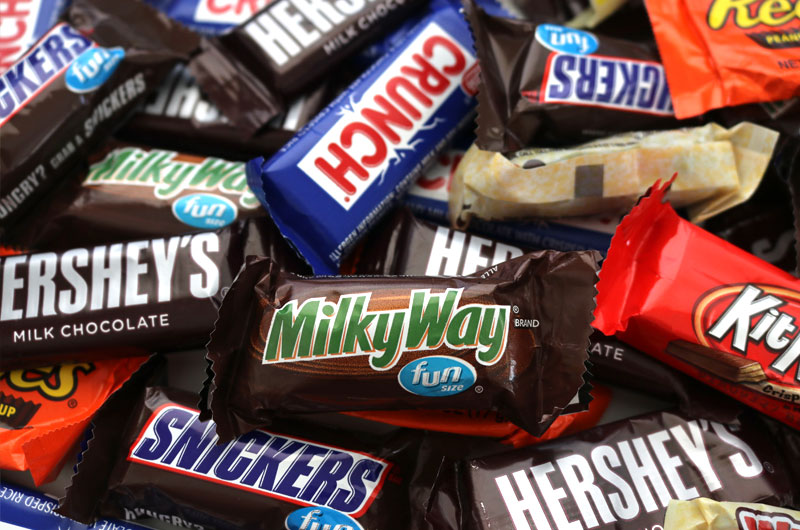 Grab some of your kid's Halloween candy.  Any candy will do. The only ones you for sure will need are the Hershey's Milk Chocolate Bars.
Cut up the candy bars into small pieces … everything else can go on just as it is.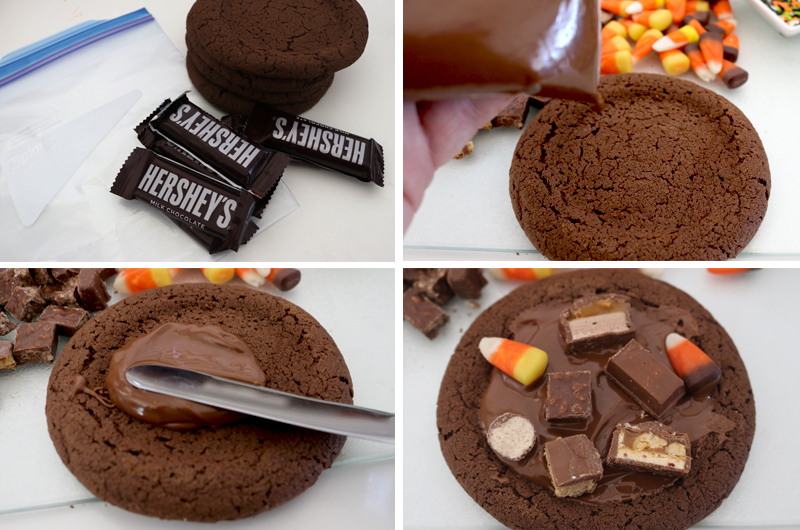 The Left-Over Halloween Candy needs something to hold on to so we melted a handful of mini Hershey's Milk Chocolate Bars in the microwave and spread the melted chocolate on the top of the chocolate cookies.  Then we carefully pressed down 5 or 6 pieces of the cut-up Halloween candy into the melted chocolate.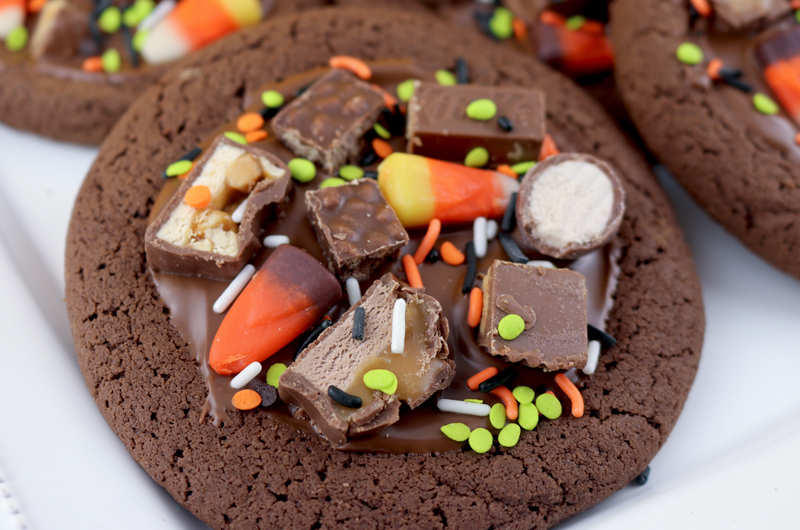 Allow the chocolate to cool slightly but not all the way.  Sprinkle on some sprinkles for some color and fun!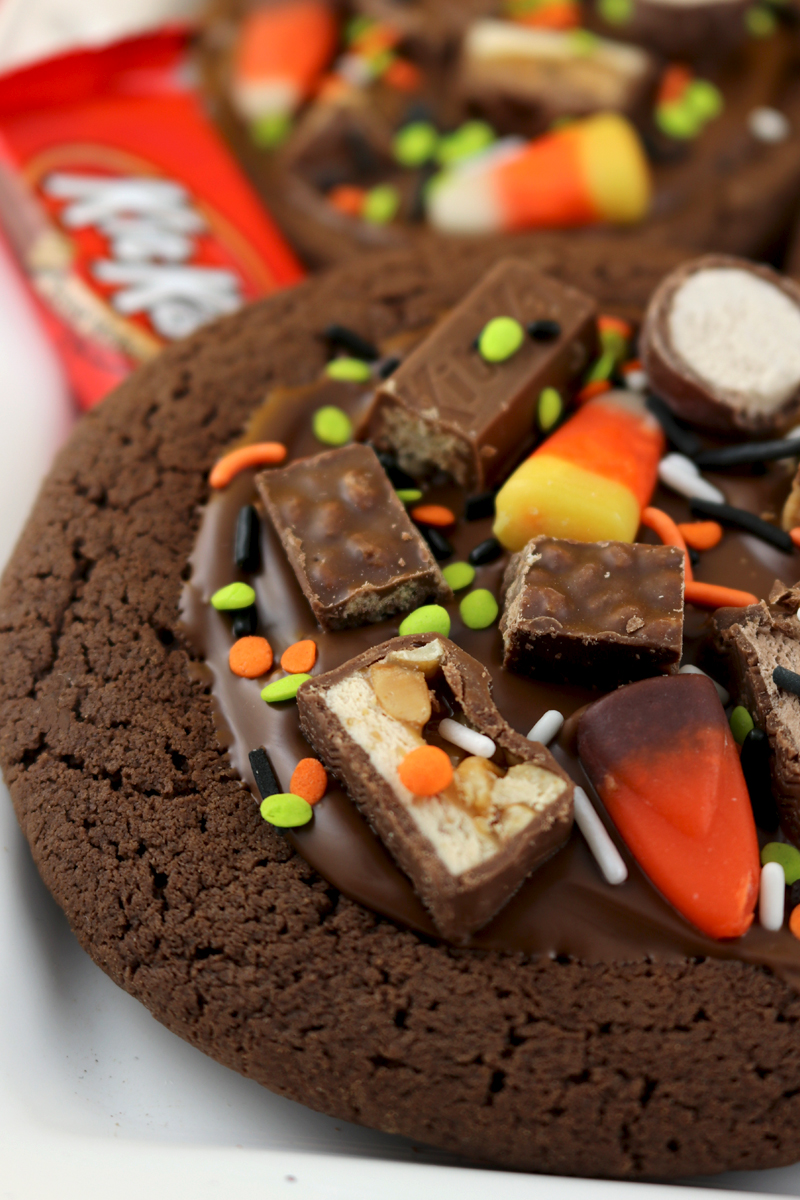 Left-Over Halloween Candy Cookies are a fun, tasty and unique way to get rid of all of that Halloween Candy your kids got from your neighbors this year … it's a Two Sisters Crafting Win/Win situation!
P.S. Let's stay in touch!  If you liked our Left-Over Halloween Candy Cookies post, [thrive_2step id='10744′]click here to sign up for our Email Newsletter![/thrive_2step]
Or follow us on Pinterest, Facebook and Instagram!
**This post contains affiliate links but we only recommend products that we actually used and liked. Thanks for supporting Two Sisters Crafting!