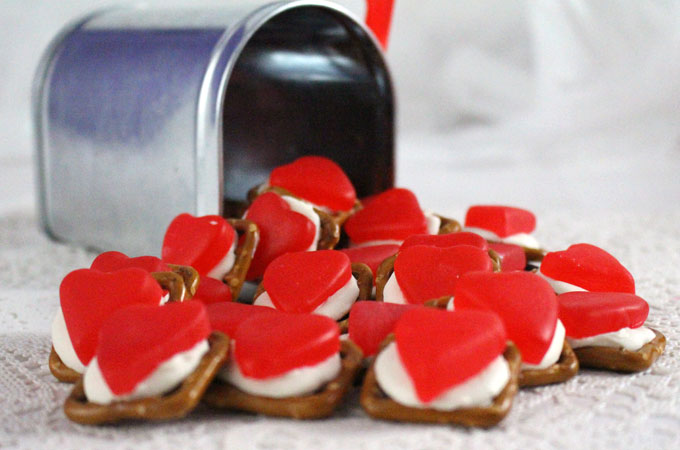 Pretzel bites are the perfect party food.  They are easy to make, look beautiful, and are the perfect sweet and salty snack.  We took an iconic Valentine's candy, combined it with a crunchy salty pretzel and a bit of white chocolate and came up with the perfect snack for your Valentine's party – Juju Hearts Pretzel Bites.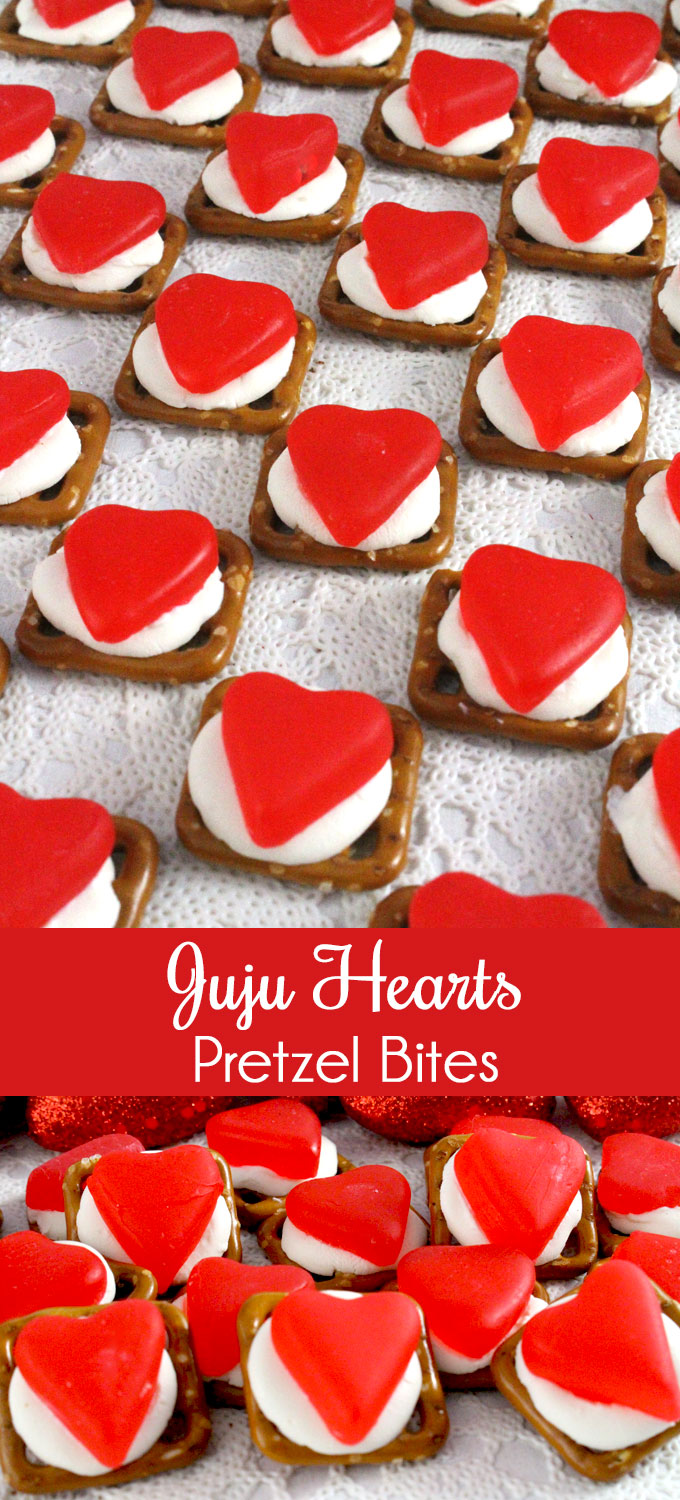 How to Make Juju Hearts Pretzel Bites
You will need:
Valentine's Juju Hearts Candy
Pretzel Snaps
Wilton Bright White Candy Melts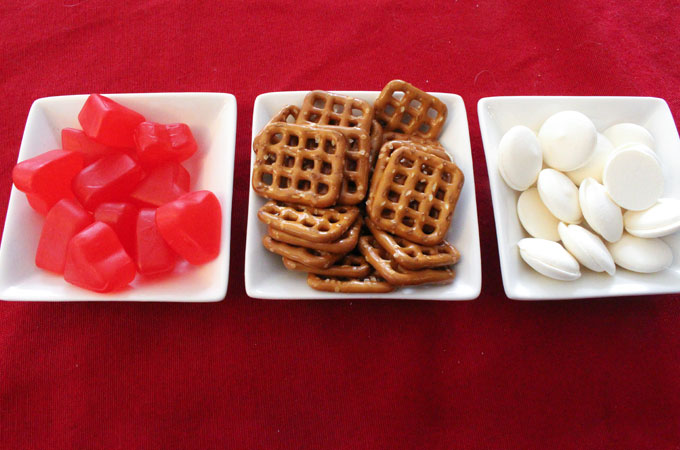 We found our Juju Hearts candy in the Valentine's Day section at Jo-ann Fabric and Craft Store but you can also find Brach's Juju Cherry Hearts in the Valentine's Candy sections in most grocery and big-box stores during the Valentine's season.  We like to use the square Pretzel Snaps when making Pretzel Bites but you can also use the regular mini pretzels.  Finally, you will need a package of Wilton Bright White Candy Melts.
We used a very sharp knife to split our Juju Heart candies in half and then used one-half on each Juju Hearts Pretzel Bite.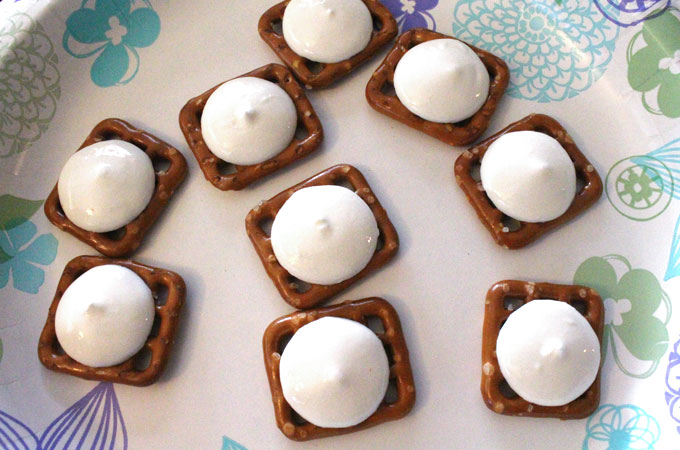 To get started assembling the Juju Hearts Pretzel Bites, place 7-8 Pretzel Snaps on a paper plate. Cover the pretzels with a Wilton Candy Melt.  Then place the paper plate in the microwave and heat for approximately 45-50 seconds. The exact timing will take a bit of trial and error.  You want the candy melts to be melted enough to press the Juju Heart's into, but not so melted that the candy melt loses its' shape.  In the picture above you can see that the white candy melts have a sheen to them – this is what they look like when they are the melted the perfect amount.  The exact time in the microwave will depend on how many pretzel/candy's you do at one time, how powerful your microwave is, the type of pretzels you are using, etc.  For us, 7-8 pretzels snaps take 50 seconds to melt to the right consistency.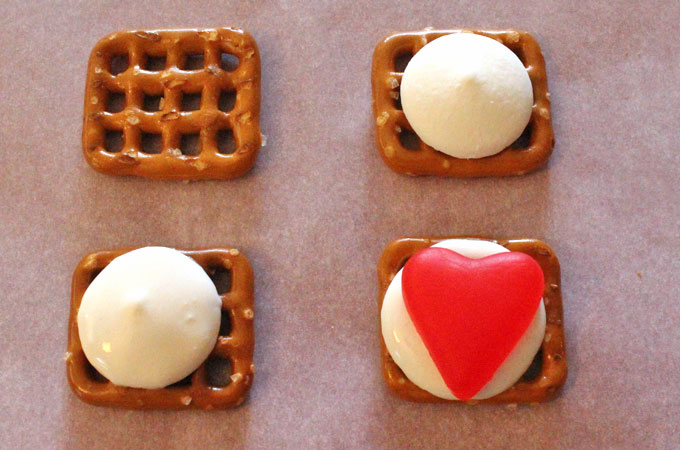 Assembly couldn't be easier – once you have melted your candy melt just press the Juju Heart Candy (cut side down) into the candy melt.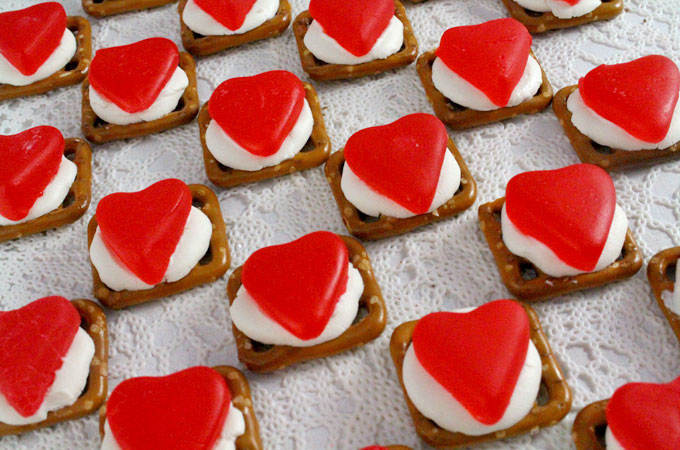 These Juju Hearts look so pretty on the white candy – so bright and translucent.  And the chewy juju candy combined with the salty and crunchy pretzels is very yummy.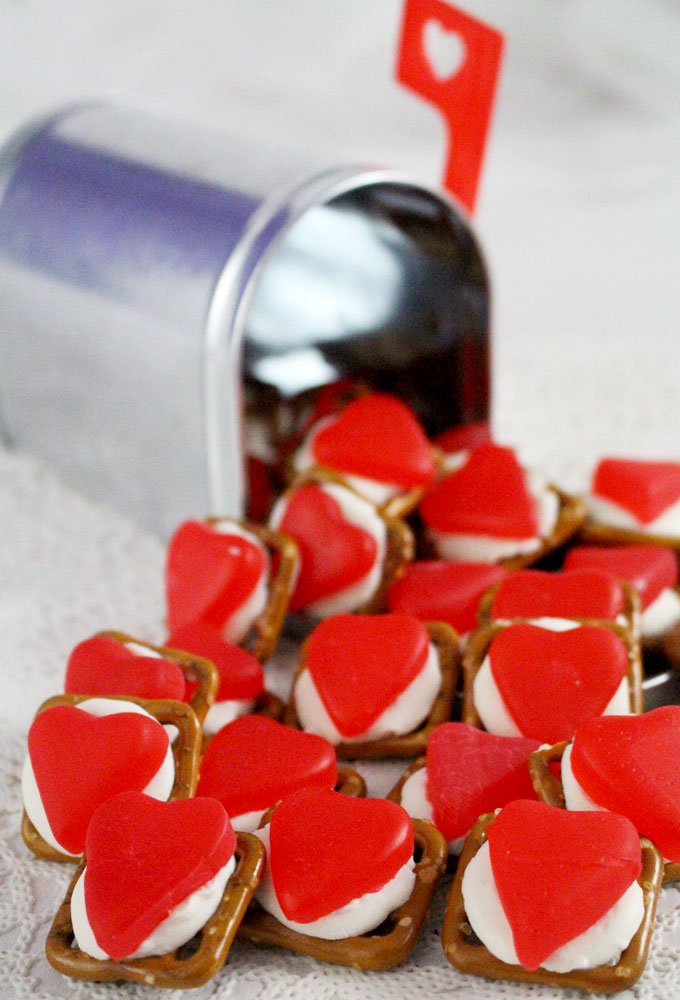 Juju Hearts Pretzel Bites – fun, colorful and so easy to make.  Make up a batch for your family or co-workers as a fun Valentine's treat!


Follow Two Sisters Crafting's Valentines Day Food board on Pinterest.