I love baking.  I learned at my mother's knee (actually apron strings) from the time I was very little.  Cakes, cookies, candies, I'm a pro.  The one thing I cannot do is a traditional pie crust.  I have tried and failed many times.  While disappointing, the upside of my failure is that I have learned to make really good non-traditional pie crusts.  Any time I can, I will use Nutter Butter Cookie Crusts in place of traditional pastry crusts. Here are our tips and tricks on How to Make Nutter Butter Cookie Crusts!

How to Make Nutter Butter Cookie Crusts
You will need:
26 Nutter Butter Cookies
6 tablespoons Melted Butter (Sweet Cream, Salted)
Plastic Baggie
You only need two ingredients to make a delicious homemade Nutter Butter Cookie Crust – Nutter Butter Cookies and Butter.
To make a crust for a 9″ pie plate or a 9×13″ rectangle pan place 26 Nutter Butter cookies in a plastic bag.  You can certainly use a food processor to crush the cookies but we think crusts make with bigger pieces of cookies taste a lot better than the fine crumbs you get when you use a food processor.  We crushed the cookies with a rolling pin instead.
Here are the crumbs after we've given them the once over with the rolling pin . Some are fine and some are larger … perfect!  Now pour the 6 tablespoons of melted butter into the plastic bag.  Use your hands to massage the melted butter into the Nutter Butter cookie crumb mixture. So easy!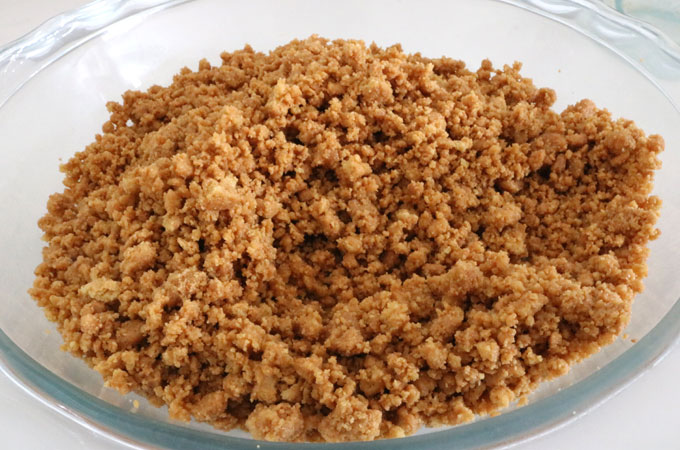 Pour the butter covered crumbs into your pie plate.  This is a 9″ pie plate.
Press and mold the moistened cookie crumbs into the pie plate.  We used the bottom of our 1/2 cup measuring up to firmly press the crumbs against the pie plate on both the bottom and the sides of the plate.  The more tightly you can pack in the crumbs, the better the crust will hold together when you serve it.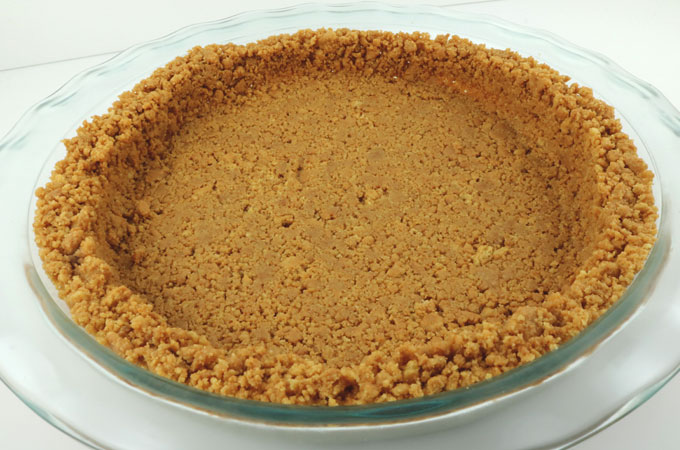 Bake or refrigerate the crust?  This is the age old question. We almost always refrigerate the crust for a couple of hours before adding the pie filling.  During the refrigeration process, the melted butter will firm back up and help the crust hold its shape.  We think that a refrigerated Nutter Butter Cookie Crust is softer and more buttery and (we think) tastes better.  But if you like a crunchier crust, you can bake the crust for 8 minutes in a 350 degree oven.  During the baking process, the sugar will melt and that is what holds the crust together.
Nutter Butter Cookie Crusts is a super yummy pie crust.  Give this recipe a try, we think you'll love it!
P.S. Let's stay in touch!  If you liked our How to Make Nutter Butter Cookie Crusts post, [thrive_2step id='10744′]click here to sign up for our Email Newsletter![/thrive_2step]
Or follow us on Pinterest, Facebook and Instagram!
**This post contains affiliate links but we only recommend products that we actually used and liked. Thanks for supporting Two Sisters Crafting!

More Pie Crust recipes:
 .     
If you want to stay up-to-date on all our Pie ideas, Follow Two Sisters Crafting on Pinterest!
Follow Two Sisters Crafting's Pies board on Pinterest.